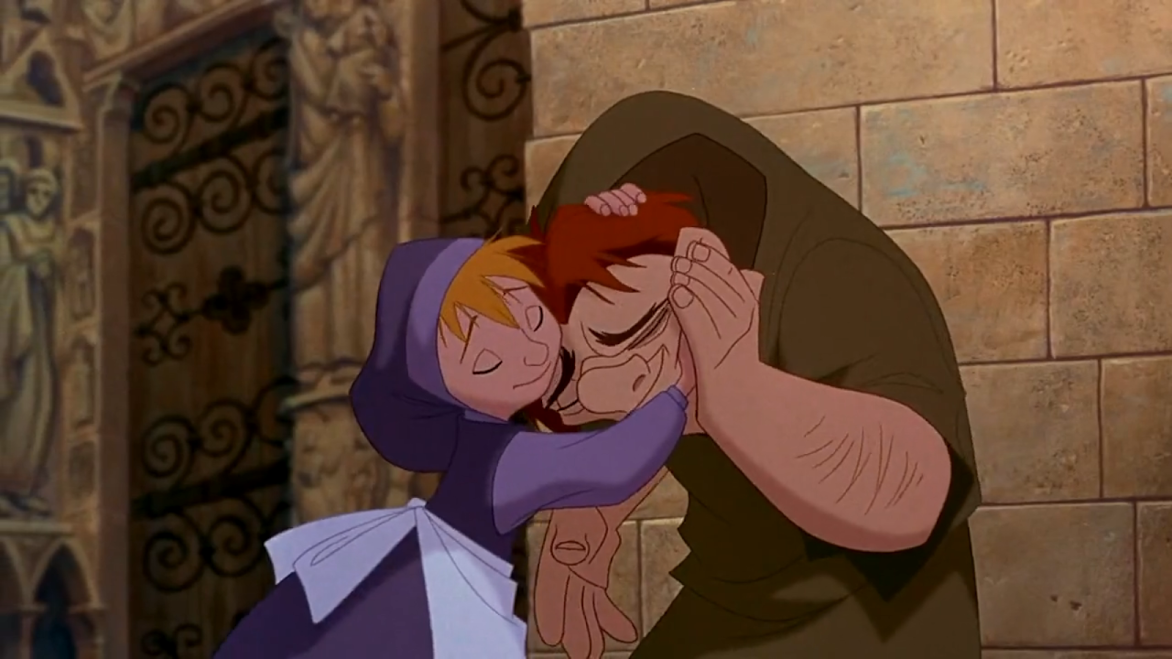 ………………………………………………………………….
The Hunchback of Notre Dame Movie Review
The Hunchback of Notre Dame is a 1996 animated historical musical drama film that is the 34th Disney animated feature film. It is such a good, awfully underrated movie.
………………………………………………………………….
"Quasi, take it from an old spectator.
Life's not a spectator sport.
If watchin' is all you're gonna do,
then you're gonna watch your life go by without ya"
………………………………………………………………….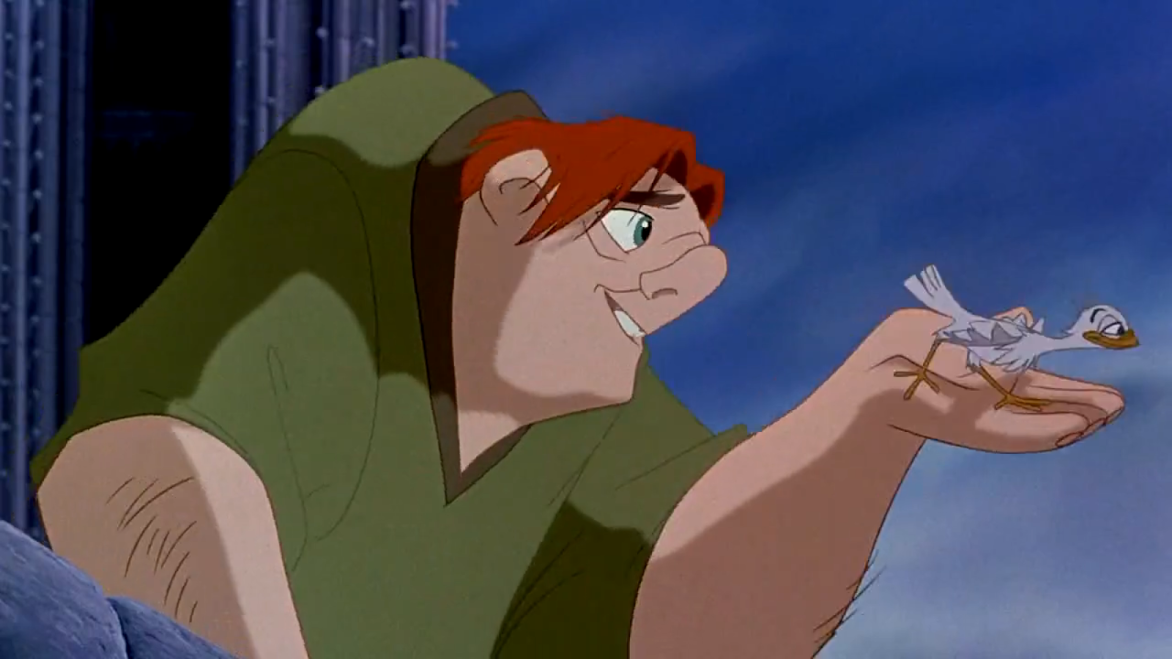 ………………………………………………………………….
It is based on the classic novel by Victor Hugo. And although some of the darkest elements were omitted in this adaptation, it still remains one of the darkest Disney films of all time, one of the most sophisticated and most mature. That is because you can't really make this material kid-friendly no matter how hard you try. But that is okay as its darkness makes it so memorable. Yes, it ends with a happy ending, but it isn't all that happy as, in the vein of 'Pocahontas', the protagonist doesn't get the girl in the end and that is so admirable.
The plot here is very well told and always wonderfully dramatic and serious which means that it thoroughly succeeds as a drama film. In fact, it is such a dramatic movie that it doesn't even have fantasy elements to it as those sidekick gargoyles can be interpreted to be Quasimodo's imaginary friends. Couple that raw seriousness with its darkness and you've got one of the most atypical Disney films out there.
………………………………………………………………….
………………………………………………………………….
Now, let's review each of the characters here. The character development is strong. It isn't fantastic, but it is mostly very good and in some cases even fascinating. Quasimodo is a bit bland as he is a bit too good, but that is an expected trait for a hero. But he is such a tragic figure that you can't help but sympathize with him and root for him from beginning to end.
Esmeralda is one of the best Disney princesses that never received that official title. Yes, she is cocky and overly sexualized, but that is necessary for the plot and she can also be quite sweet at times while also being admirably selfless in others. She is definitely one of the strongest female characters in the Disney canon as she is both inspirational, pretty and very capable.
………………………………………………………………….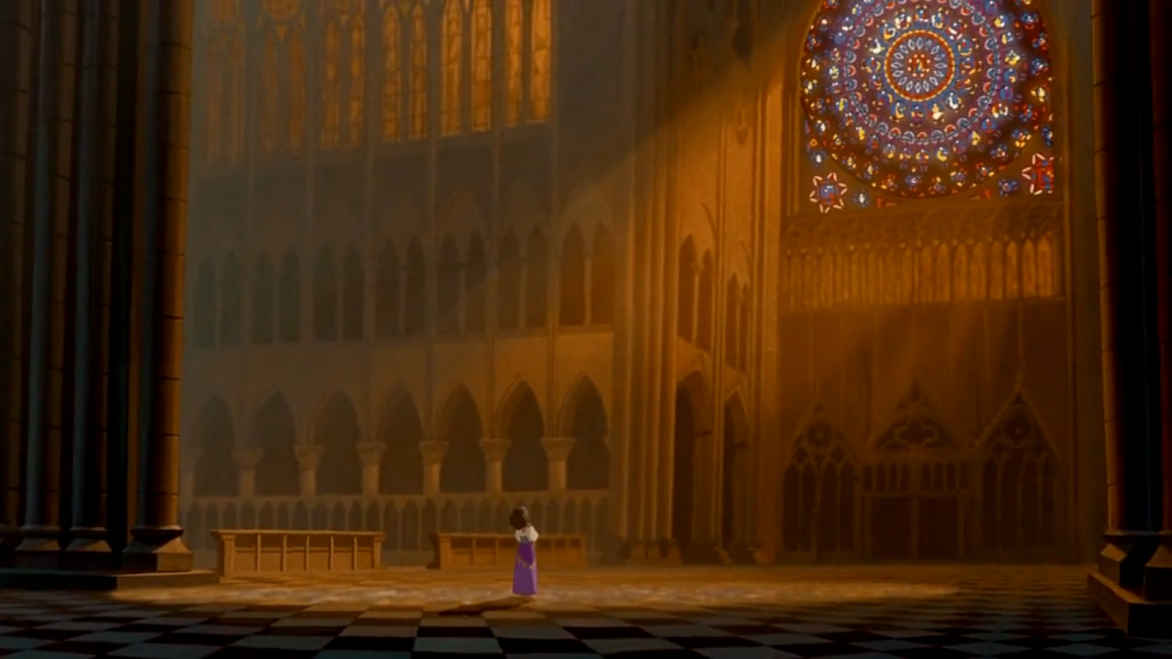 ………………………………………………………………….
Captain Phoebus is also pretty good. Their relationship could have been a bit better, but his friendship with Quasimodo is excellent and is just as good as is the relationship between Quasimodo and Esmeralda. Clopin I never really found all that interesting and he is to me a character that could have easily been cut off from the end product.
Djali is a forgettable animal sidekick, but the fact that she is a goat makes her interesting. Victor, Hugo and Laverne are quite solid, if at times a bit annoying gargoyles. Some may say that they are unnecessary, but the scenes with them were heartwarming and they served as Quasimodo's shoulders to cry on. And if my theory that they are actually the figment of his imagination is true, that is even better.
………………………………………………………………….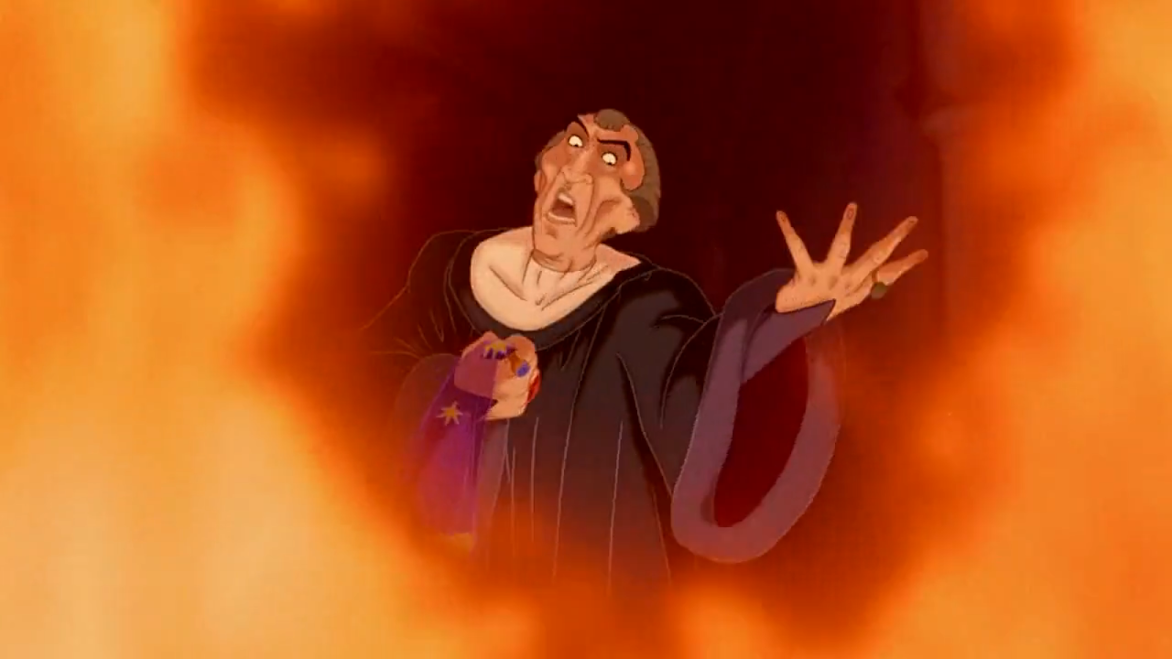 ………………………………………………………………….
Judge Claude Frollo… What is there left to say than has already not been said? Fearless, extremely realistic and all the more powerful for it, he is such a strong dark presence in an already pretty dark movie that he elevated the material even more. His lust for Esmeralda provided us with some of the most mature sequences ever for the company and his inner conflict is so powerful and dramatically conveyed. His interactions with each and every character is exceptional and he never made a single mistake throughout the movie. Needless to say, he is one of the finest Disney villains ever created.
The Hunchback of Notre Dame features some of the most underrated animations which again goes to show what an underappreciated movie it is. All of the designs here are strong and the animation is fluid and polished. However, what makes it stand out is its attention to detail. The eponymous church is absolutely gorgeous to behold and so meticulously and realistically portrayed. I also loved how wonderfully utilized it was and how we got to explore it from all of its sides. The city scenes were also excellent and the camera angles are terrific throughout the movie.
………………………………………………………………….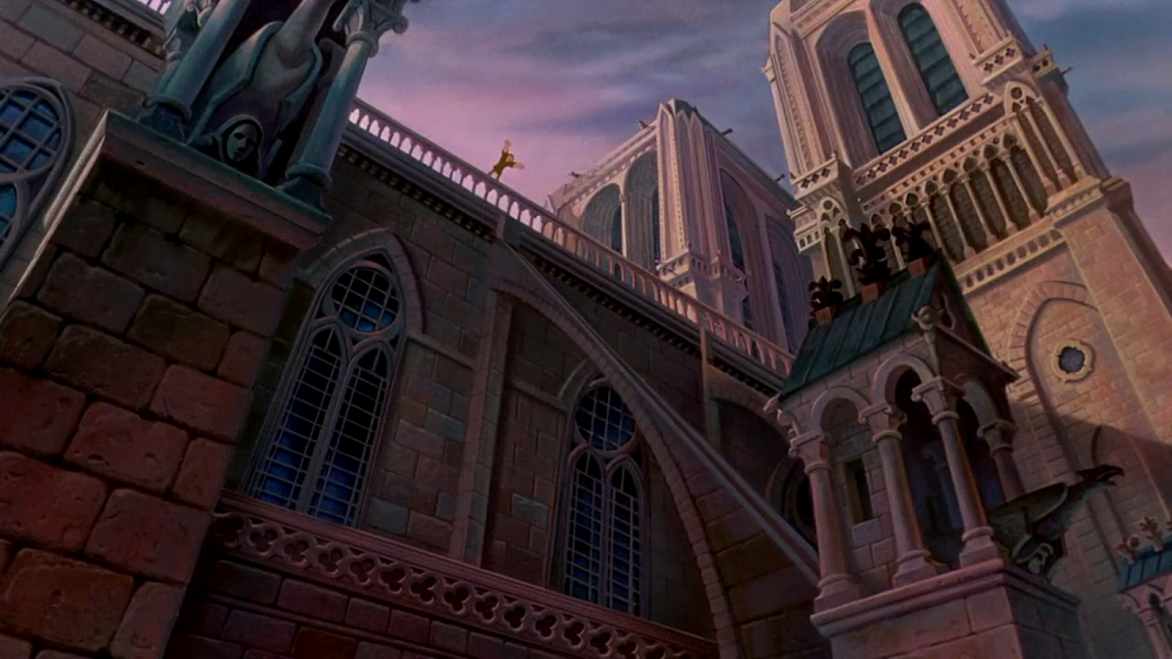 ………………………………………………………………….
Now is the perfect time to praise its soundtrack. It consists of six songs and most of them are very good. Let's start with those lesser ones. Topsy Turvy is my least favorite number here as it to me served as a filler in terms of storytelling and the overall tune is forgettable and boring. I realize that the gypsies needed to be portrayed and showcased in their music and lifestyle, but those scenes with them tended to go on for too long in my opinion.
A Guy Like You is definitely fun, but it is more fun than meaningful and it is another song that didn't need to be here. It isn't bad, but it is inferior when compared to others that I am going to talk about now. Out There is weaker in its beginning, but so great in its ending and that quality is something that is present in another song too, but more on that later. Out There is exceptional in scenery and in its final moments which are so well sung and powerful. It is a solid I Wish number for sure.
………………………………………………………………….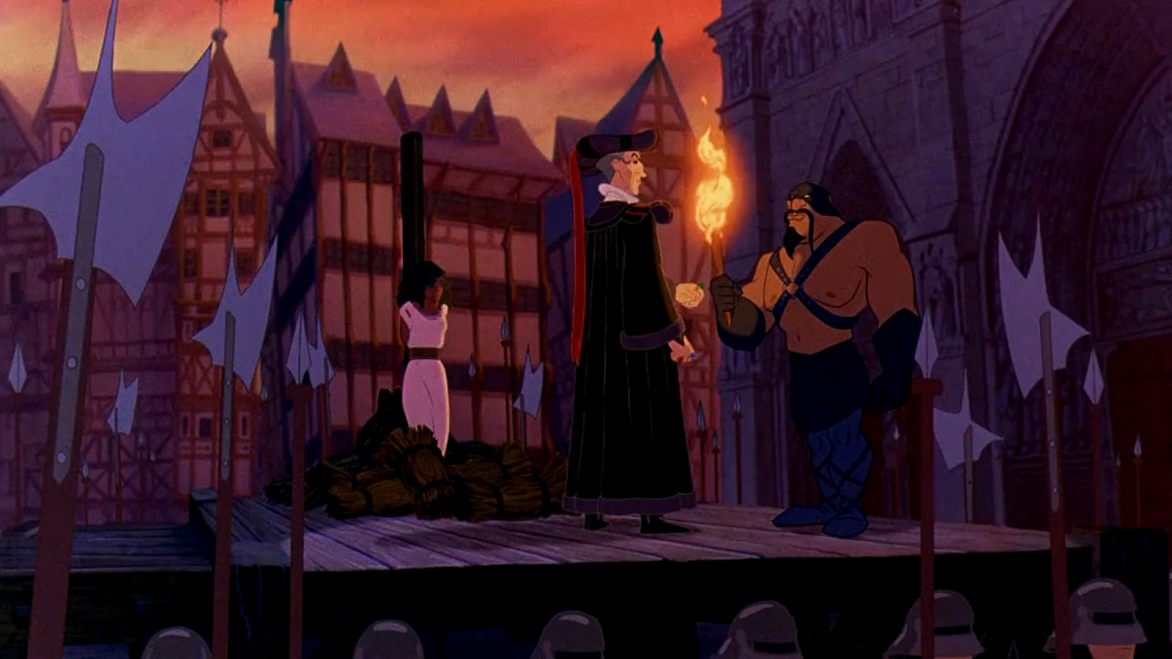 ………………………………………………………………….
And now for the top three. As I said above, The Bells of Notre Dame is another song that starts off weaker and ends magnificently. It is a song that lasts for way too long, but it is such a great opening for this movie that perfectly sets it up in terms of storytelling. But those final moments in the song are jaw-dropping and when you hear those bells and that awesome chorus, you instantly appreciate 1990s Disney and how wonderfully they used to fit in the score with the time period which is something that today's entries are lacking unfortunately.
Hellfire is a blast! It is so powerful, so well sung and so vivid in its lyrics and so creepy in its imagery that it is naturally one of the best, if not the very best, villain songs in the Disney canon. Its chorus is so powerful and its lyrics are so descriptive and they serve as awesome character development for Frollo leading to a song that is great both as a musical number and as a plot device.
And God Help the Outcasts is definitely my favorite piece here mostly because it is one of the most purely human and selfless songs that I have ever heard. Its message resonates today as well as it did before, it is beautifully sung and, though a bit short, it is both moving and powerful. It is also one of my favorite sequences in the film.
………………………………………………………………….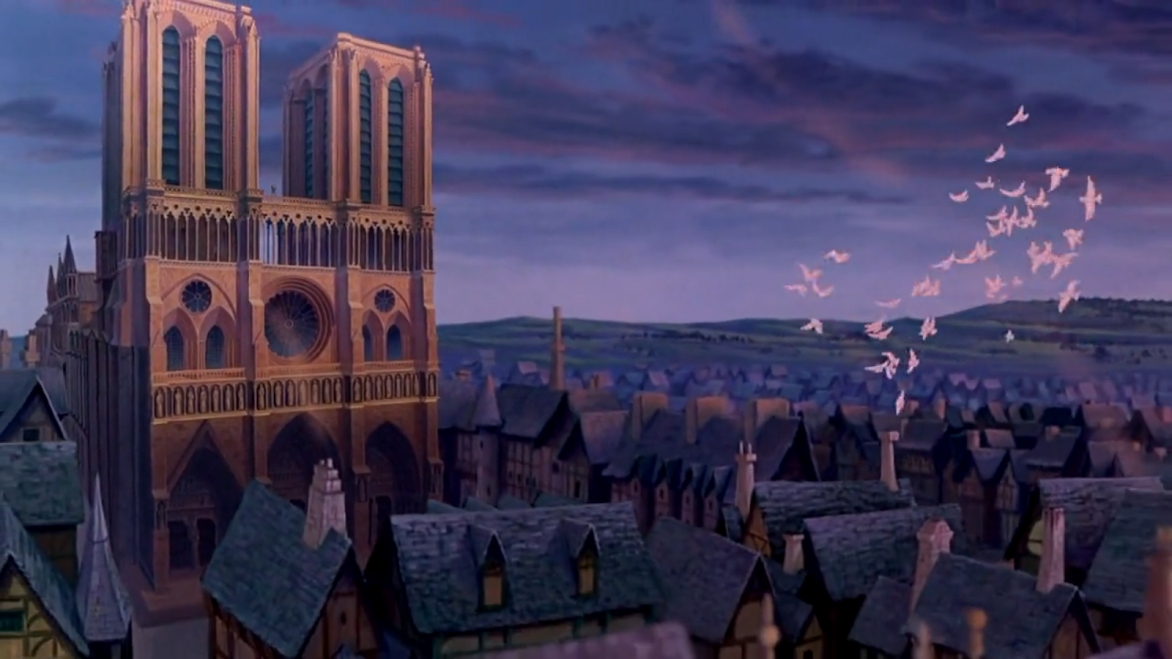 ………………………………………………………………….
The Hunchback of Notre Dame also benefits from other memorable sequences besides the ones set in music such as the ending which is emotional and just so well executed and every scene in and around the church is a winner. The score is tremendous and so in tune with its time period and the film is mature just enough that it is still suitable for children which is great. It definitely has its problems such as the pacing which isn't the tightest and its biggest problem is that it should have lasted a bit longer as the plot demanded it. And the humor isn't the greatest and is needless here. And again its atypical nature is both its strength and its weakness. But having in mind how powerful and tragic it is, it's a shame that it is so underappreciated even today.
Another exceptional Disney Renaissance entry, The Hunchback of Notre Dame is so shamefully underappreciated as it is one of the darkest and most mature Disney films yet. It is a bit uneven at times, but it is so emotionally powerful, so well crafted both in story and in animation, so serious and dramatic and filled with many great musical numbers such as The Bells of Notre Dame which is wonderfully fitting to the time period, God Help the Outcasts which is emotionally resonant in its selflessness and great message and Hellfire which features one of the finest Disney villains ever in outstanding, devilish Judge Frollo.
My Rating – 4.5
………………………………………………………………….