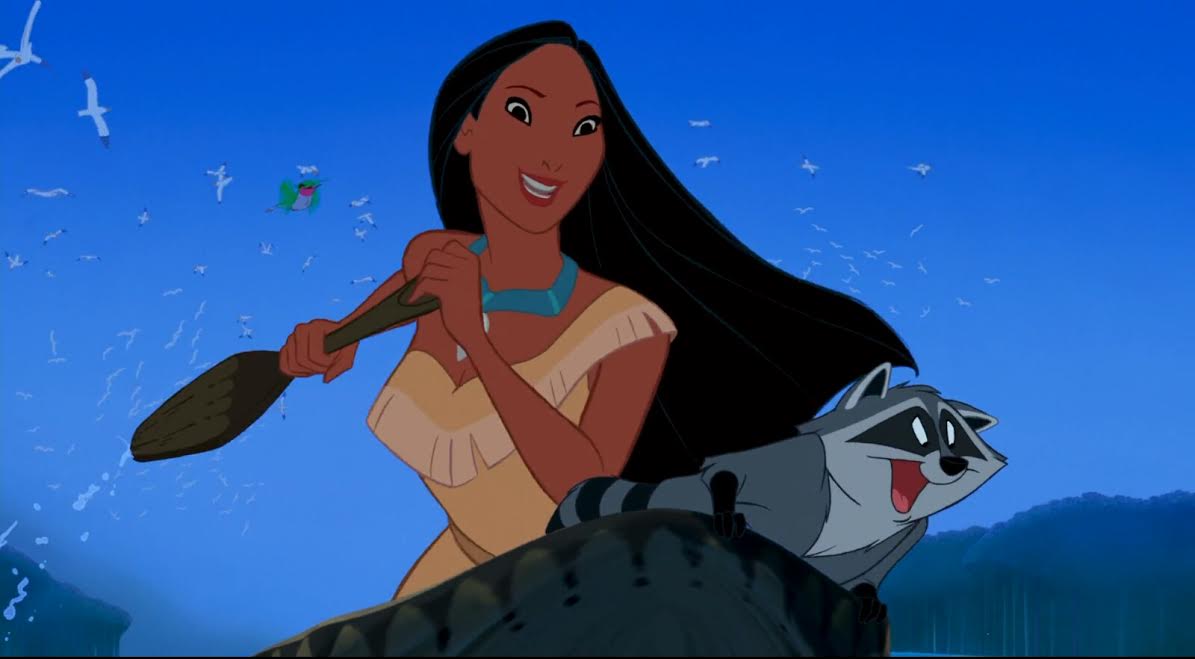 ……………………………………………………………………….
Pocahontas Movie Review
Pocahontas is a 1995 animated historical musical romance that is the 33rd Disney animated feature film. It is a pretty good and underrated Disney entry.
……………………………………………………………………….
"Still I cannot see if the savage one is me.
How can there be so much that you don't know?"
……………………………………………………………………….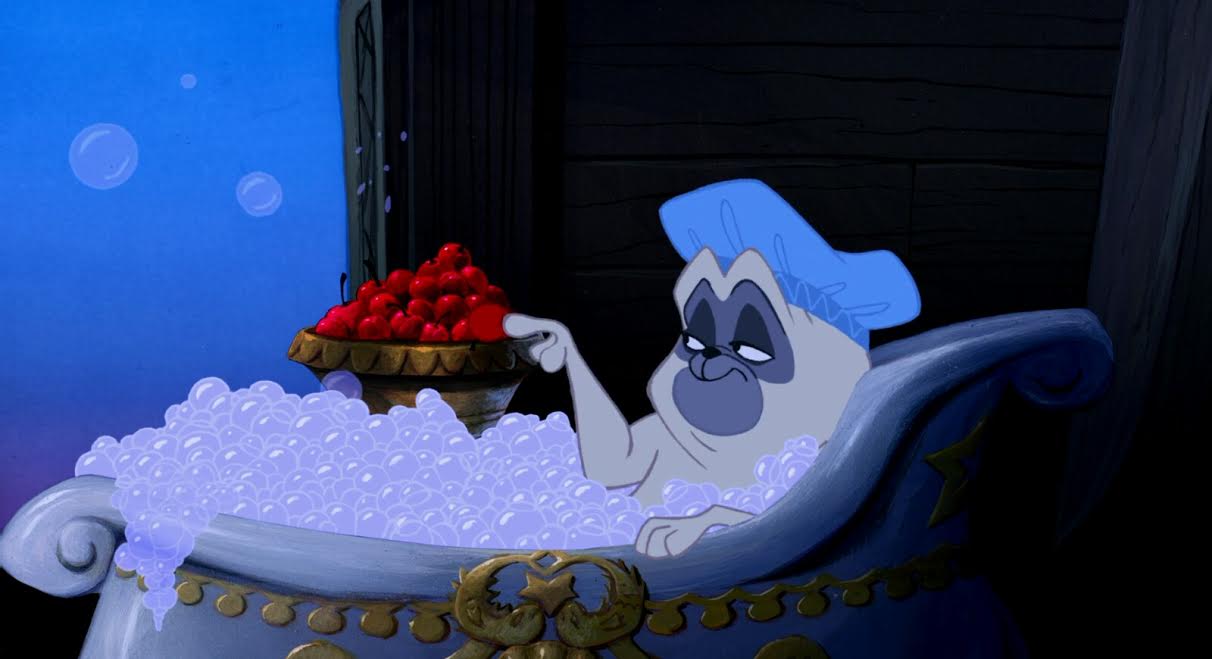 ……………………………………………………………………….
The film follow a Native American woman named Pocahontas and her encounter with Englishman John Smith as he and the other settlers arrive on the continent in search of gold. The story itself I really liked and I realize the criticism leveled at it in terms of historical inaccuracy and that is valid. However, that is usual for Disney films and that's why I didn't find it that problematic. The lack of humor is definitely troublesome, but I mostly liked that the film is so serious and mostly realistic as we haven't really seen a real historical Disney flick before. There aren't that many fantastical elements here and I liked that. It succeeds as a period piece in my opinion and of course as a musical, but it doesn't quite succeed as a romance, but more on its songs and romance later.
……………………………………………………………………….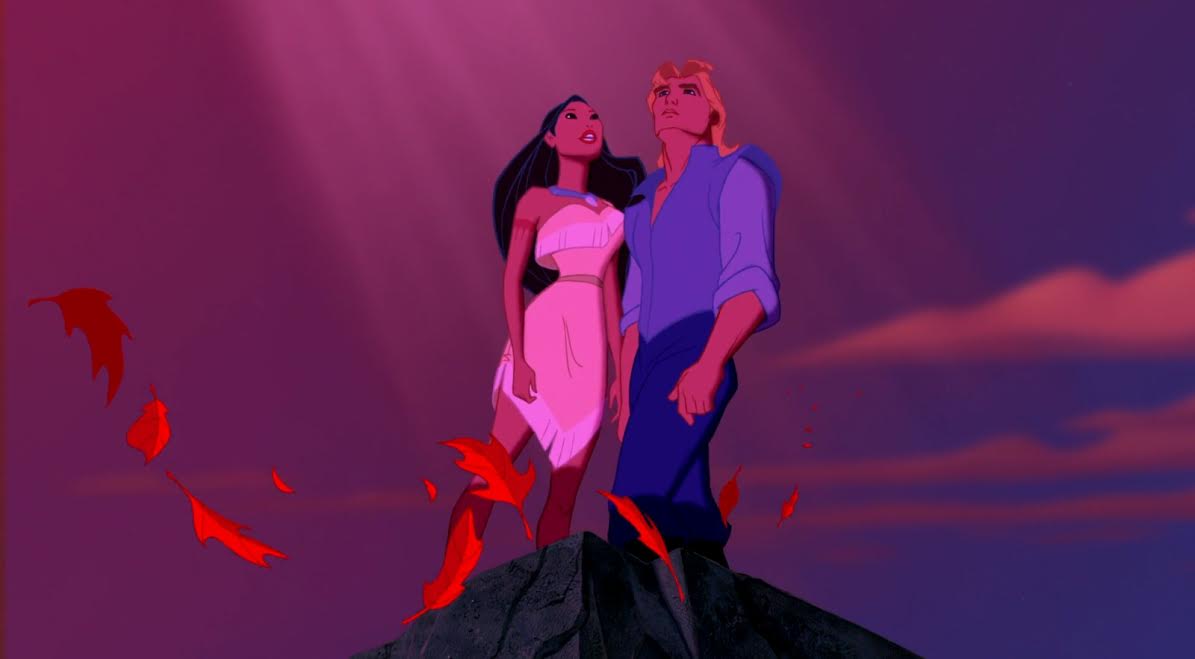 ……………………………………………………………………….
Let's talk about the characters. Pocahontas herself is quite boring to be honest. In fact, she is one of the dullest Disney princesses because she's just so underdeveloped and somewhat forgettable. I liked her playful nature at first, but then she was too serious later. She is a tough and respectable female character, but that is also a problem as she was to me a bit too great and flawless.
As for John Smith, he is much more realistic and memorable than her and although far from great, he is definitely solid. And now is the perfect time to talk about their relationship. Well, it is both good and bad. It is great for being somewhat realistic and more serious than usual for Disney and I just loved that they didn't end up together and this is the only somewhat sad ending in a Disney movie which is very commendable. However, the two lack chemistry which is evident from their first scene and they just needed more spark and fun in their scenes together.
……………………………………………………………………….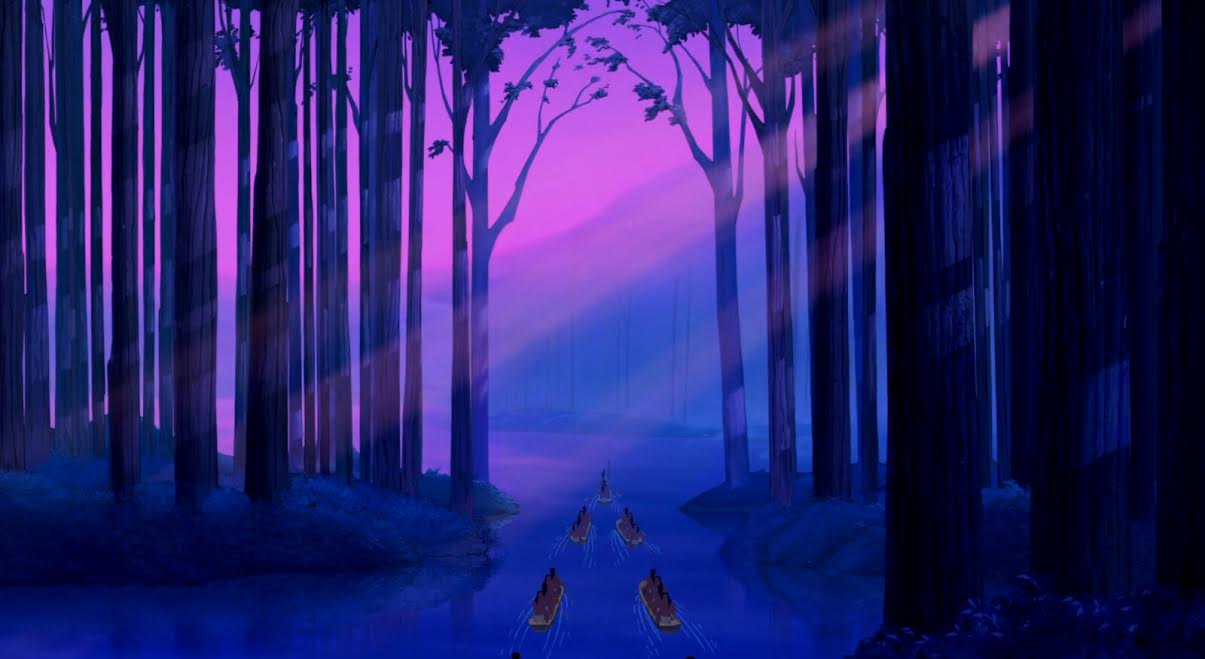 ……………………………………………………………………….
Governor Ratcliffe is a somewhat typical Disney villain who is obese, ugly and obsessed with gold, but I mostly liked him, especially how he mostly satisfied as the bad guy. Chief Powhatan is a strong, if underutilized figure, Thomas is pretty good and very likable, Nakoma is sympathetic as Pocahontas's friend and Kocoum was annoying to me. Grandmother Willow is such a wonderful motherly presence and a rare, but strong fantastical inclusion here. As for the animal sidekicks, they are quite frankly not great. Flit didn't get much to do and Meeko was oaky, but his scenes with Percy the pug went on for too long. This is the movie that didn't need animal sidekicks and these two are cute, but totally unnecessary and disappointing in humor.
Pocahontas benefits from some gorgeous animation. I do get why some people may not like this movie, but nobody really can deny its artistic and musical merits. And the animation is one of its strongest suits. The colors are so pleasant and very authentic as we've never really seen the use of red so much before. The movie looks fluid and sometimes even poetic, especially during some of the musical sequences. The character design is pretty good and the humans look quite solid and realistic.
……………………………………………………………………….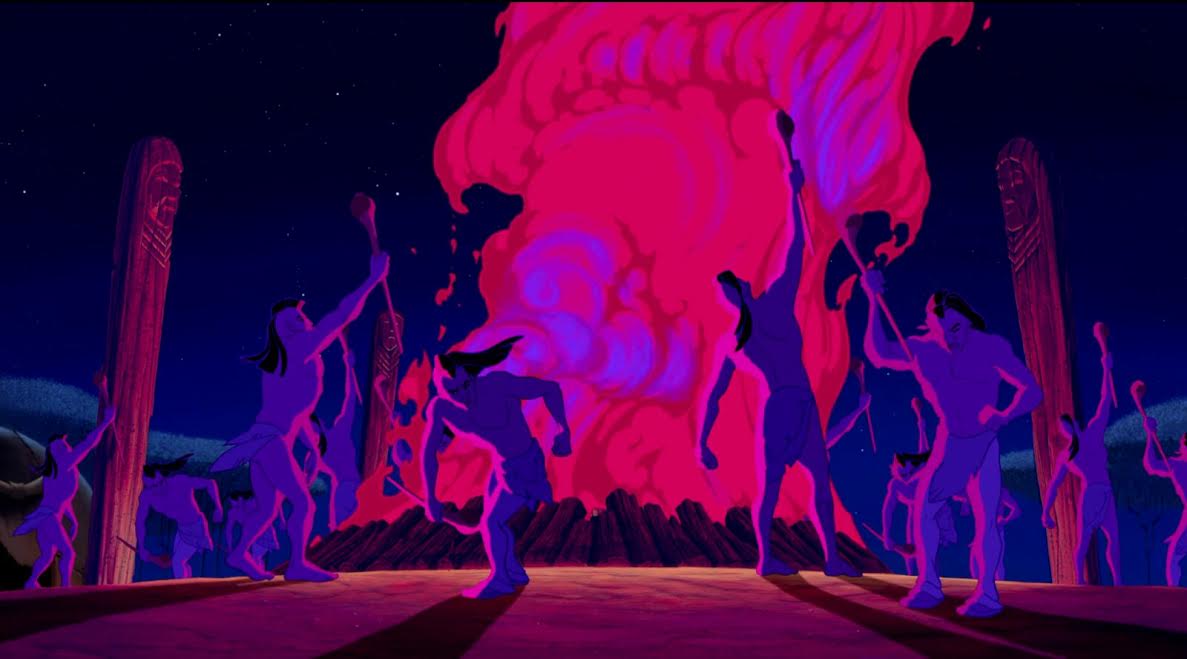 ……………………………………………………………………….
And the reason why Pocahontas entirely succeeds as a musical film is because it has such an awesome soundtrack with excellent songs as well as a terrific score. The Virginia Company is so cool! It is the song that I picked upon only upon my third viewing, but I now realize how incredibly catchy and wonderfully fitting to its time period it is. This movie definitely benefits from a strong attention to detail as it looks and sounds like 17th century and Steady as the Beating Drum is another strong case for it.
Listen with Your Heart is intriguing and well scored, but If I Never Knew You is boring and I just strongly dislike Mine, Mine, Mine and it's the only mediocre song here. But of the big three, all are pretty good. Just Around the Riverbend is a bit overrated to me, but its sequence is so well constructed and it serves as a very good plot device. Savages is phenomenal. It is one of the darkest and purely evil songs in the Disney canon thanks to some really striking words. It is such a great villain song. I really liked the reprises of all of the songs too.
……………………………………………………………………….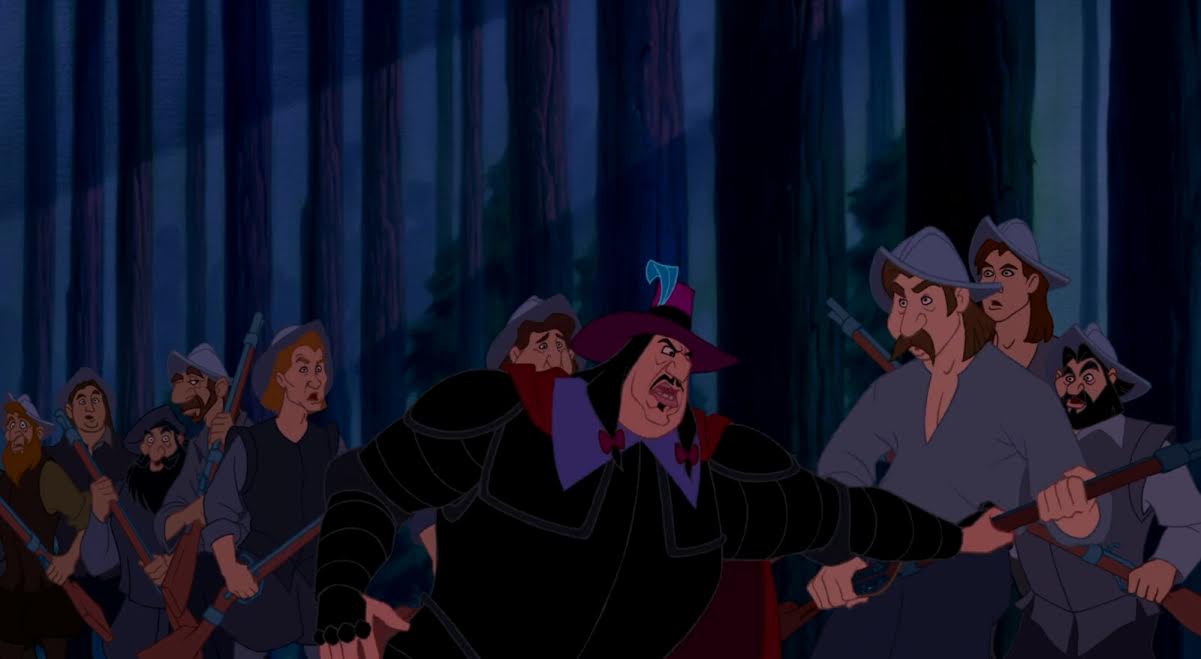 ……………………………………………………………………….
But of course the highlight has to be Colors of the Wind. This is undoubtedly one of my favorite and one of the best Disney songs of all time! The scene alone is gorgeous both in its animation and in its poetic feel. The lyrics are just beautiful and it has such a strong environmental message as well as being a great plea for tolerance and a good case against ignorance. But it is also beautifully sung by Judy Kuhn and it's such a catchy, moving and grand musical number.
As I said before, the score is also great. In fact, it might just be better than the songs as it is that good! The Colors of the Wind theme at the end is just breathtaking and it propels that scene to even higher levels. Speaking of that scene, I adore it and it's to me one of the finest ever Disney endings. Nobody died and the conflict was stopped, but Pocahontas and John Smith say goodbye to each other and that was definitely such a sad moment. But watching her run to the cliff and then say goodbye using her Native American hand language and seeing him use it too was just beautiful and the fact that it was followed by that perfect score and gorgeous animation just adds to its incredible quality. I also really liked the use of nature in this film and how the leaves flew by in this scene. I thought that said movement was a bit overused before, but in this scene it worked to its fullest advantage.
……………………………………………………………………….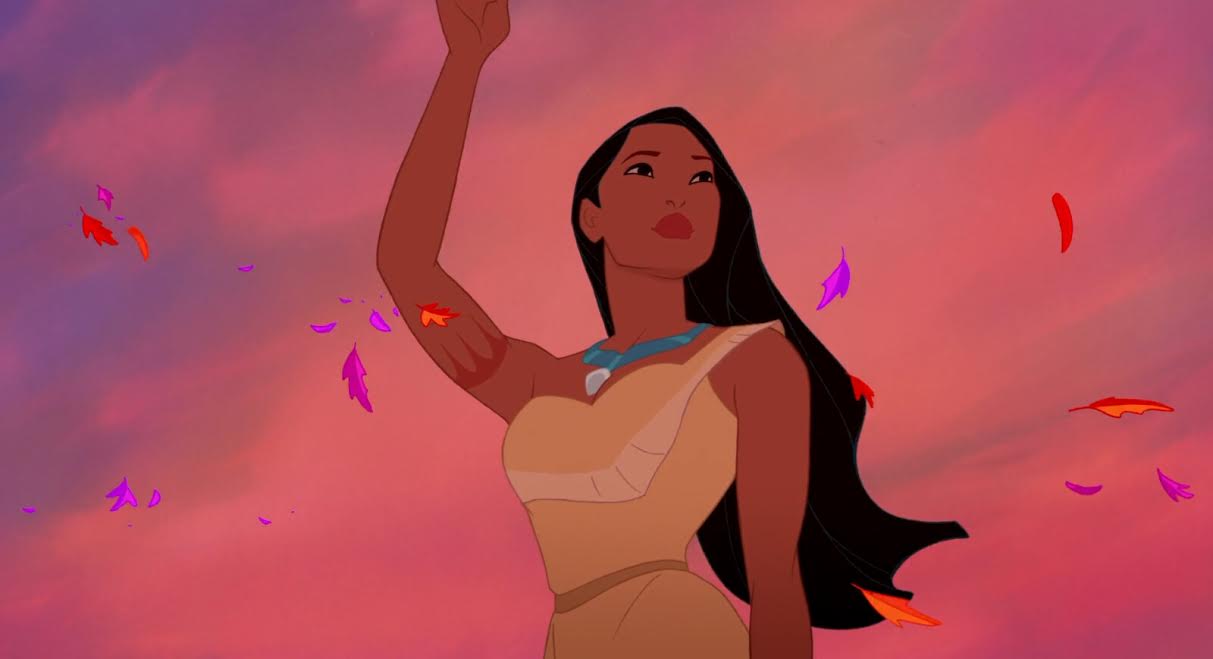 ……………………………………………………………………….
The cinematography is excellent, the pacing is a bit slow, but thankfully the movie wasn't boring, at least not to me. The voice acting is quite good, but the humor is very weak as I stated before and it's one of the movie's biggest detractors. But I really liked its time period and setting along with its protagonist. It is very rare for a Hollywood film to revolve around Native Americans and I found Pocahontas to be very respectable of these people as they were very well portrayed. And I loved that it didn't take sides as it showed how hostile both groups were to one another. It is quite artistic at times and mostly quite sophisticated, if a bit too straightforward at times. Its emotion is evident and strong, but the dialogue should have been better. And of course its message is important and well conveyed. In the end, it isn't one of the strongest Disney movies and it is weak when compared to most of the other Renaissance entries, but it is still a pretty good, respectable feature that is definitely underrated.
Pocahontas is at times overly serious, its humor is quite weak, the use of animal sidekicks is mediocre and the characterization overall isn't the greatest, but I still find it to be a pretty good, sometimes even admirable film that is quite underrated as well. Its animation is just gorgeous and at times even artistic and contributing greatly to a somewhat poetic quality to the movie. It succeeds as an interesting period piece, but mostly as a great musical as the songs are amazing, the score is just terrific and it has one of the best ever Disney endings in a scene that is so powerful and breathtaking.
My Rating – 4
……………………………………………………………………….