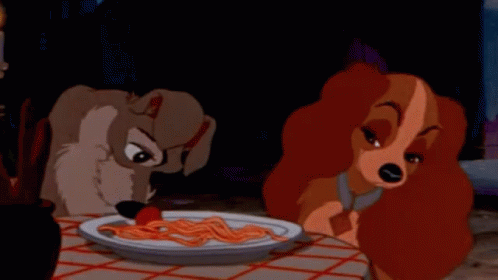 …………………………………………………
Lady and the Tramp Movie Review
Lady and the Tramp is a 1955 animated romance film which is the 15th Disney animated feature film. It is a classic film which is flawed, but immensely charming.
………………………………………………….
"Now, here you are-a, the best-a spaghetti in-a town"
………………………………………………….

………………………………………………….
The story here is, like most dog pictures, animated or not, pretty straightforward and simple, but it serves its purpose and is a joy to watch. There is sometimes a lack of goal and the pacing can be slow as it drags at some parts, but the protagonists more than make up for it. They are incredible, both their relationship and their evident chemistry. Their romantic sequences are the highlight of the film.
There is the spaghetti scene which is incredibly romantic and simply charming with a wonderful animation and propelled by an outstanding song. It is inarguably the most famous scene in the whole film and one of the most iconic romantic moments in film history. Everything about that scene from the visuals to the setting to the characters to the music is perfect. The movie just stops there and leaves you overwhelmed with emotion and charm.
But the scene where Tramp shows her the town and the opposing theme of life with humans versus life in the wild is greatly explored here and is such a great look at those very different types of lifestyles. It is a standout scene with charming animation that works both as a plot device and a character study.
………………………………………………….

………………………………………………….
Lady's interaction with the humans is also very well done. From the moment she arrives, the first night where she does not want to sleep alone up until the changes in her life when the baby arrives, all those things are realistic and done in a great manner. And her intention to save the baby from the rat is very endearing and heartwarming as well as her naming of her owners. The film does dogs really well from the movements to the behavior. It shows why they are so beloved and that is why this film is one of the essential dog pictures for dog owners and why upon more viewings and after having dogs myself, I appreciate it much more than before.
The third act is definitely too bombastic and they did not need to add all that tension when the film's simplicity was so elegant before. And the rat was ridiculously villainous. But there are some great scenes in there with Jock and Trusty and the finale was beyond sweet.
………………………………………………….

………………………………………………….
The zoo sequence is definitely a detour as it dragged way too much and it has animals that are all dated stereotypes in their representation. The beaver is typical and forgettable and scenes such as this really weigh the movie down in my opinion.
The characters in this movie are mostly well developed, especially the protagonists. Lady is very kind, romantic, caring and of course, as the name suggests, very ladylike and polite which is thanks to her being raised by humans. Tramp is very friendly, cunning and of course mischievous and laid-back, the qualities he earned from living on the streets. Their juxtaposition is typical of romantic comedies but timeless and with the fun twist that they are dogs.
………………………………………………….

………………………………………………….
Jock and Trusty are the sidekicks here and their care for Lady and their friendship is very endearing. They can be repetitive and too old-fashioned, but still highly likable. As for the human characters, they serve their purpose, but the dogs are the focus here. But Tony as this Italian guy who befriends Tramp and gives him food is wonderful and I liked him a lot. As for Aunt Sarah, she's your typical old lady who hates dogs.
Si and Am are the Siamese cats and they are probably the worst part in this movie thanks to their annoying voice and song and very racist overtones. They are clearly meant to be some sort of villains here because the movie has no real villains and that is perfectly fine because it does not need one (and the addition of these two as well as the rat at the end was obviously unnecessary), but those two are awful, especially nowadays because every Asian and of course cat owner could (and should) easily get offended by them.
The animation in Lady and the Tramp is still nowhere near the quality of that of 'Pinocchio' or 'Snow White', but it is still one of Disney's best owing to some incredibly beautiful and artistic sequences including a wonderful stylistic opening. It is colorful, but not garish, with great outdoors cinematography as well as excellent character design.
……………………………………………..…..

………………………………………………….
This is the kind of hand-drawn animation that is honestly timeless in quality, very artistic and highly effervescent in style which accompanies the mood of the film so well. Bella Notte scene and the night sequences are just gorgeous whereas the winter opening seems to be coming from a beautiful postcard. And the CinemaScope widescreen format definitely led to a different looking, authentic film experience.
The score is overly loud and repetitive for my taste, but the songs are solid. What is a Baby/La La Lu is just a plot device and not much of a song although that scene where Lady is intrigued by the newly arrived baby is definitely one of the film's most wonderful moments.
Peace on Earth is a solid opening for the film and it has such a charming, old-fashioned Christmas spirit to it. The Siamese Cat Song is very annoying. I already criticized this scene a lot so I am not going to repeat myself, but I will just say that the song itself is also highly annoying in tune and with awful voices.
………………………………………………….

………………………………………………….
He's a Tramp is definitely catchy as well as a great plot device. It is a very amusing scene which is pretty risqué for a children's film and honestly quite funny too. The tune itself is really well sung by Peggy Lee and quite memorable and hilariously seductive with a good use of barking as backup vocals.
Bella Notte is arguably a classic Disney song, beautifully sung and very romantic. It is the standout scene in the movie which I talked about before, but the song itself is gorgeously sung with such a strong voice and I loved the classic opera feel to it. It is the most traditional of all Disney songs and certainly one of the best from this period. A beautiful ballad.
So the soundtrack is solid but more along the lines of the movies from the same decade, notably 'Peter Pan', and nowhere near as close to something like 'Snow White' or later Renaissance films. But the songs do not matter here as there is no strong emphasis on them which is evident in their small quantity.
………………………………………………….

………………………………………………….
Lady and the Tramp is weakly paced, but well directed with excellent voice acting and with pretty strong dialogue and although the humor is sometimes repetitive and too innocent, it was mostly solid nonetheless with some amusing moments. The film is simplistic, elegant and the charm is off the roof in this one. It is the kind of movie most suited for dog owners and children and its somewhat limited appeal led to it being one of the better, but not the best Disney films.
Lady and the Tramp is a very flawed, but still immensely charming and wonderfully romantic Disney classic. The pacing is problematic, some scenes felt like detours and the third act employed unnecessary tension and conflict. But the animation is one of Disney's best with many absolutely gorgeous, even artistic sequences and the soundtrack is pretty solid with He's a Tramp being amusing and Bella Notte being such a beautiful ballad which accompanies one of the most iconic romantic scenes in film history. In the end, this is a film most suited for dog owners as it is a definitive classic for them owing to its very realistic portrayal of dogs' movements and behavior and a pretty detailed look into their lives.
My Rating – 4