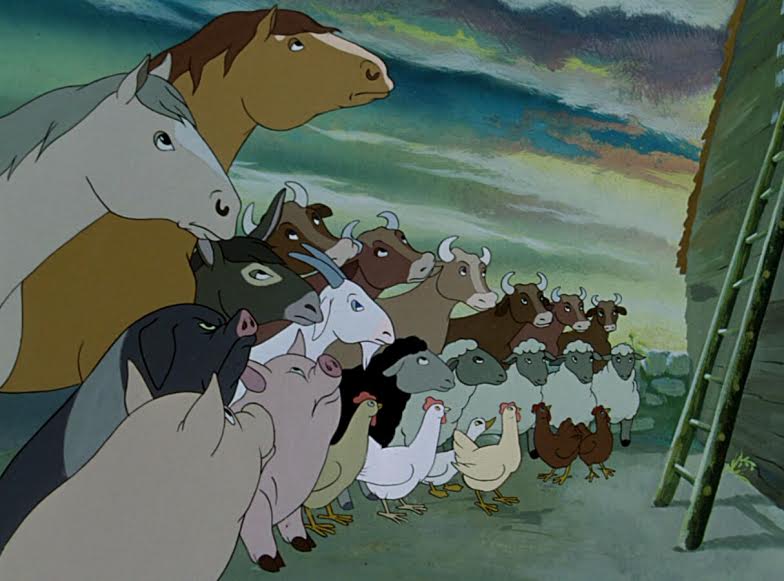 ………………………………………………
Animal Farm Movie Review
Animal Farm is a 1954 animated drama film directed by John Halas and Joy Batchelor. It is such a good, respectable adaptation.
George Orwell's 'Animal Farm' was published in 1945 and this film was made nine years later and is its first adaptation. It also holds the distinction of being the first ever British animated film. But besides its historical values, the film itself is worthy of the book as it is such a good, mostly satisfying adaptation that, although weaker than the source material, still comes pretty close to it, at least for me.
………………………………………………
"No animal shall drink alcohol.
      No animal shall sleep in a bed.
         Four legs good, two legs bad"
………………………………………………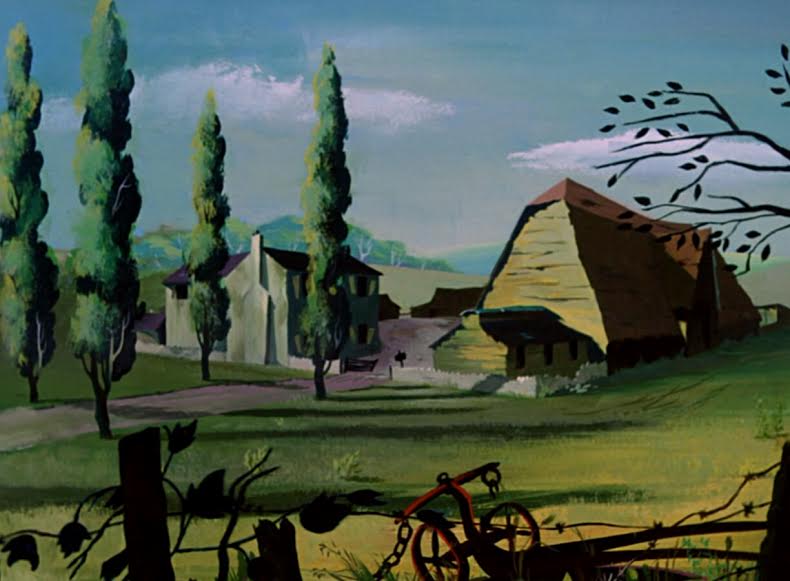 ………………………………………………
The plot is very well realized and despite that ending, everything else here was adapted in such a phenomenal way which is why it succeeds as an adaptation as it has such a great adapted screenplay. The beginning is perfect and I have to say that I really liked the emphasis on humans that was mostly lacking in the novel. Here those inn sequences are excellent and they serve as a great plot device.
Another great sequence in Animal Farm is the one in the house. That was also only glanced upon in the novella and here they used the animation in presenting it wonderfully with some solid humor as well. I really liked that and again that was a strong scene to showcase the film's superb screenplay. As for those working scenes, they are pretty well realized, but once again overlong.
………………………………………………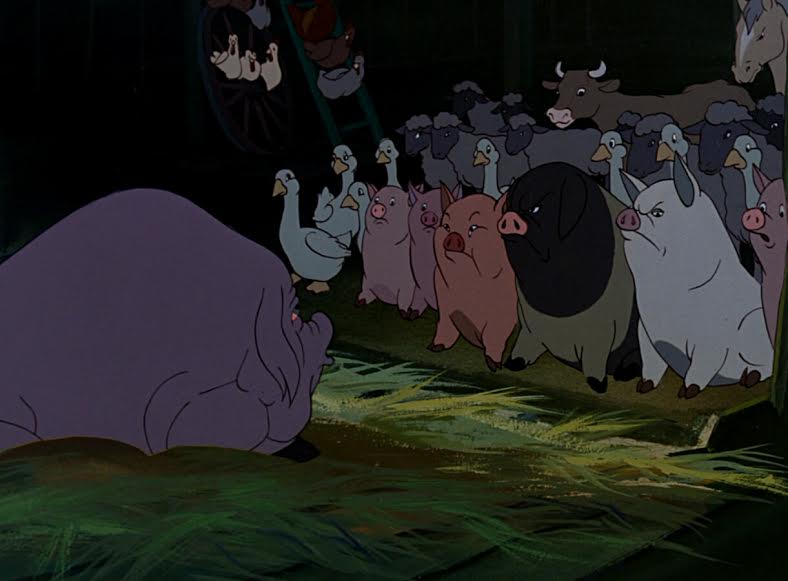 ………………………………………………
Boxer's downfall and Napoleon's rising was so well executed and dramatic. That windmill sequence is just so tragic and heartbreaking. I loved everything about those dramatic, more important scenes as they lasted for just the right amount of running time and were so well filmed.
And now for that ending. Yes, this is the major flaw in an otherwise strong film. Basically what they did here was to give us a happy ending, thus seriously altering the original ending and reducing the overall impact of the story. The animals led by Benjamin overthrow the pigs in a too happy for every standard ending. And although those scenes with pigs now looking as humans were well executed overall, the choice to portray that instead of just showing it at the very end as in the source material is disappointing as the original ending would have been absolutely magnificent and so memorable in the animated film form.
………………………………………………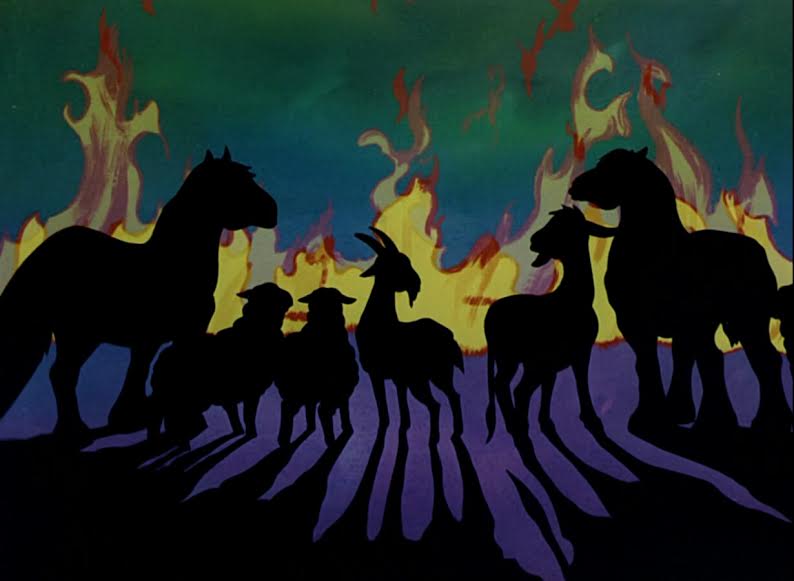 ………………………………………………
The character development is strong and mostly all of the characters are well utilized. Old Major is great and that scene with him was fantastic. Mr. Jones is superbly depicted and Snowball is pretty good as well. As for Napoleon, I have to say that I found the voice performance somewhat weak. Maurice Denham voiced all of the characters here and most of them were well voiced, but his work with Napoleon wasn't as great. But the character himself is excellent as he is not only well animated, but also menacing and memorable.
Boxer is fantastic and as tragic here as he was in the original. And obviously the film differentiates with Benjamin as he is much more present here and much more of an important character. And despite that ending, I have to say that I liked him and that emphasis on him as he was likable and the relationship between Boxer and him was pretty strong.
………………………………………………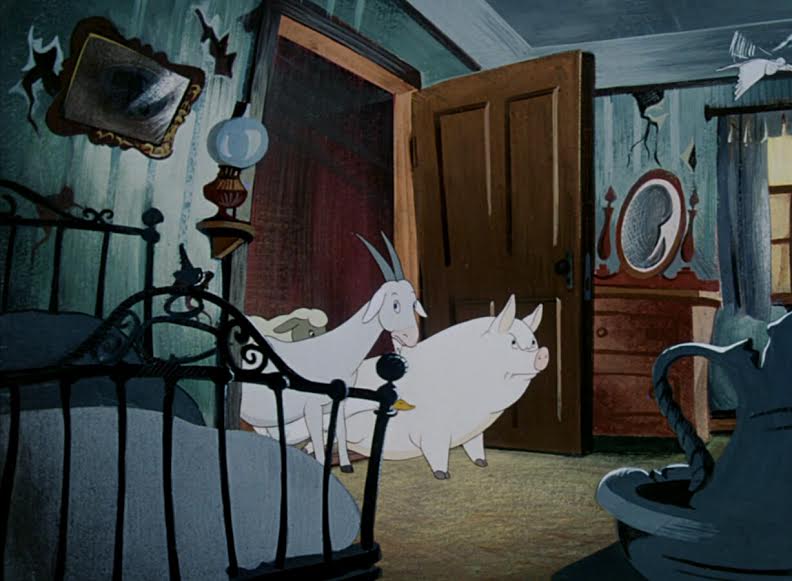 ………………………………………………
The animation in Animal Farm is very good. It isn't great, but it's strong. It is never great because some of the natural landscapes and backgrounds weren't as strong and were pretty weakly animated, but other than that, everything looks good. The colors are excellent, some of the scenery is mesmerizing and I just loved that more old-fashioned, wonderful hand-drawn animation. And even though the style is obviously reminiscent of Disney works, the character design is the area in which the two differentiate. The characters are never too cute here and I just loved that. This shouldn't have a cartoony animation as it isn't appropriate for this kind of story and thankfully they got that and had the animals all look more realistic and even more grotesque than usual. That was fantastic and a perfect way to bring them to the big screen.
Animal Farm is technically great. The imagery is good and the directing is pretty solid. As for its pacing, I have to say that is it great for the most part and the running time of 70 minutes was just right for this story. The sound effects are also terrific as the animals all sound as they should – pretty realistic and accurate. The score is also really good.
………………………………………………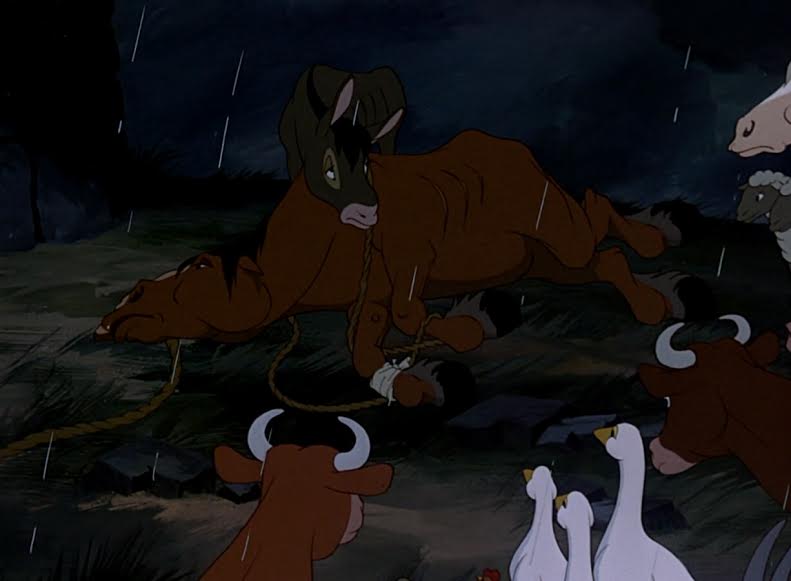 ………………………………………………
The dialogue bothered me as it wasn't that present and too many sequences were silent. But its serious tone is satisfying, the message is well utilized and the humor is solid. And because this film is perfect for the medium of animation, it was great to watch it just like that and the fact that the animation was more serious and realistic was all the better. But it thoroughly succeeds as a book adaptation thanks to a strong screenplay and I overall find it to be an incredibly underrated, really strong animated film.
Animal Farm has an unfortunate ending, but other than that, the film is very strong and definitely underrated. The character design here is so fantastic as it is serious and realistic, the characters are well utilized, its adapted screenplay is so good and some scenes are superbly dramatic and perfectly executed. It succeeds as a satisfying adaptation that is mostly respectable and worthy of its source material.
My Rating – 4