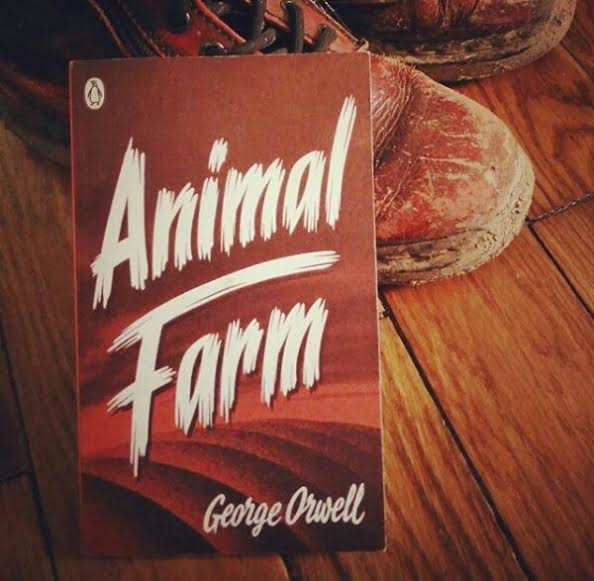 …………………………………………….
Animal Farm Book Review
Animal Farm is an allegorical, dystopian novella written by George Orwell and published in 1945. It is such a good, important book.
…………………………………………….
"Let's face it: our lives are miserable, laborious, and short"
…………………………………………….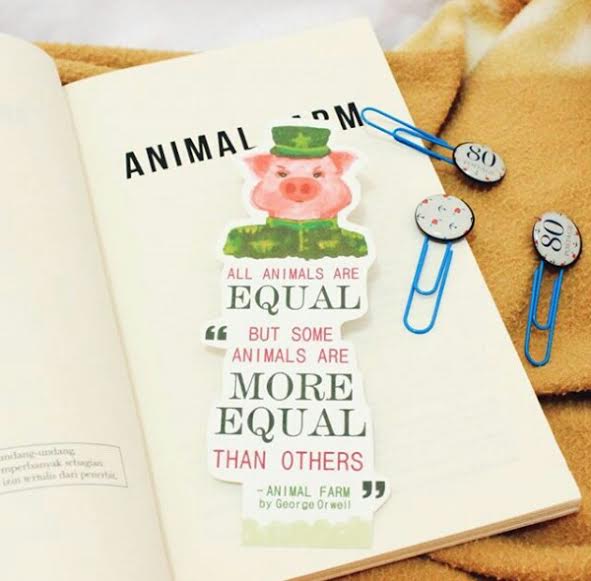 …………………………………………….
It follows farm animals who assemble and overthrow their human master and establish an animal society governed by its own set of rules (the seven commandments). However, their ruler eventually retains human characteristics and turns the farm into a dictatorship. I found the plot here to be excellent. The book has its problems, but the plot is not one of them. The storytelling here is pretty good and everything is really well established.
The idea to have an animal centric story, but with political overtones is ingenious and the novella is truly meant for adults only. It is deceptively simple at first, but becomes progressively complex and sophisticated to the point of being a full allegory in the end. And I really liked that structure and the fact that Orwell manages to populate this story with animals, but still make it relatable and human and so mature. That was admirable.
…………………………………………….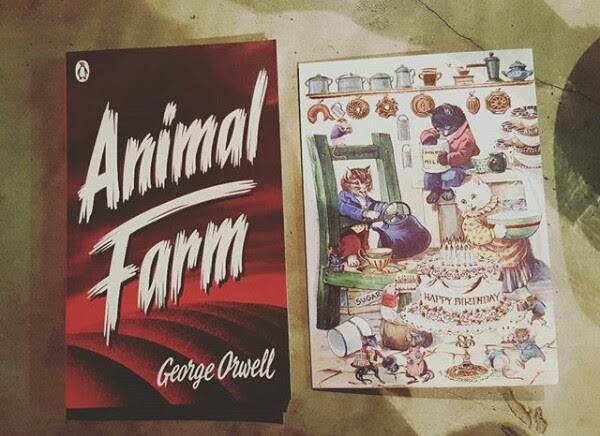 …………………………………………….
Let's talk about the characters. The character development was quite good here. Good, but not great as only a handful of characters get proper development and attention which is obviously influenced by its short length. Old Major serves as a symbol really well. Napoleon is fantastic as an allegory of Joseph Stallin. He is probably the best character here and I really liked how the emphasis on him was great as this kind of character is essential for this plot.
Snowball is also great, but Squealer isn't as memorable. Boxer as this gullible, hard working horse is probably the most relatable, most tragic figure here and I just really felt sorry for him. Clover and Benjamin are solid companions and I really liked Moses and especially the cat. That cat is so realistically portrayed that I just loved her. As for the humans, they are serviceable to the story, but aren't that emphasized which is okay as the emphasis should be on animals and it rightfully stayed so.
…………………………………………….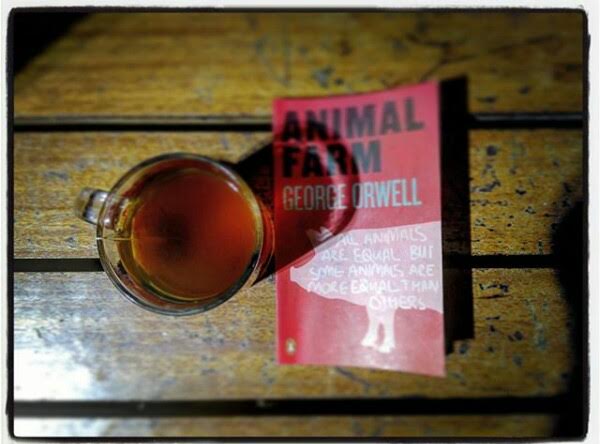 …………………………………………….
Speaking of that cat, she is very realistic as cats are really like that – lazy and selfish. The pigs being smart is also pretty accurate and the horses being hard working is on point. That I really liked – the attention to detail and the book's evident realism. Every animal is so well depicted and for the most part, animals act as they should act, just adding more cleverness to the mix. The only issue I've had are the dogs as I felt that they weren't as realistic and weren't particularly well utilized.
Animal Farm is a thematically rich, obviously smart work. The politics here is so fantastic and it just felt real and incredibly relatable and important of course. I liked the whole idea of animalism, the allegory of Russia and Stallin was great, but the standout was the exploration of dictatorship and the worst tendencies of human kind. That ending was just so powerful and, as pigs basically become humans, you are left almost disturbed. The whole critique of humans and especially their political side is a bit too on-the-nose at times, but mostly clever and never childish which it easily could have become.
………………………………………………..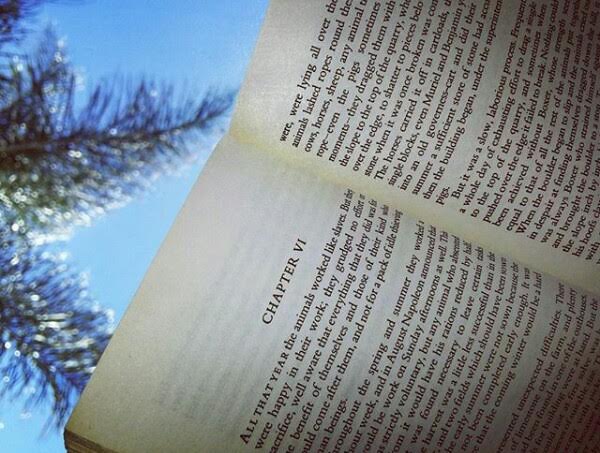 …………………………………………….
The writing from George Orwell is of course very good and he really did a great job with this premise. I liked his style quite a bit and this is a great instance of a writing style with short sentences that is actually good instead of being simplistic and annoying. The book actually goes on point and spends most of its time on the right issues and is never boring or dragging.
But I have to say that Animal Farm is far from perfect. In fact, it is a good novel, but never great as it has its problems and those problems annoyed me. The worst offender has to be that second half of the book, most especially the last third or so. Whereas the first half was so engaging, so riveting and just fantastic all around, the second one was disappointing on so many levels.
The pacing is off and that half is just too brisk and everything happens too quickly. Napoleon is great and so well depicted, but the plot around him isn't and his emphasis is there, but unfortunately somewhat rushed at times as some of his greater moments are abrupt and felt disappointing to me. Some of the most dramatic and important parts of the book weren't particularly long which annoyed me.
…………………………………………….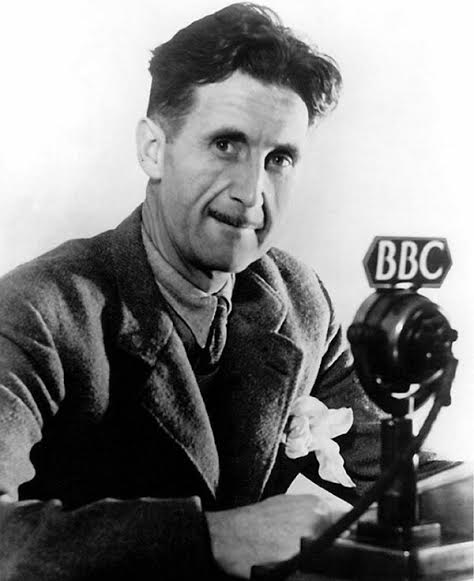 …………………………………………….
And yes, some of Orwell's writing also annoyed me. His emphasis on those passages with the passage of longer periods of time and the descriptions of animal working activities is frustrating. Those passages did provide us some crucial information and attention to detail, but they became overly abundant in that second half (again) and the dialogue should have been more present.
But at least what we have of the dialogue is great and some lines are just so powerful. The ending is awesome, the beginning as well and the entire first half is so riveting. I really liked the message and politics of the book as well as its themes and of course the characterization and conflict. It is the kind of work that seems as if it was written hundreds of years ago and not just in the forties which is a testament to its timeless appeal and importance. The humor is also pretty good, if not that present. The emotion is also there and the writing is great. It thoroughly succeeds as an allegory and a dystopian work because both of those elements were so well utilized. The society here is perfectly established and believable which is so admirable. Overall, I didn't find Animal Farm to be fantastic as it is flawed, but it truly is a very good, sophisticated novella nonetheless.
Animal Farm is such a fascinating, sophisticated and important novella that deals with its political themes so well and in a clever manner. The dystopian, allegorical elements are superb, the characters are well imagined and even though the pacing and some later parts are problematic, the book is for the most part a brilliant cautionary tale with timeless appeal and a strong message.
My Rating – 4