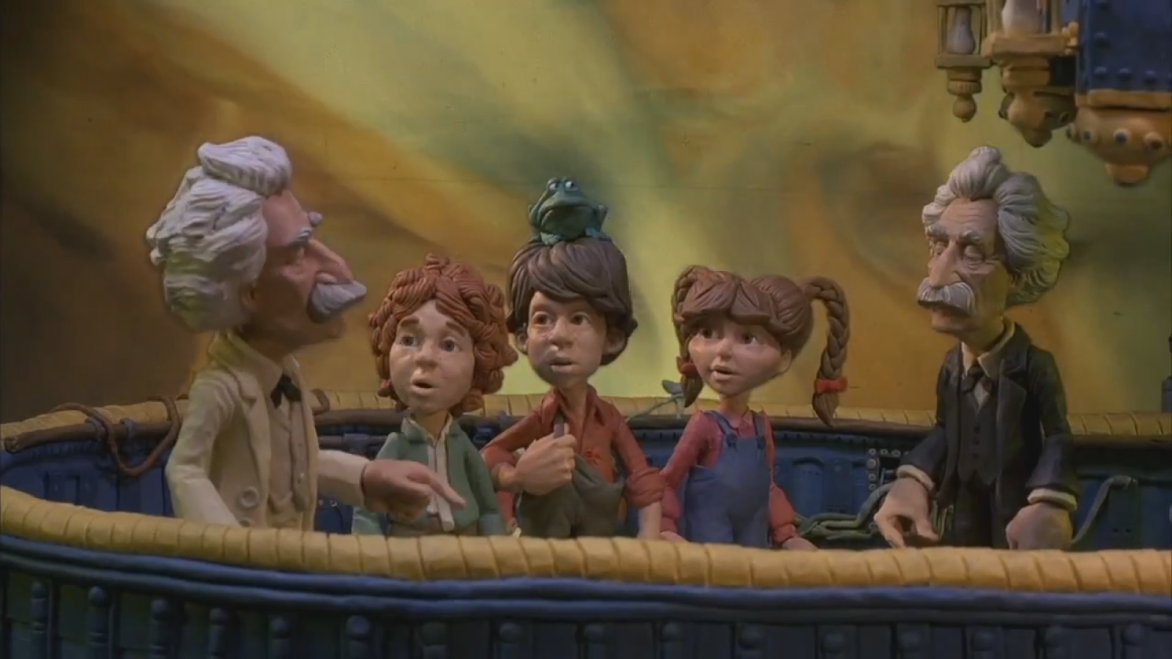 …………………………………………………………..
The Adventures of Mark Twain Movie Review
The Adventures of Mark Twain is a 1985 stop-motion animated adventure film directed by Will Vinton. It is a solid, visually admirable film.
The film is basically a series of vignettes built around the plot in which Mark Twain attempts to catch up with Halley's Comet. It is a sort of a package film, but pretty solidly edited for this type of a film. I found it to be very adventurous as its energetic and imaginative spirit is undeniable. But it also has its moving moments near the end.
…………………………………………………………..
"The human race, in all its poverty, has only one truly effective weapon: laughter. Against the assault of laughter – ha-ha-ha-ha! – nothing can stand."
…………………………………………………………..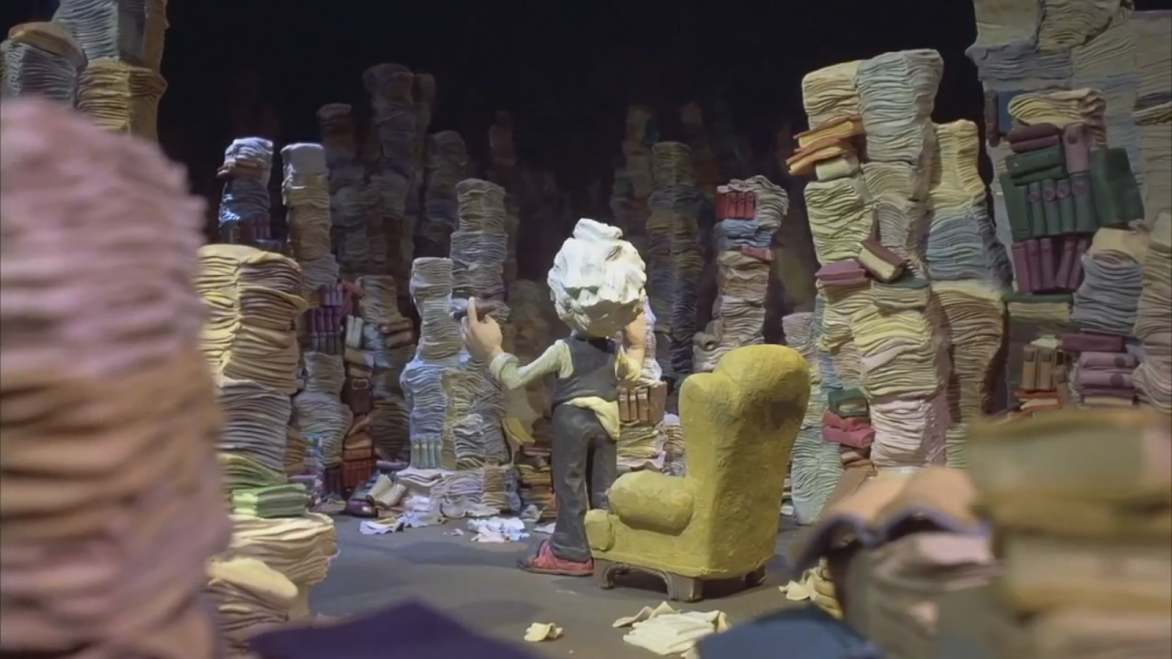 …………………………………………………………..
Of its various segments, the best one is the Adam and Eve segment which is pretty interesting and the basic plot itself is very strong and I loved most of its fantastical elements as they were quite magical. Every scene with Mark Twain was the winning one as he is the best character here and the most fascinating. I loved how they've taken the parts from his books while framing them with his comet quest which was a great touch as he really wanted and actually did die when the comet arrived which is incredible.
Unfortunately, all of the other characters are so boring and even flat that they ruined the experience for me. This film is one of the most frustrating animated films I've seen recently as it does most of the things right, but the things that it does poorly damage it significantly. One of those things is the character development of the supporting characters and the kids themselves. Adam and Eve are great, but Tom, Huck and Becky are so dull and forgettable and that was a problem as they are important characters here. So disappointing.
…………………………………………………………..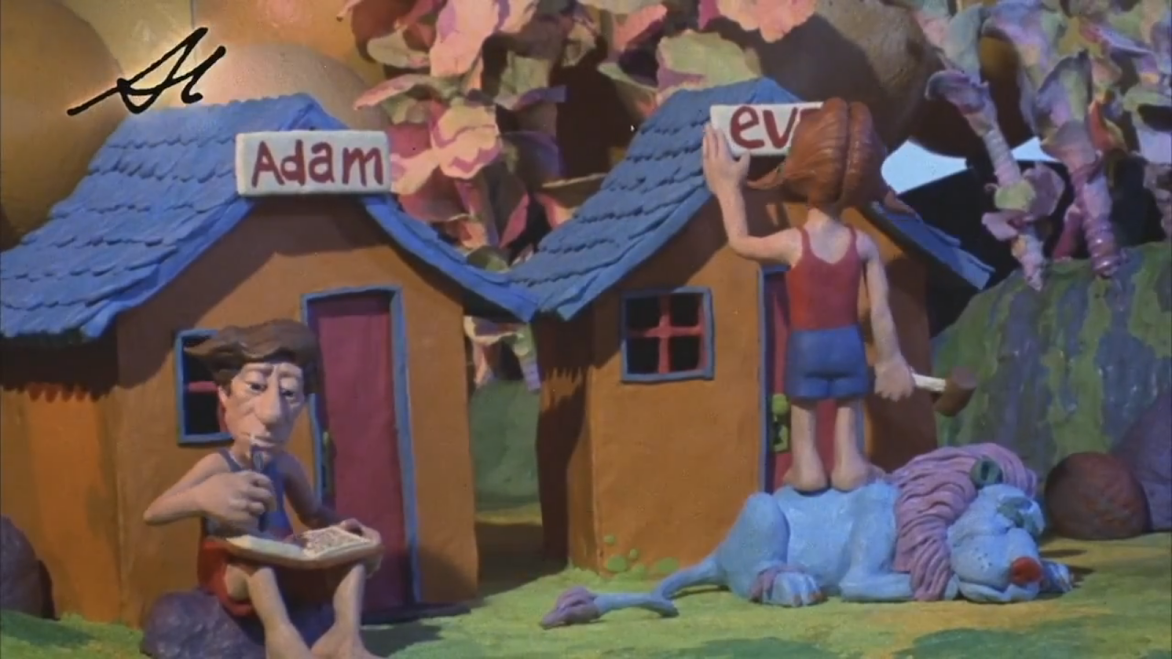 …………………………………………………………..
The same goes for the acting. I just found all of the voices here really unfortunate. They not only sounded too modern, but the performances themselves weren't great. The voices were dull and sometimes even annoying and they definitely affected the movie.
Now, let's talk about the animation. The Adventures of Mark Twain is beautifully animated and that is easily its finest aspect. This stop-motion work is one of the great examples of how wonderful this medium can be. For the eighties, it looks stunning and what Will Vinton did here with the characters and the overall world was terrific. I loved the clay animation here as they didn't cheap out on it. Everything looks so polished and so exceptional that it was a marvel watching its every fantasy element and its every setting, all beautifully brought to life. Some of the imagery here is truly memorable and striking.
…………………………………………………………..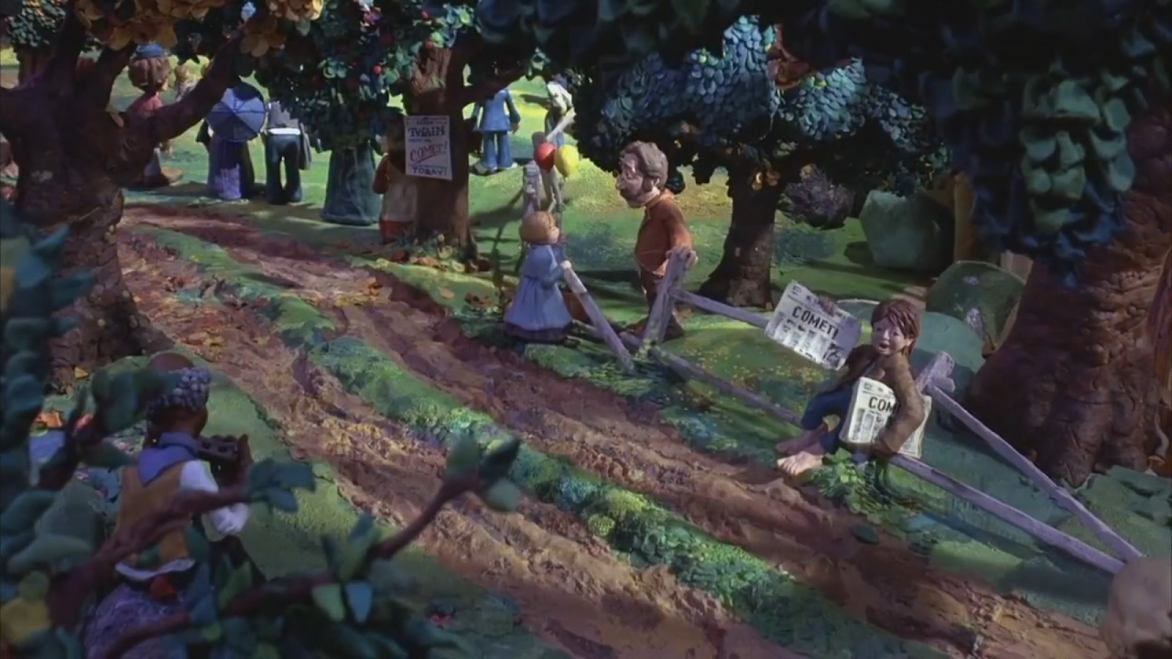 …………………………………………………………..
But other than its animation, the film isn't particularly well paced and it is quite slow and at times even uninvolving which is a problem as it should have been riveting having in mind its intriguing story and its fantasy adventure elements. But it just never was as entertaining as I hoped it would have been. It is really well made and at times even quite inspired, but as a sum of its parts, it doesn't quite succeed as it succeeds individually in some segments. I really liked its ending as it had some very interesting quotes in it plus the whole message about laughter being humans' greatest strength is on-point and awesome. I just wish that the whole movie had as great a dialogue as it was in that part. Overall, it is a pretty solid, even underrated flick, but a lost potential for greatness nonetheless.
The Adventures of Mark Twain is a frustrating movie as it is never as great as it could have owing to some pretty subpar voice acting as well as some flat characters, but the film is still quote solid and sometimes even inspired, it is very adventurous, the story is mostly quite interesting, the ending is great with a terrific message and its stop-motion animation is its strongest suit as it is so polished and beautiful to look at.
My Rating – 3.5
…………………………………………………………..