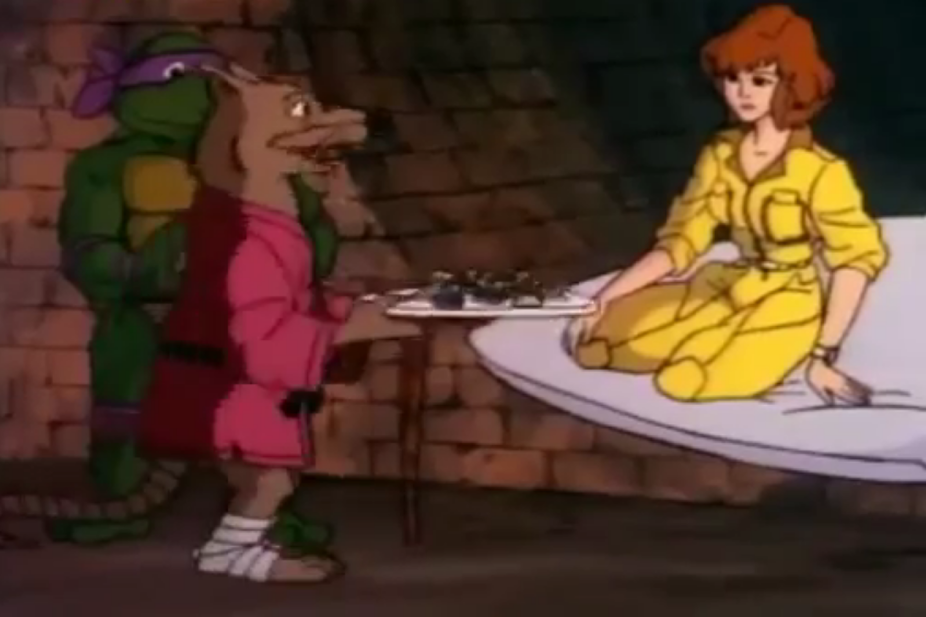 ……………………………………………………
Teenage Mutant Ninja Turtles Review
Teenage Mutant Ninja Turtles is a classic animated superhero comedy TV series. The first season aired in 1987 and consists of five episodes.
……………………………………………………
"Cawabunga!"
……………………………………………………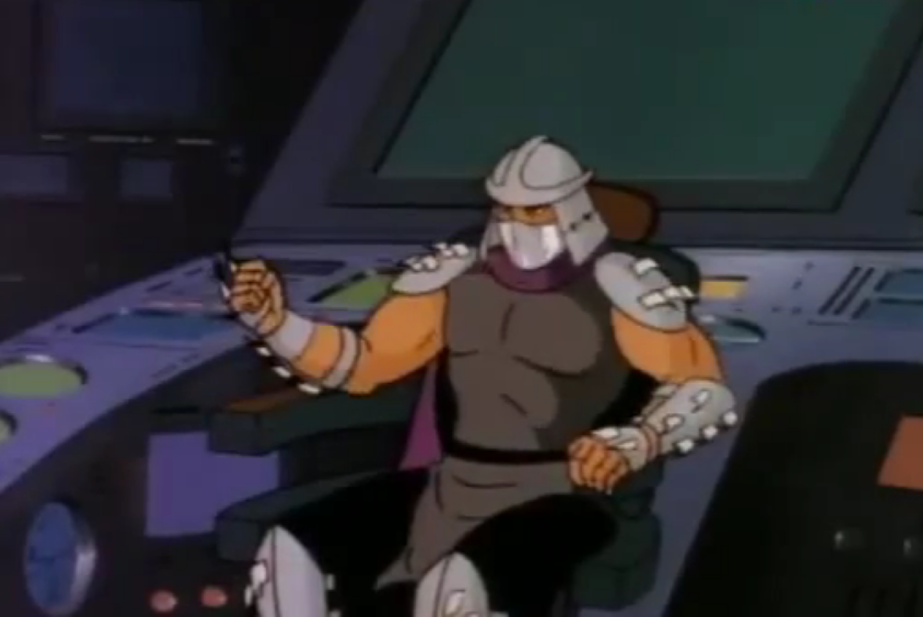 ……………………………………………………
I simply loved this show when I was a kid and it was one of my favorites and now finally years afterwards I decided to watch it and see if it holds up through the eyes of an adult and I am happy to say that it does. The plot and characters are as fun as they ever were and I enjoyed this first season so much and I am looking forward to seeing the rest as this is just the start.
Technically, it is very weak. The animation is as dated and as cheap as any 80s American animated series and that is something that I realize only now. But the character designs are excellent as I love the looks of each of its characters. And the city as well as the sewers are so well utilized as settings.
The voice acting is also very weak across the board. The turtles are voiced better than the others, but overall I am unimpressed. But thankfully it doesn't take away from the enjoyment of the show too much. As for its score, it is awesome and of course I just love its opening theme – so catchy and a perfect cartoon opening by all means.
……………………………………………………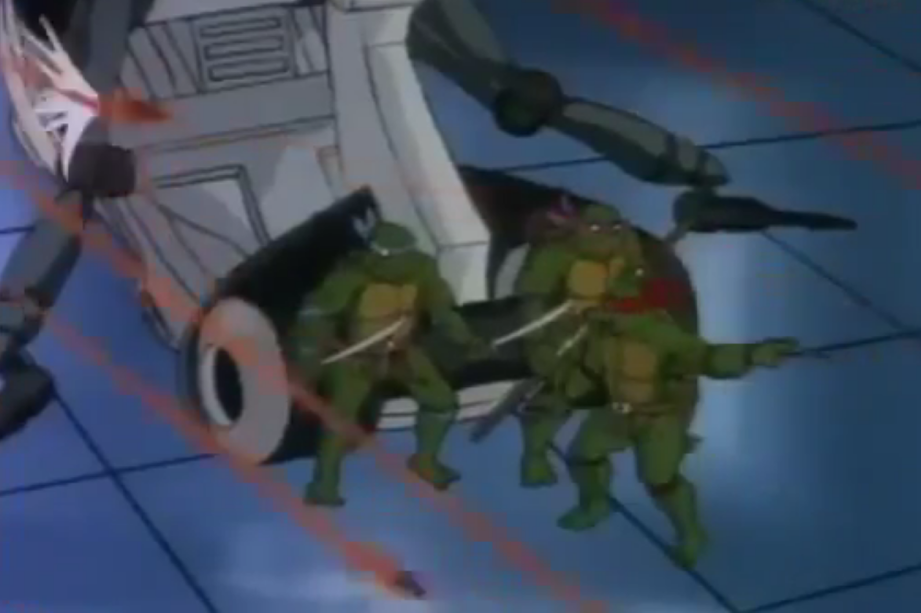 ……………………………………………………
The first season is well paced and it is a good introductory season to all of its characters. It only has five episodes and I am going to go through each of them shortly. I thought this was a great introduction to the storyline, setting and characters and it's overall a satisfactory first season. The turtles need more development in the future, but they are a lot of fun and I loved their movie references. They are funny and amusing. April O'Neil is a strong female character for the time and I loved her relationship with the turtles; Splinter is such a wonderful sensei character and the villains are all very good from intriguing Shredder to over-the-top Krang to Bebop and Rocksteady who are quite good as stupid henchmen.
Turtle Tracks is a very good pilot for the entire series and it does its job well, although a bit too frenetically. Everyone gets their proper introduction here and I liked how quickly April became part of their gang.
……………………………………………………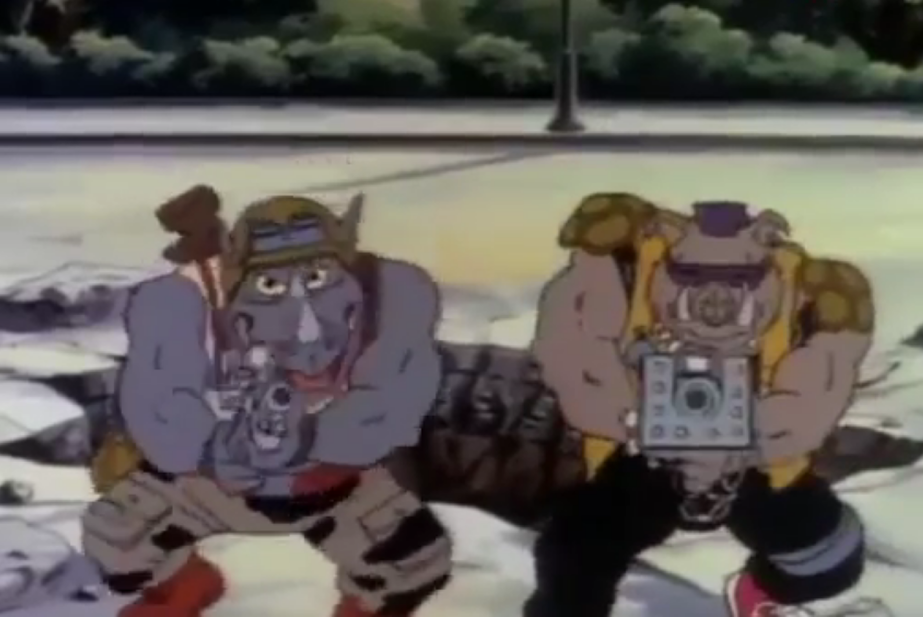 ……………………………………………………
The Technodrome is introduced in Enter the Shredder which is the season's finest episode. I loved the entire episode, but the highlight was seeing the backstory of Bebop and Rocksteady and how they were created by Shredder. It was evident here that the show is based on a comic-book series and they adapted it into TV form so well.
A Thing About Rats has its moments and Splinter got more to do, but it is the weakest episode of the first season that started off fine, but ended up with too much action and not enough humor or substance.
Hot Rodding Teenagers from Dimension X is a very entertaining episode and Neutrinos are such crazy and fun, typically 80s characters. But besides setting up Krang's story and Dimension X, this episode does not belong here as it came way too soon in the show's run and it isn't particularly connected to the rest of the season.
Shredder & Splintered is a very good, if too action packed episode that of course features a great fight between the titular characters and such a great ending for the episode and the season. I loved that Krang finally got his body, how Donatello was established as a tech wiz and that we see just how much Splinter cares for his turtle pupils.
Overall, the first season of Teenage Mutant Ninja Turtles is too short and rushed, but mostly a very good introduction to the story, setting and its fun characters with great action, fun humor and excellent and well established backstories for each of its memorable characters.
……………………………………………………
Worst Episode: A Thing About Rats.
Best Episode: Enter the Shredder.
My Rating – 4.1
……………………………………………………