……………………………………………………..
La La Land Movie Review
La La Land is a 2016 musical drama film directed by Damien Chazelle and starring Ryan Gosling and Emma Stone. It is a very good, but somewhat problematic movie.
……………………………………………………..
"They worship everything and they value nothing."
……………………………………………………..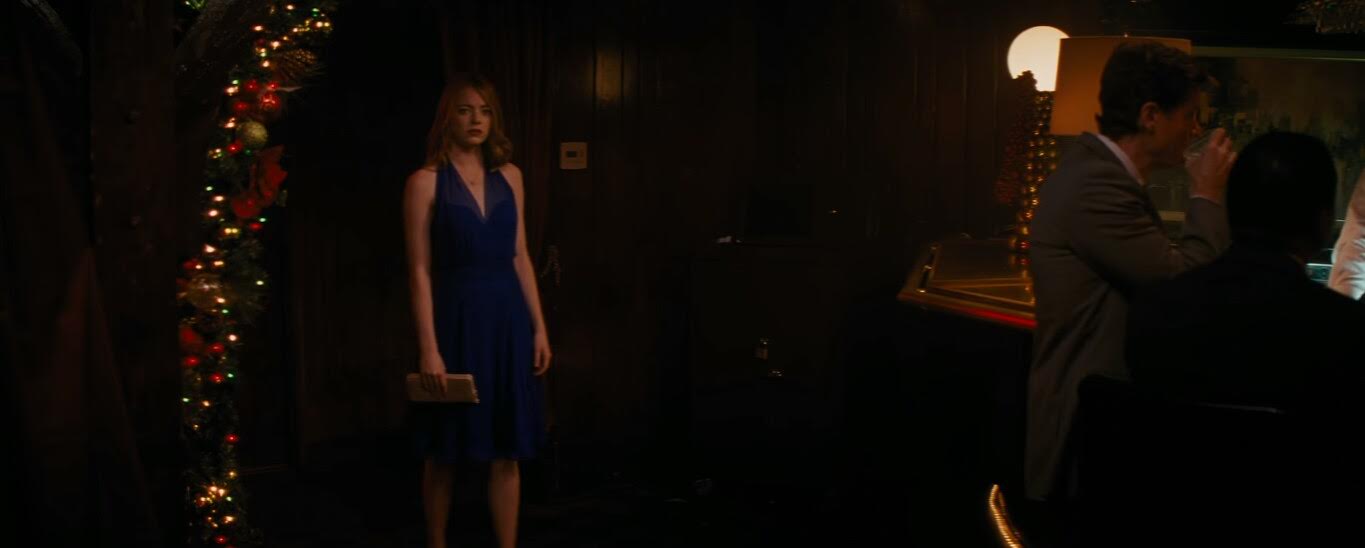 ……………………………………………………..
It is about a musician and an aspiring actress who meet and fall in love in Los Angeles. The plot is good, if clichéd at some points. It is a very interesting movie, I have to say. Some parts felt incredibly uninspired and basic, but others felt very original. That imaginary ending certainly was authentic and one of the most authentic and overall best scenes of any 2016 film. Rarely have I seen something quite like this sequence.
But the fact that she all of a sudden was discovered and became this hugely popular actress felt laughably unrealistic. And I did laugh at that development honestly. But overall the film is good and well plotted. I especially liked its first half. I actually loved its first half as it was pretty charming and romantic and flowed smoothly. But the second half is problematic a bit with a couple of very unfortunate character as well as plot choices.
Let's talk about the characters. I guess of the supporting characters only Keith was remotely memorable as the movie mostly focuses on the main two characters which was fine. Keith was quite sympathetic and John Legend did a good job in the role. Sebastian is very likable. I didn't connect with him as I honestly dislike jazz so I did not understand his passion for it, but other than that, he was a very likable, sometimes quite endearing man.
……………………………………………………..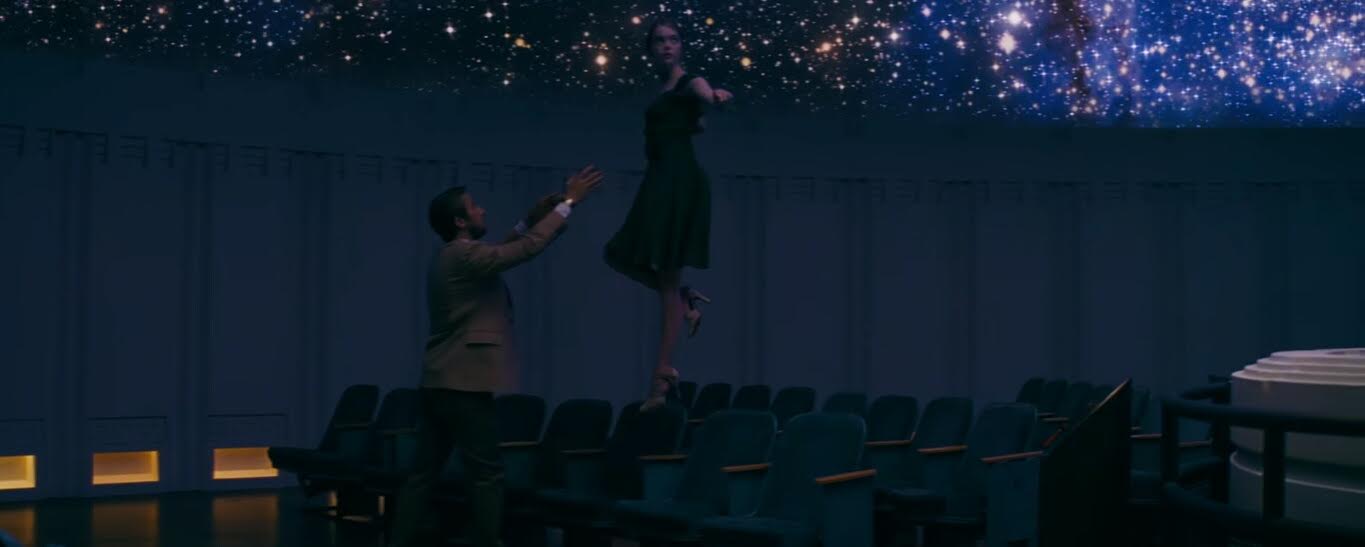 ……………………………………………………..
The choice to have him be so sympathetic ultimately hurt the movie as Mia is anything but. Wow, I did not see this coming. She is such a bad, absolutely horrible human being that I honestly am baffled at the majority of audiences and critics and how they missed that. I guess I am not as puzzled by it because the filmmakers made her as sympathetic as possible, but it was all just a facade. Rarely have I seen a more irredeemable protagonist in a movie.
What she did to Sebastian was horrible and when you think about it thoroughly, she basically ruined his life. She only thought about herself and her needs and she manipulated him and ruined his dream of becoming a star. That isn't the problem here as there are bad people in this world and they need to be portrayed on the screen. The problem is that they presented her to be more of a victim than him and basically took her side. That was just appalling to witness and made the movie unlikable and sexist. Again, they masqueraded it well, but for anyone smart enough to figure it out on his/her own, the film is sexist and I honestly think that straight men should be offended by it a bit. But I still liked that in a way as it led to a commentary on how careers are nowadays more important than personal relationships and that was on point.
The acting is great. Emma Stone is great in a difficult role. And even though I thoroughly disliked her character, I admired her performance which was excellent and at times even truly great. She deserved all of the accolades for it and it should prove to be a career-defining role for her. As for Ryan Gosling, he isn't as great, but he was still very good and he sold his more emotional scenes as well. He not only was very likable here, but also gave a worthy performance.
La La Land is a musical so let me touch upon its songs. Overall, I found the choreography to be frequently quite weak and the singing is actually rather mediocre at times. The same goes for the dancing. If you want realism, this is great for you. But I want professionalism so it wasn't as thrilling to me personally. Plus the various homages to the 1950s classic musicals felt more like uninspired and overly nostalgic rip-offs than respectable homages. But some of those homages were sweet and some choreography was great. The film is a visual feast for the eyes which is why it should be seen on the big screen which I did twice myself.
……………………………………………………..

……………………………………………………..
I really liked some songs, but I really disliked a couple of them too. And again my dislike for jazz hurt the chances of me liking the soundtrack more. I do not understand the hype and the accolades for City of Stars and Audition as these two are by far the weakest numbers here. I really disliked them as they are bland, forgettable and utterly dull. So overrated. City of Stars is badly choreographed and Audition is kind of a detour and it slows the movie down significantly. But it does have nice and moving lyrics for sure.
I liked Start a Fire quite a bit, very catchy. But my favorites are definitely Another Day of Sun and Someone in the Crowd. The first one is quite a special scene to open the movie and very interesting and the song itself is catchy, breezy and a lot of fun. But Someone in the Crowd was awesome. I liked it a lot as it was not only catchy, but was an all around charming scene and the tune here is very memorable and very entertaining.
To me La La Land succeeds more as a romance than as a musical as half of the songs are weak. I guess the third act destroyed their romance, but watching it start and blossom was pleasant and the film is surprisingly romantic. It is actually one of the most romantic films of the decade. But because this relationship is so toxic and just plain unhealthy, it hurt it in the long run and it sometimes made it seem more of a nightmare and a tragedy instead of a truly feel-good and touching romance. But it still felt tragic and heartbreaking in its ending which is why the film is going to become a romance classic in the future.
……………………………………………………..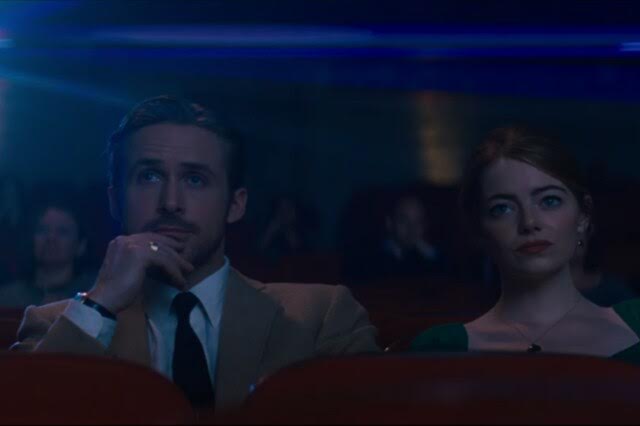 ……………………………………………………..
The direction from Damien Chazelle isn't the greatest and I think his 'Whiplash' is better than La La Land. And let's talk about the other technical aspects, most of which troublesome. The costumes are pretty great and the score is naturally good, but the editing is awful as the film's second act felt a bit prolonged and honestly quite boring in some spots. But to me the cinematography is the worst aspect of it. It was just so mediocre at times that I was baffled at how Linus Sundgren managed to get nominations for his work here. Some shots were fine, but some were just weak and so poorly conceived that they hurt their scenes which needed better and more inspired shots. But some scenes such as the planetarium one were just beautiful to witness and the film is a visual marvel at times. In the end, I realize that this film is a crowd pleaser and it does leave you in a great mood which is why I understand its appeal and it is a very good movie overall, but it is so troublesome in so many areas that it is never a masterpiece that it was proclaimed to be.
La La Land is a very good, but far from a truly great movie. The film is very charming and its first half is actually great, Ryan Gosling and especially Emma Stone gave remarkable performances, the ending is certainly something special, some scenes are quite romantic and I really liked some of its songs with Someone in the Crowd being my favorite, but City of Stars and Audition are overrated, dull and bland numbers that I really disliked and the cinematography is frequently quite mediocre at times. But the biggest offender is the main character. The film managed to get around the fact that she is such a horrible human being and that is why most people just did not see that and she basically ruined his life when you thoroughly think about it. There are people like that in the world and they need to be portrayed on the big screen, but the film is problematic as it took her side and thus became somewhat of a sexist movie that should leave men offended. That led to their relationship being more toxic than truly beautiful. But still because it is visually dazzling and so authentic and beautiful at times, it is a very good movie that should become a classic in the future.
My Rating – 4.5
……………………………………………………..