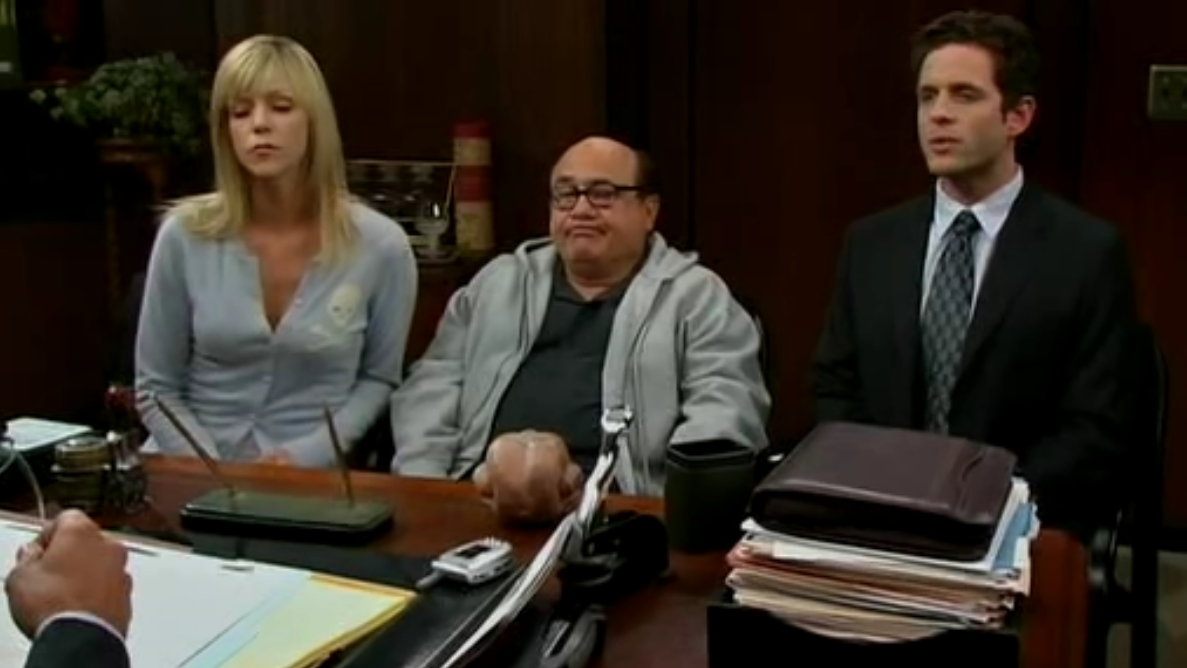 ………………………………………………….
It's Always Sunny in Philadelphia Season 3 Review
The third season of It's Always Sunny in Philadelphia is quite possibly the best one with almost every episode being not just great, but fantastic. It is such an amazing season.
………………………………………………….
"You tell her that she's a god damn whore,
always been a whore!"
………………………………………………….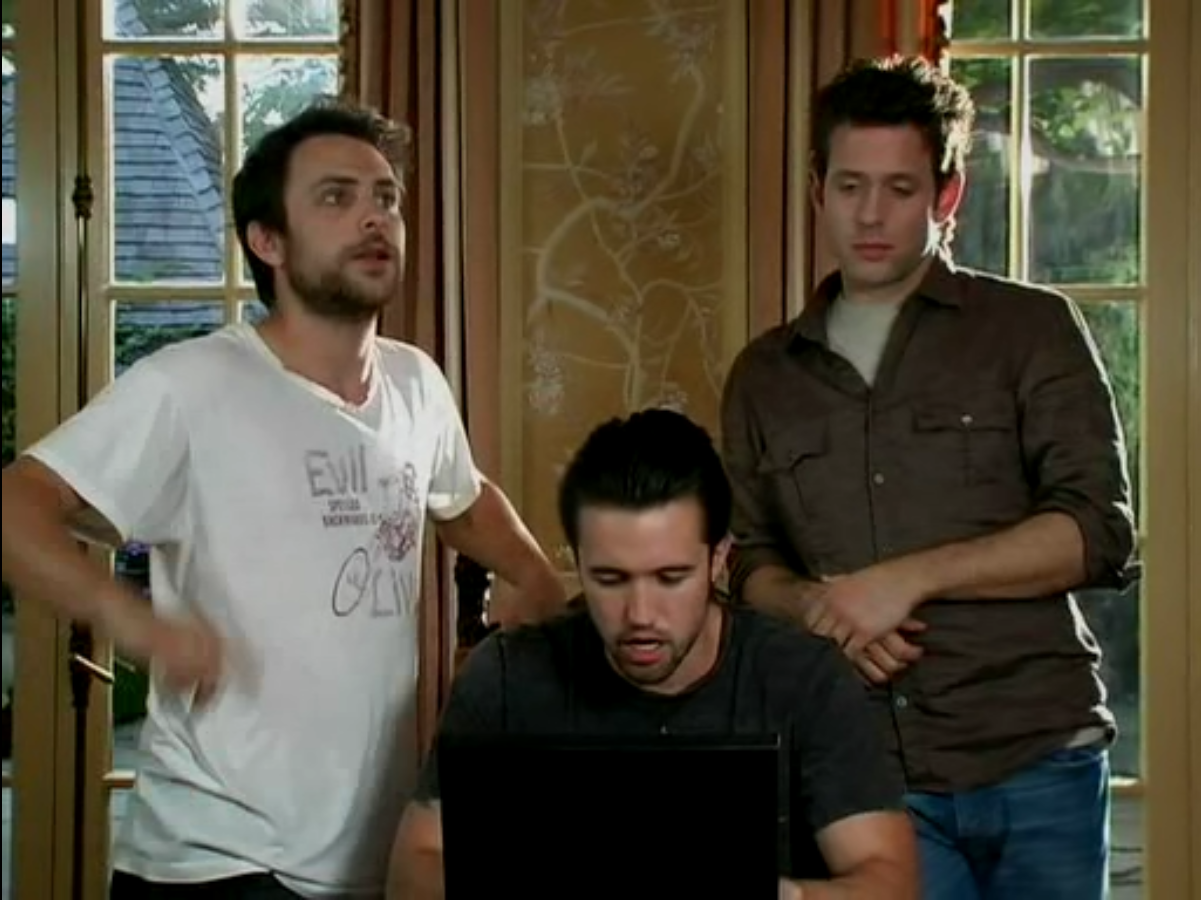 ………………………………………………….
Thankfully this time around we've got more episodes than before with 15. The first one is The Gang Finds a Dumpster Baby which isn't the best of the season, but watching Frank and Charlie bond around trash was fun and of course Dee and Mac wanting to make dumpster baby a star was hilarious. But the highlight was Dennis teaching a hippie a lesson by banging his girlfriend. Dennis was on fire in this episode in a brutal fashion.
The Gang Gets Invincible is great for having Dee beat the guys in sports, but eventually Mac and Dennis screwed her over in a funny manner. That subplot was great, but the one with Charlie and Frank was even better. Frank tripping on LCD definitely provided one of the craziest moments on the show whereas Charlie amusingly got to be Green Man for the first time here.
Dennis and Dee's Mom Is Dead gets to deal with a lot of things during its twenty minute run time. Their mom dies, they inherit nothing except for Dennis who gets the house, Frank and Dee try to fool Bruce into giving them money by pretending to be a couple, the other guys throw a party in the house and it all ends with Bruce screwing them all over. Yes, that's a lot. But they managed to make each one of these subplots and sequences great. The opening with the lawyer (who appears here for the first time) is not just the funniest scene of this show, but of any show as I have never laughed harder than I did here, absolutely hysterical! But the rest of the episode is also great and it ends superbly. A classic and in my opinion the best episode ever for the series.
………………………………………………….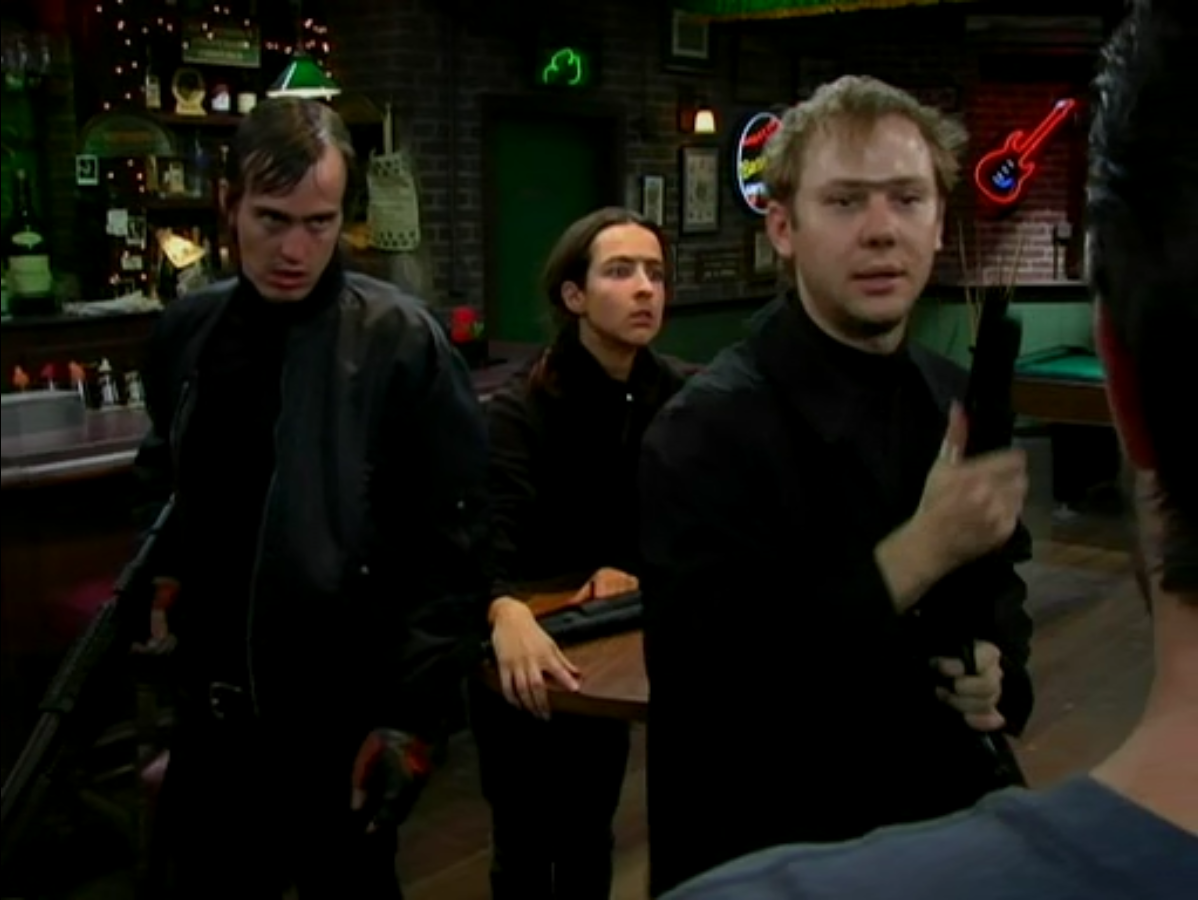 ………………………………………………….
The Gang Gets Held Hostage is another Sunny classic. We've got McPoyles at some of their nastiest and most memorable here. I loved this episode as they proved to be formidable, but watching the gang split and trying to betray each other was so much fun and some scenes here are the most brutal of the season. And of course the conclusion was neat.
The Aluminum Monster vs. Fatty Magoo is amazing. Frank got some good lines along with Mac, but the highlights here are Charlie and especially Dennis. His narcissistic behavior leads to him doing drag at the end of the episode in an unforgettable, such a funny ending. The sexual humor here is so good.
The Gang Solves the North Korea Situation finds Charlie at his surprisingly most triumphant and Dee at her lowest and some of the brutal lines said to her were so funny. But of course the highlight is the entire story which wonderfully makes use of North Koreans and this episode isn't the most polished, but it is the best in its parts as all of its parts work magnificently.
………………………………………………….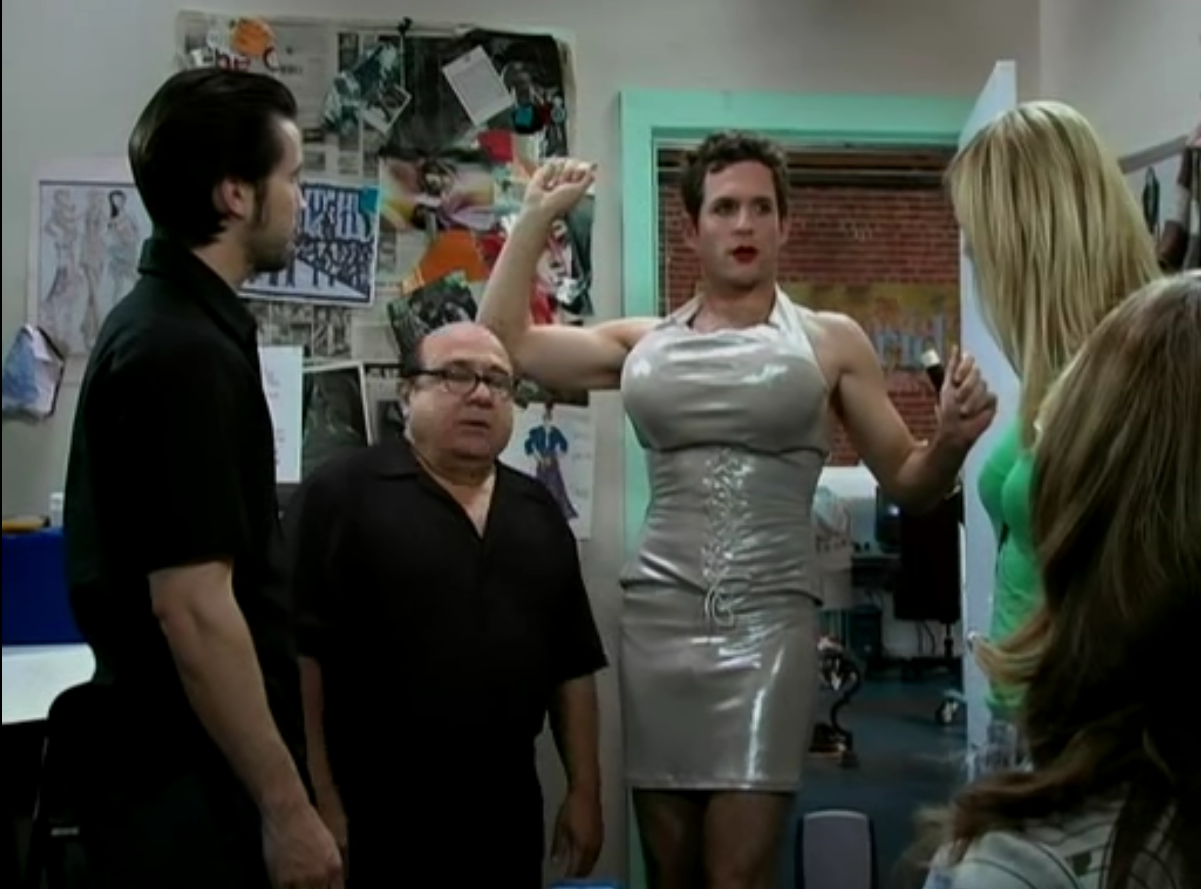 ………………………………………………….
The Gang Sells Out is really good because it has Waitress in it as she was rarely used in this season. I loved her dynamic with both Charlie and Dennis. And Dee with her robbing was so funny in this episode. Frank Sets Sweet Dee on Fire features the titular scene which was hilarious, but everything leading to it was also great. Dennis an Dee getting drugged was amusing and the entire premise with all of them trying to become famous was superbly utilized with every character getting their proper due.
Sweet Dee's Dating a Retarded Person is great in Dee's subplot as it eventually turns out that he isn't retarded and he trashes her in one of his songs, but it is even better in the other subplot where the guys pursue their musical careers. The Night Man Cometh was born here and that song is stupidly entertaining that it ended up being one of the most memorable things in the entire show.
Mac Is a Serial Killer has Charlie acting like a lawyer in such a ridiculously funny manner, but the standout is Mac as we get the first hint that he is gay as he begins dating a transsexual woman whereas the others think that he is serial killing. It has a wonderful use of situational comedy and misunderstanding.
………………………………………………….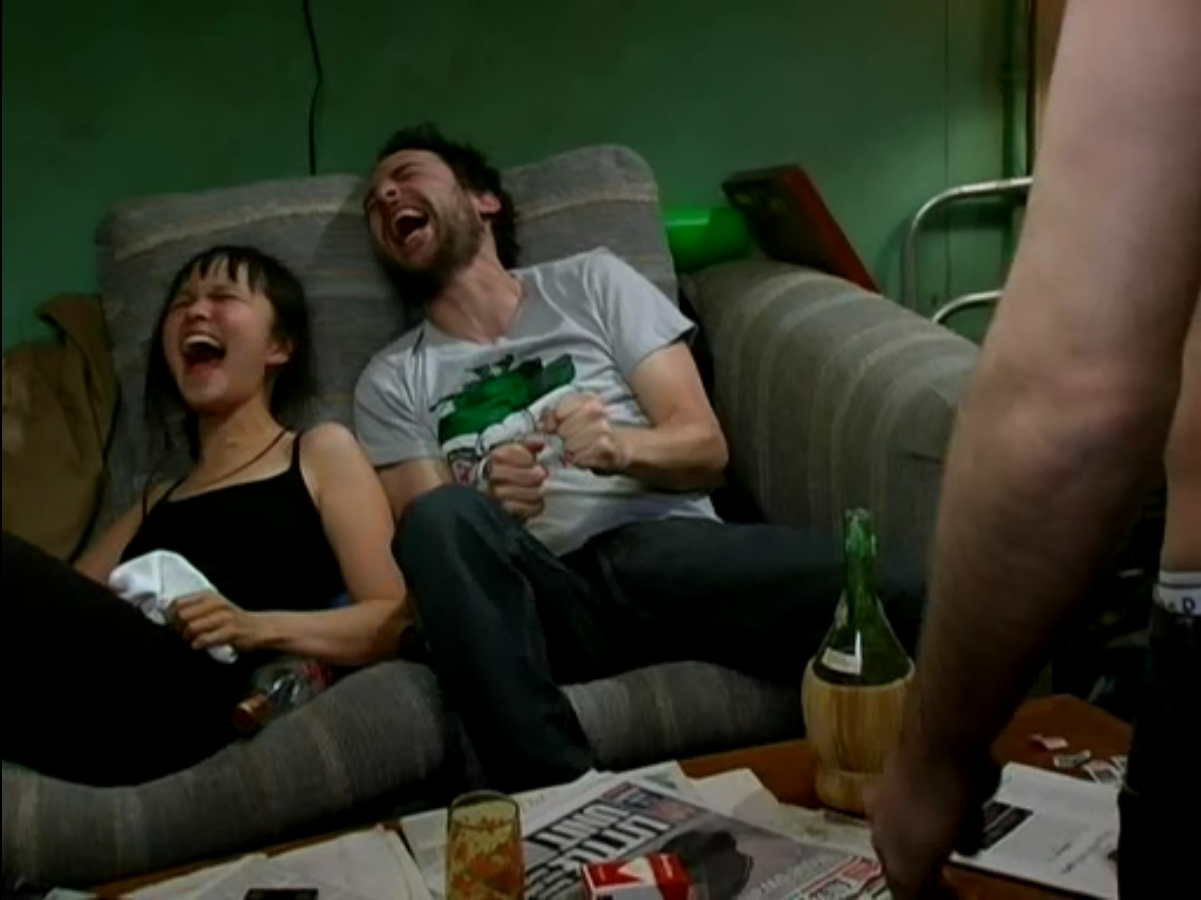 ………………………………………………….
Dennis Looks Like a Registered Sex Offender is one of the weakest episodes here as the subplot with Mac's father is good and has some great scenes, but the titular subplot isn't the greatest and they unfortunately didn't get anywhere with it.
The Gang Gets Whacked Part 1 is pretty good, but is only the warm-up for Part 2 which is a much more entertaining episode. Mac was very funny and I liked their parody of Italian American mob, Charlie and Dee got some fun moments and of course the highlight is Dennis becoming a whore while Frank is his pimp. Rarely has Frank being this manipulative and this funny and I loved how each of its three subplots ended up coalescing into a coherent whole.
Bums: Making a Mess All Over the City didn't conclude Dee and Mac's part really well even though it was previously great, but Frank, Charlie and Dennis were fantastic and of course the highlight is that mingy cat who loves to get into fire and is a survivor. Such a ridiculous, yet very funny and memorable part.
………………………………………………….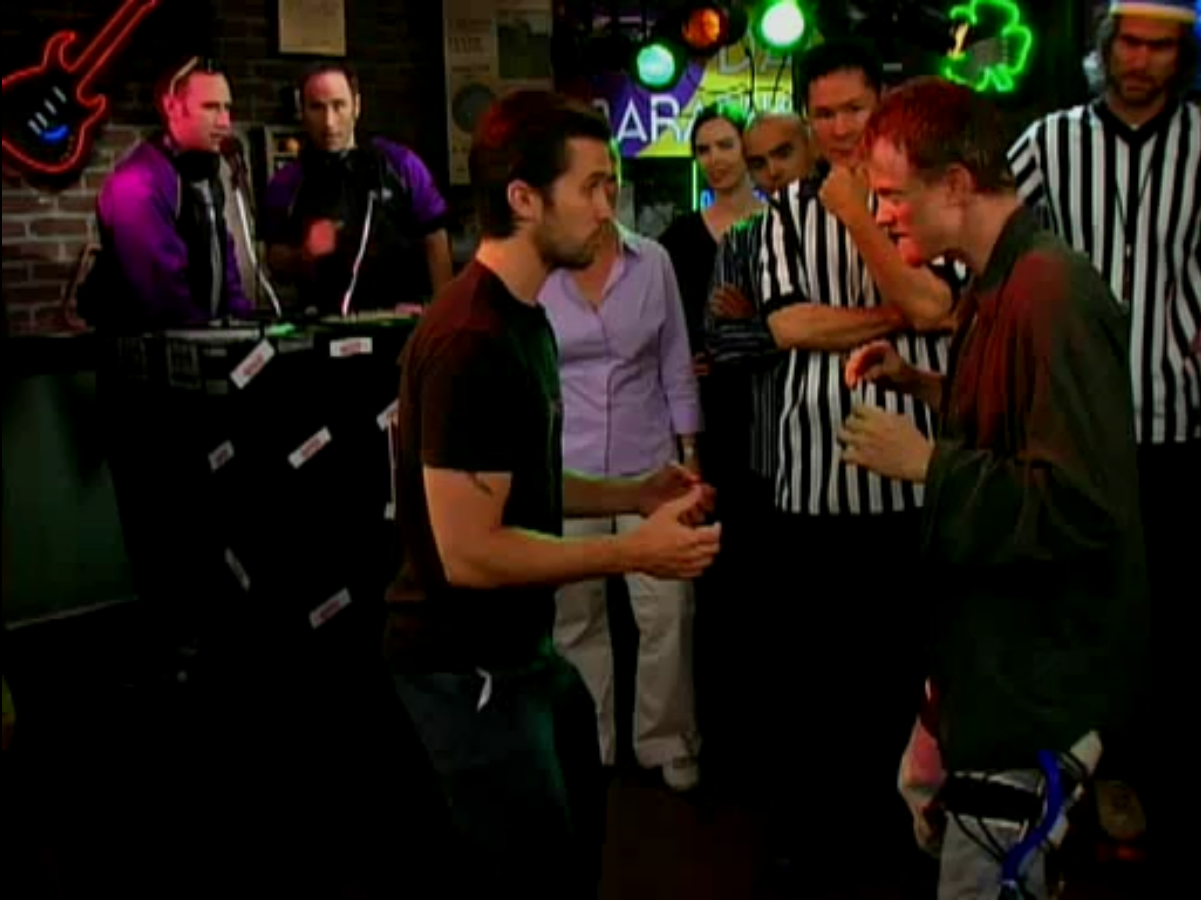 ………………………………………………….
The Gang Dances Their Asses Off features Rickety Cricket at some of his funniest and most over-the-top, Dee masterminding everyone was great and of course Charlie turning up to be a great dancer is hilarious. But the entire premise is superb and utilized phenomenally with some of the best action from the series so far.
In the end, this third season of It's Always Sunny in Philadelphia is absolutely fantastic with only a couple of episodes that aren't as great with most of them being perfect and classics. It has a great use of all of its characters and even those supporting ones. All of these episodes are so well made and of course immensely humorous that it is definitely the best and the standout season of the entire show.
Worst Episodes: The Gang Finds a Dumpster Baby, Dennis Looks Like a Registered Sex Offender and Bums: Making a Mess All Over the City.
Best Episodes: Dennis and Dee's Mom Is Dead, The Gang Gets Held Hostage, The Aluminum Monster vs. Fatty Magoo, The Gang Solves the North Korea Situation and The Gang Dances Their Asses Off.
My Rating – 4.8
………………………………………………….