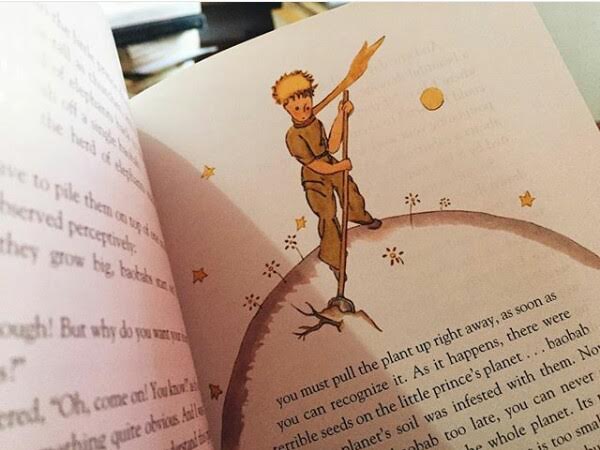 …………………………………………………
From the Page to the Screen – The Little Prince
The Little Prince is a 1943 classic French children's book written by Antoine de Saint-Exupery. It is one of the best children's books I've read and its classic status is more than deserved as it truly is an inspirational, truly heartwarming and observational novella filled with many insightful lines of dialogue and great themes.
THE FILM ADAPTATION
The film was released in 2015 and it received mostly very good reviews from critics. It is a French film but done in English language. I personally liked it quite a bit, but it is still a very flawed film which is good, but never reaching the greatness that it could have reached had they done some things differently.
PLOT
The film follows the book well but is also a somewhat different, original adaptation as it introduces a new narrative where the grandpa tells her granddaughter a story of how he meet the Little Prince. That is the framing narrative that tells the story from the book and it honestly really worked so well that it's a shame that the adapted story never was as fantastical as it needed to have been.
WINNER – BOOK
CHARACTERIZATION
The new characters are lovely and the original characters are also really well adapted. The character development in strong in this one with the one exception and that is the prince himself who is rather disappointing here.
WINNER – BOOK
…………………………………………………

…………………………………………………
EMOTION
I would say that the film definitely has some very emotional scenes, but it just could never compete with the sheer heartbreaking dialogue and observational descriptions from the novel. I connected with the book so much and it touched me deeply much more so than the movie ever did.
WINNER – BOOK
THEMES
This one goes without question. The book explores childhood, truth, different versions of reality etc. It is a smart, highly observational and truthful novella which connected with so many people and it is easy to see why. The film is solid, but never as sophisticated as the novella.
WINNER – BOOK
TECHNICAL ASPECTS
The author's writing style is superb and of course I adored those wonderful chapter illustrations which truly accompany the story stupendously. But the film is also pretty terrific in its own right as it is a CGI movie but with the story from the book being told in stop-motion. That was a great choice and it led to a really well crafted, gorgeous looking animated picture.
WINNER – TIE
BOOK 5: FILM 1
In the end, the novella easily got this one. The film is actually pretty good and a solid, somewhat modernized adaptation of the story, but it just could never compare to the strong themes, emotion and evident magic of the source material. But still they did a pretty good job and the animation in particular is commendable.