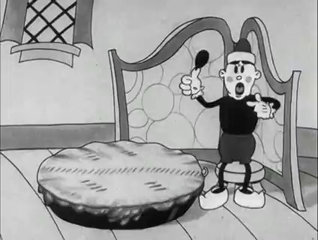 Buddy of the Apes Review

Buddy of the Apes is a 1934 animated short film from the Looney Tunes series. It is a solid, but pretty standard flick.
So here Buddy is obviously Tarzan as he is seen inhabiting the jungle and eventually helping one baby monkey. Afterwards, the animals fight the invading natives. To me this is one of those cartoons from its time that heavily relies on natives, jungle and animal antics and I've seen that multiple times by now which is why I didn't love this one. The natives were too typical and Buddy is forgettable.
But the animals are the highlights here and they are all great. The animation is very good and the standout of this cartoon is watching those animals brush their teeth. That was so amusing and inventive. But I also loved their attack on humans as it was very well choreographed. They certainly are the comedic and overall highlights of this short whereas humans are much weaker.
Buddy of the Apes features forgettable Buddy, but the animals are great and their antics are quite amusing.
 My Rating – 3.6