…………………………………………………….
Top Twenty It's Always Sunny in Philadelphia Episodes
It's Always Sunny in Philadelphia is my favorite comedy show, excluding South Park of course. It is a series that has been consistently great for 12 years and 12 seasons now. Needless to say, it has quite a lot of amazing, classic episodes so making this list was very difficult for me. I of course had to do top 20 as ten just wasn't enough for this show. But even with twenty, it was tough. Still, I tried to include as many great and different episodes as possible so without further ado, here is my list.
20. The Gang Reignites Their Rivalry
This is one of those episodes that showed us how childish the gang really is and sure enough, it features the fivesome pitting against a fraternity house for a drinking competition called "Flipadelphia". I loved the dynamic between the gang and the college kids plus it features such a great, fitting ending.
19. The High School Reunion
This is one of a few episodes on this list that is a two-parter. The first part is better, but both are excellent. I loved it because it was such a rewarding experience. I have been constantly hearing about their high school experiences and friends and finally I got to see them myself. It is a rich episode that serves all explanations and backstories to all four of the characters. Watching Charlie being shy and afraid was cute and funny, Dee trying to correct her past pistakes naturally led to many great scenes and of course the highlight is Dennis's part as we finally see that he never has been popular to begin with. 18. Chardee MacDennis: The Game of Games
This is one of the most entertaining and authentic episodes in Sunny's history. This concept of a game that they made up is ripe for the show's dark and silly sensibilities and the execution was perfect with many memorable moments. I loved the ending of course, but the highlights were Frank figuring out Dennis and Dee's cheating, the jokes about Charlie's illiteracy and just following those crazy rules of this silly game.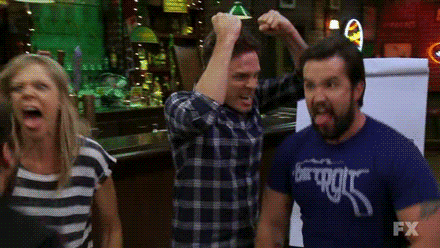 17. The Gang Dines Out
The Gang Dines Out is one of the rare instances where we get to see the gang 's dependence on each other and that they truly are friends after all. That is why it is a very important episode. Dennis and Mac got some very funny scenes, but it is Dee who absolutely shines here with a hilarious banter between her and that waiter plus the ending is perfect and hilarious, but also heartwarming, at least for the show's standards.
16. A Very Sunny Christmas
Another two-part episode, A Very Sunny Christmas is quite possibly one of the darkest episodes in the entire Philly's run which is saying a lot. As with The High School Reunion, this is another look at the gang's past and it perfectly explains how they ended up being so crazy. That finale is a rare emotional scene from this show and whether it is Mac realizing that his parents stole Christmas gifts from other houses or Charlie learning for the first time that his mother was basically a prostitute, this episode surely is an undisputed classic.
15. Hero or Hate Crime?
A rare late episode on this list, this season twelve outing deserved to be here as it truly is hysterical. It is of course important for finally giving us gay and proud Mac and the road to that was quite rewarding and very funny, but the entire episode is brilliantly structured, everyone gets their moment to shine and the highlights were the dildo bike sequence as well as the ending where the four say how glad they are for Mac, but how they still hate him. This is one of the most consistent and funniest episodes for sure.
14. The Gang Gets Analyzed
Frank's scene wasn't as great, but everyone else is marvelous here. A great psychological episode that gives us a full profile of each of the gang's members, it features again terrific pacing and structure along with many simply hilarious moments such as the one with Dee pretending to act, Charlie holding a dead pigeon and Dennis trying to seduce the doctor who is, in his words, decades older than him.
13. Mac Fights Gay Marriage
This is another two-parter, but this time around I chose only the first episode as it is much better than its conclusion in my opinion. Dee's part gets better in the second episode and this is important for introducing us to Maureen Ponderosa, but this is Mac's episode and one of his finest hours came here when he fought with tranny and her future husband about gay marriage. Hilarious stuff.
12. The Nightman Cometh
This musical theatre effort worked like a charm. The twist ending was obvious, but still great as Charlie tried to seduce the Waitress and thus did all of this, but the songs themselves are incredibly funny with such amusing lyrics. Frank singing about a boy's hole and Mac getting hard while laying with Dennis are some of the standout moments in this silly and different outing.
11. The Gang Gets Held Hostage
The Gang Gets Held Hostage is one of those classic It's Always Sunny in Philadelphia episodes from the first half of its run which benefits from the best use yet of the McPoyle siblings. A classic episode where the gang turns on each other, this one is pure over-the-top mayhem which is entertaining and funny from start to finish.
10. Paddy's Pub: Home of the Original Kitten Mittens
This very well titled episode (per usual) finds the gang at one of their most entertaining. The Lawyer is used really well here and I loved how in the end he got the best of them. The various ridiculous products such as Kitten Mittens and Dick Towels provide many amusing moments and it is all the more ridiculous having in mind that they have actually made money out of these products as evidenced by future episodes.
9. Hundred Dollar Baby
Functioning both as a 'Fight Club' and 'A Million Dollar Baby' parody, Hundred Dollar Baby works at all cylinders and manages to make the fullest use of both of its subplots. Charlie getting his ass kicked is hilarious and Dee becoming a boxer was a lot of fun. This truly is such a terrific season two episode.
8. Paddy's Pub: The Worst Bar in Philadelphia
Again a self-explanatory episode, this one finds the funniest angle with the subject of abduction. This is finally an episode that addressed how terrible their bar truly is and thankfully the results are more than stellar as every scene with that critic was just brilliant and simply hilarious.
7. Mac and Charlie: White Trash
Although Mac and Charlie are in the title of this episode, Dennis and Dee are also terrific in here. This is a great episode that showcased so well how those two see themselves as being better than Mac and Charlie when in reality they are all white trash. For me the highlight here is Mac trying to do a back flip and Charlie scolding him for not being capable of doing such a task.
6. The Gang Saves the Day
This has to be the most original episode that the show has ever done. The gang witness a robbery and we see everyone's imaginary scene where they handle the situation. Frank's part was fine, but not the greatest. Charlie's segment was such a wonderful, fitting tribute to Pixar's 'Up'. Dennis's part was expectedly sexual and of course the highlights were Mac and Dee. She kills the guys and goes on to become a famous actress and gets engaged to Josh Groban whereas he uses his karate skills to kill the villains and then dies and goes to heaven surrounded by muscular men. I laughed like crazy watching those two and this is a great proof of what awesome character development and attention to detail the show has and how they perfectly made fun of every single character and their dreams here.
5. The Aluminum Monster vs. Fatty McGoo
I think here we hear for the first time of Dee's hilarious nickname from high school and of course that was funny. The opening is phenomenal. But the ending is even better as Dennis in drag was a hilarious, yet realistic turn for the character. And we finally see Frank's experience in a Vietnamese sweatshop so well recreated here. The episode uses all the characters so well.
4. Mac Day
This season nine episode is the best ever episode starring Mac. Mac Day finds Mac trying to convert the gang to Christianity with poor results of course. But it is a perfect character study where finally the guys get tired of him living a lie as he doesn't know karate and he isn't straight. His country cousin is such a memorable one-off character and there are so many highly recognizable and incredibly funny lines to be had here.
3. The Gang Solves the North Korea Situation
To me this is one of Sunny's most memorable episodes which is why it takes such a high spot on my list. From Dee becoming "a dirty, dirty whore" to Dennis playing it sexy, this episode has it all and Charlie's scenes with that Korean girl were so amusing and silly. It is a very rich episode in both its setting and characters and yes, it is over-the-top for sure, but I loved it for that.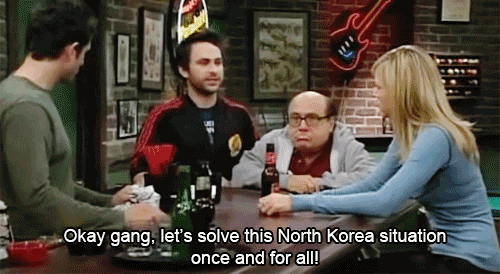 2. The D.E.N.N.I.S. System
The D.E.N.N.I.S. System isn't the finest episode as it is second best, but it is definitely the most quintessential and most representative episode for the entire series and that is why it should be watched first as a test screening. Dennis is great here as we see how demented and manipulative he really is and to what lengths he would go to bang a chick. Charlie is hilarious here as is Dee, but Frank's line about condoms has to be the most memorable moment of the entire episode.
1. Dennis and Dee's Mom Is Dead
This episode is perfect! In fact, it is the funniest episode of any comedy that I have ever seen and the opening scene with the Lawyer (his first scene actually) is the funniest scene that I have ever seen and I rarely laugh out loud, but here I totally lost it and I've seen it countless times by now. That is how hilarious the dialogue is and how effective and funny Frank's use of the word whore is. But the entire episode is amazing, I loved how eventful it was and its every sequence was a riot and so well scripted. And of course it ended in a satisfying manner. Each and every character gets its proper due here, but Dee and Frank are easily the highlights as they made me laugh the most. Dennis and Dee's Mom Is Dead is hilarious from start to finish and it is definitely the best It's Always Sunny in Philadelphia episode ever.
Honorable Mentions:
The Gang Dances Their Asses Off – I am sad that I did not put any Cricket episodes on my list, but at least he gets an honorable mention as this is one of his better outings.
Frank Reynolds' Little Beauties – A truly great episode where Dee is one of the highlights along with Frank who killed it here.
McPoyle vs. Ponderosa: The Trial of the Century – This recent episode is one of the campiest in the show's run with Charlie bird lawyering and Maureen becoming a cat.
Charlie and Dee Find Love – This one features one of the best unexpected turns at the end with Charlie proving how far he would go to win the Waitress's heart.
The Gang Broke Dee – A perfectly constructed episode, The Gang Broke Dee gives us just that as Dee is being played for laughs phenomenally here.