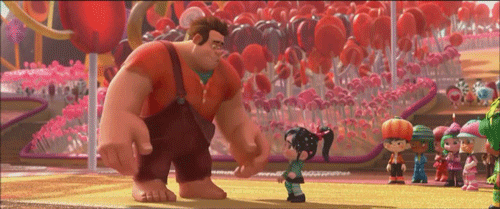 …………………………………………………
Wreck-It Ralph Movie Review
Wreck-It Ralph is a 2012 animated fantasy adventure film which is the 52nd Disney animated feature and one of the best of all time.
………………………………………………….
"Because if that little kid likes me, how bad can I be?"
………………………………………………….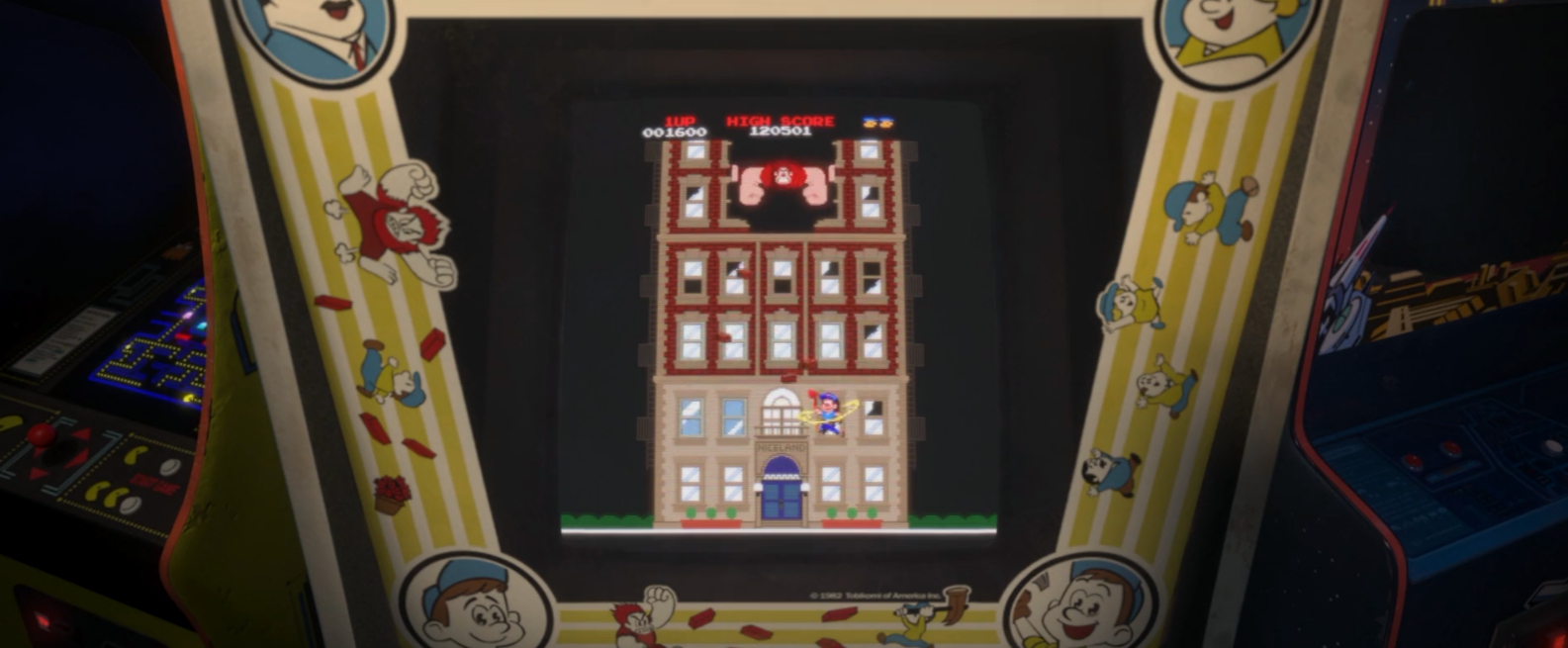 ………………………………………………….
Yes, I absolutely love this film!! This is one of my favorite Disney movies which is definitely in the top 15 Disney films list for me. The greatness of this movie lies in its great replay factor. This is the third time I've watched it and it is even better now than it was before and every next time I watch it, I put it a little bit higher on my Disney list.
It is about an arcade game villain who wants to become a good guy and be respected as everyone else. He sets out to get a medal in another game, befriends a young girl and uncovers the conspiracy behind the whole Sugar Rush game. To me this film has that wonderful, traditional friendship and heart at its core, but is set in a modern video game world and thus it achieves a perfect mix of contemporary and old-fashioned.
It is without any doubt one of the most original films of the decade as its plot is absolutely brilliant and so incredibly authentic and inventive. It is an action-packed, but always entertaining and heartwarming film and always so original in almost every way. It features some of the best and most intricate world building that I have ever seen as every little detail is thoroughly thought out here and all of those 80s video game references should prove delightful for their fans.
………………………………………………….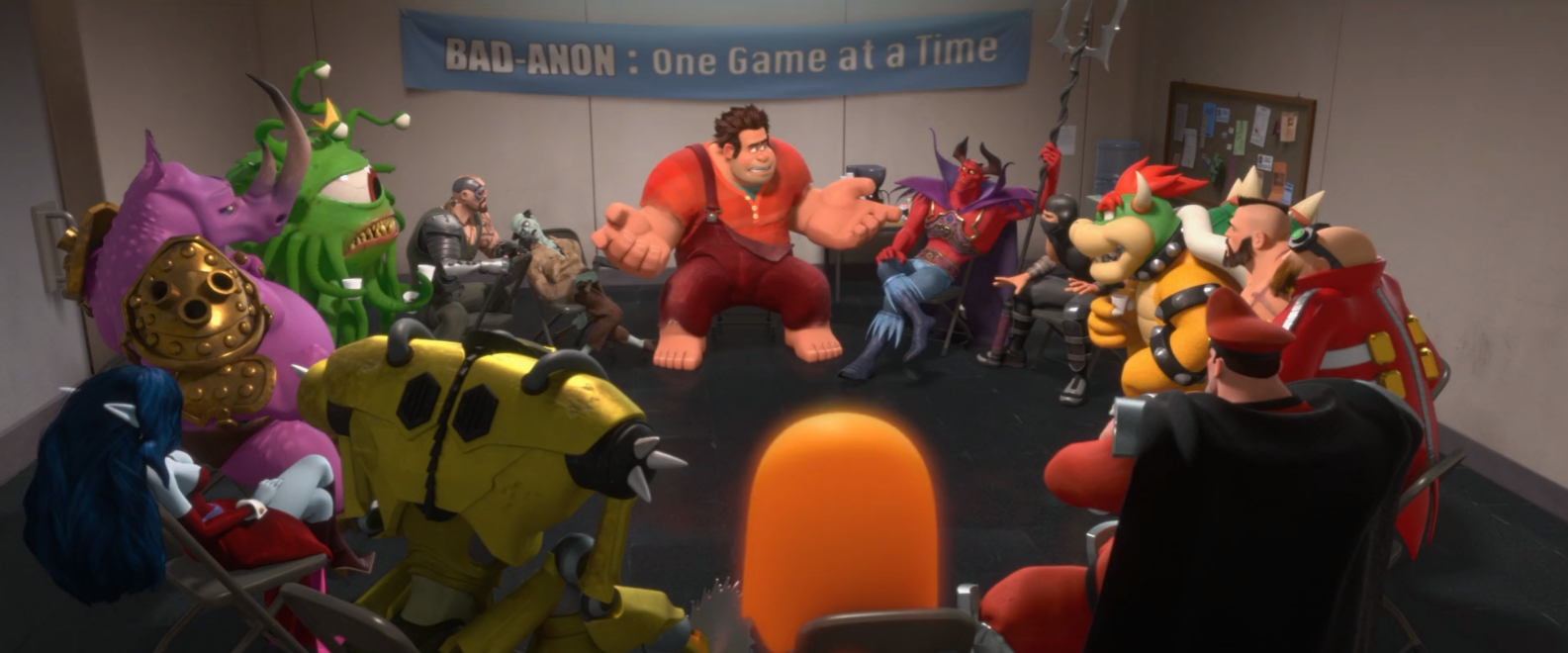 ………………………………………………….
The beginning features narration, but is essential here and thus a good choice. I loved everything about that Game Central Station as it was brilliantly conceived and I just loved the rules of this universe. The human players play them and everybody has their own role but if they step outside of their own game, they could die for real and not regenerate. Great rules.
Hero's Duty is not my favorite scene as it was too dark but still refreshingly so for an otherwise lighter film. The danger there was well conveyed and the first person shooter elements are so well realized. I loved how Ralph and Venellope met and those scenes where he builds a kart and teaches her how to race were wonderful.
………………………………………………….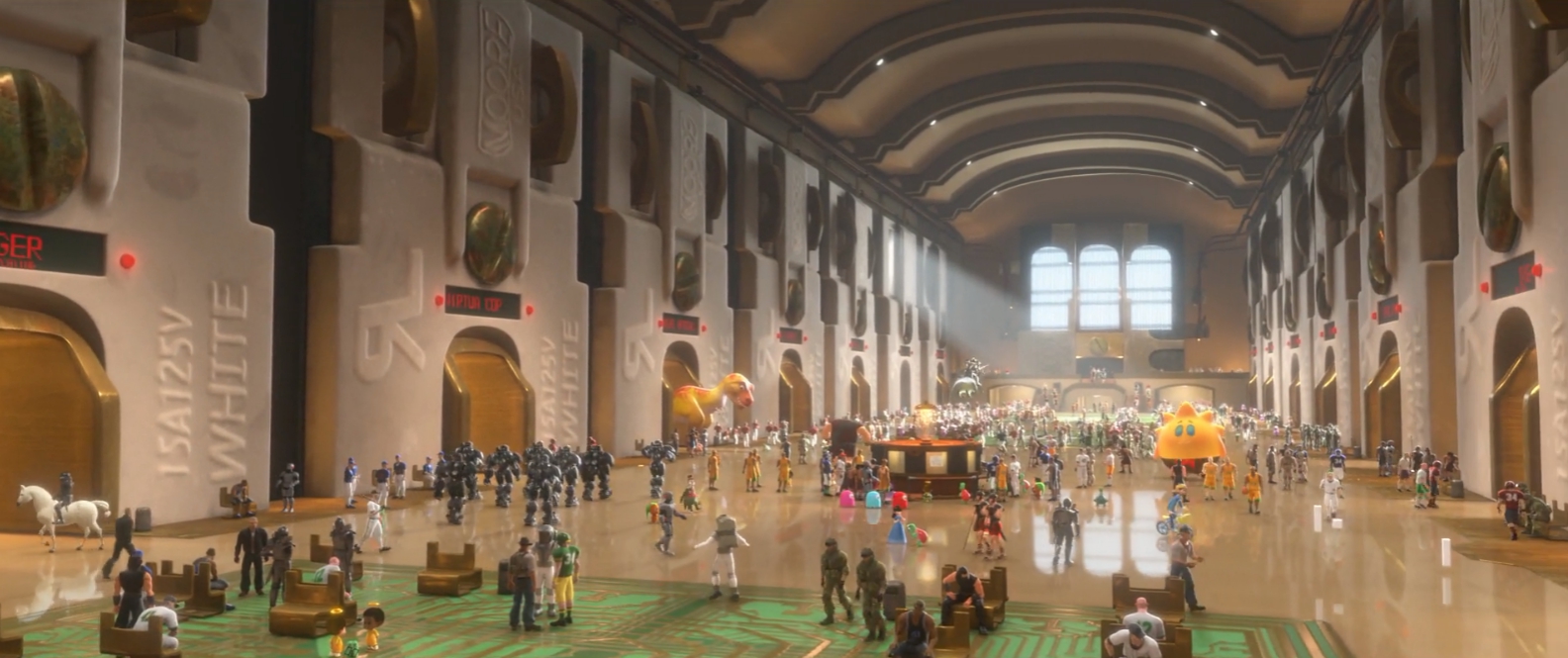 ………………………………………………….
Ralph breaking her kart was such a dark, unexpectedly brutal sequence which was emotionally devastating and one of the movie's highlights for sure. I loved the mystery here and how Ralph uncovers it, the twist with the villain is actually very interesting and well executed. The final race was fine, but the twist with Venellope being a princess was actually fantastic. The fact that they managed to sneak in their usual princess formula into this different, non-princess film is highly admirable as that development honestly worked. Loved it. And of course the ending is one of my favorites as seeing Ralph watch Venellope from his arcade and the two smile and wave was just so emotionally rewarding and I was incredibly moved by it which is a testament to how strong emotion and characterization here is.
Yes, the character development is superb across the board as is the voice acting. Ralph is one of the best Disney protagonists in my opinion as he is that great. He is relatable, very well developed and likable without being too heroic. John C. Reilly was perfectly cast for this role and he did a phenomenal job.
………………………………………………….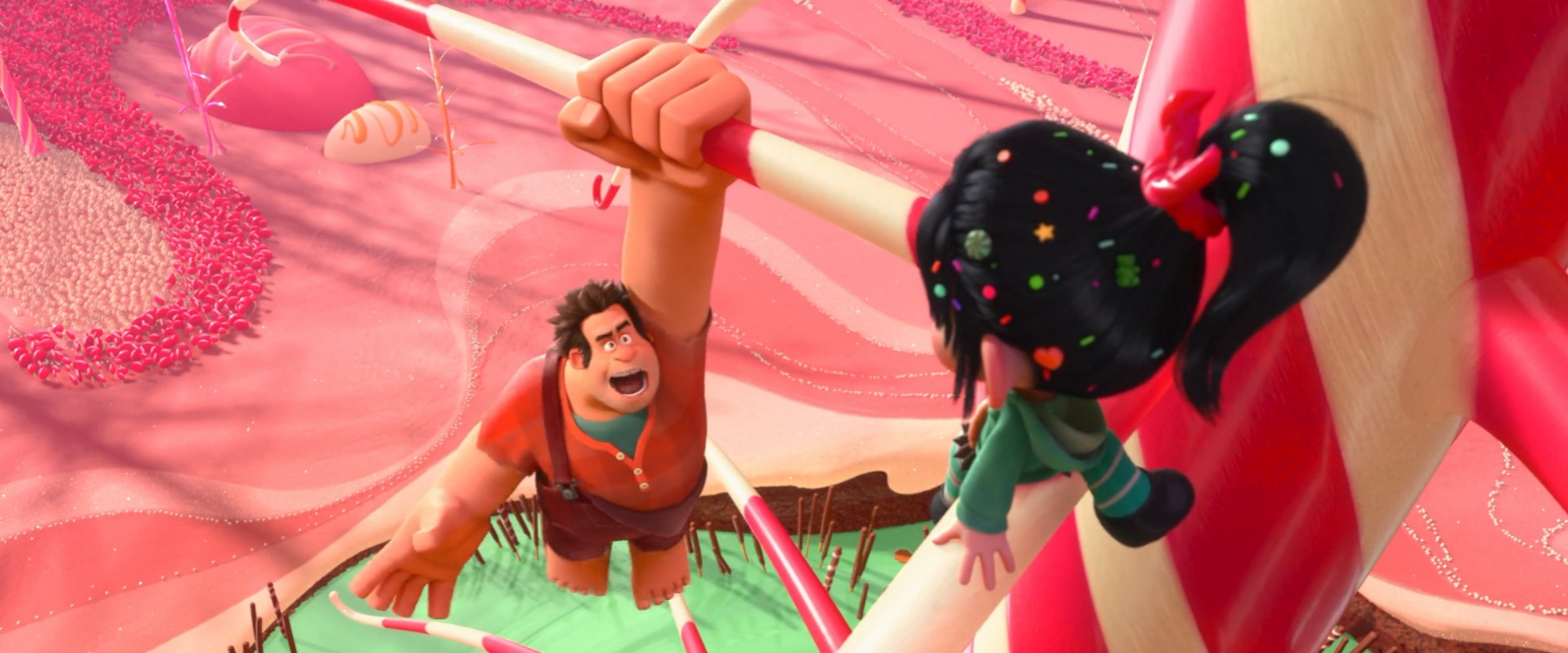 ………………………………………………….
Venellope von Schweets is even better! She is again not too likable and a realistic modern kid, but so well developed and I admired how the two shared the same dreams and goals and that strengthened their relationship. She is such a moving character with a terrific backstory and their friendship is the heart and soul of the entire film and its driving force. Sarah Silverman's husky voice bothered me at first, but then I grew to like it and she really did an outstanding job in the role.
Fix-It Felix Jr. could have easily been an insufferable, one-note character owing to his inherent heroism but I loved that Ralph was the protagonist and he was in the back and he definitely became better and better as the movie progressed. His relationship with Sergeant Calhoun is so silly, but it honestly works. She is a very memorable, strong female character and they are the exact opposite of each other but that is maybe why their relationship felt so entertaining and strong. And I loved her backstory. This movie is a textbook example of how to properly do character backstories.
………………………………………………….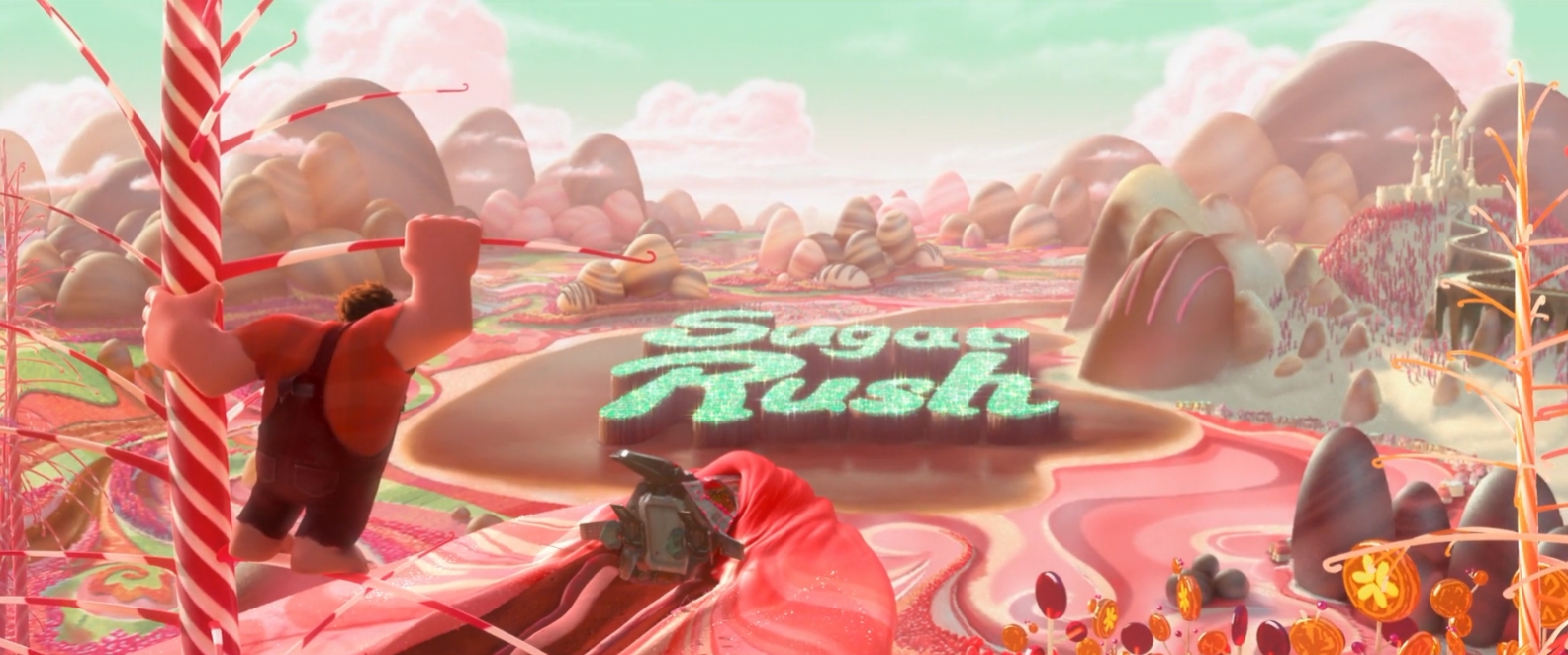 ………………………………………………….
All of the other characters are not all that memorable though they did serve their purpose really well such as all of those bratty girls, henchmen and of course the various famous video game characters were so well incorporated with the highlights being Q*bert who is so cute and tragic and Zangief who is absolutely hilarious.
As for King Candy, I honestly wasn't thrilled with him. I have to be honest. He is the weakest aspect in the film and he really held it down quite a bit. Now I loved his backstory which was once again very strong and the twist that he is Turbo is great, but the problem with him is that he is obviously meant to portray a feminine gay guy stereotype and this is the 2010s and this type of villain is no more excusable.
………………………………………………….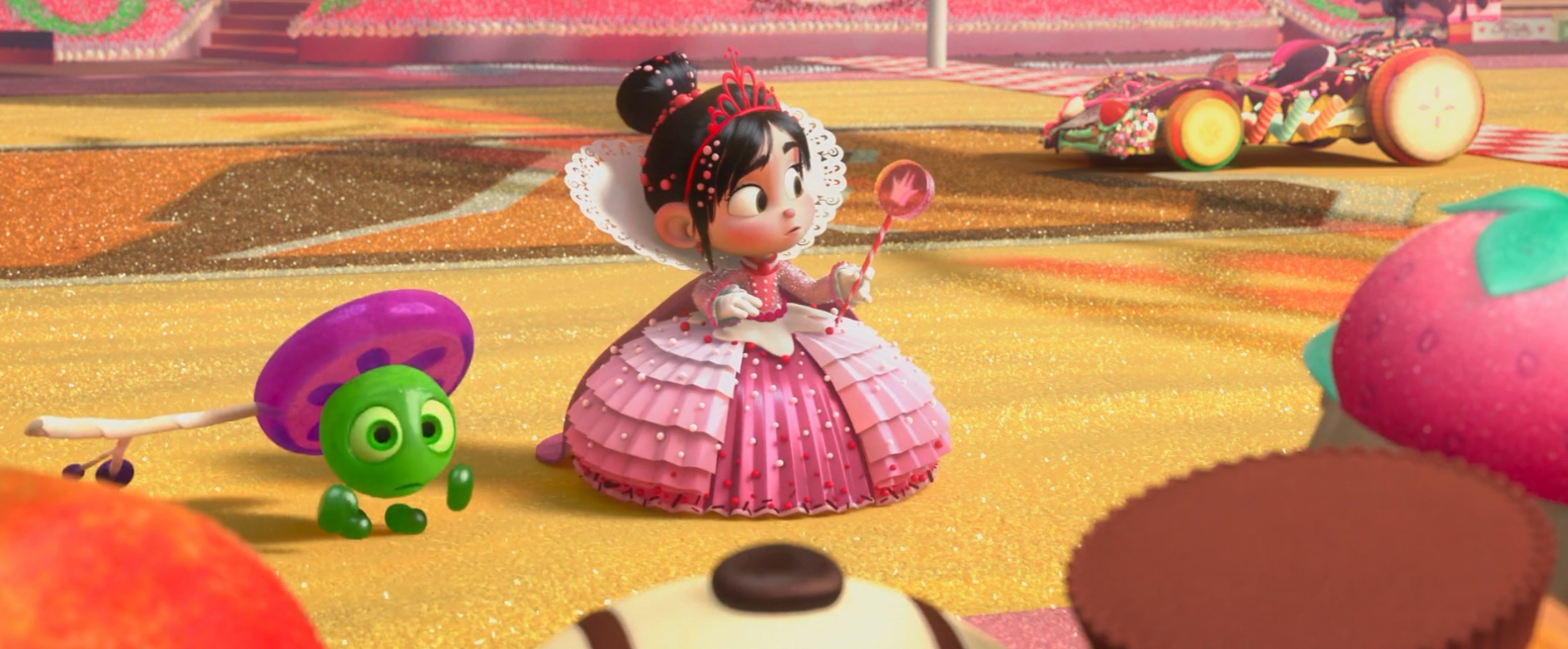 ………………………………………………….
The animation is fantastic in Wreck-It Ralph, absolutely gorgeous. It is undoubtedly the finest computer animated film so far from Disney because the character design is very strong as all characters look very authentic and the way they movie and look is very much like a video game character fittingly. But the film is so polished, it looks fittingly modern and high-tech and I adored how colorful it is, especially Sugar Rush. The film looks beautiful and is a rare movie that gives CG animation a good name. Plus those video game scenes were fittingly very retro and realistic.
Wreck-It Ralph isn't perfect. The villain is weaker, the action is at times slightly overwhelming and the humor could be immature (some of the banter between Venellope and Ralph was too childish). But most of the other humor is actually very strong and the action is mostly fantastic and a lot of fun to watch. The film is briskly paced, but never rushed and it is an absolute blast to watch. It is unfortunately over too soon and you want more so I am glad that we are getting a sequel as this world is just so rich with endless possibilities.
………………………………………………….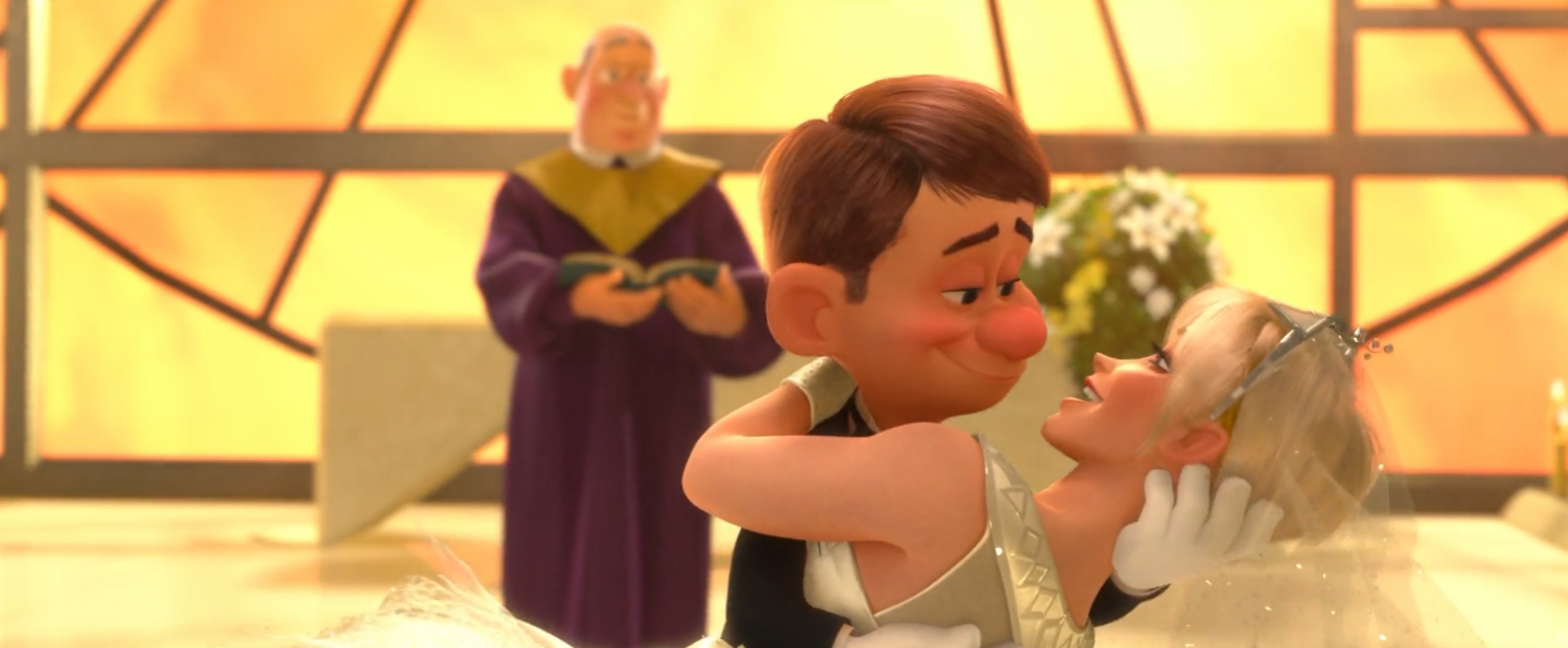 ………………………………………………….
The film has no songs but it doesn't need them as it isn't suited for a musical. That one song from Rihanna is here (Shut Up and Drive) and I wasn't a fan of it nor was I the fan of the other songs with the only exception being Celebration which was well incorporated. The score itself is terrific and pleasantly retro which I loved, especially in those earlier scenes. It is a memorable film with strong dialogue, amazing world building and very high emotional engagement as some scenes moved me so much. Needless to say, it is, along with 'Tangled', the best modern Disney film.
The characters in Wreck-It Ralph are amazing despite a weaker villain. Fix-It Felix Jr. and Sergeant Calhoun are such a fun couple and of course Venellope and Ralph are the heart and soul of this film. The animation is so beautiful and so phenomenal that it gives computer animation a good name for once. The emotion is overwhelming and some scenes moved me tremendously. And above all else, it is fueled by one of the most original and intricately plotted stories in recent memory filled with excellent character backstories and simply extraordinary world building. It has its small flaws, but it is mostly a brilliant film which is, along with 'Tangled', the best modern Disney film and one of the best of all time as well. A future classic that only gets better with each subsequent viewing.
My Rating – 4.5