Top Ten Tom and Jerry Films
Tom and Jerry is one of the most important classic series of animated shorts. Not only was it refreshingly brutal and mature for its time, but it is to this day entertaining and not to be missed for anyone who consider themselves animation fans. These characters are iconic, most of their films are terrific and it was tough making this list. You will see the pattern here in which most of the entries are older as the fifties proved to be the declining era for the duo. And another thing is that this is my personal opinion which means that a lot of these wouldn't be on other top ten lists. So without further ado, here are the top ten Tom and Jerry films in my opinion.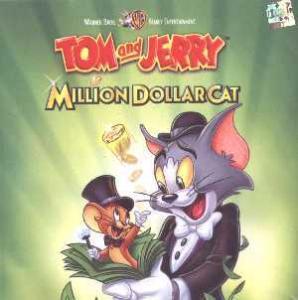 In this 1944 Tom and Jerry entry, Tom inherits a large sum of money and in order to preserve it, he mustn't harm the mouse. This premise is ripe for this series and it was executed almost flawlessly here. The use of dialogue is troublesome, but what makes this cartoon so great are Tom's signature yelps which are hilarious and various amusing situations which are all so well utilized and in the most entertaining manner possible.
This is one of those entries that are most certainly excessive in violence. I liked that as this time around Jerry got the same treatment. It was hilarious watching Jerry join Tom in vomiting in the finale and that final moment is perfect. But everything that came before it is also great and it is one of the best films with the other cats as Butch, Topsy and Meathead are all phenomenal here. This is one of the craziest entries for sure, the one filled with violence and an admirable, weird energy to it.
Here the big cat designs the machine to catch Jerry, but both the stick-mouse and cat come to life and the chase quickly starts. This is undoubtedly one of the most original Tom and Jerry shorts ever as the animation is amazing and this high-concept idea is fulfilled with absolutely terrific action. I love this short and it definitely deserves to be the only 1950s effort to land on this list.
Heavenly Puss perfectly made use of the heaven obsession which was overwhelming in the forties. It is one of the best animated shorts for sure as it is gorgeous to look at, but it's also a great, different episode where we explore another setting for once and it was accompanied by terrific score and animation. But even though it turned out it was all just a dream, that ending was still priceless in humor and just heartwarming.
Tom and Butch get an order from Mammy to catch a mouse or they'll be kicked out of the house. I adored this entry for various reasons. First of all, you get Butch and Tom in probably their best episode ever. Second of all, you get awesome Mammy who is so funny here. The humor is great and the action is quite good, but it is the ending in which both cats are kicked out of the house followed by Jerry that is the standout as we rarely see the mouse get the same treatment and it was very amusing and admirable for that.
This 1944 classic Tom and Jerry short is one of the few deserved Oscar winners as unfortunately the Academy usually failed to give the award to the actual best entries from this series. But this time they made the right choice as this movie is fantastic. Tom tries to catch Jerry in numerous ways, but fails every time. It is a basic, but nonetheless quintessential formula for the duo and this entry has some of the best action sequences ever for the series.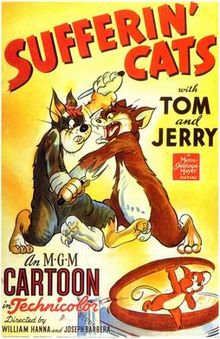 For anyone looking for the best cartoon with the cat Meathead in it, look no further. This is it, the very best that this character has to offer. Watching him and Tom fight over Jerry was hilarious and this movie is one of the funniest and most purely entertaining in the series' history. But it is also one of the most violent and I was quite shocked with some of the more gruesome scenes here. It also has such a fantastic ending and it is just terrific from start to finish.
This is my personal favorite on this list. Not the best, but my favorite nonetheless as I loved this one as a kid and I love it now as well as it is just so great. It is one of the rare instances where Tom's voice is put to good use, it has some of the best animation ever for the duo as it is gorgeous to behold and it has terrific action sequences, perfectly executed and exciting. But Spike is amazing here and so memorable plus that ending with the dog house is just perfect with the maniacal laugh from both Tom and Spike being one of the funniest moments in any Tom and Jerry cartoon.
Fine Feathered Friend benefits from some of the best supporting characters in that mother hen who humiliates Tom in some of the worst and most violent ways possible. This cartoon is exceptional not only in action which is top-notch, but also in humor as you can't help but laugh at Tom's misfortune here. It ends in such a shockingly violent manner, but that is something that distinguishes this series from other animated stuff and that edge to it I always respected and it's definitely most evident and most admirable here.
Yes, The Night Before Christmas has to get the number one spot. Yes, I know that it isn't the usual choice and it isn't the funniest cartoon for sure. But the reason why it's the best one in my opinion has to be its importance. It is the very first entry in Tom and Jerry series where we see that the two are actually friends and kudos to the filmmakers for presenting that in the most heartwarming manner possible. This is easily the most emotional and most beautiful entry ever for the duo and watching Tom melt Jerry after he's been frozen outside will melt your heart. And those final moments where Jerry removes the traps he'd made for Tom earlier are just wonderful. The Night Before Christmas has a huge heart and it showcases the best in both the cat and the mouse which is why it is to me their finest episode.
Honorable Mentions:
Cue Ball Cat – This one perfectly utilizes the setting of the pool hall and it features some of the finest action moments in the series as well as having both characters being equal in the fights.
The Cat Concerto – This is of course the most famous and most acclaimed Tom and Jerry cartoon and although it utilizes music in it perfectly, it is a bit too slow for me.
Trap Happy – Exhilarating in action and violent, Trap Happy also has a great use of Butch and is an all around satisfying and incredibly entertaining action-packed part.