…………………………………………………
Top Ten Studio Ghibli Characters List
Studio Ghibli is a masterful studio that is known for their quality animation, environmental stories and great scores. However, they also feature a bunch of unforgettable characters who made these films the classics that they are. They are known for strong heroines, but also some interesting men as well as children and creatures too. Here are my ten picks for Ghibli's greatest characters with six honorable mentions.
10. Anna Sasaki
The protagonist of When Marnie Was There is Anna. Yes, Marnie is an essential, wonderful character in the film, but Anna is the better and more important one. She proved to be very relatable to me owing to her unfriendly, honest and introverted nature and this film is great for being a great character study with her taking the biggest focus. Such a well written character.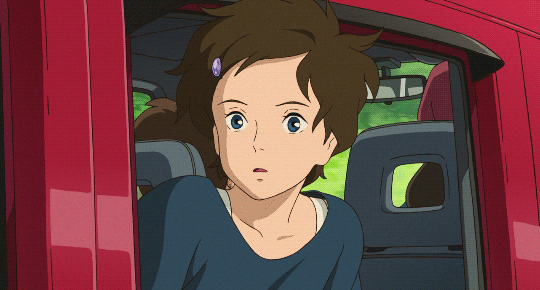 9. Muta/Renaldo Moon
The above character is serious, but this one is exactly the opposite. Muta is an absolutely hilarious sidekick who steals the show in The Cat Returns which is actually a very funny film mostly thanks to his funny presence. He has a phenomenal, amusing backstory, but the highlight was seeing him get angry for being called fat. He truly is a funny, but sweet cat too.
8. Shizuku Tsukishima
Whisper of the Heart's protagonist is this teenage girl. Certainly her boyfriend is great as well, but she is the biggest reason why this film works so well. She doesn't know what she is going to do with her life and what she is going to study which is the opposite from Seiji. A realistic and complex girl, she is hugely relatable to me personally as she experiences the same fears too.
7. Taeko
Everything I said above also applies to Taeko as she too is the protagonist of Only Yesterday and again the reason why the film is so fantastic. She is not a teen, but a grown woman and her troubles are thus all the more powerful. The film showcases her wonderful personality and her whole life throughout present as well as those terrific flashback scenes.
6. Shige
This list is well balanced between funny and serious characters and here we have the former. Shige is a granny in very underrated My Neighbors the Yamadas and she basically holds the entire family together as the wisest and most adult person there. But she also makes mistakes as evidenced by some very funny scenarios. She is wonderful and strong, but hilarious too.
5. Seita and Setsuko
Grave of the Fireflies is an extremely tragic, devastating to watch film but that is not only because of its subject matter, but also owing to terrific characterization of its two main characters. Seita and Setsuko are wonderful together and so lovable. She is very endearing and he is a great brother to her. They are so likable that their eventual doom is thus all the more tragic.
4. Captain Dola
The main characters in Castle in the Sky are actually pretty bland if I am to be honest. However, Captain Dola is anything but as this crazy old woman obsessed with riches and treasure. She is an elderly female pirate which in and of itself is unique and badass, but her many hilarious lines steal the show here. She is hilarious, but also caring toward her family and friends.
3. Ponyo and Sosuke
I decided to put duos on my list as usually the couples are inseparable and thus should be counted together. That is certainly the case for Ponyo and Sosuke who are Studio Ghibli's power couple. He is wonderful and she is very endearing. Together they make a wonderful pair and the reason why Ponyo is so charming and childlike lies in their stupendous relationship.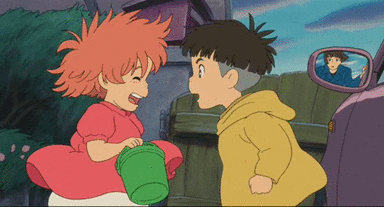 2. Yubaba
There are a lot of unforgettable, terrific characters in Spirited Away, but Yubaba is certainly one of the standouts. Zeniba as her good sister is great too, but Yubaba's villainous antics steal the show. She is a cartoony villain, but a great one owing to excellent development and especially look and powers. She controls the whole spirit world and is definitely a force to be reckoned with.
1. Chihiro
Speaking of Spirited Away, its protagonist takes this highest spot as the best Studio Ghibli character and also one of the finest main characters in the history of cinema as a whole. Chihiro is a realistic kid. She is at first bratty and annoying, but later she becomes a better person and this film is the ultimate hero's journey as well as character study as her progress is portrayed in a subtle, believable manner. Everyone can relate to her and she is the strong, necessary human element in this big, imaginative fantasy world. This is a clichéd, but obvious and right choice for number one.
Honorable Mentions:
Satsuki and Mei – These two sisters are childish, but again very realistic. Their sisterly bond is great and their exploration of the forest and eventual family drama is so well portrayed.
Totoro – Totoro is only an honorable mention for me owing to his small role in the film, but he surely steals the show in the small screen time he got. He's cute, sweet and with iconic design.
Lin – I love Lin so much! She appears little in this masterpiece of a film, but she helps Chihiro so much and is such a wonderful, great friend to her.
Haru Yoshioka – Haru is the central character in The Cat Returns and although somewhat typical, her journey is again a great character study and she is a very likable girl.
Baron Humbert von Gikkingen – The Baron had to be somewhere on this list as the major presence from the aforementioned film. He appeared in 'Whisper of the Heart' too and deserved a spin-off film how interesting his story is. I loved his cool, debonair attitude and look.
Lord Cob – Tales from Earthsea might not be a great movie, but it has one terrific thing in it and that is Lord Cob who is such a powerful villain as this strong, menacing and cool sorcerer.