………………………………………………………………
Top Ten Merry Melodies from the Early 1930s
The early Merry Melodies from the first half of the thirties weren't the greatest and Looney Tunes were admittedly better during that period. However, there are still a couple of great entries to be had here and the first entry on this list is actually the best from this period even if you count Looney Tunes. So without further ado, here is my top ten list for early 30s Merry Melodies.
10. You're too Careless with Your Kisses!
This is basically a Honey/Bosko outing, but with honeybees instead. And although the action on screen isn't the most memorable, a couple of lines are admittedly very funny and the titular musical number is very amusing leading to a solid entry and the tenth place on my list.
9. Lady, Play Your Mandolin!
As the first ever Merry Melody, Lady, Play Your Mandolin! actually holds up rather well. Sure, its characters are weaker and Foxy and Roxy never came into their own in the series, but the horse being annoyed by music was such a funny moment and the titular song is so catchy.
8. I Love a Parade
I Love a Parade is a wildly uneven entry in the series, but it benefits from a really solid, original premise and memorable characters. The part with the lion trying to scratch his back is easily the highlight when it comes to the humor.
7. Three's a Crowd
This is a very interesting short that never utilized on its premise to the fullest extent possible, but still seeing all of those various famous literary characters pop out of the book was a lot of fun and the action is pretty good this time around.
6. Shake Your Powder Off
This is such a great 1934 Merry Melody which benefits from a superb 'Sing' like premise where various animals throw a singing competition in the barn. Most of the acts are quite memorable as are the animals and the action-packed third act is one of the standouts here.
5. I Wish I Had Wings
I Wish I Had Wings again features a great titular song repeated throughout as most Merry Melodies did that so well, but it also has a couple of great gags with the bird and the worm and it is an all around entertaining and memorable entry.
4. It's Got Me Again!
As the first ever Merry Melody nominated for an Oscar, It's Got Me Again! is too much influenced by Silly Symphonies thanks to its premise with mice helping a mouse in trouble, but it is different for featuring an excellent scene where he begs the cat to spare him. A hilarious titular song leads to such a funny cartoon.
3. Wake Up the Gypsy in Me
This is surely one of the finest Merry Melodies from this period thanks in large part to its interesting plot, good action and mostly a terrific villain who is goofy and over-the-top in the best way possible. Such a fun, unforgettable cartoon.
2. Smile, Darn Ya, Smile!
The titular song is catchy and also perfectly incorporated into the overall film which is surprisingly comical and memorable in its gags and action on screen. Whether it is the fat lady hippo who can't get into a vehicle or hobos singing, you are bound to have a great time with this short.
1. Honeymoon Hotel
And of course, Honeymoon Hotel takes the number one spot which is to be expected from its caliber. As the first truly great Merry Melody, it features a killer premise where two bugs stay at a love hotel but are continually interrupted by others. The humor is phenomenal, the animation is pretty solid, the characters are memorable and there are a lot of truly inventive scenes and gags to be had here with the ending being particularly great. Honeymoon Hotel is undoubtedly the finest Warner Brothers cartoon from the early thirties.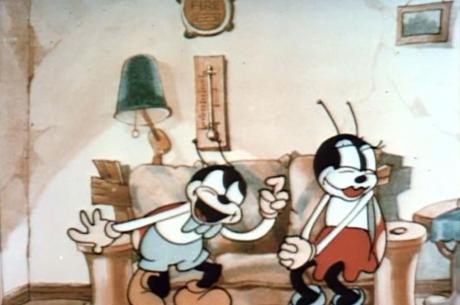 Honorable Mentions:
Pettin' in the Park – It is not connected in its two parts, but both are very good. The first is a fun animal seduction part and the other is a bird swimming competition. Both are memorable.
One Step Ahead of My Shadow – It features one awful fish "gag" which was just too much, but still its Chinese setting and the dragon are memorable and different than usual.
Moonlight for Two – It introduced its villain too late in the game, but Moonlight for Two is a surprisingly romantic and charming Goopy Geer entry nonetheless.