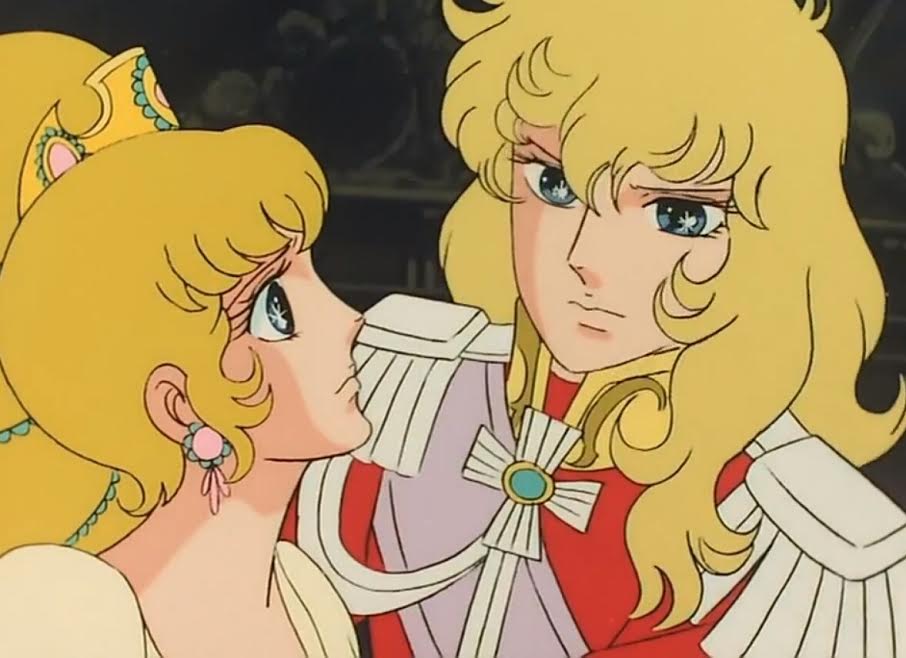 ……………………………………………………….
The Rose of Versailles Review
The Rose of Versailles is a 1979 historical shōjo anime directed by Tadao Nagahama and Osamu Dezaki. It is such a fantastic, beautiful show that I just loved.
……………………………………………………….
"For twenty years you were the only one that I saw and thought about."
……………………………………………………….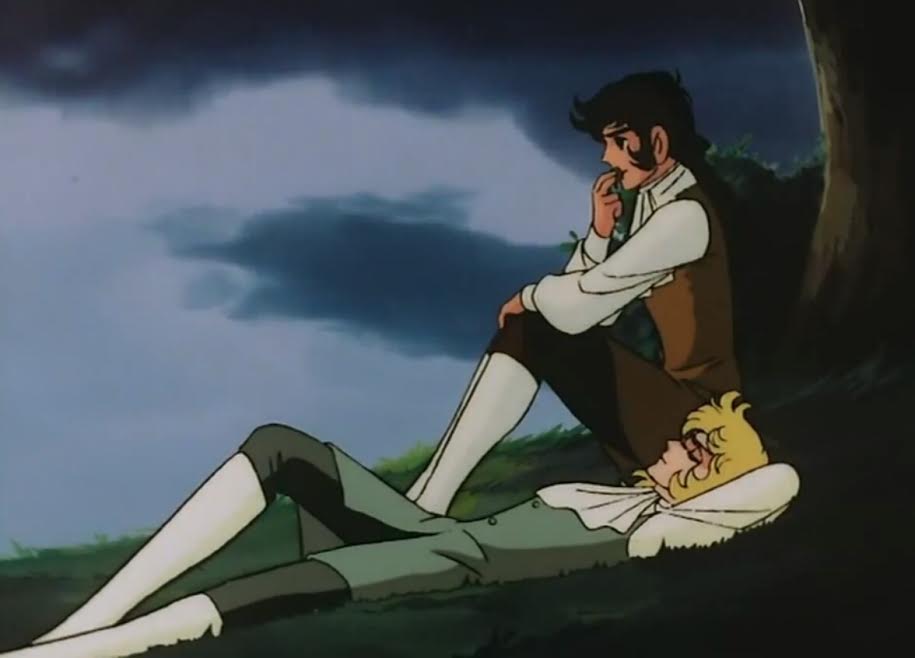 ……………………………………………………….
The Rose of Versailles focuses on Oscar, a girl raised as a man to become her father's successor as leader of the Palace Guards. Oscar is proud of the life she leads, but becomes torn between class loyalty and her desire to help the impoverished as revolution brews among the oppressed lower class. We also follow her conflicting desires to live life as both a militant and a regular woman as well as her relationships with Marie Antoinette as well as her best friend and future lover Andre.
In terms of storytelling, the series is phenomenal, so well written with such a stellar and sophisticated script. In terms of the themes, it isn't as rich, but it deals with an interesting subject matter and a variety of interesting storylines and tones. Firstly, it is a historical show that examines France before the Revolution and it ends with it in its final couple of episodes. The only problem I've had here is that the series in my opinion didn't focus as much as it should have focused on the poor and the ordinary people and sometimes it seemed to justify Marie's actions a bit too much, but other than that, it succeeds thoroughly as a compelling historical drama that perfectly made me acquainted with this period and battles. The action was great and I really liked the conflicts, the battles and especially the politics in it, so well done.
……………………………………………………….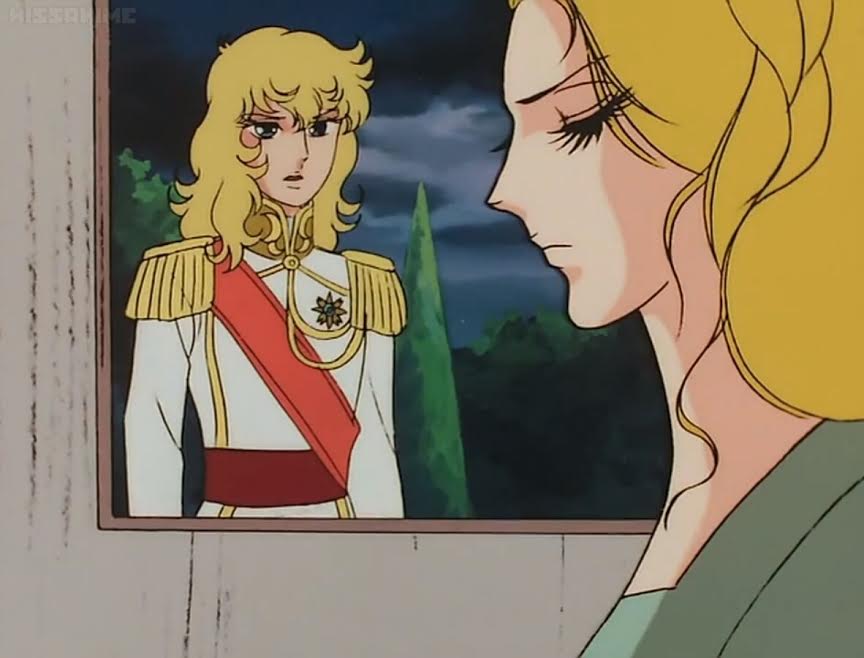 ……………………………………………………….
But The Rose of Versailles succeeds as a tragedy and a romance just as much. It is so purely romantic at times that it was just beautiful to witness. I loved how it explored what it means to be a woman and the conflicts that arose with Oscar and her entire story was just magnificent to behold. The series is so brutal, so heartbreaking and just striking more frequently than it is just dramatic that is should be classified as a tragedy more than anything else. The final two episodes are probably my favorites. A lot was crammed in there, but watching Andre's death followed by Oscar's was just heartbreaking and it almost made me cry. But the conclusion to the story with the deaths of all the nobles felt was so powerful to watch and stupendously well executed. The finale itself felt elevated because of its emotion and a sense of closure. Rarely does a show manage to do the finale well and this one does it just right and then so.
Now let's talk about the characters. The character development is absolutely amazing in this anime. There is literally not a single character here that was underdeveloped or annoying. Everybody serves its purpose and all of them are mostly either perfectly sinister or very likable. Oscar Francois de Jarjayes is just splendid. She is a rare protagonist that steals the show as I usually do not like main characters as much as I like the supporting ones. But Oscar is a one of a kind personality. She wants to be a soldier and she is one meaning that her character is probably the first tough and feminist character in anime as she dates back to the seventies, but she is also surprisingly well developed and real. Watching her conflicting nature was emotionally rewarding and dramatic. And the couple of womanly displays that we got to see from her felt all the more rewarding. Interestingly androgynous, yet beautiful, noble, powerful and yet flawed and caring, she is a perfect example of how to do badass female characters right.
Andre is almost as good. It was a great twist to see that he had been seeing Oscar as a woman the whole time and whether as friends or as lovers, their relationship was truly something special. His blindness was very well handled and his eventual death was just as heartbreaking as her death was. The two are such a fantastic, wonderful couple and I just adored them.
……………………………………………………….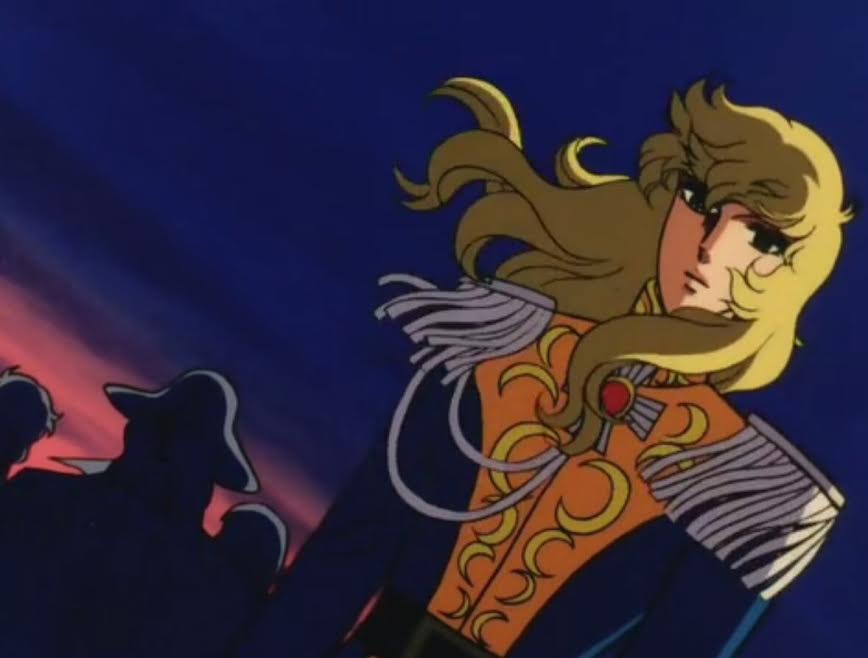 ……………………………………………………….
Fersen was quite solid and I liked his role and of course Rosalie is terrific and her story was epic, moving and you just root for her the whole time. I cared for her a lot and her relationship with Oscar is another strong one. Truly all of Oscar's interactions were great. Marie Antoinette is a memorable person. I admired that they stayed true to the historical figure, but I also liked that they humanized her as that made her brutal end tragic, yet justifiable. I would have liked to have seen more from Louis XVI as he was ridiculously underutilized, but Madame du Barry was such a strong presence during the first half of the series. A terrific, memorable villain who got her powerful and quite emotional conclusion as well. I loved their ability to make the most of even the most despicable people and that they made you care for them and either pity or feel sorry for their terrible faiths. Duchess of Polignac is another terrific villain and her daughter Charlotte's story was beyond tragic and it left me heartbroken. And of course Alain is such a sweet soul and a great, important character from the second half of the anime.
The Rose of Versailles is amazing in its technical aspects as well, it truly is a great show and one of the best anime series I've seen so far! The animation is splendid to behold. The character designs were realistic and admirable for it, but the imagery is memorable and sometimes even powerful. But where it succeeds the most is in its freeze frames. Whenever the action froze in the most important sequences, we got truly accomplished images that were just beautiful and even artistic in style. It is groundbreaking looking for its time and so polished, yet almost poetic in nature at times and with greatly choreographed movements and action as well.
……………………………………………………….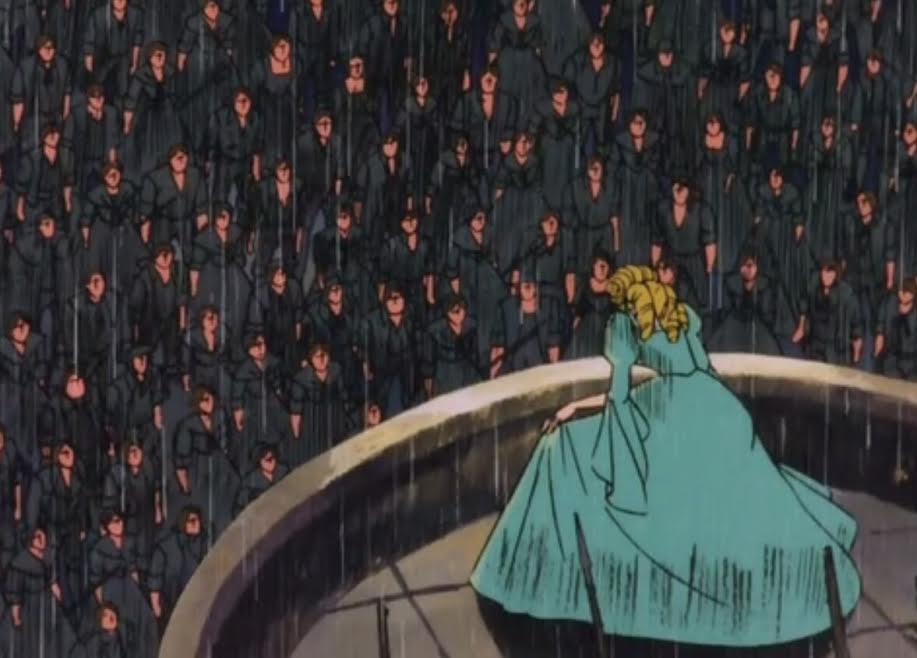 ……………………………………………………….
The score is just as great! I love the opening theme which is catchy and with great lyrics, but it also has excellent sound effects and some truly wonderful and fittingly moving themes and pieces of music accompanying the more important parts of the episodes and story. I found the editing to be mostly great as well as the direction and voice acting. Truly an accomplished series. The only flaw is that sometimes the more political episodes weren't as strong and some episodes are weaker than others leading to an uneven in terms of investment show, but both in terms of the technicalities and in terms of emotion and plot, it succeeds in spades. It will probably remain one of my favorite anime shows long after this time.
The Rose of Versailles is such a great anime. It is uneven at times, but it is accomplished in score, gorgeous and even artistic animation and excellent direction, scenery and editing. It succeeds both as a historical drama as well as a tragedy and romance with such raw and heartbreaking emotion, many truly powerful scenes, a great and investing story and terrific characters with Oscar being one of the best protagonists of all time.
……………………………………………………….
Worst Episodes: Fly! An Austrian Butterfly!, Fersen Departs for the Northland, Suddenly, Like Icarus, The Necklace Shines Ominously and The Watchword is "Au Revoir".
Best Episodes: Oscar, the Destiny of a Rose, Sun Sets, Sun Rises, The Secret of the Angel, Now the Time of Encounter, Farewell, My Sister!, A Minuet of Unrequited Love, On the Night of Passionate Vows, His Smile is Forever Gone! and Adieu, My Beloved Oscar.
My Rating – 4.6
……………………………………………………….