………………………………………………………….
The Rescuers Down Under Movie Review
The Rescuers Down Under is a 1990 Disney animated adventure film directed by Mike Gabriel. It is such a solid, underappreciated sequel with its fair share of stupendous strengths.
………………………………………………………….
"I didn't make it all the way through third grade for nothing"
………………………………………………………….
The Rescuers Down Under is a sequel to 1977's 'The Rescuers' and it thus holds the distinction of being one of only a handful of theatrically produced Disney sequels. And I have to say that I enjoyed this movie quite a bit. Its plot is the kind of a story that doesn't really have anything particularly unique or special about it, but it is also a story that is still so well told and so entertaining that I liked it nonetheless. The movie benefits from being such a great adventure flick thanks to its strong adventurous tone that is really felt. I liked how it began and I really liked how it ended and although some of its middle points weren't as good, the plot here is mostly well crafted and interesting.
Now let's talk about the characters. The film benefits from such a great use of its two mice protagonists. In some ways, they are more memorable here than in the original movie and that is quite an accomplishment. I just adored their chemistry and once again, the relationship between the two is one of the major highlights of the film. It is great because it progressed naturally from the first movie and whereas you had their romance develop before, now you have the proposal and the next major step of it. However, there lies a problem. The movie does not use them nearly enough as it should. It is overstuffed with characters and not all of them get their moments to shine, but I will talk about that more later.
Wilbur is a comic relief here and he is the brother of Orville. I have to say that I really enjoyed his character. Yes, he was a bit overloud and somewhat annoying at first, but he grew on me later on and that ending is absolutely magnificent and hilarious. Cody is fine. He is a cute boy that is likable and you root for him, but he still remains a typical good guy and an annoyingly underutilized character. Percival C. McLeach is a typical Disney villain and admittedly a forgettable one, but he still remains one of the more capable villains in the Disney canon for he posed some serious threat at certain moments. As for the animals, I mostly liked their scenes and I really found the inclusion of trademark Australian animals to be fantastic and so entertaining. Joanna is a pretty good henchman and Frank the lizard is the most memorable animal here and quite a fun one as well. And Marahute the Golden Eagle is terrific and the relationship between her and Cody is the major standout aspect in the film's storytelling.
………………………………………………………….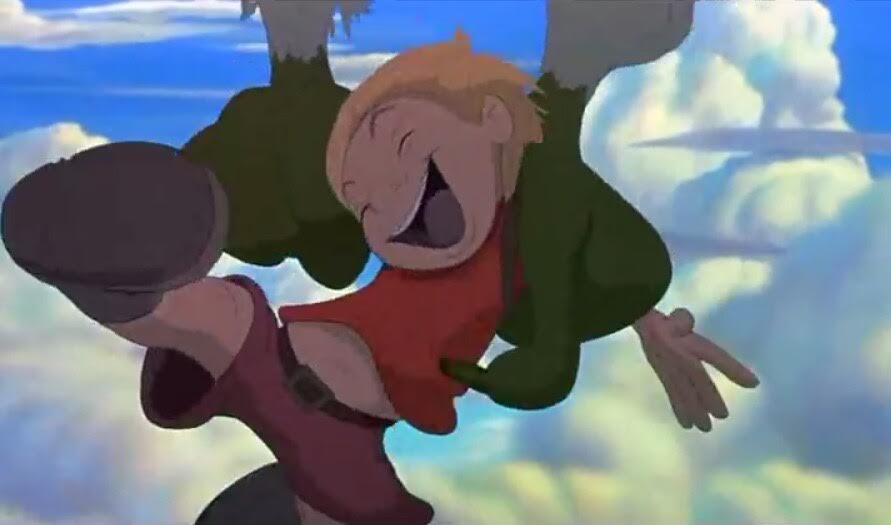 ………………………………………………………….
The Rescuers Down Under benefits from some strong animation. I have to say that this movie has such an unexpectedly good, quality animation that is very underappreciated how strong it is. The colors are so good here, but the film is so polished and some scenes are just splendid to behold with some awesome scenery. And I really enjoyed the character designs, especially those of the animals as they were really good and likable.
Probably the major highlight for me is the score. Wow, how great it is! I just adore this score. The movie is great for not having any songs in it, but just having the themes and the score in its soundtrack. But those themes just lift the movie to spectacular heights. The action sequences are wonderfully accompanied by appropriate musical cues, but it is Cody's Flight that takes the cake for being the best piece here. That whole sequence is the best in the movie as it shows us the relationship between this boy and eagle in the quickest, but most effective way, just as Disney music is supposed to do. The animation in there is gorgeous, the scenery is breathtaking, the scene is heartwarming and majestic and it is accompanied by that powerful, truly uplifting and instantly recognizable beat. It is not only the best composition here, but it is one of the very best that Disney has to offer in terms of non-vocal songs.
Another highlight is that ending which is so funny and sweet along with the cage sequence which is the most entertaining of the bunch. But as I said before and now I will clarify, The Rescuers Down Under makes the fatal mistake of having way too many characters in it, thus ending up being overstuffed. Bernard and Miss Bianca are great, but criminally underused in my opinion and that is the major problem here – the film is called The Rescuers and yet it doesn't have nearly as much of the two or the entire crew as it should have had. And the fact that the two subplots aren't connected as deftly as they should have been was bothersome to me. Also, the humor is pretty good here, but is used not particularly well and it leads to many detours which also troubled me.
And probably the biggest offender is the movie's feel which just isn't that strong. It is never as memorable as some of the other Disney films of the time and that really hurt it and that is why it is so forgotten. It is quite solid for sure, but never great and never memorable which is a shame. But the movie is pretty heartwarming at times as its heart is definitely in the right place. And the film is mostly well paced despite a couple of detours. It is very entertaining because even though it has more than its fair share of prolonged sequences, they are all very fun to watch which is why their length did not bother me at all. But the whole ecology feel of it was awesome and its adventurous tone is perfect as it is one of the best pure adventure flicks that Disney has to offer. The action is also really well executed and the film is quite dramatic and intense at times. But that old-fashioned adventurous feel to it with a great outdoor setting is what makes this movie so charming to watch. And it is wonderfully childlike and never childish which I appreciated. Overall, The Rescuers Down Under is inferior to its predecessor, but as sequels go, it is such a solid work and it is mostly such a fine and charming Disney flick and a major improvement over 'Oliver and Company'.
The Rescuers Down Under is definitely too problematic in its structure as it is overstuffed with characters and sometimes not as well connected in its subplots plus it isn't the most memorable Disney film, but it surely is an underappreciated, solid animated sequel that benefits from some pretty strong and at times quite inspired animation, some majestic sequences, just awesome score, likable characters and such a fun, adventurous tone to it.
My Rating – 3.5
………………………………………………………….