…………………………………………………
The Red Turtle Movie Review
The Red Turtle is a 2016 French animated film directed by Michael Dudok de Wit. An acclaimed film of the year, I myself found it boring.
It tells the story of a man who becomes shipwrecked on a deserted island where he meets a giant red turtle which eventually becomes a human woman. Needless to say, I don't know what this is all about and to me it felt pointless and I don't know what is the message here.
It is a French film distributed by Studio Ghibli and is one of the most acclaimed films of the year, animated or not. It has no dialogue, but it features sound and score. I of course don't mind and actually quite like silent movies, but here the problem wasn't the lack of dialogue, but the lack of story and the familiarity of the premise. Those led to a very tedious experience for me and I was bored immensely from start to finish.
………………………………………………….
………………………………………………….
The Red Turtle is the quintessential example of a movie that was born to be made as a short and not feature film. As a short, it would have actually been very good and fascinating, but as a feature, it is boring, prolonged and awfully slow.
The reason why you should see it of course lies in its technical aspects. The animation truly is terrific. It is hand drawn and very artistic in style. Every movie should also have a strong plot and characters in order for it to be considered great, but this one only has the animation and that I just find troublesome right there. But at least it was great to look at, very pleasant and very colorful. The designs are good and it seems like a moving painting at times plus some of the imagery here is truly inspired.
Another great thing about it is its sound design. Wow, is it worthy of an Oscar. Everything here sounds awesome and realistic from the animals to the waves. It is another reason why the film would have been wonderful to see on the big screen, but on the small screen it is much inferior and I unfortunately watched it like that. The score is also solid, if not as great as the sound.
………………………………………………….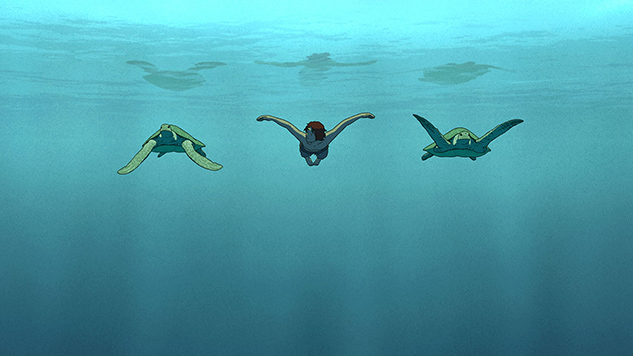 ………………………………………………….
The Red Turtle is technically marvelous with superb animation with some of the imagery being breathtaking plus the score is solid and the sound design in particular is amazing, but the technical aspects do not make movies great and you also need strong characters, message and story and all of those are lacking here. It is a movie that was destined to be made as a short film and to be watched on the big screen, but watching it on the small screen as a feature film was a tremendously boring experience.
My Rating – 3.5