……………………………………………………………………..
The Pirates! Band of Misfits Movie Review
The Pirates! Band of Misfits is a 2012 animated adventure comedy film from Aardman Animations. It isn't one of their best works, but it is still a solid, very enjoyable adventure.
……………………………………………………………………..
"Now listen Charles, we've all done something unforgivable.
I've betrayed my pirate honor, you've betrayed science, and Mr. Bobo's betrayed the animal kingdom"
……………………………………………………………………..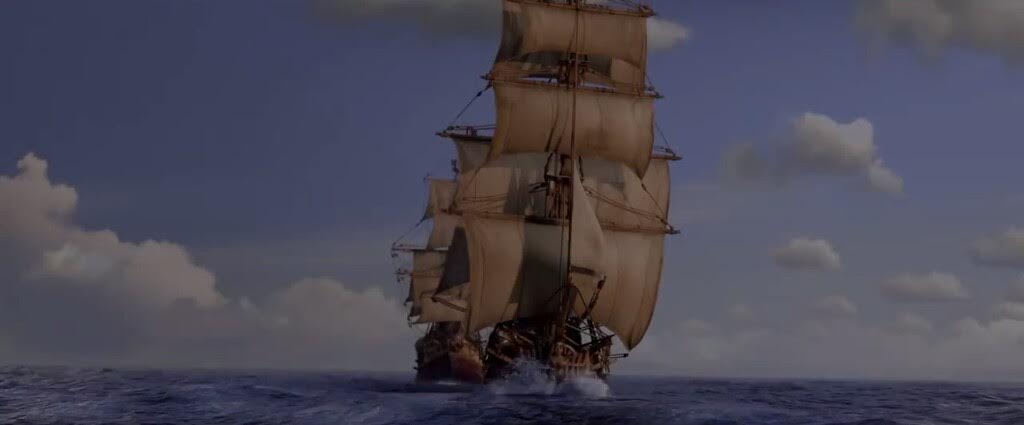 ……………………………………………………………………..
It follows The Pirate Captain and his crew of amateur pirates in an attempt to win the Pirate of the Year competition. I really enjoyed this flick and found its incorporation of different famous people from its period wonderful. Both Charles Darwin and Queen Victoria are present here and both are quite interesting. The plot itself isn't as original or as inspired as I would have liked to have seen, but it has such a great sense of adventure and a great comedic tone to it. It succeeds in both of those genres for sure.
The character development is pretty good here, but the problem is that half of these characters just aren't as memorable as you would expect from Aardman. I really liked Pirate Captain as he is such a good protagonist, but Number Two is also solid and the relationship between the two is charming. But the other pirates are unfortunately forgettable with the exception of the Surprisingly Curvaceous Pirate who is awesome. I just loved her character as she brought a lot of the great humor to the table and I wish that they used more of her. But Queen Victoria is great. Yes, she became too much of an action villain near the end, but she was great before that and is a memorable and fun character. And Darwin is another highlight as his trouble with being alone and not having a girlfriend is so funny and well incorporated and I overall liked his character and found it a great choice to still make him good in the end. Also, I found his pet monkey to be surprisingly funny and even hilarious at times.
……………………………………………………………………..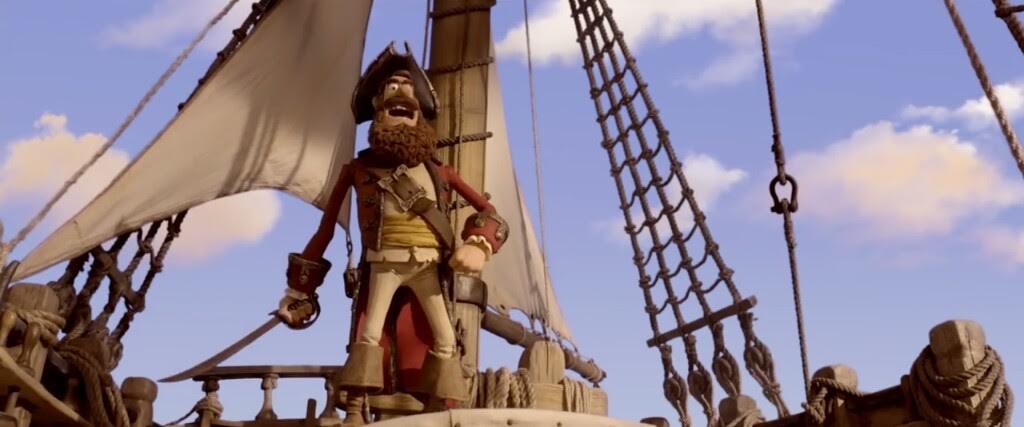 ……………………………………………………………………..
The voice cast did a splendid job as usual. Hugh Grant is pretty good, but it is Imelda Staunton who did a great job as well as David Tennant. And I have to say that Ashley Jensen is such a great asset for the studio. She was great as Bryony in 'Arthur Christmas' and she is once again wonderful in this movie.
The Pirates! Band of Misfits benefits from some particularly strong animation. The character design is pretty good and all of the characters look good, but they aren't the most memorable characters unfortunately. But I still liked him. However, the highlights here are the interior and exterior shots with the water, sky, houses, ships and especially the streets of London being some of the highlights. There were so many awesome backgrounds here that I just wanted to marvel at some of the beautiful shots presented to me. There are so many shots here that are perfect to use as wallpapers which is a testament to Aardman's continues craft in the stop-motion animated field.
The Pirates! Band of Misfits is solidly paced and edited, but the action I found overwhelming and one of the major issues here. It is good and mostly well executed, but there was still way too much of it here and the film overall is too frenetic at times and that I do not like at all. I wished for more of the slower scenes and moments as that would have strengthened the character development and would have made the movie more emotional. Yes, the flick is charming and it has its heart in the right place, but it is hardly as emotional or as heartwarming as is expected for the features from this studio.
……………………………………………………………………..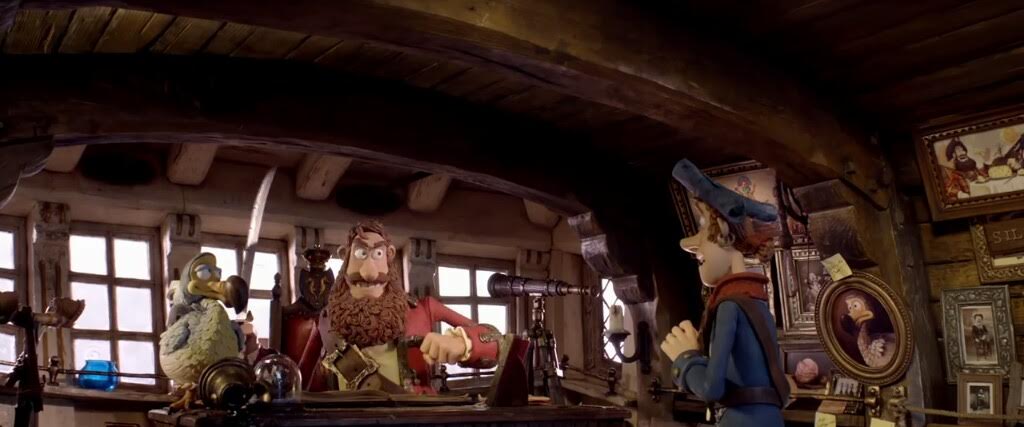 ……………………………………………………………………..
I liked the sound effects and I liked the score here with the one exception – those awful modern tones that accompany the sailing and montage sequences just ruined it for me. I strongly disliked that as the movie was otherwise so cozy and it transported me to the time period of the 19th century wonderfully, but that music was too modern and did not fit for the period at all. And it ruined the otherwise awesome sequences that were so well animated and so well presented.
The dialogue is solid and the humor is absolutely stupendous. The film did make me laugh more than a couple of times owing to a great screenplay, an excellent use of its characters and some great one-liners. It is fun and funny, but just not as clever or as sophisticated as you would expect from the studio. But I still found it to be somewhat artistic at times with some gorgeous and absolutely mesmerizing imagery and a perfect use of its time period with a great eye for detail. The highlights for me in terms of scenes are definitely most of the scenes with the monkey and the girl pirate and I also adored that dodo bird. The first half is so much better than the disappointing second one.
……………………………………………………………………..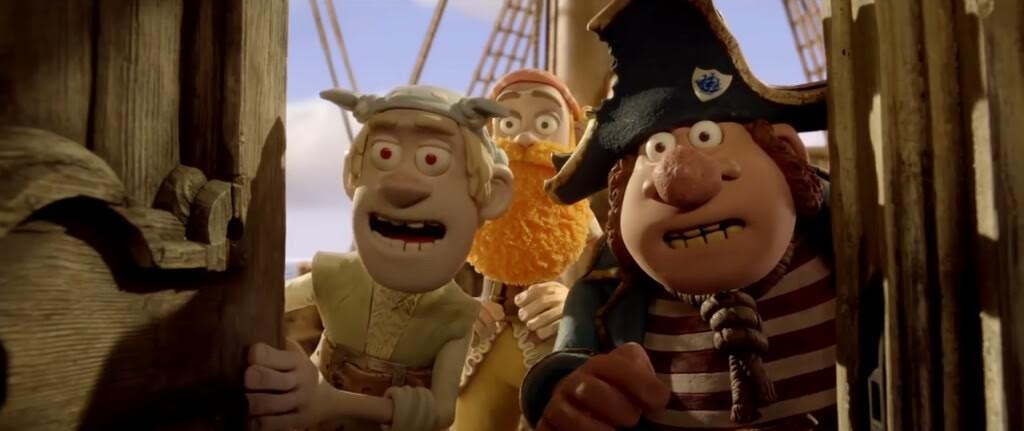 ……………………………………………………………………..
The Pirates! Band of Misfits is one of the worse Aardman films because of the many reasons I listed above, but a weaker Aardman film is still so much better than most of the animated films from other studios. It is such a solid, charming piece of entertainment that is one of the more purely enjoyable animated films of 2012.
The Pirates! Band of Misfits isn't one of Aardman's best owing to an excessive use of action, some questionable score choices and a disappointing second half, but the film is still such a solid, fun and charming flick with a great adventurous tone to it and such a good humor as well. The characters aren't particularly memorable, but are still so likable and the animation is the standout with some gorgeous imagery and a great attention to detail. It isn't great, but is quite solid and enjoyable nevertheless.
My Rating – 3.5
……………………………………………………………………..