*******************************
The Little Mermaid Movie Review
*******************************
The Little Mermaid is a 1989 animated musical fantasy film directed by Ron Clements and John Musker. It is the 28th entry in the Disney canon and it is undoubtedly one of the very best Disney films of all time.
…………………………………………………………….
"The human world is a mess.
Life under the sea is better than anything they got up there."
………………………………………………………………
Let's talk about the story. It is one of the most well crafted and most entertaining of any Disney film. I loved the beginning with that music instantly reminding you that you are about to witness something special. I also really liked the choice to not feature Ariel in its first scene as that led to a great development of other characters. The relationship between Ariel and King Triton is wonderfully established in the first act and the romance between her and Eric developed quite smoothly in a very satisfying sequence in which she saves him from drowning. That whole prolonged sequence is absolutely fantastic.
Next we have that famous scene in which Ursula gives Ariel her legs.  This is probably my favorite sequence in the entire movie for many great reasons – it is perfectly executed from beginning to end, the visuals are gorgeous, the imagery and the overall tone of the sequence is suitably dark and Ursula is just fantastic.
………………………………………………………………..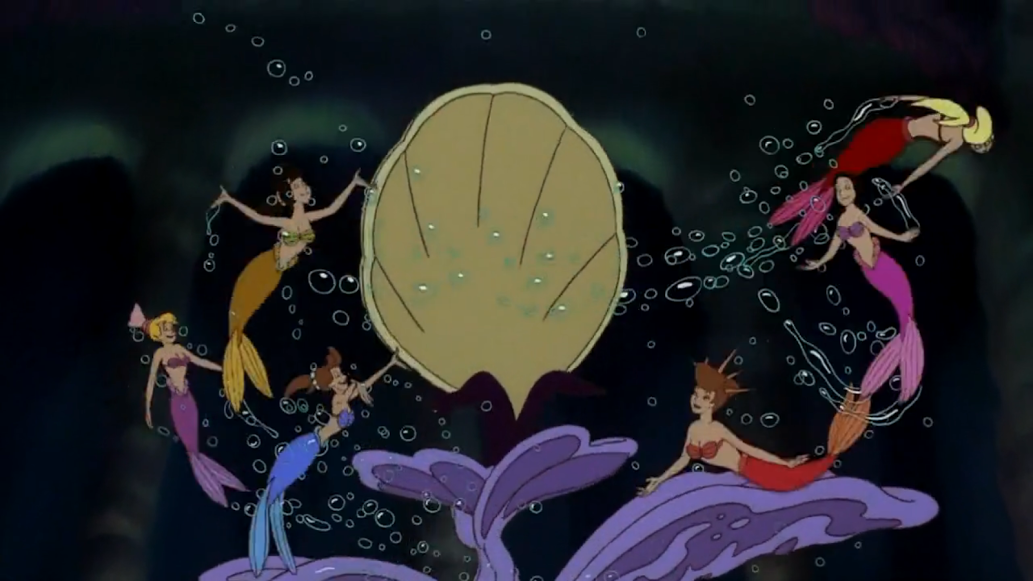 ………………………………………………………..
I really found the scenes with human Ariel to be excellent as well. They somewhat slowed the movie, but in a good way as they were romantic and this was the time where I started to genuinely care and root for her to succeed in her task and that is a testament to how likable this character is and how great the script is. The romantic sequence where the two almost kissed is another highlight.
And now we come to the ending. I have to say that it isn't my favorite part of this movie for some obvious reasons such as Ursula's demise which is disappointing and a somewhat too rushed final scene. All of those moments were pretty good, but they weren't as great as was the rest of the movie. But I still liked the action here as it was dramatic and mostly powerful.
……………………………………………………………….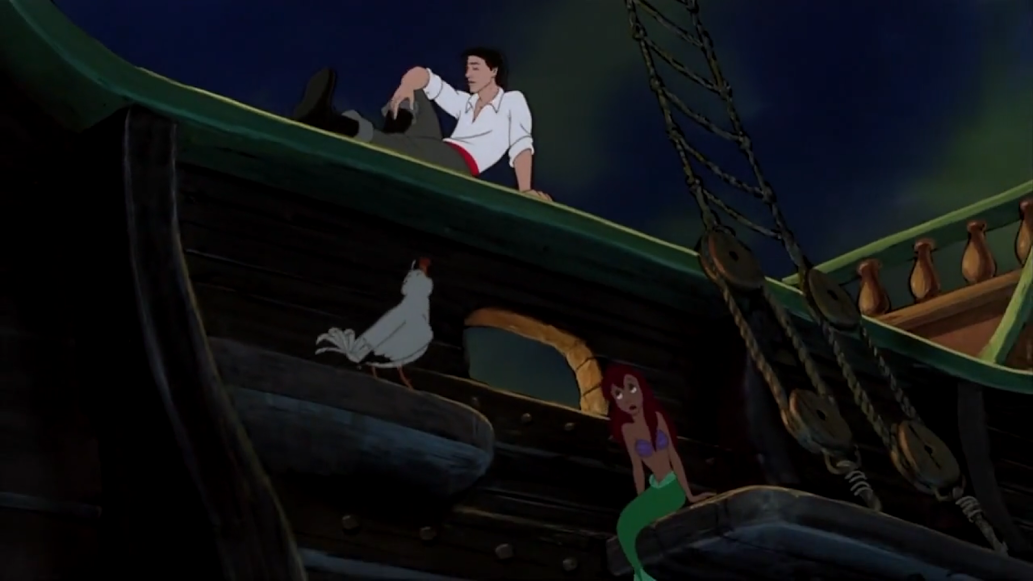 …………………………………………………………………….
With the plot now out of the way, let's talk about the characters. The Little Mermaid is such a classic for various reasons, but one of the big ones is character development. The movie is blessed with such a great characterization and many not only memorable, but also extremely likable characters. Let's start with our heroine – Ariel. I just adore Ariel. She is to me the cutest and most beautiful Disney princess of them all, but she is also one of the most charming ones too. She is so endearing and so wonderful. I rooted for her the entire running time as I was so invested in her story and I found her so lovable that I wanted her to be happy. That strong reaction rarely happens to me which is why this is such a masterpiece.
King Triton is just superb and he, along with Sebastian, is the finest character here in terms of complexity and development. He is never made a one-note bully father type as he showed emotion and evident care for his daughter from the first moments, but his conflict and eventual sacrifice is all the more powerful because of that strong connection between the two that was established before. And that brings me to my next point – the relationship between King Triton and Ariel is the emphasis and basically the heart and point of this movie. Most people criticize The Little Mermaid for being sexist in its rushed and one-note portrayal of romance, but the romance is not the point here and many miss that. The major and most important storyline here is that father-daughter relationship and the growth that Triton gains. He has to learn to let go and to give some freedom to his daughter and let her make her own choices and all of that is beautifully explored and just so touching to watch.
………………………………………………………………………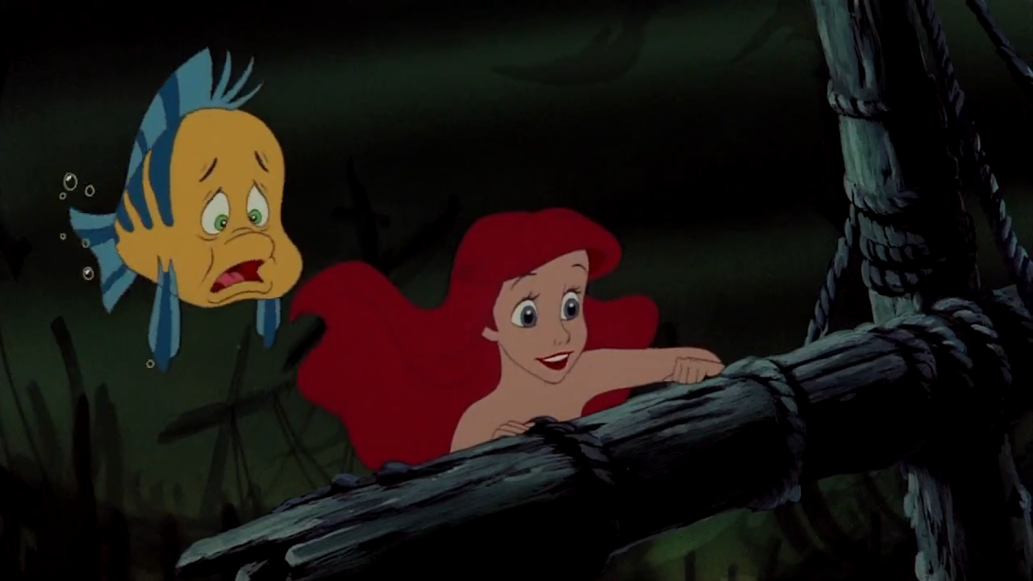 ………………………………………………………
Now, Sebastian is amazing. I don't know why, but many people fail to recognize the strength of this character as he is without a doubt the best Disney sidekick ever in my opinion. Only Baloo from the 'The Jungle Book' can compete with him. Sebastian the crab is a departure from the silly sidekicks that were usual for Disney Animation of the time and is instead realized in the vein of Jiminy Cricket from 'Pinocchio'. He is never just the servant of Triton and is never just the sidekick. He genuinely cares for Ariel and he wants her to be happy and he also learns to let go and be more relaxed and more fun. I just loved that Triton/Sebastian/Ariel dynamic and it is so strong that it drives this whole film.
…………………………………………………………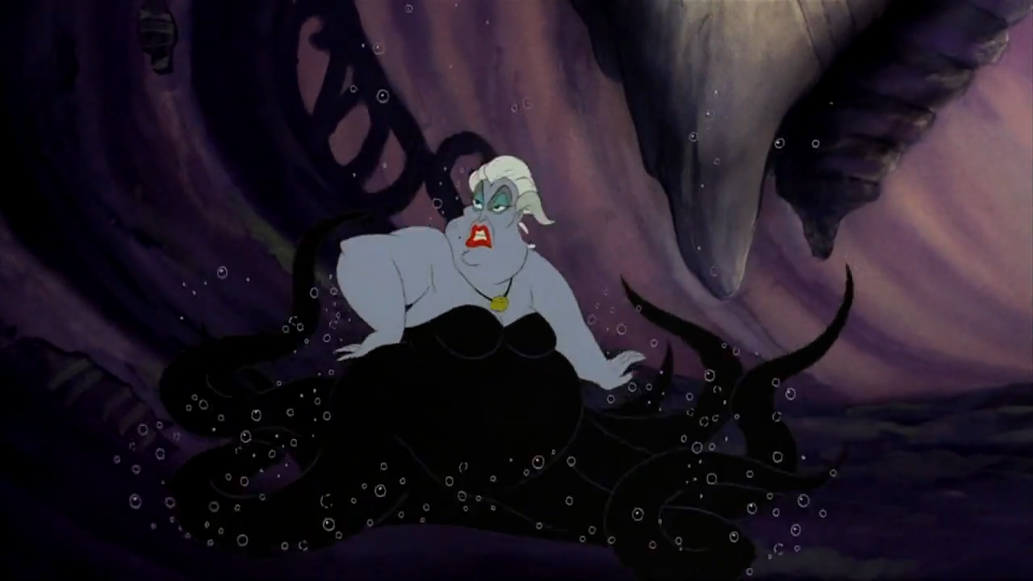 ………………………………………………………………
Ursula is one of the strongest Disney villains because she is original in her appearance, but also genuinely charismatic and posing some real threat. If it wasn't for that disappointing death of hers, she would have been one of the very best Disney villains, but she ended up being near the top of the list because of that. But she is still excellent, very menacing and extremely memorable. Flotsam and Jetsam are quite solid henchmen, but are fairly underused.
I wasn't such a big fan of Flounder as he was never really utilized and is just there to be cute. Also, apart from that first act, he is quite underused later on. But Scuttle is absolutely hysterical! He is easily the funniest character here as his advice and false knowledge of human things led to many hilarious moments. Chef Louis is okay and those scenes with him and Sebastian are definitely fun and pleasantly childlike, but I still found them to be detours and almost unnecessary to be honest.
…………………………………………………………………..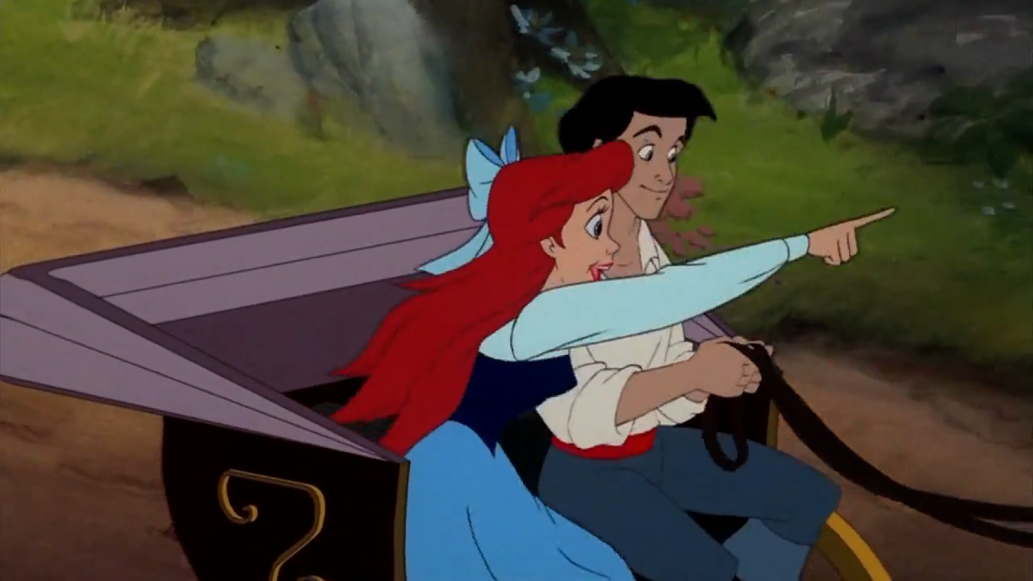 ………………………………………………………….
Prince Eric is quite solid. He isn't that well developed, but as Disney princes go, he is quite good. I liked the romance between the two. Yes, I get why some would take fault with it as it truly is troublesome that Ariel practically changes her species to be with the person that she's just met. However, on the other hand, people fail to notice that the film is progressive in featuring a princess who chases after the prince and not the other way around. That made her character a strong female character and it was refreshing to see a more active Disney princess. It definitely ushered into a new era of more progressive female characters for Disney. But as I said, I liked the romance between the two and, although rushed, it isn't as contrived as it could have been and it is genuinely sweet and romantic at times.
The Little Mermaid's animation is splendid. It isn't as great as the one in 'Beauty and the Beast', but it's still phenomenal and gorgeous to the eye. I loved the character designs and the imagery is fantastic. It was so great to go under the sea and Disney took us there in a suitably adventurous, very detailed manner. Ursula is my favorite character in terms of design, but Ariel is, as I said, simply beautiful and all of the animals are really well animated as is the underwater scenery. The film also has a great color palette with dark colors replacing the lighter ones at all the right points.
……………………………………………………….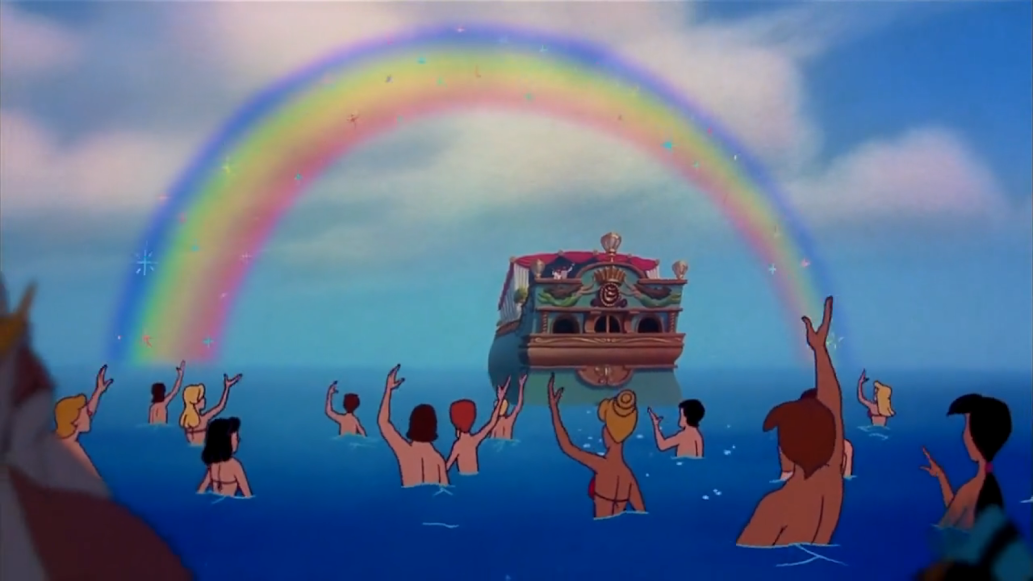 ………………………………………………………….
The soundtrack is brilliant! The Little Mermaid has to be my favorite Disney film in terms of the songs as there are so many songs here that I just love. Fathoms Below is okay, but forgettable. It does set the mood well though. Les Poissons is also solid and satisfying for that scene, but also forgettable and not that great. As for the big ones, Poor Unfortunate Souls is the weakest one, but it is still a very solid villain song that perfectly accompanies that amazing sequence.
I just love all three major songs here. Under the Sea is so incredibly catchy. Yes, it is childish, but more childlike than childish and it is again a perfect song for that scene in terms of storytelling and characterization. Yes, The Little Mermaid absolutely succeeds as a musical because it understands what the songs are supposed to do – be fun, catchy and memorable, but also drive the plot forward and help develop the characters more. In Under the Sea we get a great look at Sebastian and his Jamaican accent is quite amusing.
……………………………………………………..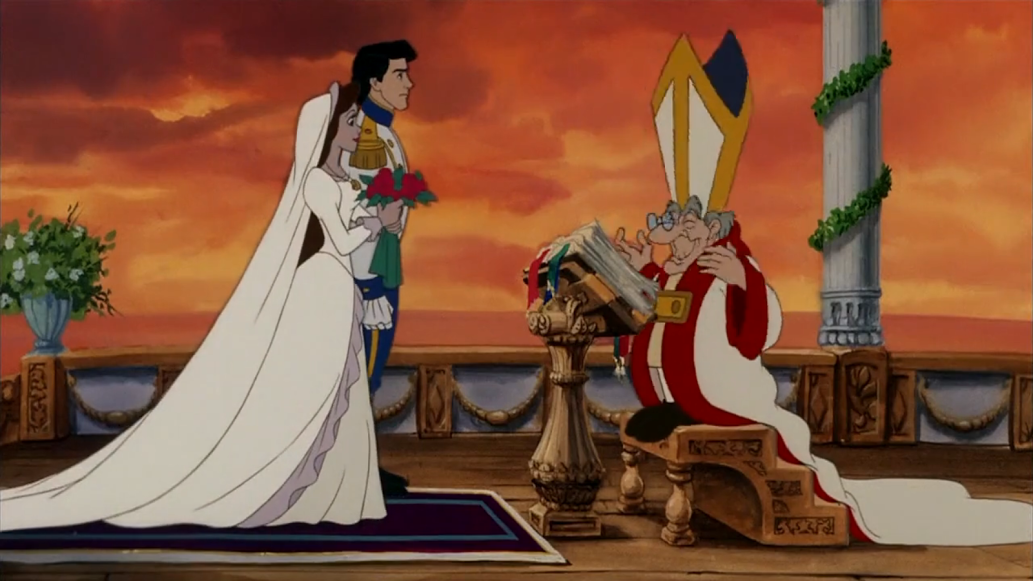 …………………………………………………………
Kiss the Girl is a perfect romantic song. This film also succeeds in having different songs of different styles and tones. Poor Unfortunate Souls is a villain song for a darker and more mature scene, Under the Sea is a more childlike and innocent one etc. Kiss the Girl serves the romance of the movie, it flawlessly accompanies its beautiful sequence, it is not only catchy, but also wonderfully sung and it is just wonderful to listen to.
And the finest song here has to be Part of Your World. It is a perfect Broadway-like, serious song and the most impressive piece of music to be had here. The music is just splendid and the song is impressively sung by Jodi Benson, but the lyrics are the standout aspect here as they are so well written and serving the plot and the main character perfectly. For all of those reasons, it is one of the best Disney songs ever in my opinion. And it also accompanies the sequence which is even poetic in nature. The song and its lyrics have a couple of hidden meanings. It reminds us that we humans also share the same problems that Ariel has and the juxtaposition of our understanding of ourselves and hers of us is brilliant. But it succeeds because it gets us to the heart and soul of Ariel and it perfectly showcases her wander and awe of the upside world.
………………………………………………………..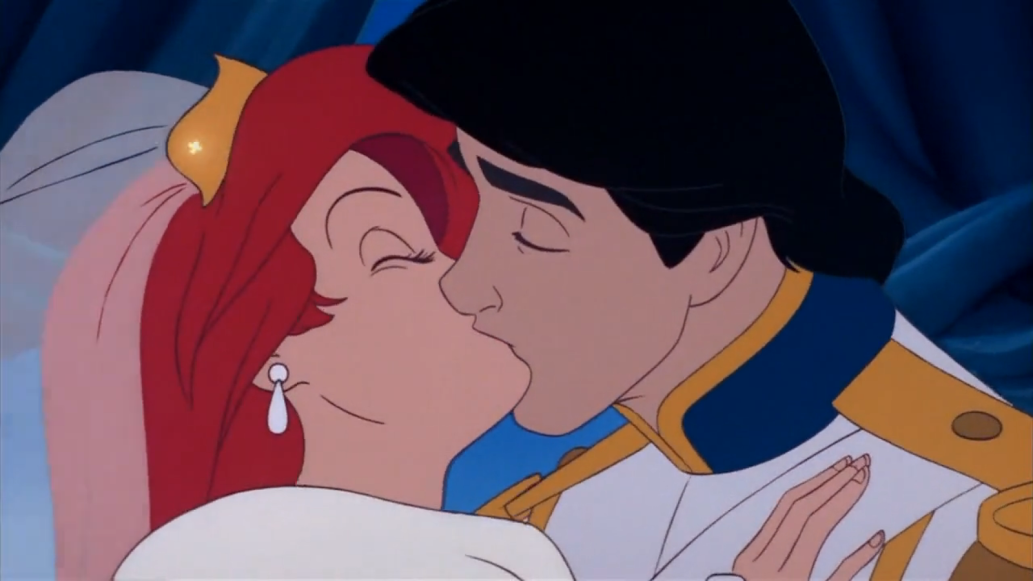 ……………………………………………..
The Little Mermaid is a technically polished movie. It is well directed and so well acted with Jodi Benson, Pat Caroll and Samuel E. Wright being the major highlights. The imagery and animation are splendid, the details are evident and the score is great. It doesn't just have great songs, but it also has a great score and an excellent use of the wordless composition of Part of Your World. The tone is deft, ranging from comedic to serious to darker to romantic at just the right moments. It is also wonderfully paced and mostly not rushed. The dialogue is good, the film is memorable and also quite powerful at times. It has such a big heart and such a strong emotional approach being one of the most emotionally investing Disney flicks. And of course, its humor is great. It isn't present as much, but when it's there, it is so good and it made me smile and laugh a couple of times. But I've held the smile on my face throughout the entire running time because this is just that beautiful a movie. It possesses such a strong fairytale feel to it and it just draws you in its world and in its story and never lets go due to a great world building and excellent script. It most certainly is one of the best Disney films of all time.
With beautiful animation, great humor, excellent score, strong emotional investment and many powerful sequences, The Little Mermaid is an undisputed classic that has such lovable and incredibly well developed characters, excellent script, such a great varied tone to it and an absolutely fantastic soundtrack that is Disney's finest to date with so many amazing songs with Part of Your World, Kiss the Girl and Under the Sea being the highlights. But the movie also has such a big heart, it also possesses such a strong, welcome fairy tale feel to it, the character interactions and relationships are superb and the film is very romantic as well. For all of those reasons, The Little Mermaid is a masterpiece and one of the best musicals ever made while also being one of the very best that Disney Animation has to offer and one of the finest animated films of all time.
My Rating – 5
………………………………………………………….