…………………………..
The Land Before Time Movie Review
The Land Before Time is a 1988 animated adventure film directed by Don Bluth and it is his third feature film. It is a solid, but ultimately too childish movie.
…………………………………………
"Three-horns never play with long-necks."
…………………………………………
It is about a recently orphaned young dinosaur who, along with his friends, flees famine in search of an area spared from devastation. In terms of storytelling, the film is very weird, incredibly weird. The first half is basically a tragedy which may strike children as too much, but the second half is this overly cute, saccharine little adventure that is just for children. Basically, the two halves are jarringly different in tone.
……………………………………………
……………………………………………
I liked the tragedy quite a bit as it was serious and quite heartbreaking. But I have to say that I wasn't such a big fan of the movie's second half as it was too cute even for me. Yes, I usually love and don't mind childlike movies, but there is a difference between childlike and childish and this movie is unfortunately childish meaning that it is intended just for children and adults would find it difficult to love. Yes, the adventure was charming and some moments were quite endearing between the friends, but it was too endearing and it ultimately lacked the bigger conflict that it desperately needed.
……………………………………………..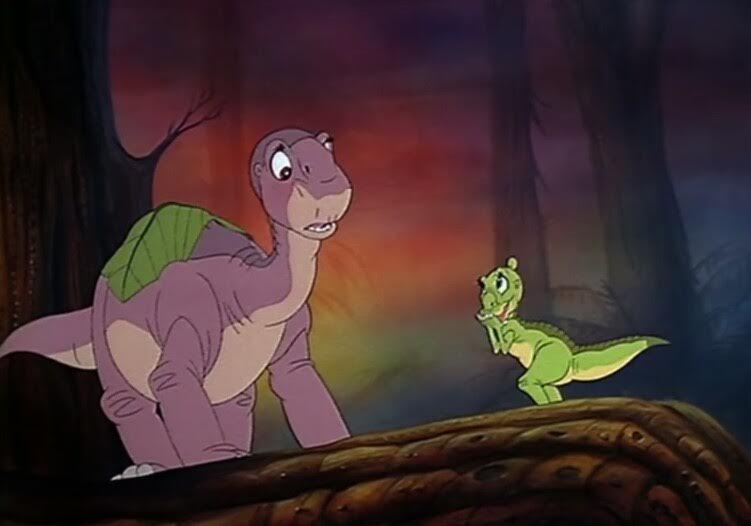 ……………………………………………..
The character development is quite weak. Littlefoot is an endearing protagonist and I liked Cera quite a bit even if she was annoying at times. The mother of the main character is also very well developed and I really liked her role even after her death. But Ducky and Petrie are forgettable. Well, Petrie has his funny moments, but for the most part these characters aren't particularly memorable and they are introduced too late for them to have a serious impact.
The Land Before Time has a very good animation. It isn't on the level of Don Bluth's previous efforts, but it is still pretty good. I liked the saturated colors quite a bit, the characters look fine and some of the backgrounds are very pleasing to the eye, especially the Great Valley at the end. If I have one problem with the animation and the overall movie is that it is too old-fashioned. I liked it at first, but it in the end seemed too much like the Disney films from the 40s and 50s which was a problem as it never reached their level of artistry and strong storytelling or characters.
………………………………………………..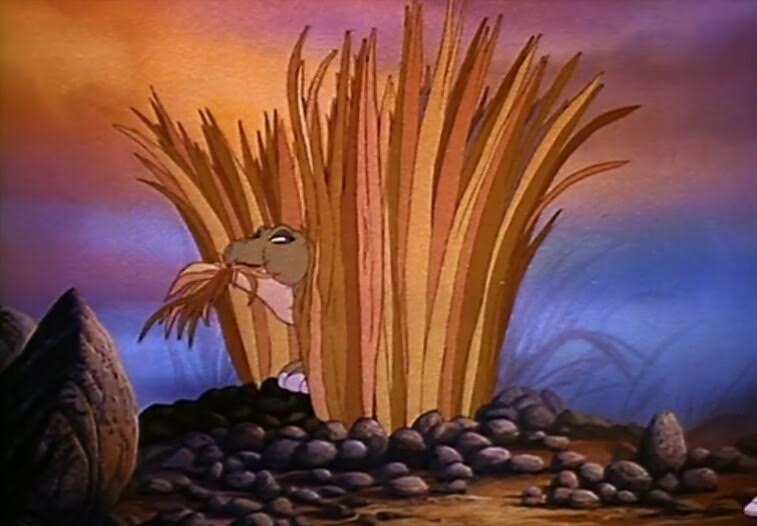 ………………………………………………………….
The Land Before Time is too short in length, but at least it is quite solidly paced and never dull or rushed. Its tonal shift is odd, but the two tones are still interesting and the film overall is an interesting, albeit not overly successful experiment. The narration is pretty good and didn't bother me and I really enjoyed some of the scenery as well as the score here which was pretty good.
The dialogue is a little too on-the-nose and simplistic. The emotion is there and the film is tragic of course, but it isn't particularly dramatic and it definitely lacks conflict. What I liked in its plot was definitely the introduction of some really interesting themes and a great message for kids. The message of tolerance and the theme of racial discrimination is really well explored here and put to some great use. It was too simplistic, but still perfect for the young ones to teach them the value of tolerance.
…………………………………………………….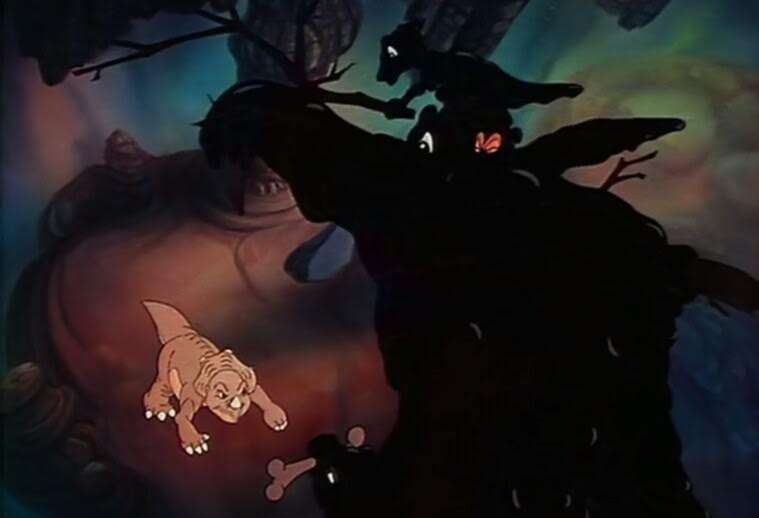 …………………………………………………….
I also really enjoyed the attention to detail in its animation and in the names of the dinosaurs. They called themselves simpler names that are derived from their looks and that was very realistic and appropriate. Also, the whole friendship angle here is great and sweet, but the characterization should have been much stronger. And the voice acting is quite solid. Overall, The Land Before Time is a solid, if never particularly great movie that is an improvement over 'An American Tail', but much inferior to 'The Secret of NIMH'.
The Land Before Time has its problems including a jarring shift in tone in its two halves, a weaker characterization, a lack of conflict and a too childish, overly saccharine second half, but the first half is quite tragic and dramatic, the film has a great theme of racial discrimination in it, the animation is solid, the film is emotional and it is overall a pretty solid, if far from great Don Bluth flick.
My Rating – 3.5
………………………………………………..