………………………………………………………………………………..
The Jungle Book Movie Review
The Jungle Book is a 2016 adventure film directed by Jon Favreau and starring Bill Murray, Neel Sethi, Ben Kingsley and Idris Elba among others. It has some evident flaws, but it is mostly a pretty good and quite satisfying remake.
………………………………………………………………………………..
"They want to send you to the man-village?
I say, you can be a man right here!"
………………………………………………………………………………..
………………………………………………………………………………..
This is another Disney live-action reimagining of their classic animated film and thankfully this is another success story after their 2015 version of 'Cinderella'. The original 'Jungle Book' is to me one of the best Disney animated films of all time so of course it was difficult for this one to compare, but I have to say that it compares pretty well. Yes, it is most definitely inferior, but it also has some aspects that are better than the original and it is mostly a satisfying adaptation.
The plot itself is a very interesting mix of entirely repeated plot points from the original and some different, new ideas. Some scenes are just mixed up and presented in different order, but it is mostly presented as before. It is an homage as some scenes are reminiscent a lot, but it also deviates in a couple of major points. The death of Akela is the biggest difference here and, although it was a bit too dark in my opinion, I liked it overall as it led to a much more mature tone. However, what I did not like is that the ending was changed from sort of sad to entirely happy. Mowgli goes to the man village in the original flick, but here he stays in the jungle. Now yes, the entire ending sequence is really moving and epic and I really liked it, but it was still too happy in my opinion.
…………………………………………………………………………………….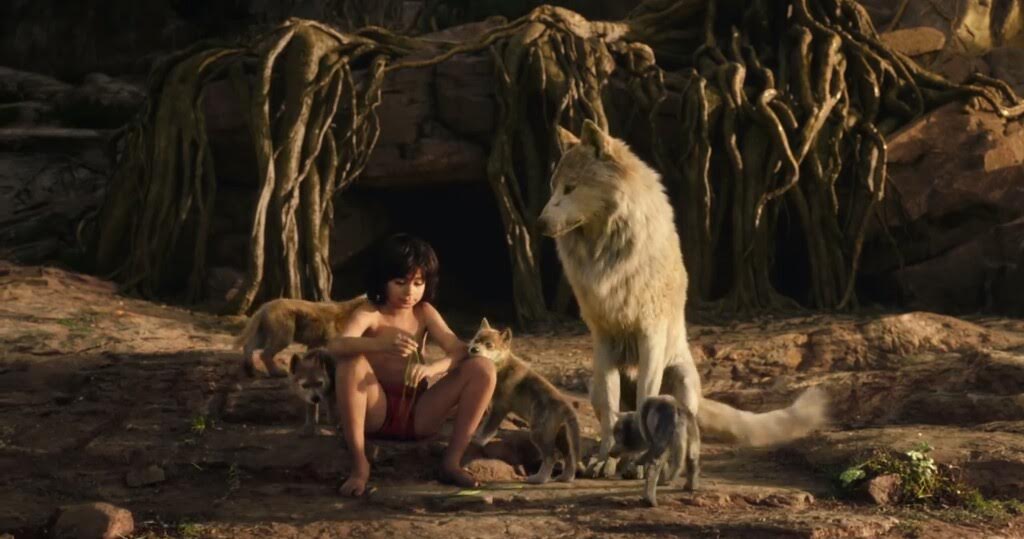 …………………………………………………………………………………
As for its characters, there are a couple of very interesting as well as mediocre choices and differences here. The one that is disappointing has to be Kaa as she was so poorly used. She only appears in one scene instead of the original two and she is fairly forgettable in that one scene. The design is good and I liked the musical cues and the use of hypnotic eyes, but that scene still felt like a detour and it was so forgettable. And the flashback should have been put in some other sequence in my opinion. The flashback itself is great, but the place of its plot point is questionable. Why would he explain his past when she was about to kill him? That was ridiculous.
But what they did with the elephants I have to say that I really enjoyed. The elephants are basically mythical creatures here, God-like and grandeur. Whereas in the original they were silly comic reliefs, here they are the providers and the creators of the entire jungle and I really liked that not only thematically, but in terms of visuals. It led to a much more artistic and thematically rich storyline and I will talk about each of the themes later on. But their role is so good and it is the only difference that I found to be better here than in the original movie. As for Mowgli, he is pretty good and he just might be better than the original version as he was quite well realized here.
………………………………………………………………………………..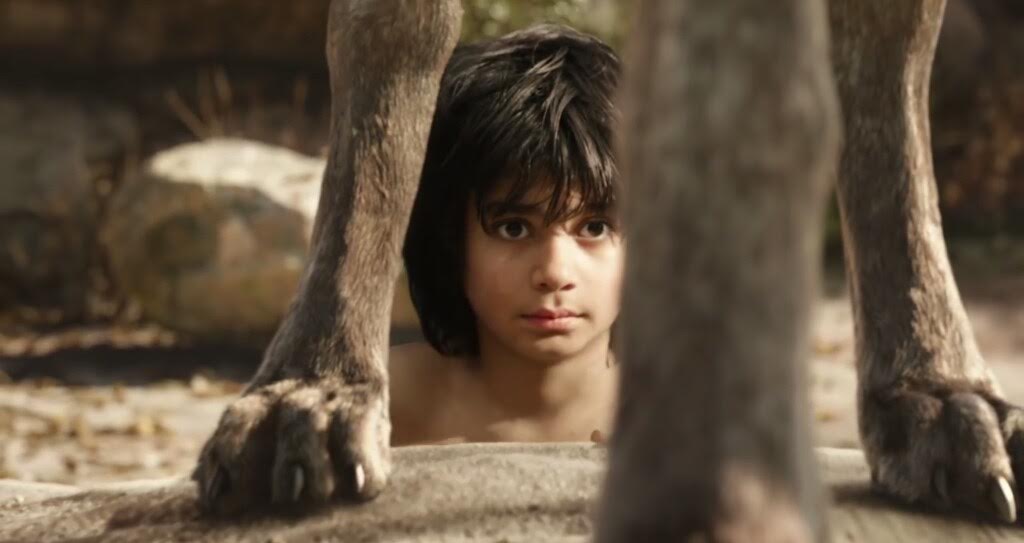 ………………………………………………………………………………..
I really liked Baloo. I feared that they would make him less funny, but thankfully he was awesome. He made me laugh many times and he is such an enjoyable, really well utilized character. Bagheera is also fantastic and the interactions between the two are once again great. King Louie is terrific as well and I really enjoyed his sequence, even though I found it to be not as energetic as it should have been. All of the other smaller animals are memorable and cute, but I loved how they portrayed wolves as pack animals with their propaganda, as Baloo put it. That was realistic as wolves are pack animals in real life and bears are lazy and live on their own. And as for Shere Khan, he is menacing and he poses real threat as he should. He is such a great villain and I also really liked some of his earlier scenes with the wolves as they were so creepy and intense. I like his backstory and I found his presence to be quite menacing.
The acting is mostly phenomenal. Neel Sethi was quite weak in some scenes, but he was mostly pretty good for a child actor. Now Bill Murray, he's one of the highlights. I was skeptical at first, but he thankfully proved me otherwise as his voice not only fitted the character, but he delivered a great comedic performance. Ben Kingsley is excellent as Bagheera, Idris Elba is quite memorable as Shere Khan and all of the other actors did a perfectly fine job. Everyone here delivers and most importantly, the talking animal aspect did not bother me at all as it was done smoothly.
Now, the themes. The Jungle Book benefits from such a great emphasis on some really interesting themes that I did not expect at all, but was pleasantly surprised. The whole "red flower" aspect to it is phenomenal and it wonderfully showcases humans' destructive nature. The animals do not know what fire is and their fear of it is above any other fear in terms of intensity and that was so realistically depicted. I loved that human vs. nature, human vs. animal theme, but I just loved the role of elephants and how they fit into the ecosystem by having such a huge part in it. That was surprisingly sophisticated and intriguing.
………………………………………………………………………………..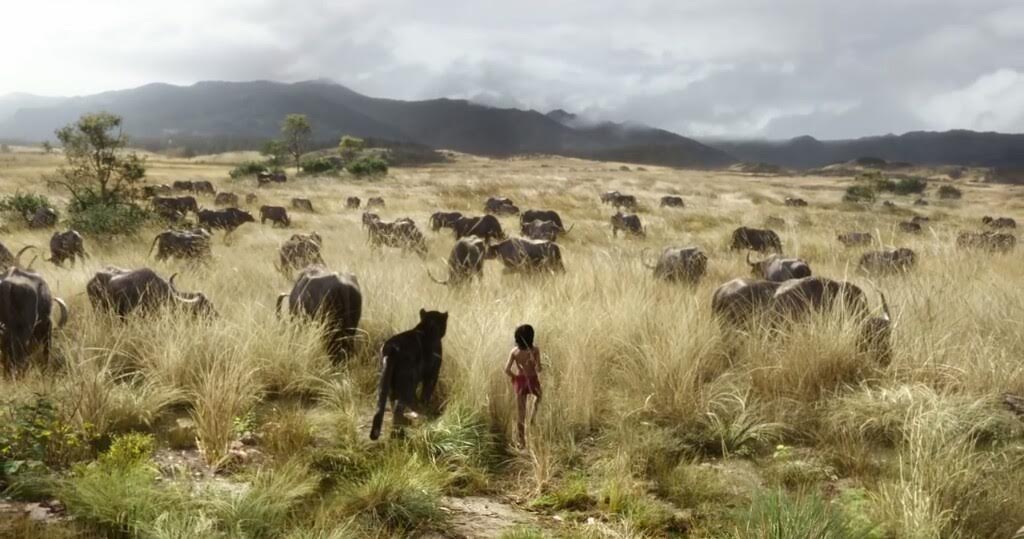 ………………………………………………………………………………..
Now, we come to some of the problems. The Jungle Book is mostly a good film, but it is never as great as it should have been owing to some really poor choices being made. One of those is unfortunately the music. The movie makes a fatal mistake of having songs in it, both The Bare Necessities and I Wan'na Be Like You are sung and unfortunately both of those iconic songs are so lackluster and so weakly performed. The lyrics and the tone is different, but they are overall just so inferior to the original songs in every way. That choice was weird and quite stupid to me as the film relied on musical cues to pay homage to its classic predecessor and that should have been enough. For example, when Kaa arrived, you can easily hear the score of the song Trust In Me and in the opening scene, there is that score from the original version as well. Those cues were enough and the songs were highly unnecessary in my opinion. But the fact that they were lackluster makes it even worse.
Another problem here is that the movie focuses too much on action and not enough on character-driven, emotional drama that the first movie did so well. We never really see the relationship between Mowgli and Baloo unfold entirely and that was so disappointing as it was the highlight of the original flick. Yes, the relationship between Mowgli and his wolf parents is much more emphasized here which was great, but all of the other relationships are unfortunately lacking in screen time. The film has great action sequences with some of them being wonderfully executed and quite intense, but it still had way too much action for my taste and the film could have used more characterization and definitely a bigger heart.
………………………………………………………………………………..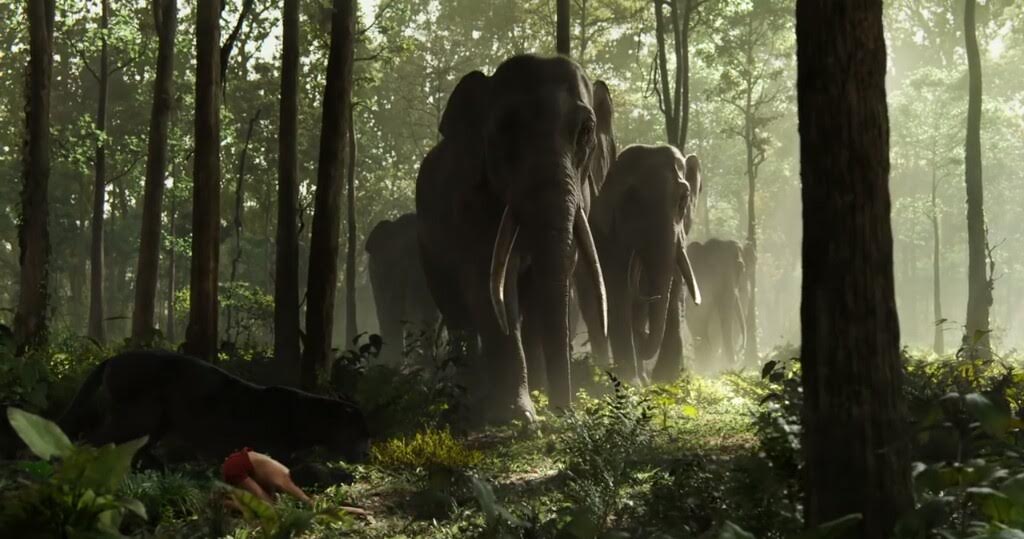 ………………………………………………………………………………..
The Jungle Book is a technically astounding work. The special effects are gorgeous and I loved the fact that it focused on light imagery instead of dark as it was beautiful to watch and realistic. These aren't the best effects I've ever seen, but they are still great and the various natural landscapes are wonderful to watch. I also adored that the film is at times even artistic as it has some just breathtaking shots with the flashback being awesome, the sequence in the man village being so visually intriguing and the overall visuals with fire are so poetic in nature. I also adored its attention to detail and slight homage choices from the filmmakers from the song cues to the use of the original book in the ending to a great, old-fashioned version of the logo in the beginning. The film is such a great homage that brought a smile to my face.
The character designs are great as all of the creatures look very realistic and lifelike. However, one major problem here is that they all look gigantic and just too large in comparison to Mowgli. That was certainly a big flaw. But the movie is otherwise visually pleasing with some powerful imagery here and there. The cinematography is excellent, the action is fantastic and the film is well scored. It is too fast paced, but one major plus is that it is not as episodic in nature as the original movie is. This one runs much more smoothly and is better edited. The dialogue is pretty good along with the humor. The humor is really strong with some hilarious lines and I just wish that there was more of it as it was fantastic and Baloo made me laugh more than a couple of times. The film should have been more energetic and more entertaining, but its emphasis on more themes and more mature approach was still quite satisfying. Overall, The Jungle Book isn't great, but it most certainly is a very good movie that continues this trend of live-action remakes of animated films in a satisfying fashion.
………………………………………………………………………………..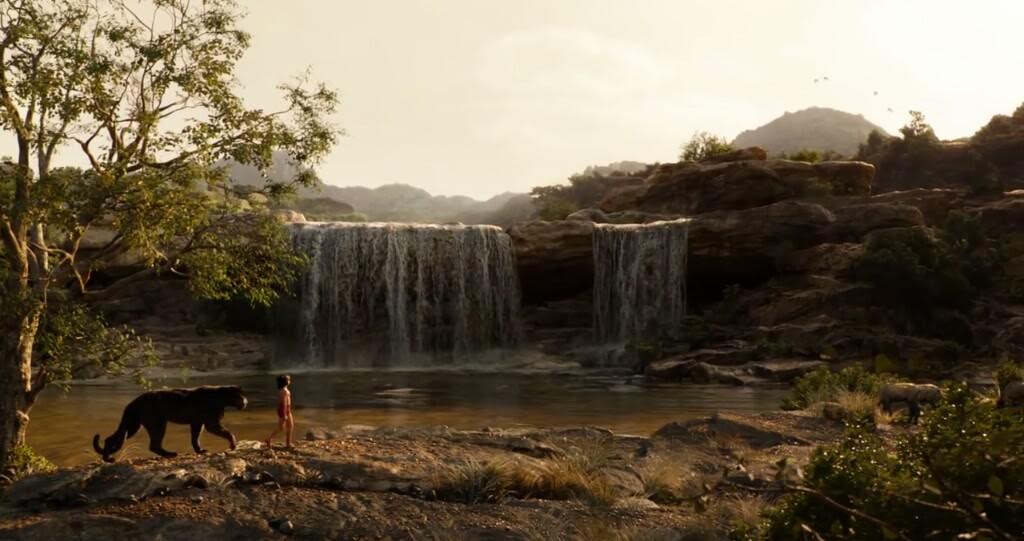 ………………………………………………………………………………..
The Jungle Book isn't great as it is has a too happy ending, mediocre renditions of songs, some of the choices are quite poor and the movie unfortunately focuses way too much on action instead of pure fun and character-driven, emotional drama that made the original such a classic that it is, but this version still has some surprisingly awesome aspects in it with a beautiful scenery and effects with some even artistic shots and a superb emphasis on some great themes from man vs. nature to fire to the role of elephants in the ecosystem all being well explored. It also has good characters, excellent performances, a satisfying humor, well executed action, some very intense moments and an interesting more mature approach at times. It is in the end admittedly inferior to the original film, but it's still a pretty good, quite satisfying movie in its own right.
My Rating – 4