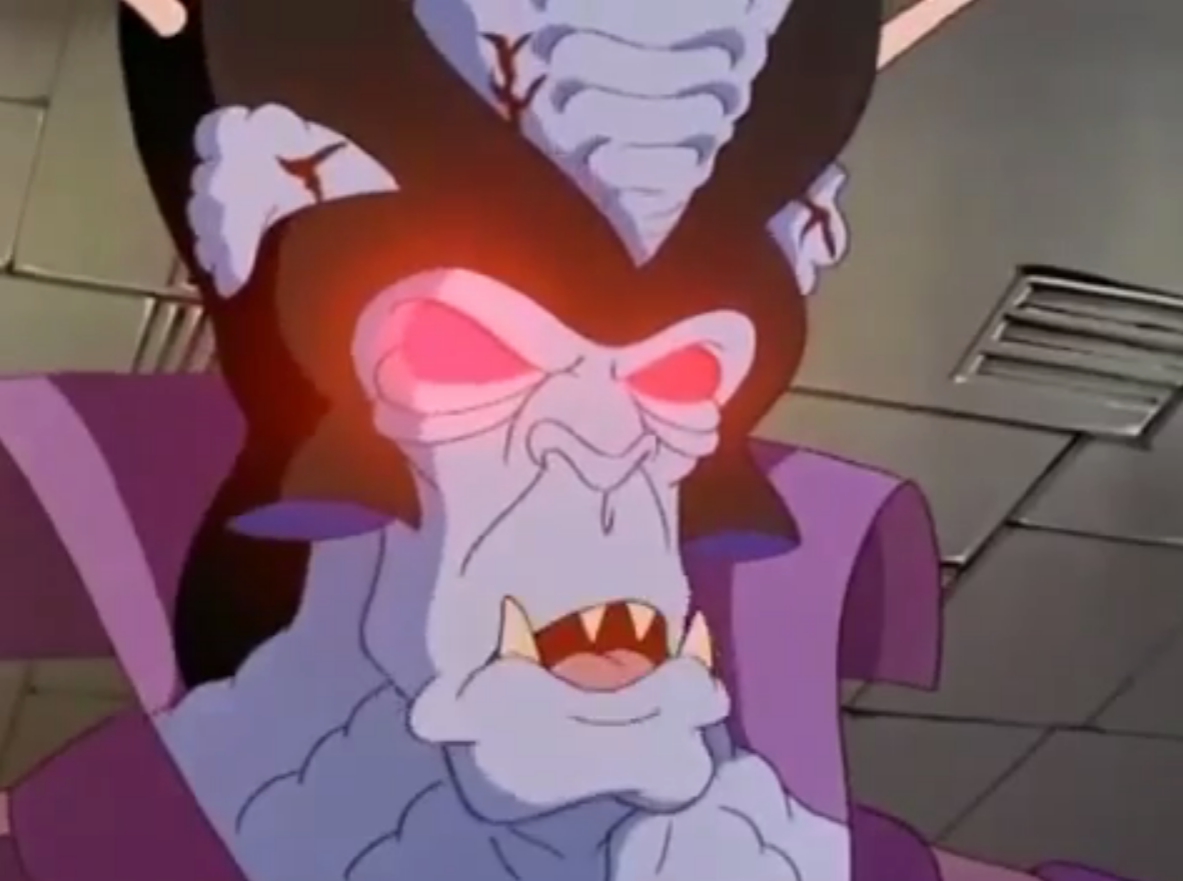 …………………………………………………
Teenage Mutant Ninja Turtles Seasons 8-10 Review
Here is my review of seasons 8, 9 and 10 of Teenage Mutant Ninja Turtles as I am putting them all in one review for obvious reasons.
………………………………………………….
"You are truly exceptional students and I am proud to call you my equals"
………………………………………………….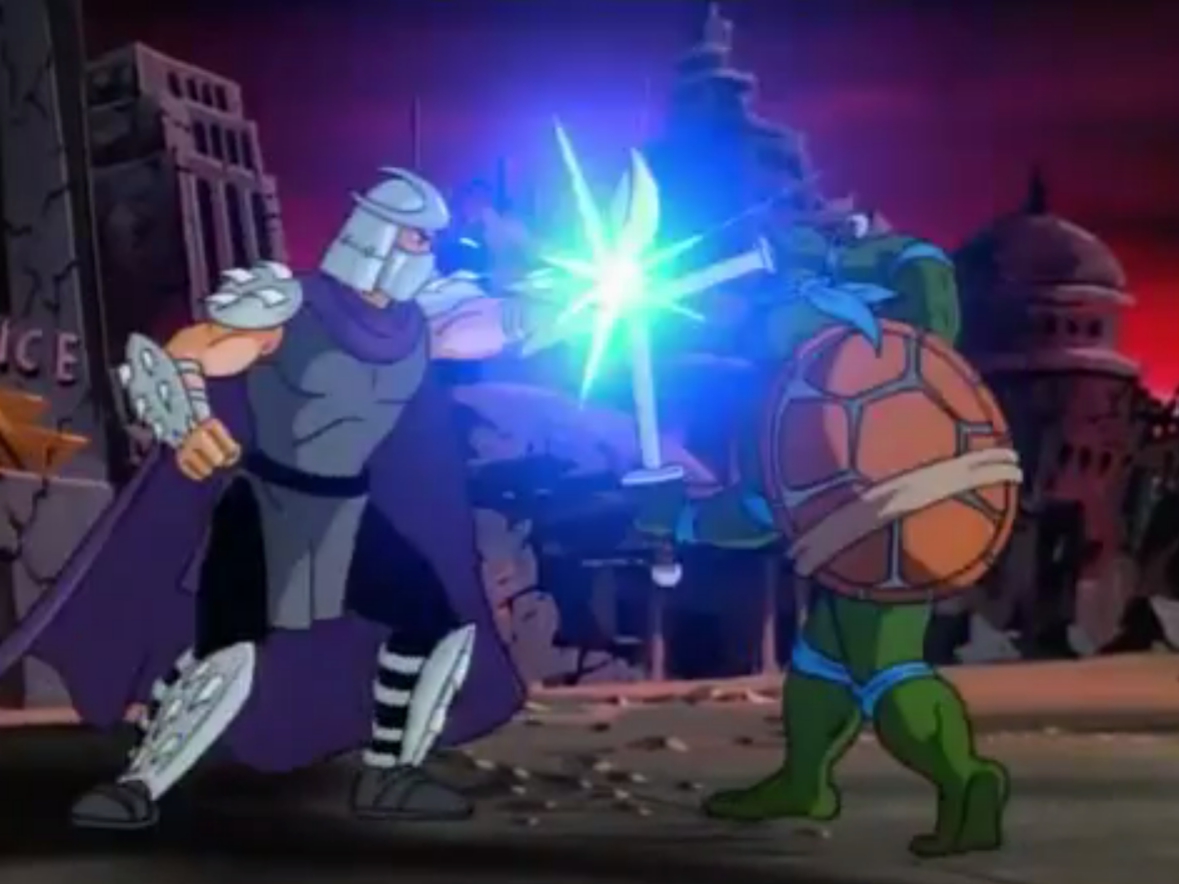 ………………………………………………….
These are known as "Red Sky" episodes. From season 8 to the end of the series' run, suddenly you did not have Krang and Shredder, well mostly, and Dregg took over. He was at first overly typical, but he grew on me as he became more powerful and obsessed with killing the turtles. He was a worthy villain. But these seasons are much more serious and less funny in tone and although that gave it its edge, I was still disappointed by that choice as I found the humor the best aspect of this series as a whole so the decision to get rid of it for the most part was ridiculous to me.
Get Shredder! is actually a pretty good, action oriented episode that finds the two villains for once pretty capable and tough and that was refreshing to witness. They are both superb here and I am at once both glad and sad that they got rid of Channel 6 crew eventually. Wrath of the Rat King has Burne turning against the TMNT and I thought that storyline was interesting, but not fully explored. And also we see the end of the Rat King in this episode as he finally gets arrested.
………………………………………………….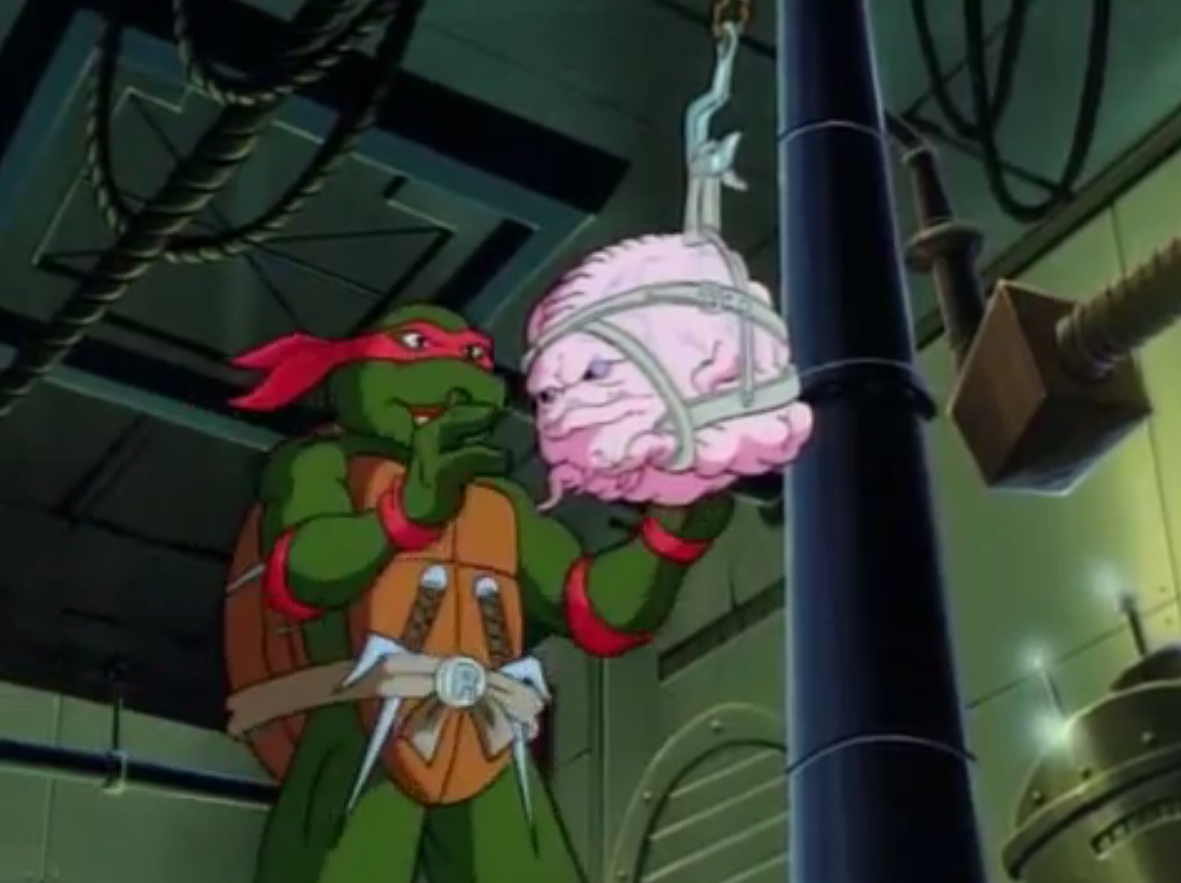 ………………………………………………….
State of Shock is a typical premise executed solidly, but still it was overly familiar and I was mostly bored by it. Cry H.A.V.O.C.! actually has a pretty solid, respectable conflict in its plot and I thought it was mostly a very engaging, interesting episode that got a weak conclusion in its subsequent sequels.
Yes, H.A.V.O.C. in the Streets is quite boring as an episode that really did not do anything for me. As I said above, it was a good idea, but maybe for just one episode and the rest resorted to too much action. Enter: Krakus is more of the same, but at least it has more fun, memorable action in it.
Cyber-Turtles is overly ridiculous in its storyline and with such silly, ludicrous sci-fi elements to it. Turtle Trek is a weak episode as it isn't really a memorable conclusion to the eight season although it does dispose of Krang and Shredder for a while.
………………………………………………….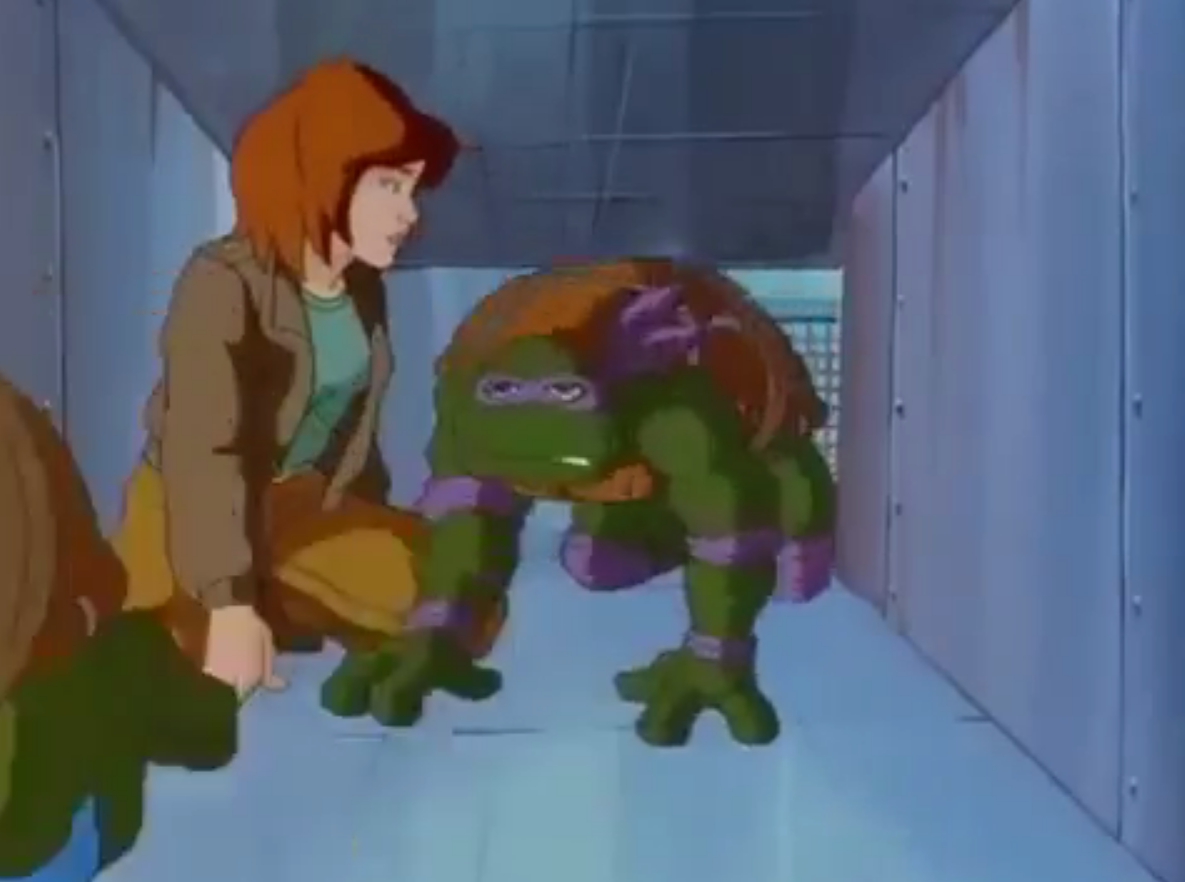 ………………………………………………….
The Unknown Ninja opens the ninth season in such a mediocre manner as it introduces us to Carter who is a young African American ally of the TMNT. I was bored by this character as I found him forgettable, shallow and although an improvement over insufferable Zach, he was still thoroughly unnecessary. Also we are introduced to Lord Dregg here. Dregg of the Earth continues this story in a forgettable manner, but I guess it was an improvement that finally we see some serious continuity in these three last seasons.
The Wrath of Medusa features a pretty solid villain and I guess Carter's role here is the best in his run. The New Mutation sees the Turtles becoming to mutate into monstrous creatures and I never really liked that development and I found it not fitting in style to this show at all.
The Showdown is the weakest episode of this bunch with a very annoying, typical and dull story and action whereas Split-Second introduces a new foe who is very forgettable and boring. Carter, the Enforcer is another mediocre episode, but at least April is becoming pretty proactive and helpful by now. Doomquest is a pretty solid finale for having April finally expose Dregg to the world as a villain.
………………………………………………….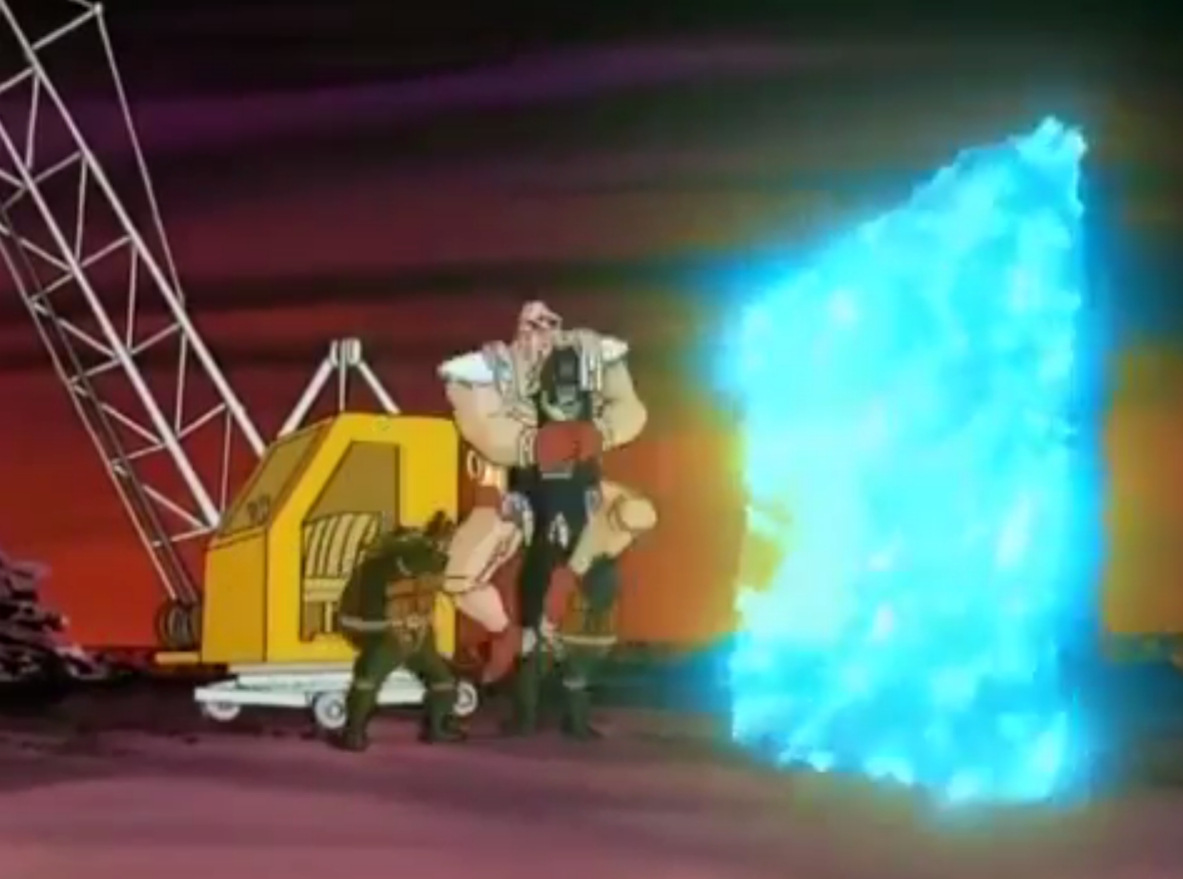 ………………………………………………….
The Return of Dregg opens the final season in a weak manner as I have always found his various henchmen to be very forgettable and uninspired and this episode relies on them way too much. The Beginning of the End is another forgettable episode with an overly typical plot and villain goal.
In The Power of Three, Carter leaves the Turtles and Dregg enlists the help of Krang and Shredder so it is a pretty important episode plotwise. A Turtle in Time is actually a very good, pretty memorable action oriented episode that finds Dregg at one of his most powerful and I liked its various plot points and what they led into.
Turtles to the Second Power has the final appearance of Shredder and Krang and I have to say that I absolutely loved what they did with them here. They helped the Turtles unknowingly by fighting Lord Dregg himself which was an excellent choice, but their dynamic and how friendly they have become to one another was a lot of fun and this villain versus villain angle was great here. Mobster from Dimension X, on the other hand, is anything but interesting as its villain is a typical silly gangster and the plot is stupid.
………………………………………………….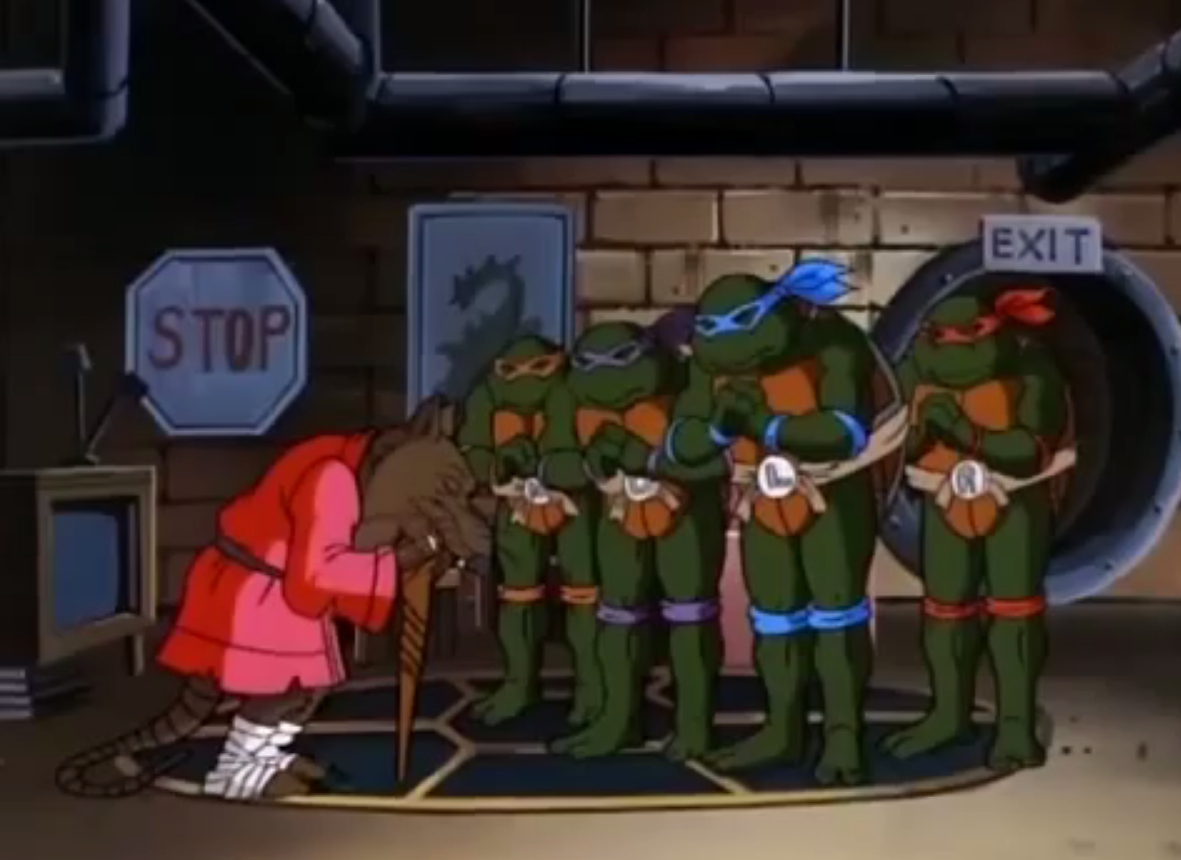 ………………………………………………….
The Day the Earth Disappeared is a pretty entertaining build up to the finale with Dregg becoming more and more unstable in such a fun fashion. Divide and Conquer is honestly a fabulous end to the season and the entire show as it has Dregg super powered and Turtles for once using both their brains and brawn to fight him and beat him in the end in a very thoroughly, surprisingly smartly executed manner. It was a great final fight and the ending itself where Splinter said they are now his equals was just a perfect way to end the entire series.
So all in all, the ninth season was quite weak and the worst of the entire run, but the eighth one was solid and the tenth is actually one of the series' best. I liked the villain, I loved what they did with Krang and Shredder and they gave us a great finale. These Red Sky seasons were too serious, but admirably different. Overall, Teenage Mutant Ninja Turtles was a very flawed, silly show, but fun and funny and I am sad that I ended it.
Worst Episodes: H.A.V.O.C. in the Streets!, The Unknown Ninja and The Showdown.
Best Episodes: Get Shredder!, The Wrath of Medusa, A Turtle in Time and Divide and Conquer.
My Rating – 3.4
………………………………………………….