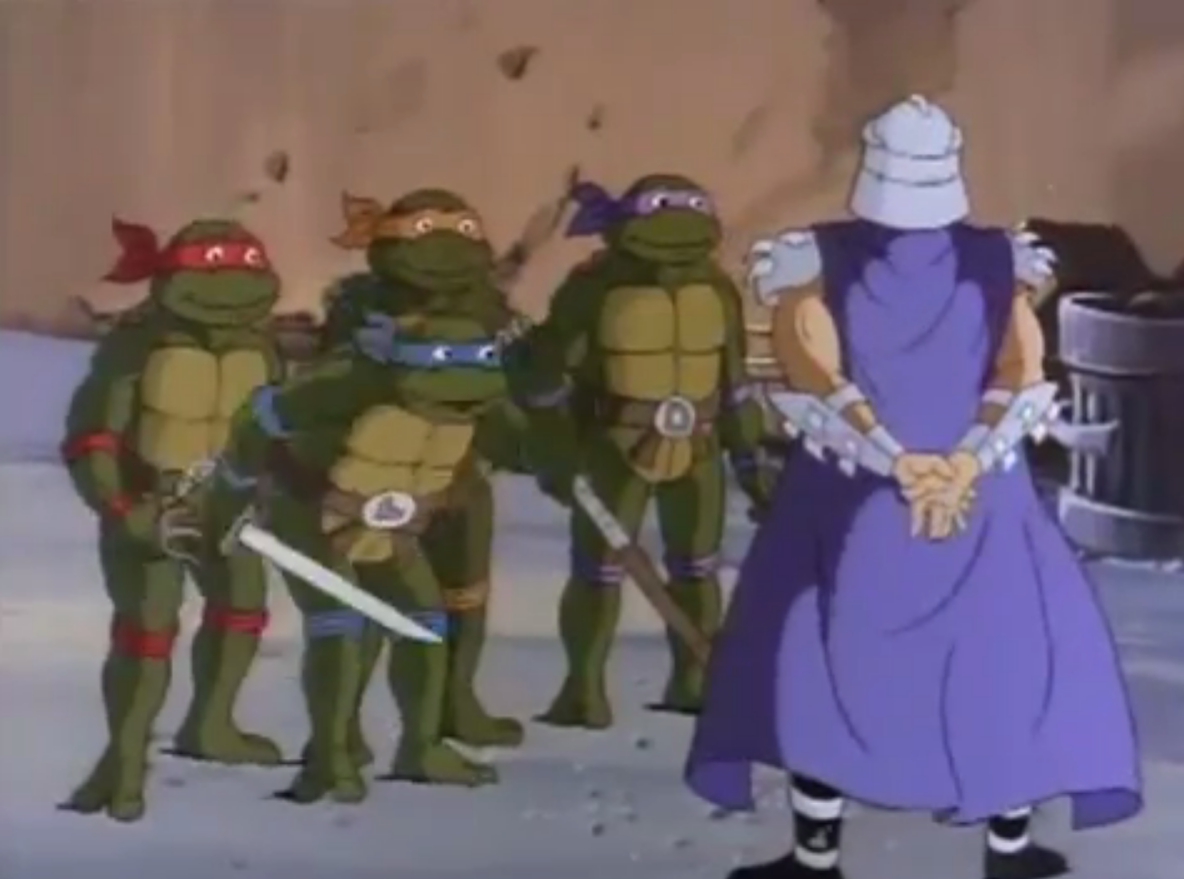 ………………………………………………….
Teenage Mutant Ninja Turtles Season 3 Review
The third season of Teenage Mutant Ninja Turtles is the weakest so far with not enough great episodes to compensate for those mediocre ones. At 47 episodes, it is also the longest season.
………………………………………………….
"If I had hands I would cover my ears,
if I had them!"
………………………………………………….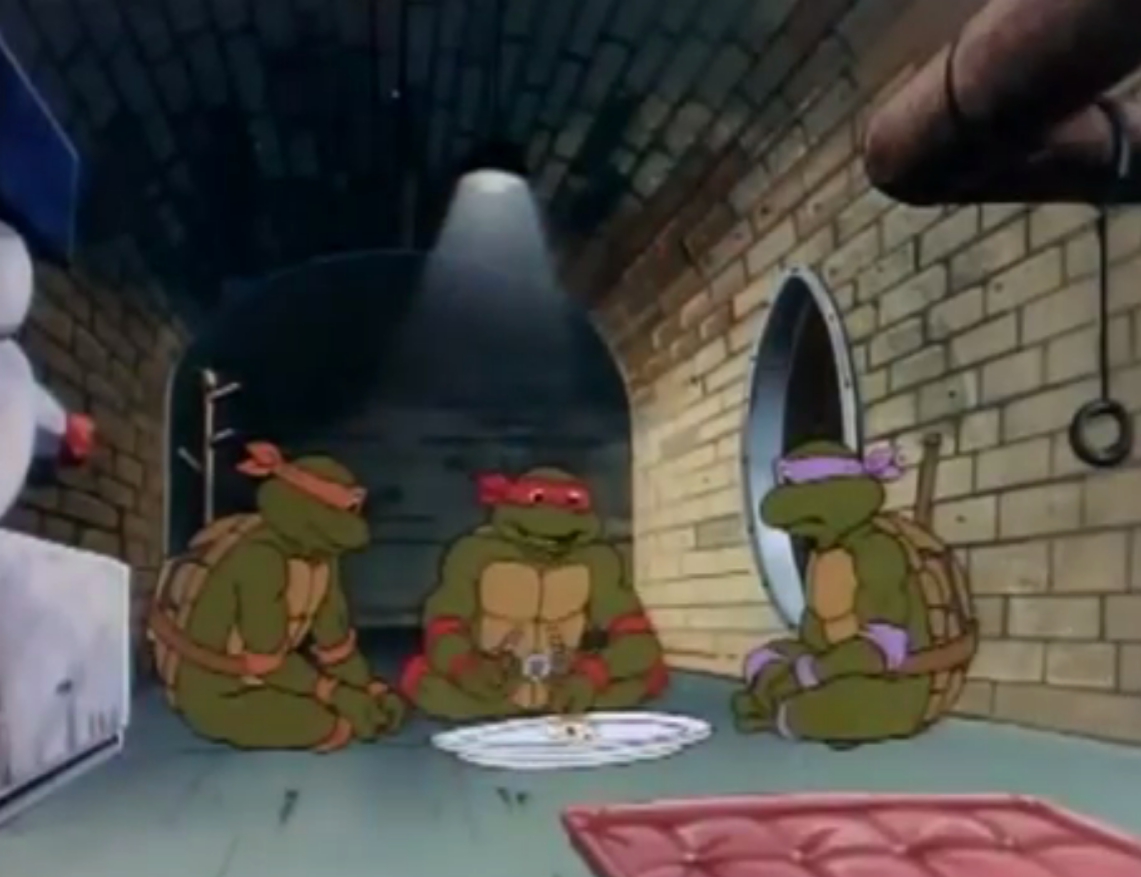 ………………………………………………….
Beneath These Streets is one of the better episodes here with a good emphasis on lesson learning for the four turtles whereas Turtles on Trial is also a pretty good episode that features for once the turtles in the news.
Attack of the 50-Foot Irma is absolutely ridiculous and campy in the worst way possible. I actually like Irma, but here she is beyond obnoxious. As for the Maltese Hamster, it is solid and mysterious, but mostly forgettable.
Sky Turtles is also very forgettable despite a rather promising premise. The Old Switcheroo is pretty terrific. By switching Shredder and Splinter, the episode manages to become incredibly entertaining and funny in the best TMNT manner possible. It's one of the best episodes of this season for sure.
………………………………………………….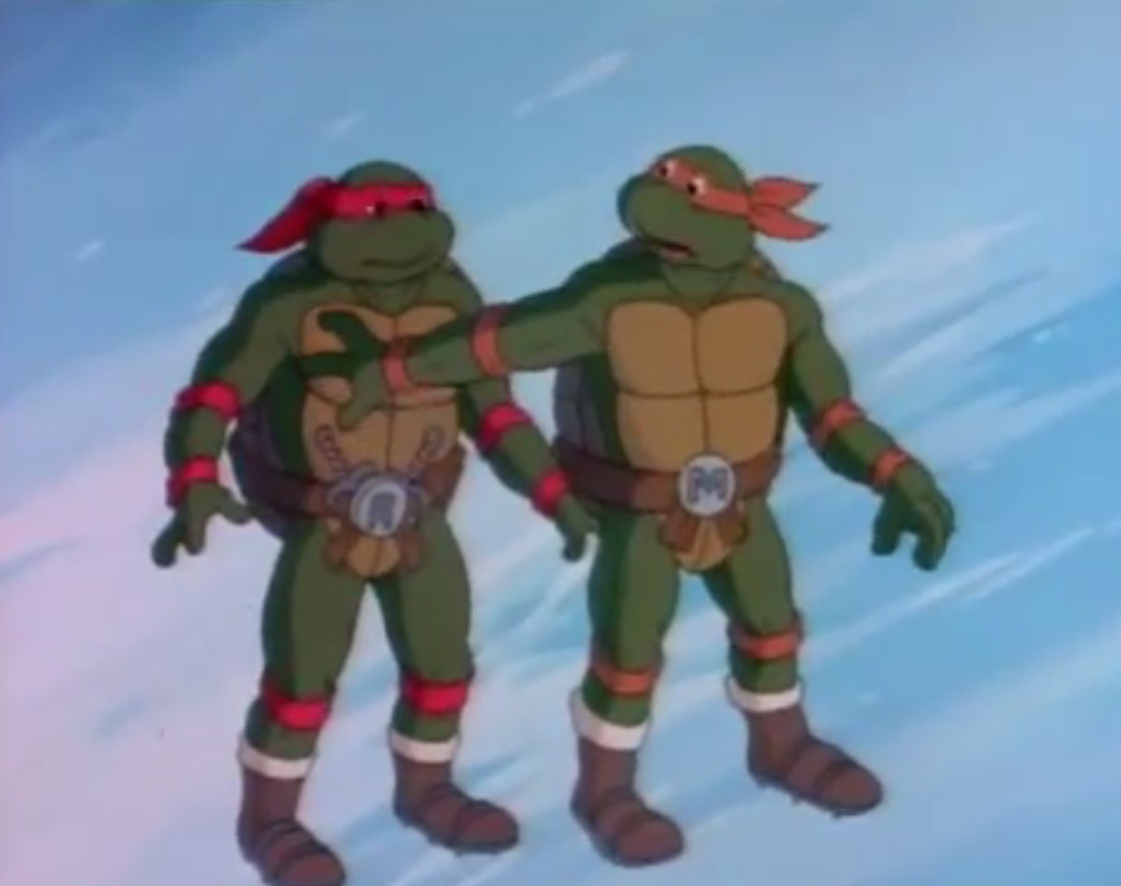 ………………………………………………….
Burne's Blues is pretty solid and I liked the emphasis on Burne and Vernon for once, but The Fifth Turtle, although solid, features such an obnoxious new kid character who really hurt the episode.
Enter the Rat King is a very good episode and a good introductory story for Rat King who is probably one of the most memorable TMNT villains, if the most campy. Turtles at the Earth's Core is good and interesting, but surprisingly not as fun given the premise.
April Fool isn't great, but it does feature a pretty different use of April who steals the show here and I liked the storyline actually. Attack of the Big MACC has its moments, but its titular character is rather annoying.
The Ninja Sword of Nowhere has a pretty good mythology and for once a more menacing turn for Shredder leading to a solid outing. As for 20.000 Leaks Under the City, it is again nowhere near as entertaining as the premise demanded.
Take Me to Your Leader is awesome for finally giving as an in-depth analysis of the turtle dynamic and what we get is a pretty stellar, well written story. Without Leonardo as their leader, the turtles fight and thus we see how essential he is to the team, but also how different each of the turtles are. Four Musketurtles, on the other hand, features an obnoxious Leonardo who thinks he is in 17th century France which leads to very annoying dialogue.
………………………………………………….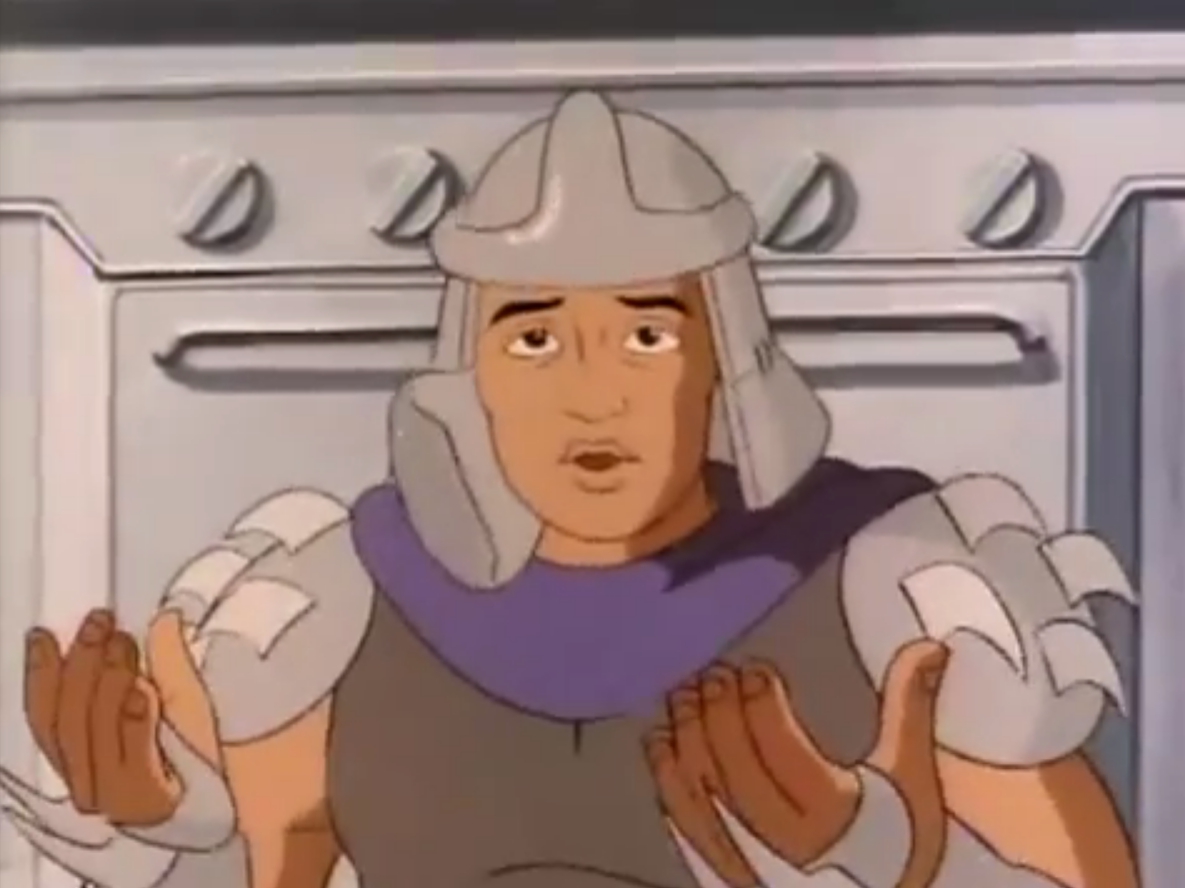 ………………………………………………….
Turtles, Turtles, Everywhere is a typical product of this show which features a pretty implausible, ridiculous situation. Cowabunga Shredhead is also silly and rehashed, but actually kind of fun.
Invasion of the Turtle Snatchers features an interesting dynamic between Donatello and Rocksteady and a good use of the aliens whereas Camera Bugged again features a solid alien storyline with a pretty strong April part.
Green with Jealousy features a love potion which of course leads to the turtles falling in love with Irma to very campy, annoying results. Return of the Fly is solid, but unremarkable and I do wonder why this character is so underutilized and constantly punished.
Casey Jones: Outlaw Hero is excellent. It gives us the first ever look at Casey Jones who is a very important character in the TMNT lore. He is a lot of fun with his manner of speech and he is cool and capable in a fight. This particular episode is also very good in terms of storytelling and humor. Mutagen Monster is ridiculous and it has far too many jokes about cows in it.
Corporate Raiders from Dimension X again features such a terrific use of Casey Jones who killed it here, but the entire brainwashing storyline is superbly well crafted and with particularly memorable Shredder. Pizza by the Shred is another great episode where Michelangelo works as a pizza boy for Shredder and the mix-up proves to be a lot of fun.
………………………………………………….
………………………………………………….
Super Bebop & Mighty Rocksteady is unremarkable as it again gives us these two idiots who are becoming more and more idiotic throughout seasons. Beware the Lotus has a good use of Lotus as this female ninja warrior but her and Leonardo's infatuation was not needed.
Blast from the Past is a pointless, tedious filler whereas Leatherhead Terror of the Swamp introduces us to a new villain who is a mutant alligator named Leatherhead. He has some good lines but is repetitive in using them.
The Turtle Terminator is again ridiculous in its plot and I don't bye people saying the word turtle all the time, so silly. The Grybyx is also pretty forgettable in its plot and alien too.
Michelangelo's Birthday is predictable, but it does give us a rather endearing Michelangelo whom you gotta love here. The Making of Metalhead is one too many of these robot episodes in my opinion.
Usagi Yojimbo is the name of this episode and the newly introduced rabbit ronin who is interesting, but again too silly of a character and too comic-booky. Case of the Hot Kimono is inconsequential and mostly too silly to be taken seriously.
………………………………………………….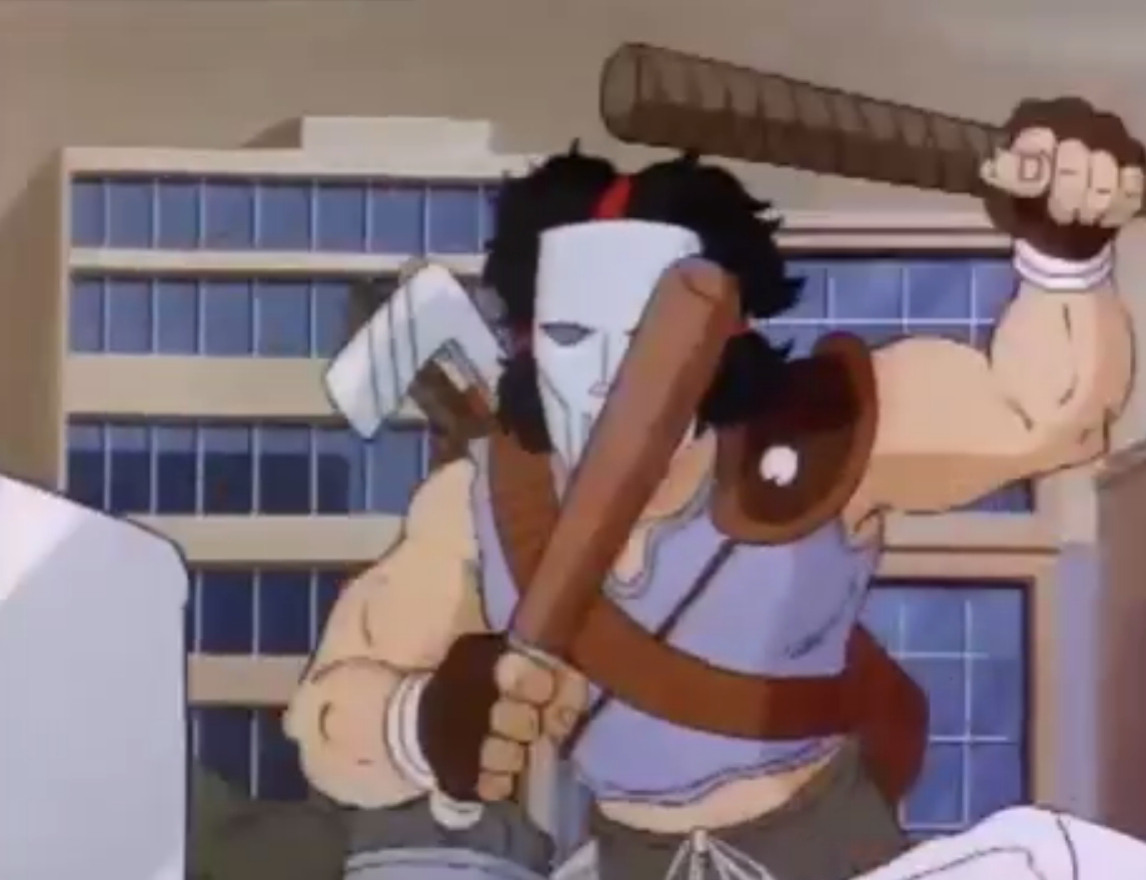 ………………………………………………….
Usagi Come Home has a solid use of Usagi, but too predictable outcome in terms of its ending. Leatherhead Meets the Rat King is overstuffed with too many plot points and not enough action.
The Gang's All Here should have been much better given the premise and that is a regular flaw with this entire season. The Missing Map again features that obnoxious kid Zach and thus this is not one of my favorites.
The Great Boldini is forgettable and uninspired and of course Mister Ogg Goes to Town is absolutely ridiculous as its titular character is beyond silly and stupid. Cartoonish to the point of ridiculousness.
Shreddeville has one of those typical cartoon alternate storylines, but a rather good execution of a tired premise really helps it in the long run. Bye, Bye, Fly is again too unforgiving to Baxter which is troublesome.
………………………………………………….
………………………………………………….
The Big Rip-Off is a solid first part of the three-episode finale, but The Big Break In is much more memorable and in my opinion the highlight is The Big Blow Out which features a lot of fun action and a great conclusion to this entire arc.
Overall, the third season of TMNT has its many weak and ridiculous in story episodes and too many silly new characters, but it has its great episodes that prevent the show from becoming mediocre and keep it fresh. It is a weaker season, but ultimately solid when taking all episodes into consideration.
Worst Episodes: Attack of the 50-Foot Irma, Four Muskerturtles, Green with Jealousy, Super Bebop & Mighty Rocksteady, Blast from the Past and Mister Ogg Goes to Town.
Best Episodes: The Old Switcheroo, Take Me to Your Leader, Casey Jones: Outlaw Hero, Corporate Raiders from Dimension X, Pizza by the Shred and The Big Blow Out.
My Rating – 3.6
………………………………………………….