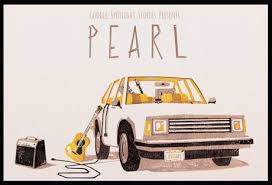 Pearl Review

 Pearl is a 2016 animated short film that was nominated for the Academy Award for Best Animated Short Film.
The film follows a man and his younger daughter as she grows up. The film is an interesting experiment as we follow her growing up from the front seat of a car, that is where we watch all of the action from. The animation is solid and the highlight for me was the score. The song that accompanied it was beautiful and heartwarming and it certainly fitted this story like a glove.
However, Pearl is an interesting, but not successful experiment. The idea behind it is great, but it wasn't executed properly. I thought that it wasn't that engaging or comprehensible to follow and it should have been much more emotional as it left me cold personally. But the biggest problem is that the film is the first Oscar nominated VR film and I do not have that technology so I couldn't watch it as it should be watched. So the movie is made for just a handful of people who have that technology and that is troublesome.
Pearl is definitely a unique experiment which unfortunately isn't fully successful as it needed more characterization and emotion in it.
My Rating – 3.8