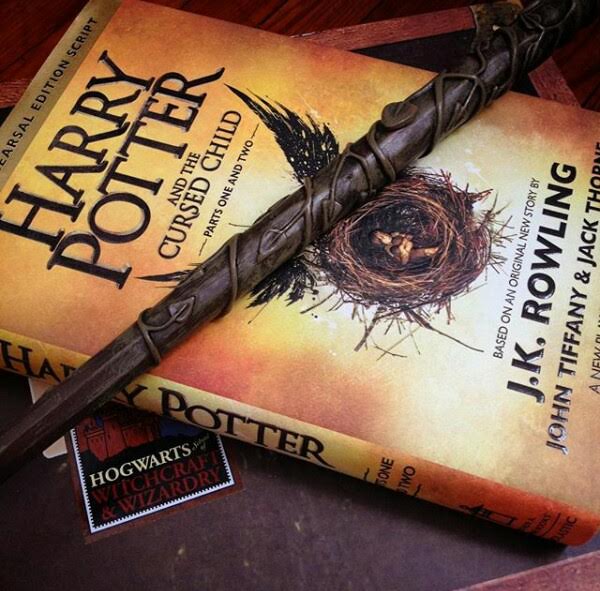 ……………………………………………………………………
Harry Potter and the Cursed Child Book Review
Harry Potter and the Cursed Child is a 2016 book adaptation of the stage play that functions as the eighth official story in the Wizarding World franchise. It is mostly a great experience.
……………………………………………………………………
"You, the three of you, you shone you know?
You liked each other. You had fun.
I envied you those friendships more than anything else."
……………………………………………………………………
Now because this is a script and not an actual book, I of course had to forgive it for its lower quality in writing as the play itself must be much better, but I don't know if I ever will get the chance to see it. And that uncertainty is the reason why I found this script all the more welcome and I appreciate its existence alone.
There is a lot to talk about here, but first let's talk about the storyline. It is set nineteen years after the events of 'Deathly Hallows' and it mainly focuses on Harry's troublesome relationship with his son Albus. Albus along with his friend Scorpius Malfoy uses the time turner to change the past and save Cedric Diggory, but the twist here is that they are used by Delphi Diggory who turns out to be Voldemort's daughter who wishes to fulfill the prophecy and arrange the return of the Dark Lord herself.
As is the case with most time travel stories, this one also has a couple of inconsistencies in it plus it does seem a bit too convoluted for its own sake at times. And of course nothing beats the time travel we witnessed in 'The Prisoner of Azkaban'. But this is still a surprisingly good story, honestly better than I expected it would be mainly because it is so layered in its different subplots and character relationships.
……………………………………………………………………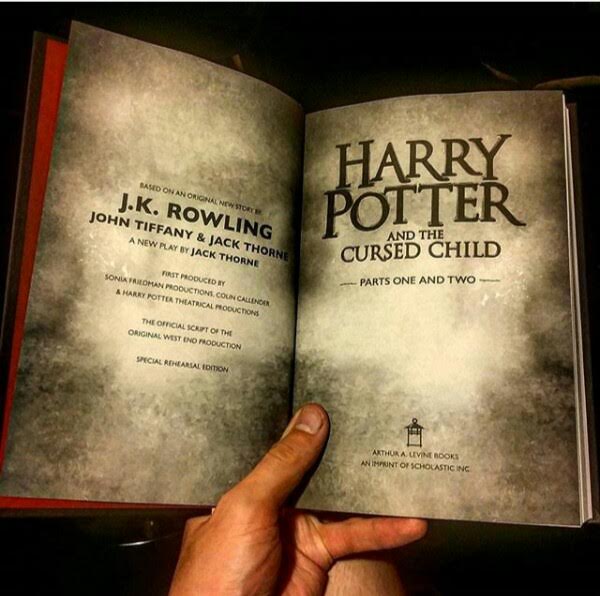 ……………………………………………………………………
I loved seeing what each character does in the future and it seemed natural that Hermione was a Minister and Harry an auror. It was a natural progression for these characters which was great. I also liked the Hogwarts scenes and I wished that it had more of them as we actually do not get a lot. Those passages where the boys meddled in time and ruined everything did seem a bit too far-fetched and typical for these time travel stories and they weren't my favorites, but the final task to save Voldemort in order for him to be killed later on was terrific and a great build up as well as the conclusion.
Let's talk about the characters. I really liked Harry here and he is very nuanced which I admired. The character development is admittedly very strong in this work. Albus is one of the highlights. He ended up in Slytherin, he is bad at Quidditch, he isn't that great of a wizard and all of those put him at odds with his father and the two are very different from each other. He has a hard time copying with the unwanted legacy of the great Harry Potter and Harry has a hard time being a father as he himself didn't have one as a role model. This familial conflict is powerful and it produced many heartwarming moments. It truly is the core and heart of this story.
There isn't nearly enough of Ron in The Cursed Child which is unfortunate, but whenever he as there, he made me laugh with his signature humor. And his relationship with Hermione continues to be one of the highlights of the entire series. Speaking of Hermione, she is the same as she ever was – extremely capable and smart, but she did make a couple of mistakes this time around with the Time Turner and I liked that as it was a nice change in pace for the usually flawless Granger.
……………………………………………………………………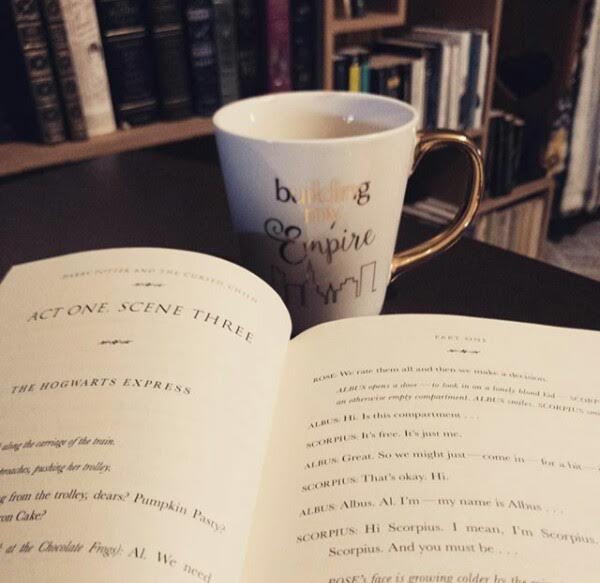 ……………………………………………………………………
Their daughter Rose didn't get much to do, but was memorable. And I like that Scorpius might actually end up with her someday. Scorpius himself is excellent and possibly the most likable person here. He is so endearing, so realistic and so good-hearted that it seems odd that he is Malfoy's son. But I absolutely loved the friendship/bromance between Albus and Scorpius as it was fun and vibrant. And I liked how Albus only has one friend and Harry had two and a lot of admirers. It was great how opposite they are.
Severus Snape was well used, albeit he seemed to behave overly emotional in my opinion and he is the only character who didn't quite seem like his old self, but maybe that was the point as we now see him in a very different light and we know everything that we didn't know previously. McGonagall continues to be reckoned with and she is such a charming, wonderful character and is as great here as she ever was before.
I loved that moment we got with Hagrid as we've seen the death of Harry's parents before, but never the outcome and we see Hagrid's arrival here in detail and it was just beautiful to witness. Umbridge is another character who seemed too different and I don't know if she would ever really be on Voldemort's side, whether in alternate reality or not. That was a bit odd to be honest.
Dumbledore was well utilized and his scene with Harry in which the two confessed love to each other and he apologized for everything was really heartfelt. The twist that the Trolly Witch turns into a monster in order to forbid everyone from leaving the train was a great one as we never really knew anything about her and now we do.
Now, Delphi. The one problem I've had with her is that she was too powerful and the fact that she was more skilled than her father himself did seem too far-fetched and fairly silly in my opinion. But otherwise she was great. I didn't see the twist coming, it was great learning her true identity and very intense and the final battle was quite good. The ending was excellent and I found the way that they overpowered her and tricked her smart and everything that came before that final part did seem like a natural build-up.
……………………………………………………………………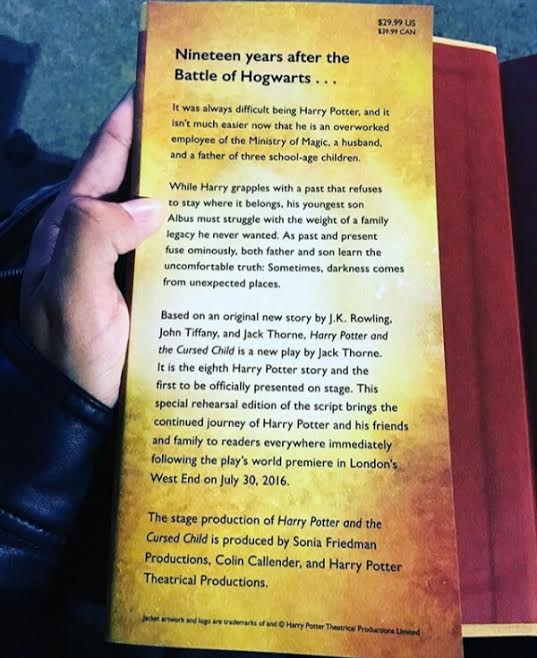 ……………………………………………………………………
The writing here is not great as this is only a script. The dialogue is admittedly excellent, if a bit childish at times, but mostly true to the characters and satisfying. The same goes for the humor which was wonderful in a typical HP fashion. The pacing is excellent as the book is entertaining from beginning to end, but the structure was one of its strong points – very well crafted and finely constructed. I found this work to be very elaborate and although it did explain us a lot, it didn't quite spell to us everything about its new developments which I loved as it retained its mystery in that manner. The emotion is palpable and it is quite sweet at times. My highlights include the beginning which was great and the ending is very satisfying with all of the scenes with the two boys being the standouts.
The lack of descriptions is troublesome, but again this is only a script of a stage play and plays are much different than novels. And I have to say that I once again strongly admired Rowling's sense of storytelling and how brilliant she is because a theatrical play is just a perfect way to tell this story and she couldn't have chosen a better medium. Why? Well, the reasons are obvious in even its first couple of paragraphs. The story jumps forward in time a lot and we only go from one important sequence to the next, and most concern the dialogues and conversations with the characters. This talkative and time-elapsing format is perfect for a play as it would otherwise be boring as a book and somewhat difficult to adapt as a film. All of those reasons led me to believe that the original play is great and it is all the more frustrating that I for now can't see it.
In the end, despite a couple of tiny problems, Harry Potter and the Cursed Child is mostly a terrific new story that features excellent usage of all of its characters with the old ones being authentic and true to themselves and the new ones being memorable and well realized. The story is a satisfying, emotional and consistently entertaining time travel adventure with high stakes, some very good action and always excellent dialogue and humor. It is a new and different Harry Potter storyline that still feels wonderfully old-fashioned in some parts with an excellent structure as well. I enjoyed it immensely and it serves surprisingly well as the official eighth story in the canon.
My Rating – 4.8
……………………………………………………………………