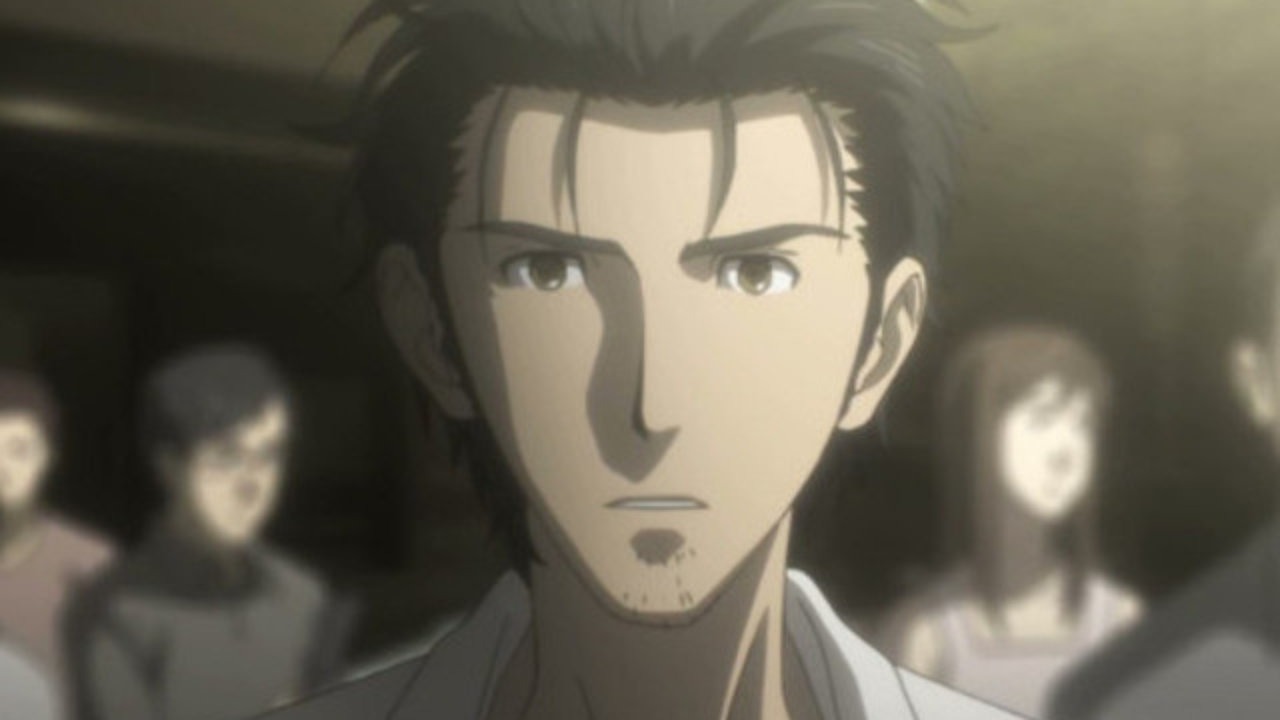 ……………………………………………………………….
Steins;Gate Review
Steins;Gate is a 2011 science fiction romance anime series. It is such a great time travel story and a series that is consistently engaging and moving.
……………………………………………………………….
"People… need to be needed by someone in order to live.
If a person isn't needed, they're worthless!"
……………………………………………………………….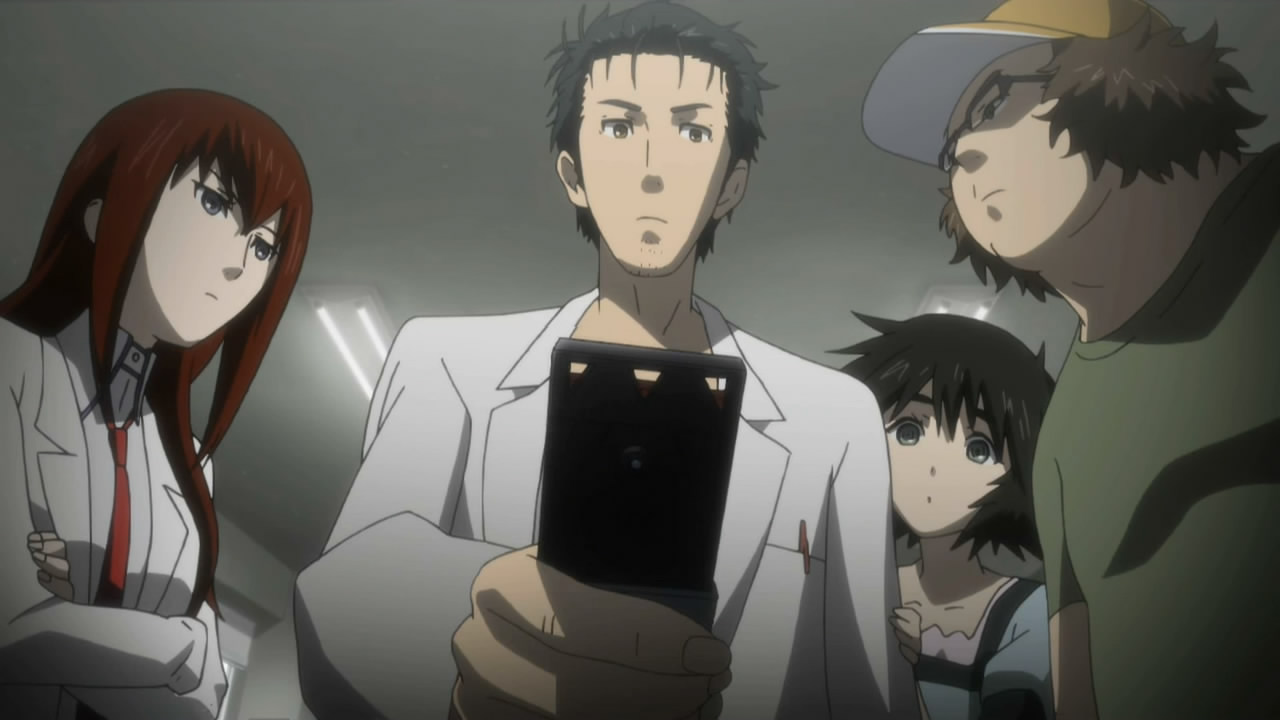 ……………………………………………………………….
The show is about a self proclaimed mad scientist Okabe Rintaru who along with his lab members develops a time machine and has to continually go back in time to prevent bad things from happening in the future such as war and usually the death of some of his friends. As is the case with most time travel stories, this one also starts in a very convoluted way. And frankly I wasn't a big fan of its first couple of episodes with the pilot in particular not being the best way to start the series.
But although it started off in a not so great manner and some of the developments in the last episodes were difficult to understand, the majority of other episodes were not only well established and explained, but also very engaging and always fun to follow. And also thrilling. It succeeds as a sci-fi tale with some great romance thrown into the mix, but it also serves as a pretty good thriller with more than a couple of genuinely intense episodes.
……………………………………………………………….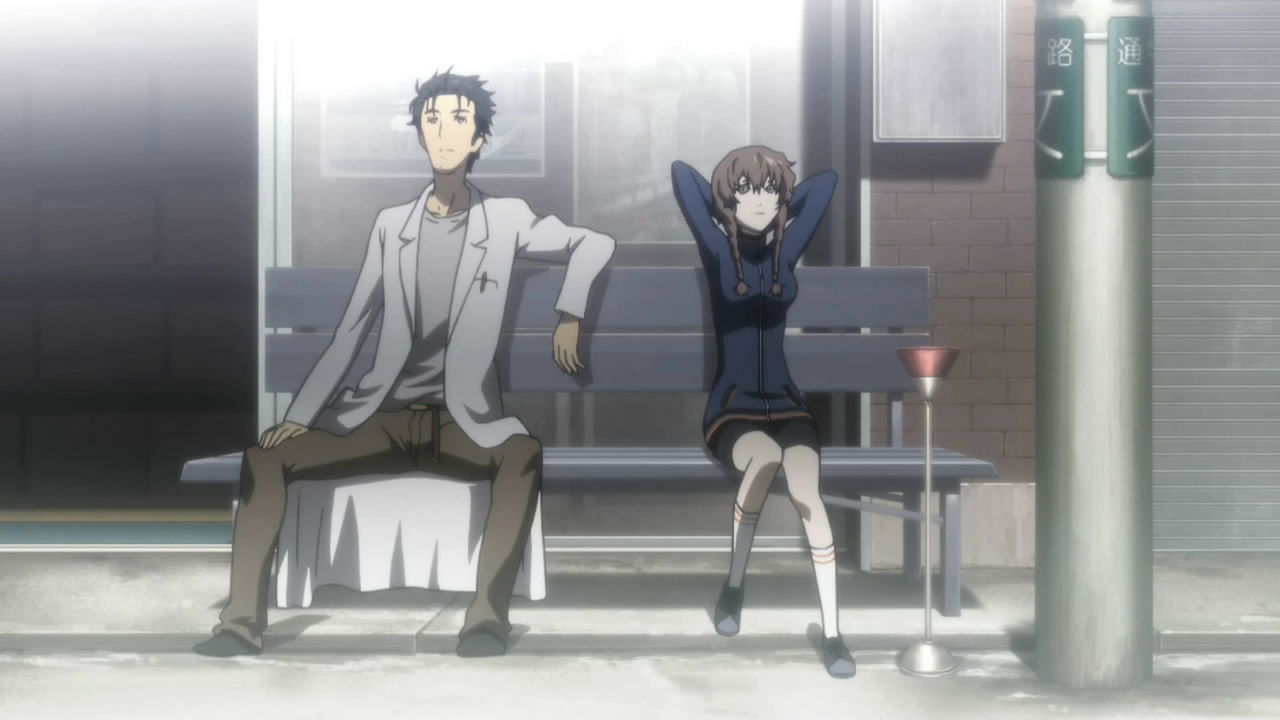 ……………………………………………………………….
Steins;Gate has such an admirable character development and truly all of its characters are not only well realized, but also for the most part very likable and great to follow for 24 episodes. Okabe is a phenomenal protagonist. It took some time for him to become great, but he is an interesting character in that he makes these triumphant and typically cartoony speeches, but in a funny way and others make fun of him for it. But he eventually grows out of that phase in his life and becomes a much more mature and caring individual.
Makise Kurisu is even better. She is probably my favorite character of the bunch because she is just so likable while also being realistic as she's sometimes annoying too. She is great for being such a strong female character, both capable to react in serious moments and very smart. Her relationship with her father is a really good backstory for her and I did like most of the flashbacks and backstories in Steins;Gate which speaks for the show's quality as I usually do not like those.
……………………………………………………………….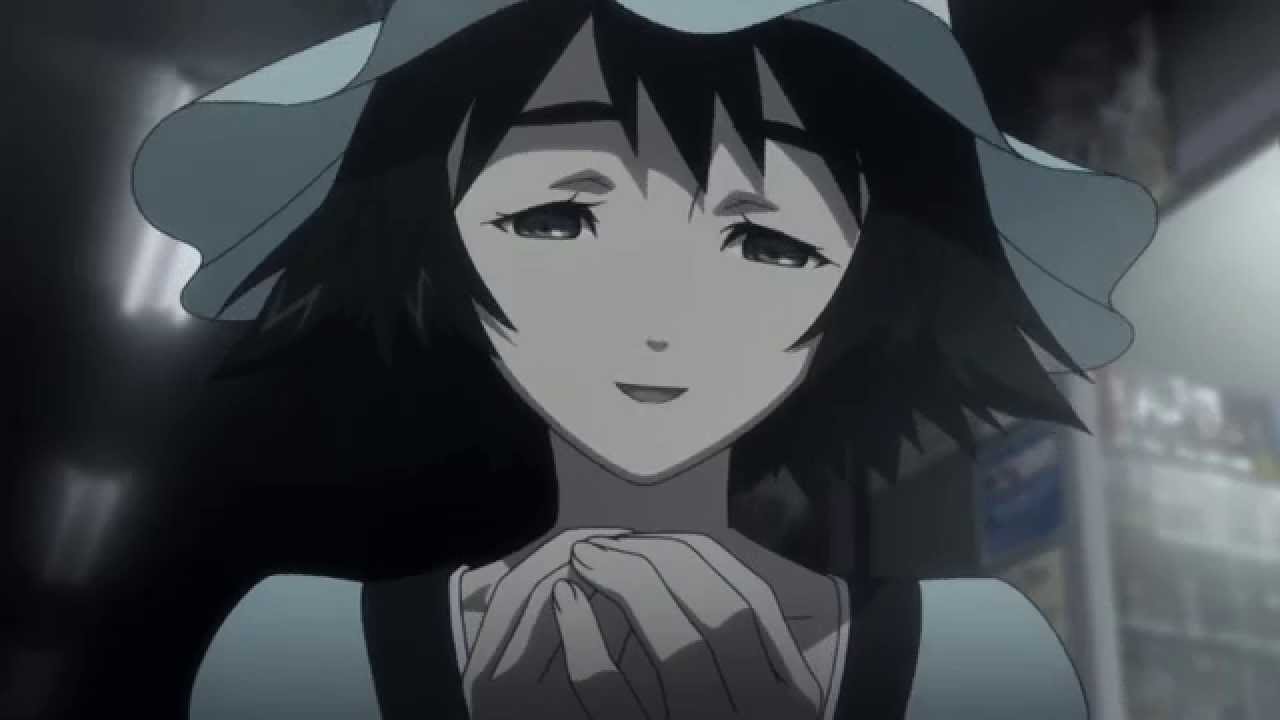 ……………………………………………………………….
But the two are such a fantastic couple and I just adored watching them together on screen. They are an essential anime couple in my opinion as they perfectly counteract one another and the dialogue between them is so strong. They start off bickering with each other, then they progress and become good friends and eventually they become romantically involved. That progression is delicately handled and it was emotionally satisfying following them. In fact, they are so wonderful together that to me this relationship is the finest reason to watch the show.
Mayuri is a very interesting character. Yes, she did seem way too weak at first to the point of me wondering why the show is so sexist in portraying her, but once they explained her relationship with Okabe, it made sense. But watching her die time after time and watching Okabe struggle to save her is the emotional core of the show, at least of the good majority of its running time. She is such a sweet, very caring person who just wants every one of her friends to be happy that it was truly heartbreaking watching her face death countless times.
……………………………………………………………….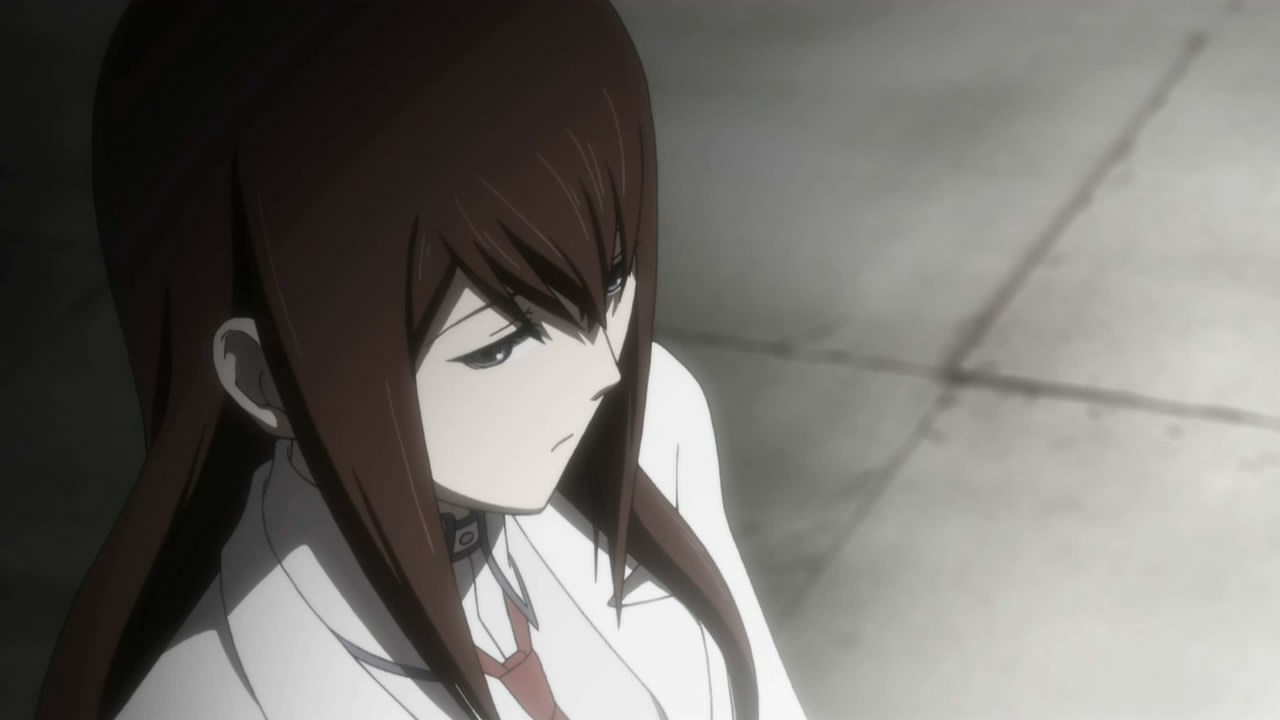 ……………………………………………………………….
Daru is the only other big male character after Okabe. Yes, it is weird that the show basically only has female characters, but they were all so great that I forgave them for it. Back to Daru, he is the only comic relief here and he serves his purpose as he's really funny and his sexual/pervert personality added to a lot of the series' humor.
Moeka is odd. The problem with her is that I don't get why nobody realized she would betray them as it was so obvious to begin with. But even though she started off in a problematic manner, her plot became much better and much more emotional later on. And let's talk about the most brave character on the show and that is Ruka. Why, I never saw this coming. Ruka is a trans girl who is into Okabe and who becomes fully female when they meddle with time. This is such a commendable part on the filmmakers that they managed to portray a trans person in animation in a very emotional and always respectful way. Her character is sweet and some of the scenes with her were simultaneously tragic and inspirational.
……………………………………………………………….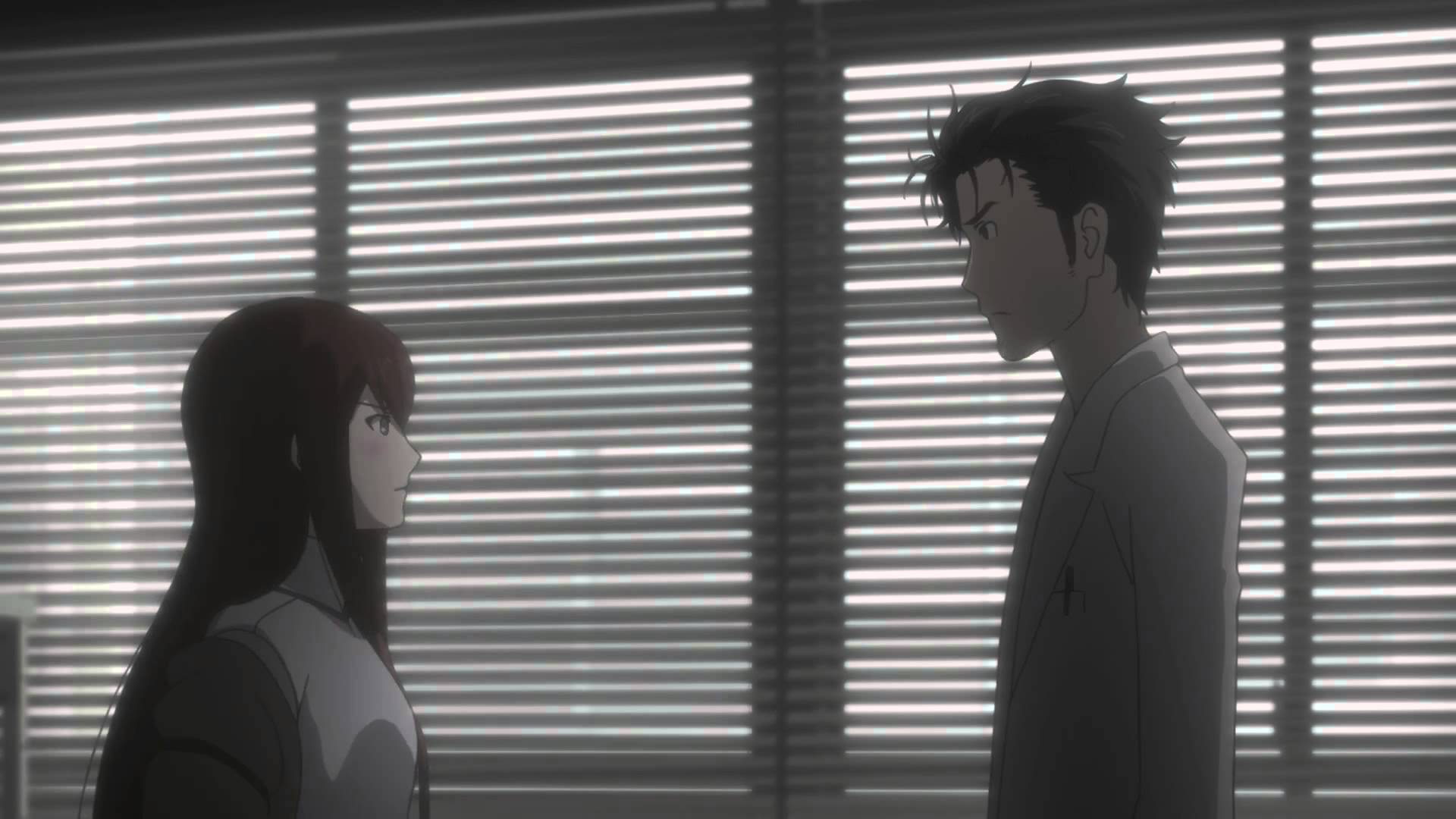 ……………………………………………………………….
Faris is a bit annoying as her cosplay personality is over-the-top plus she's basically useless in the entire storyline. Doctor Nakabachi is excellent as this big villain revealed at the end and he was memorable. And Suzuha is amazing and her story is of course just heartbreaking, but so well handled that it never feels manipulative, but deeply emotional and tragic.
Steins;Gate is far from a perfect show owing to one major reason – its pacing. And that is an obvious flaws most find in it. The series basically starts very slow and not just the first few episodes, but almost ten or so episodes are basically build up and not much happens in it in terms of the action and consequences. However, unlike most people, I didn't find that problematic as, although definitely prolonged, that slow start led to a better characterization and it led to me caring for all of these characters. It established its storyline and characters remarkably well which is why I don't find it troublesome.
What is troublesome is that afterwards it goes into full thriller and action mode at times with very frenetic pacing at times and with each and every episode being packed with major events. That led to a jarring shift in tone and pacing and also some episodes did feel rushed and some even felt contrived.
……………………………………………………………….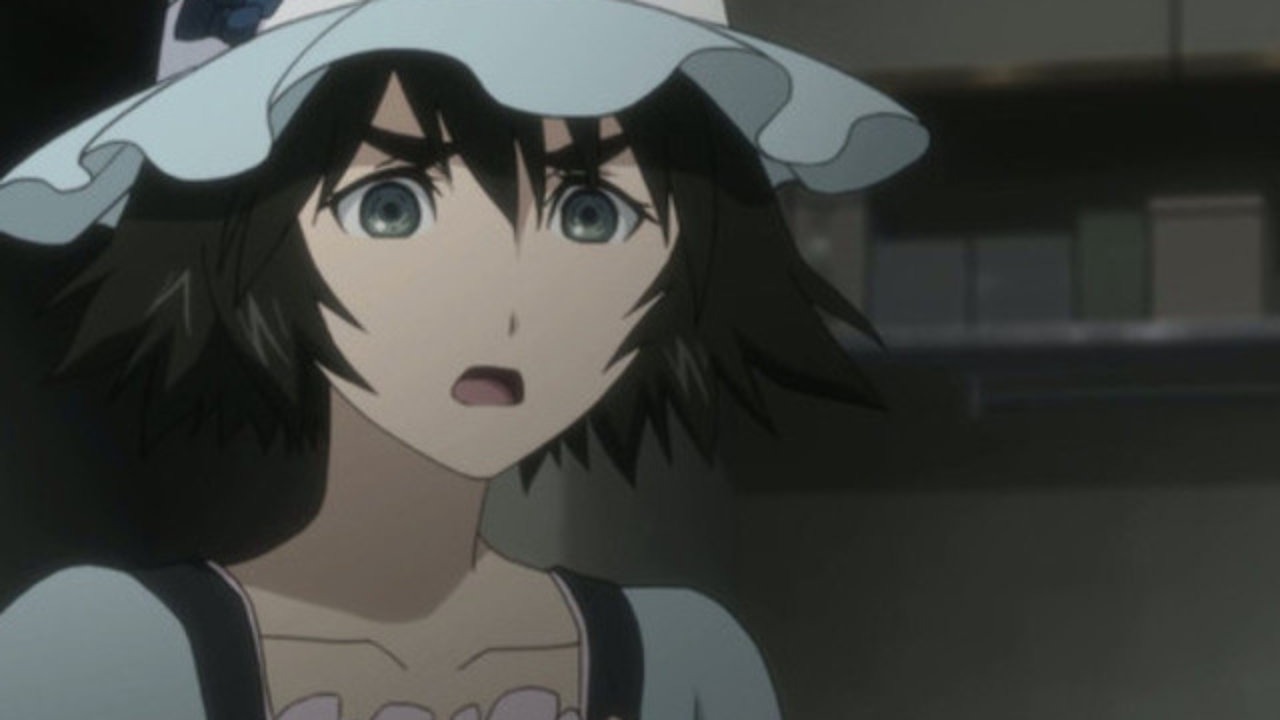 ……………………………………………………………….
But Steins;Gate is mostly awesome. The voice acting is excellent, the score is great and I just love that opening theme so much as it's so catchy. The animation is very good. Some of the backgrounds were too garish and light at times, but the character design is good and the overall movements are polished. The dialogue is excellent, the romance is great, the emotion is hard-hitting and the humor is so good. Yes, this show is very funny which I did not see coming. I laughed out loud almost once in every episode as I loved the awkward, mostly sexual humor at display here. But the show works mostly because of its great character dynamic as watching all these lab members together was so endearing and the friendship element is so commendable here. I also liked its meticulous approach and sometimes even somewhat scientific take on time travel. All in all, it's a great anime that I enjoyed watching a lot.
Steins;Gate is weirdly paced, but so consistently emotional and so well developed with all of its characters being very likable and working great as a team. The romance at the center of it is so sweet and strong, the thriller aspects are great, the humor is so good and it is such an entertaining, often moving, but always endearing series.
……………………………………………………………….
Worst Episodes: Turning Point, Starmine Rendezvous, Butterfly Effect's Divergence and Chaos Theory Homeostatis II.
Best Episodes: Metaphysics Necrosis, Fractal Androgynous, Being Meltdown and Open the Steins Gate.
……………………………………………………………….
My Rating – 4.4
……………………………………………………………….