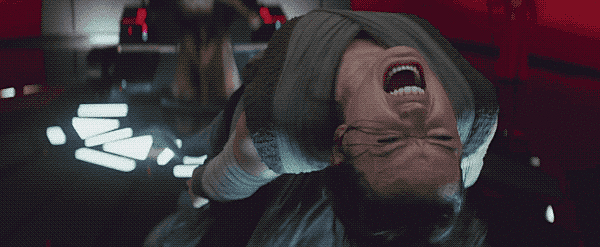 …………………………………………………
Star Wars: The Last Jedi Movie Review
Star Wars: The Last Jedi is a 2017 epic space opera film directed by Rian Johnson and starring Daisy Ridley and Mark Hamill. It is one of the finest Star Wars films in my opinion.
………………………………………………….
"Let the past die. Kill it, if you have to.
That's the only way to become what you are meant to be"
………………………………………………….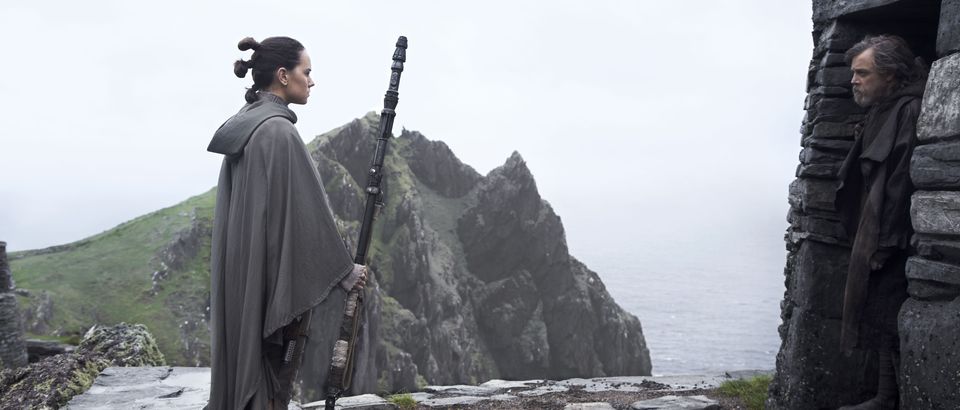 ………………………………………………….
Yes, I have to say that, when all is said and done, this is probably my second favorite Star Wars film, just after the unbeatable 'Empire Strikes Back'. It has its flaws which are actually quite big and I will talk about them all later, but what it does right, it does that remarkably well and we have to appreciate that finally we got a different Star Wars film. It is easy to see why non-fans would find this one better than hardcore fans though.
Let's first talk about the plot. Yes, 'The Empire Strikes Back' is obviously the influence here when it comes to the overall template and the structure of the film. You have your action in the first and third act, but you get slow and moving, serious drama in the second act. That bothered me, but not too much as 'Empire' is my favorite SW film and thus I liked this story as well. And also this film does a lot of the things differently which is why it is such an obvious improvement over 'The Force Awakens' which was a much bigger and emptier rehash of 'A New Hope'.
………………………………………………….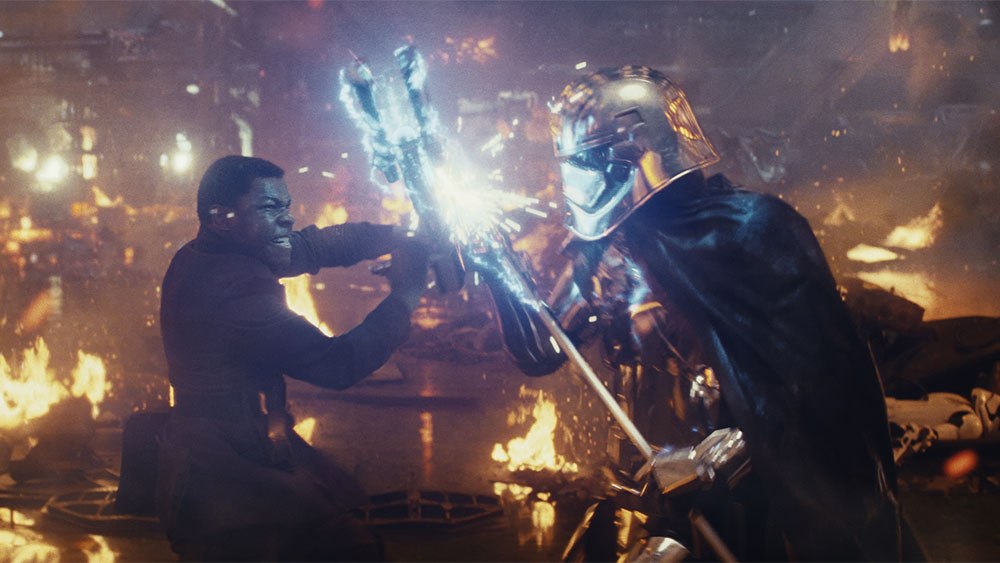 ………………………………………………….
The first scene or two bored me with too much action, but I loved the action in the third act and I respected that this film had different, wilder and ultimately more realistic lightsaber duels. But of course the highlight is the entire island storyline with Luke and Rey. I loved it. It was serious, emotional, game-changing and very commendable indeed.
But I also liked the villains for the most part, Poe Dameron and Leia's arc was also quite good and I ended up really enjoying Finn's storyline. I do understand why some would object to it as it clearly is some sort of a detour, but it is a lovely detour with two charming characters and a wonderful adventure.
The film has a bunch of interesting themes and it explores them quite well. Not only the religious aspects with the force and the blurring of bad and good guys but also the whole new angle to this universe with a villain which doesn't belong in any previously established fraction and Rey not having famous parents. Definitely this one changed the game for future entries in the franchise. But I also loved that it touched on some serious themes such as self-sacrifice, honor, cowardice during war, war profiting and even animal cruelty. A very sophisticated script this it.
………………………………………………….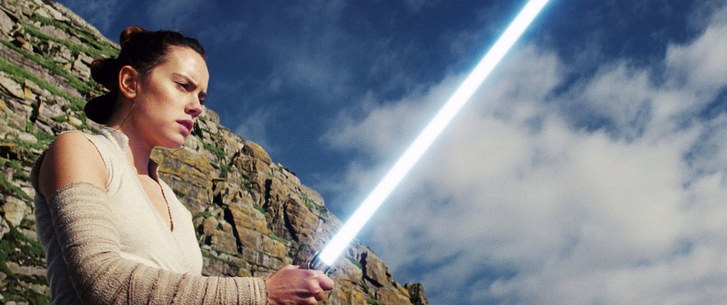 ………………………………………………….
Let's talk about each character and there is a lot to talk about in this section. Let's start with Rey. She is definitely less powerful in this entry and whereas she was too strong before, she is now almost too weak and static. But I still ended up loving her story as well as her interesting and weird relationship with Kylo Ren.
Luke is excellent. Whereas Daisy Ridley's performance was uneven (often weak, but also often very strong), Mark Hamill delivered his best performance yet as Luke Skywalker and this is his defining moment as a character who was very bland before, but is terrific and very complex here. I loved his last scene – quite poetic in its nature.
………………………………………………….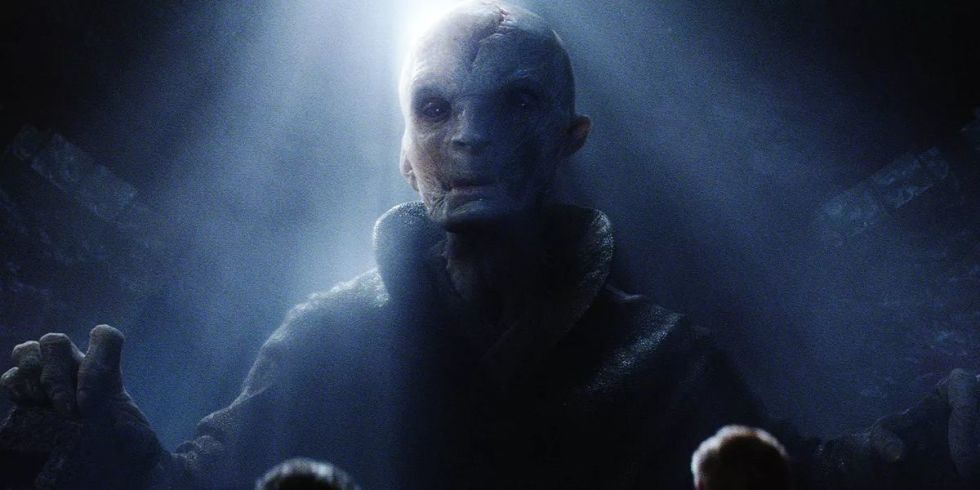 ………………………………………………….
Leia should have been funnier, but she is as elegant and as wonderful as usual and Carrie Fisher gave her last performance here and at least she did wonderfully and was quite likable. Captain Phasma is much more memorable this time around and I loved her fight. Admiral Holdo was excellent and her death definitely left a big impression on me. A very powerful scene.
DJ is entirely forgettable and unnecessary here. The same should be said for the old guard of cutesy characters as C-3PO and Chewbacca are entirely unnecessary here. But I loved that Yoda appeared as he is my favorite Star Wars character and he was wonderful here. BB8 is forgettable, but those Porgs are much better than I expected them to be and I loved the use of practical effects on them.
Poe Dameron is okay, but still too cocky for me. As for Finn and Rose, as I said above, I really enjoyed their separate storyline and I bought them as a couple. They are wonderful together and so much fun. She is particularly strong and such a great new addition to this roster of characters. I loved her backstory and I just found her personality very appealing – she is heroic, but also grounded in reality and highly endearing.
………………………………………………….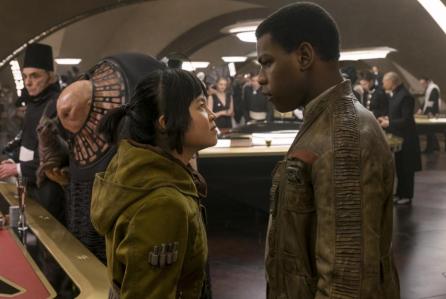 ………………………………………………….
Let's get to the bad stuff now. What they did to Snoke infuriated me. But that is because he was such a perfect Star Wars villain here – incredibly strong, menacing, powerful and with another amazing performance from Andy Serkis and stunning VFX work. He is an undeniable force to be reckoned with and the fact that they threw that away was just unfortunate. That entire scene was a giant plot contrivance. And he remained too much of a mystery. I still do not care all too much for Kylo Ren. I get his complex character and intentions and his scenes with Rey were all stellar, but as a villain he actually bores me and that is why I am not too excited for the ninth movie which is too unfortunate as this one is pretty terrific. Adam Driver is simply phenomenal in the role though.
The Last Jedi is technically terrific. It isn't too long as its story is excellent and very involving. I loved the slower pace and more sophisticated approach at storytelling and I also loved the dialogue. The score is just a rehash from previous SW scores, but the special effects are amazing and the use of locations and practical effects really added a lot to the viewing experience.
………………………………………………….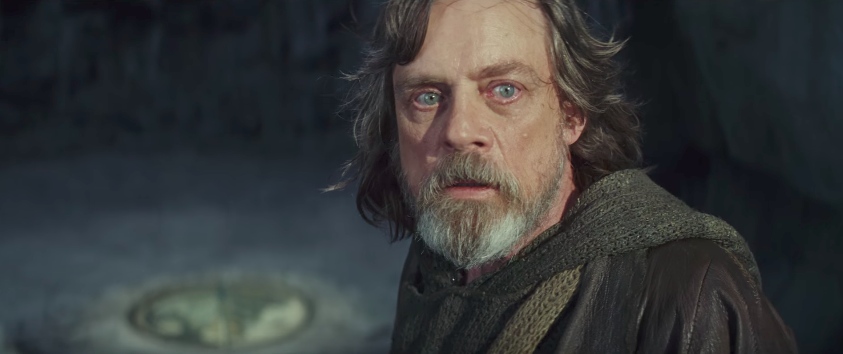 ………………………………………………….
The acting is mostly very good and the humor is not too present, but surprisingly fantastic. General Hux is very funny and there are a lot of great lines here that honestly made me laugh quite a lot. But the tone is still pretty well handled and just right. And of course the direction from Rian Johnson is stellar and I do hope that he directs the next film and not J. J. Abrams as he did an infinitely better job.
With excellent action scenes, but most importantly a different approach with more sophisticated, moving and even authentic drama instead of just pure spectacle, The Last Jedi truly delivers. The film's structure is familiar and the villain contrivance was just unfortunate and thus I ended up not being too excited for the next chapter, but most of the characters got their moment to shine and the highlights include Luke who got his best story yet, Snoke who is very menacing and Rose who is highly endearing. The use of intriguing locations and excellent practical effects added a lot of visual flair to the film whereas unexpectedly strong humor, great dialogue, clever themes and strong emotion all led to what is in my opinion the second best Star Wars film.
My Rating – 4.5