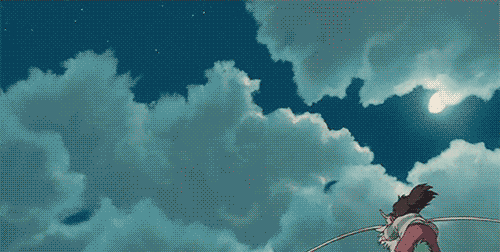 …………………………………………………
Spirited Away Movie Review
Spirited Away is a 2001 anime fantasy film directed by Hayao Miyazaki. It is the best Studio Ghibli film and one of the best films ever made.
………………………………………………….
"Once you do something, you never forget.
Even if you can't remember"
………………………………………………….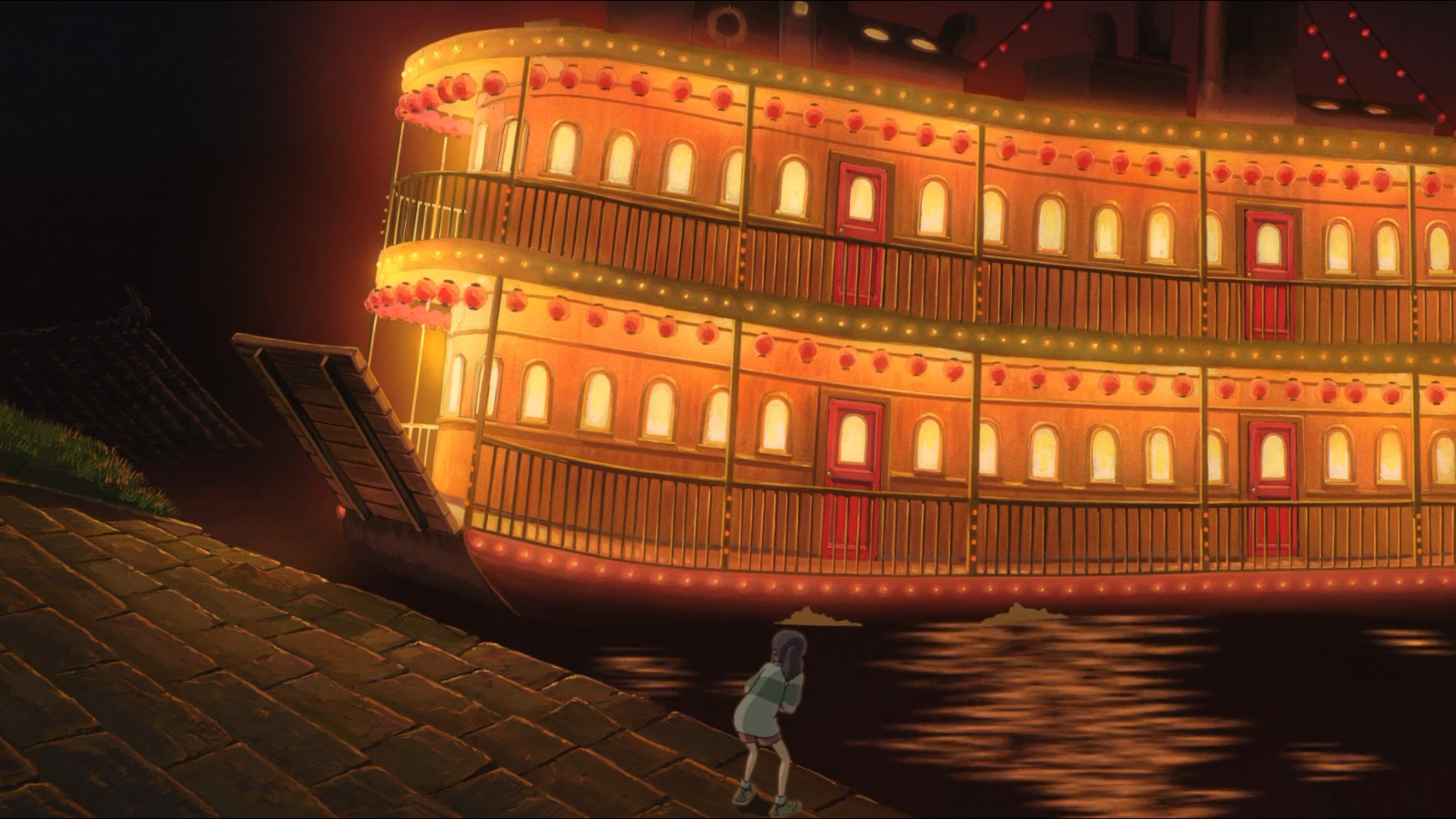 ………………………………………………….
I have seen Spirited Away at least three times by now and upon this fourth viewing I again confirmed its greatness. Rare are films that get better and better upon each subsequent viewing and this is one of those films. It has an amazing replay factor. I have always watched it in a dubbed version as that is how I first saw it so I cannot comment upon the Japanese sub acting, but the dub is actually one of the better anime dubs.
Let's first talk about the story and the highlight scenes. This film is obviously influenced by 'Alice in Wonderland' and it is a much darker, much better crafted version of it. It managed to eclipse that story due to a sheer epicness of it. It feature an amazing use of Japanese mythology and spirits and every creature here looks great and is highly memorable.
The beginning is excellent and very eerie in its atmosphere. Highly mysterious and otherworldly. All of Chihiro's first sequences in this world are great and a wonderful build-up for the rest of the story. As for the stink spirit scenes, they are slightly extended, but still very memorable and the character is fascinating. So the film sometimes feels like a series of vignettes, but those vignettes are all fascinating and the editing is great so it still ended up being tight and well structured.
………………………………………………….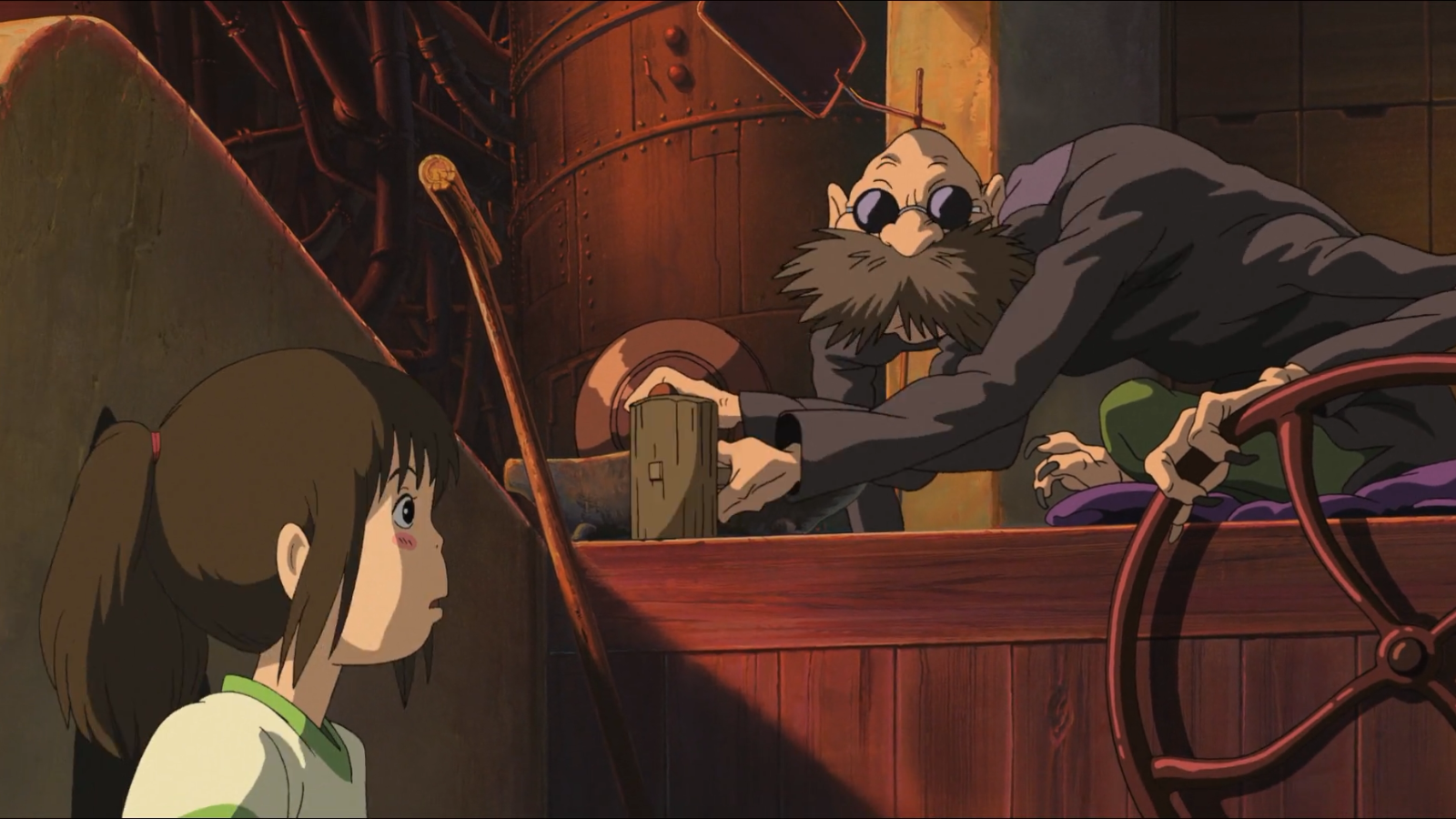 ………………………………………………….
Then the story gets much more intriguing with the introduction of Yubaba's sister. The second act and mostly the latter half of it features a terrific use of build-up to the action and it rises the tension and stakes superbly.
Of course my favorite act is the third one as it is the culmination of everything we had learned previously about this world. That train is just breathtaking, those travelling scenes are transcendent in quality and the imagery is unforgettable.
Then we have the greatest scene from this film which is of course the goodbye scene between Zeniba and Chihiro and then the marvelous dragon flight which includes a great realization and an excellent, fascinating answer to the mystery of how she and Haku met. The final test was great and of course everything about that ending rings awesome. Beautifully filmed and immensely resonant in terms of emotion. The film reward you for taking this long trip with such a moving, deep final scene.
………………………………………………….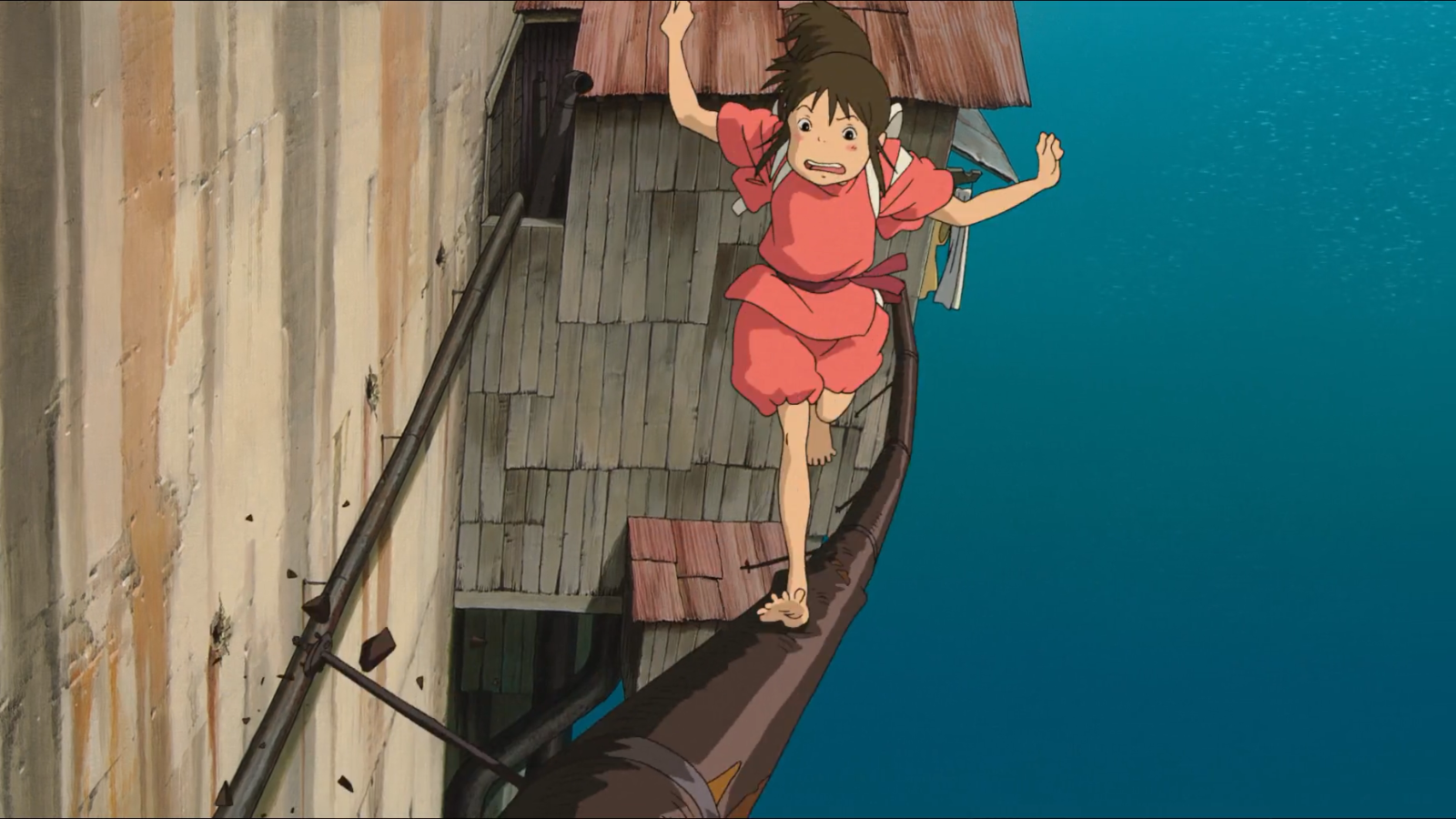 ………………………………………………….
Let's talk about the film's characters. Chihiro is a one of a kind protagonist and quite possibly the studio's best creation. She is spoiled, clumsy and childish at first, but upon taking this amazing, fantastical journey, she becomes much more independent, stronger and more responsible and brave. It is an archetypal hero's journey, but the one done infinitely better than most as it takes its necessary time to develop and thus feels all the more special.
Haku is also excellent despite appearing in not so many scenes. His mystery backstory is intriguing and very well resolved and his dragon form is striking and his job is very well utilized. The relationship between him and Chihiro is never overly emotional and just right.
Yubaba is such a hilarious character. At first menacing and all-powerful, but later deconstructed to a mean old lady. I loved her interactions with each of the characters. Her giant baby is so funny and her story with Zeniba is realistic and a lot of fun. Her sister is the polar opposite of her and a good witch. Loved her and her heartwarming relationship with Chihiro.
………………………………………………….
………………………………………………….
No-Face is fascinating. He is a famous Japanese spirit, but he can be interpreted as being the metaphor for loneliness which many of us deal with and people are struggling much more these days and thus he is very relatable and endearing. I loved his many forms and how his backstory remained a mystery. I also loved that he stayed with Zeniba in the end as both need some company. Certainly the film resolved each of the characters' stories successfully.
Boiler Man is very sweet and caring and I just loved everything about his working steampunk environment and those employees of his are so incredibly cute and feisty. Chihiro's parents serve their purpose and to me Lin is wonderful as this on surface calculated, yet ultimately very caring and good friend to Chihiro. Every character here is great and every spirit and creature is memorable even if they are not too present.
Spirited Away features absolutely breathtaking animation. What is there yet to say that hasn't already been said? This film utilizes on the power and pure imagination and art of hand-drawn animation superbly and rare are animated films with better animation than this one. Only Walt Disney's earliest films can compare honestly.
………………………………………………….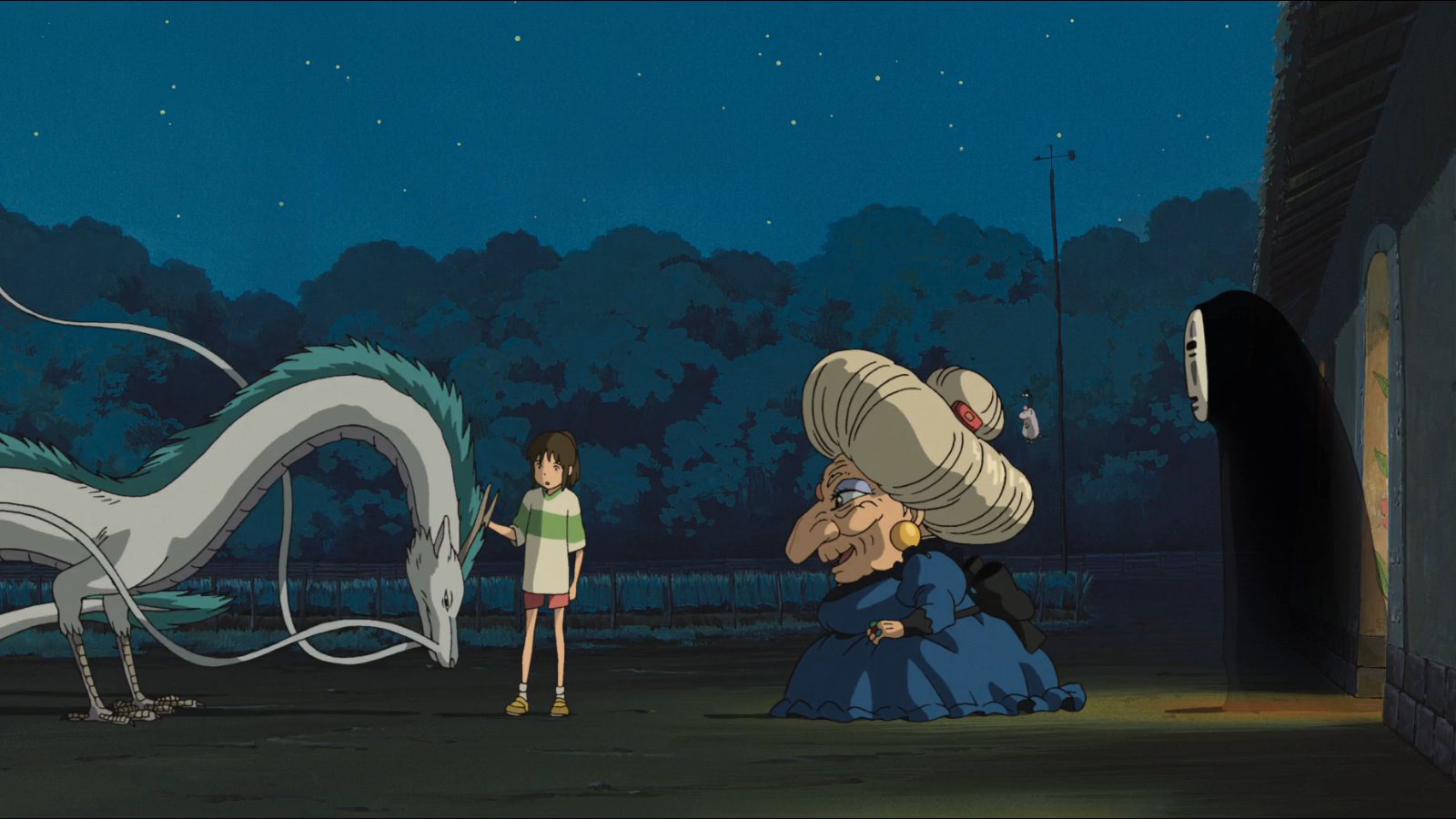 ………………………………………………….
The film is colorful in just the right amount, it is both dark and light in equal amount both in terms of animation and atmosphere and it has absolutely terrific character designs with each spirit being fascinating, different and unique. The humans also look great. The various sets are amazing, each one of its locations is beautifully explored and mesmerizing and the action is so well executed.
It has some of the best world building that I have ever witnessed. I felt as if I really went into this spirit world and I felt as if I also learned something and became more adult just like Chihiro. The movie gives the child in all of us the opportunity to dream again and because it is so dark and serious at times while being funny and lightweight at other times, it manages to be perfect for both children and adults. A perfect mix of everything that the best of animation can offer.
………………………………………………….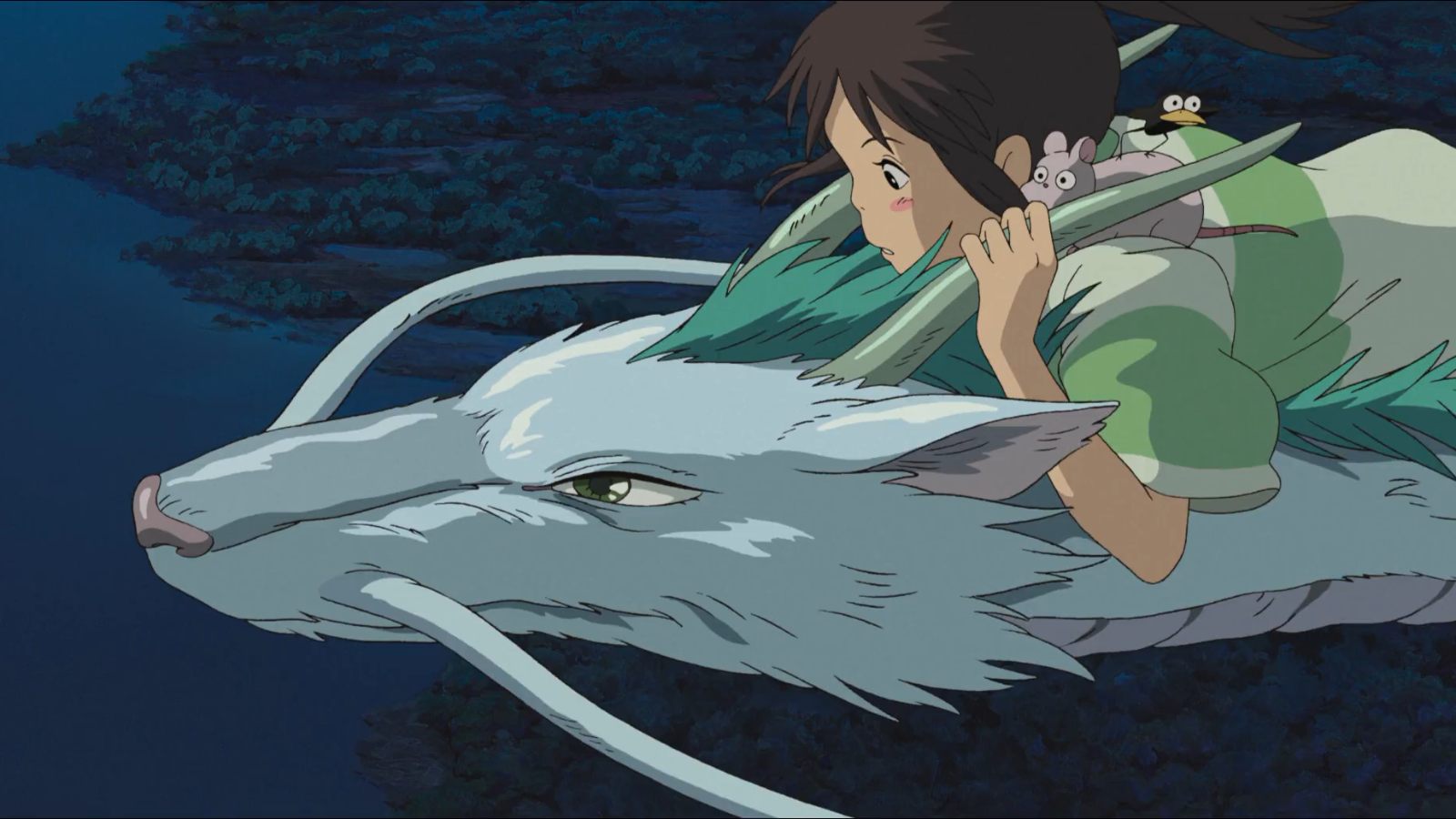 ………………………………………………….
In terms of the humor, it succeeds. It is rarely used, but quite enjoyable and endearing when it happens. I loved the cutesy factor here, but I also admired the inherent darkness of this world as well as it reach themes which span from growing up to greed (best exhibited in those bathhouses) to environmentalism (refreshingly subdued here for Ghibli) to Japanese folklore. The film truly is very smart and consistently deep and transcendent.
The action is never overwhelming and is excellent and sparingly used. The runtime of two hours is perfect for this film and it never feels long despite for animation long runtime. That is because this world and this story are so rich that they needed more time. And the pacing is excellent.
The tone is diverse and the score is phenomenal! I loved this score and in my opinion the dragon flight scene is the best scene in the movie not in small amount thank to that gorgeous, moving and highly transcendent score which is honestly magical in its quality.
………………………………………………….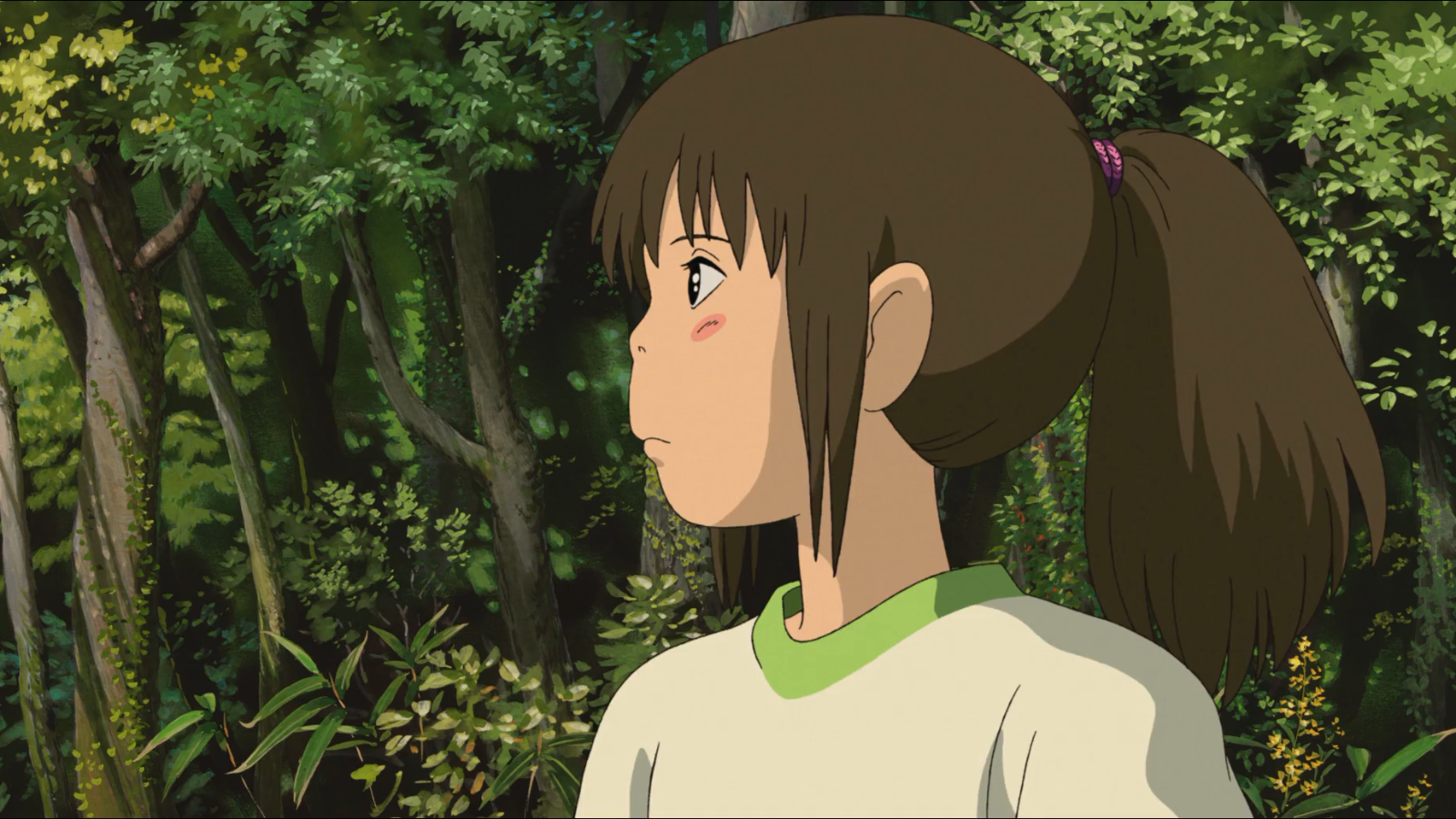 ………………………………………………….
The attention to detail is magnificent, the dialogue is terrific and the film is unforgettable in its every aspect. Hayao Miyazaki directed Spirited Away marvelously and it clearly is a work of art and magnum opus from this famous director who was clearly making a masterpiece here. It thankfully got its Academy Award for Best Animated Feature and it is critically acclaimed for all the obvious reasons I stated above. It is the best that both Studio Ghibli and anime have to offer and one of the best overall film of all time.
With breathtaking, absolutely wondrous animation, stellar direction, meticulous world-building with an overwhelming attention to detail, terrific character development and extremely powerful score which is honestly one of the best in film history, Spirited Away is an undisputed masterpiece and one of the rare films that can easily be called art. The story is well crafted with great influences, a diverse tone which ranges from cute and endearing to dark and atmospheric, high emotional resonance and a great character journey for the protagonist. The film manages to be magical, sometimes serious, at times funny, but always engaging and simply fascinating. The entire, wonderful new world is created here with an impeccable attention to detail which is a reason why it has such a lasting appeal and endless replay factor. Consequently, it is a pure masterpiece and undoubtedly one of the best films ever produced.
My Rating – 5