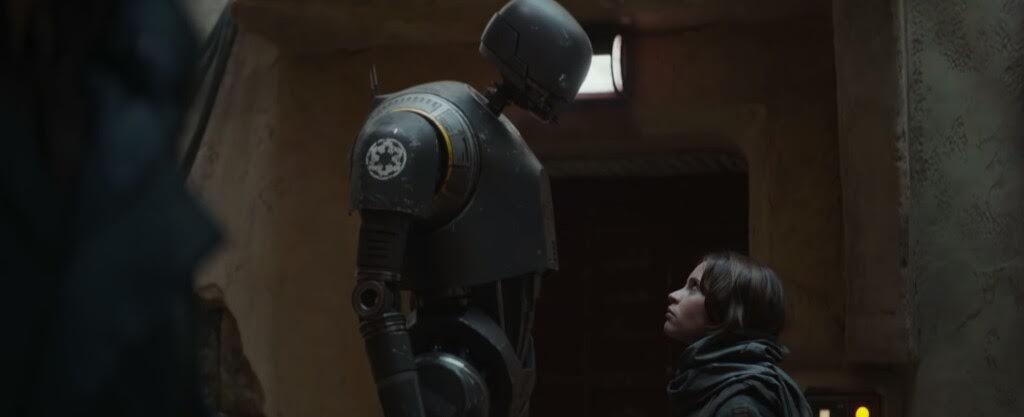 …………………………………………………
Rogue One Movie Review
Rogue One is a 2016 science fiction action film directed by Gareth Edwards and starring Felicity Jones, Diego Luna and Donnie Yen among others. It is the first film in the Star Wars anthology series and is overall very disappointing.
…………………………………………………
"I'm one with the Force, and the Force is with me."
…………………………………………………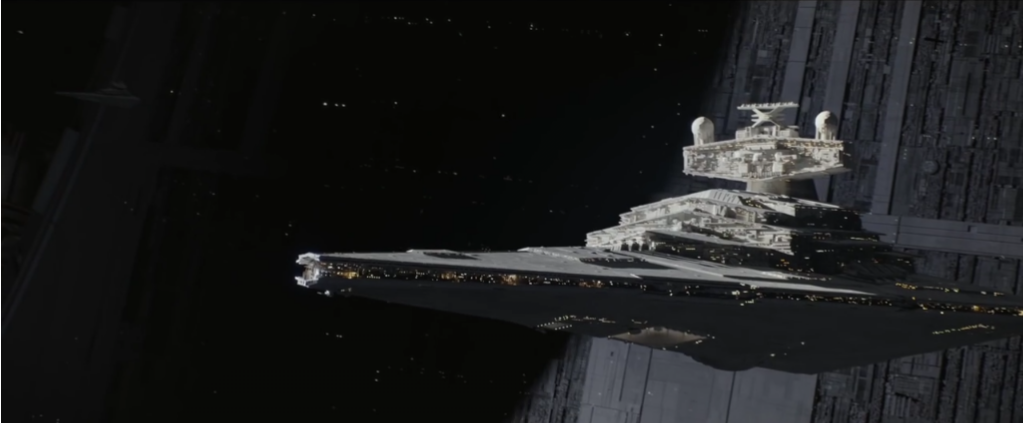 …………………………………………………
It follows Jyn Erso, the daughter of a man who designed the Death Star, and her quest to retrieve his plans for destroying it. Now, the story itself is the problem here as it is overly simplistic and of course it demanded so much action which we unfortunately got in abundance. The story is not only overly simplistic, but sometimes even quite weakly crafted and not to mention very slim as a whole. The action comes first in this movie and that was a big disappointment.
Now I really liked the first half of Rogue One. Actually, I loved it and I've had such a fun time watching it. It was not only entertaining, but also very well made, sometimes even funny and genuinely adventurous and involving. But that all changed in the second half which became everything but. Suddenly the story was sidetracked for action and it was non-stop action after action to the point that I became honestly very bored with the whole affair. It was overloud, overly bombastic and almost seeming like a video game. There is way too much war in it.
…………………………………………………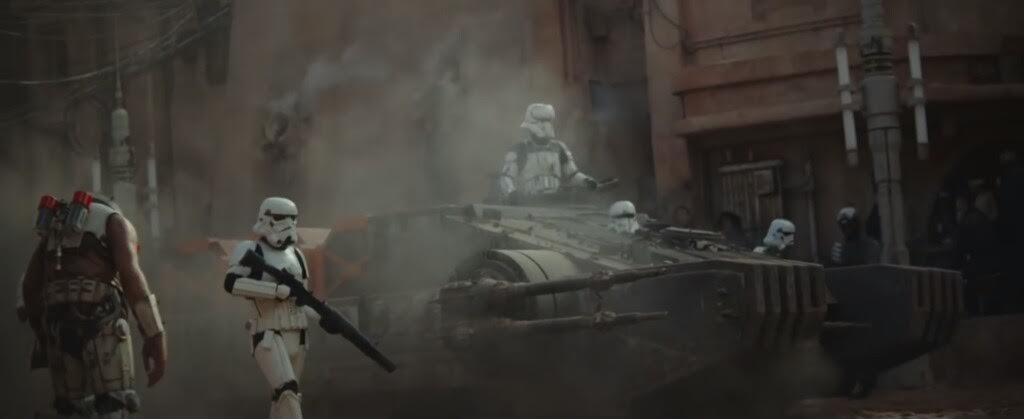 …………………………………………………
Let's talk about the characters. As a team, I really liked them and in fact, they served great as a team and the dynamic was excellent. However, each of them fails individually as none of them feels like a well developed, real individual, but rather as shallow figure that serves to the story instead of the other way around.
Jyn Erso isn't as annoying as she was in the trailer, but she was still quite weakly developed and forgettable. Her becoming a leader of the rebellion really wasn't well handled and it felt rushed. Cassian had his moments, but was overall not memorable. Bodhi and Baze are both very underutilized and Saw Gerrera was very problematic. His relationship with Erso was important here as it was accentuated a lot, but here you have a great example of Hollywood failing at emotion. You have a scene with the two of them reuniting and crying and it was all supposed to be very emotional, but I was just never moved at all because I don't know these people as the film failed to establish them as proper human beings and not just as toys that serve the story.
…………………………………………………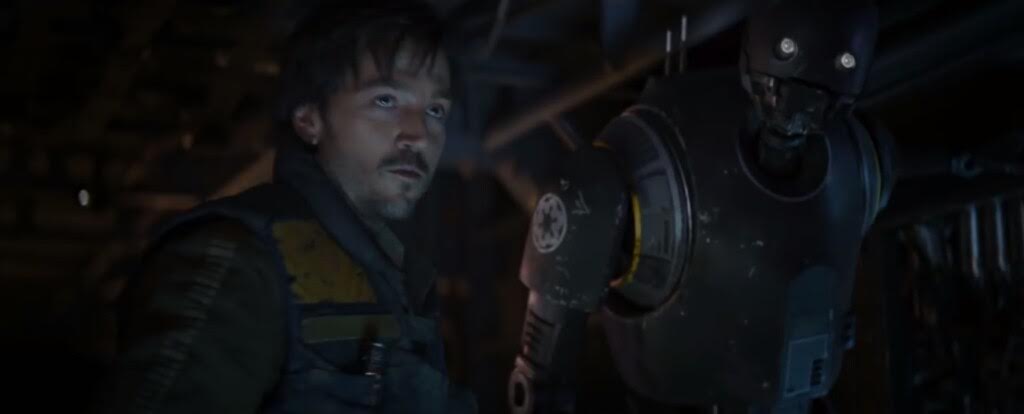 …………………………………………………
The villains I found to be really good and some were quite menacing and strong. Vader was very well used in his two sequences and Erso's father had some excellent moments too. But I was so disappointed with their treatment of Chirrut. Here they got a really cool, badass character and they just used his action skills in a couple of scenes and that's it. Tremendously disappointing. Really the characterization is super weak here which is my major gripe with the movie and the reason why 'The Force Awakens' was a better film.
The acting is, on the other hand, very strong. This was obviously Political Correctness 101 as there isn't a single white man in the team, but that didn't bother me, it only bothered me that they were weak as characters. But the actors did a really good job. Felicity Jones is quite good, although her American accent isn't the greatest and is sometimes noticeable. Mads Mikkelsen and Forest Whitaker sold their emotional scenes with very good performances and of course the presence of Donnie Yen is always welcome.
…………………………………………………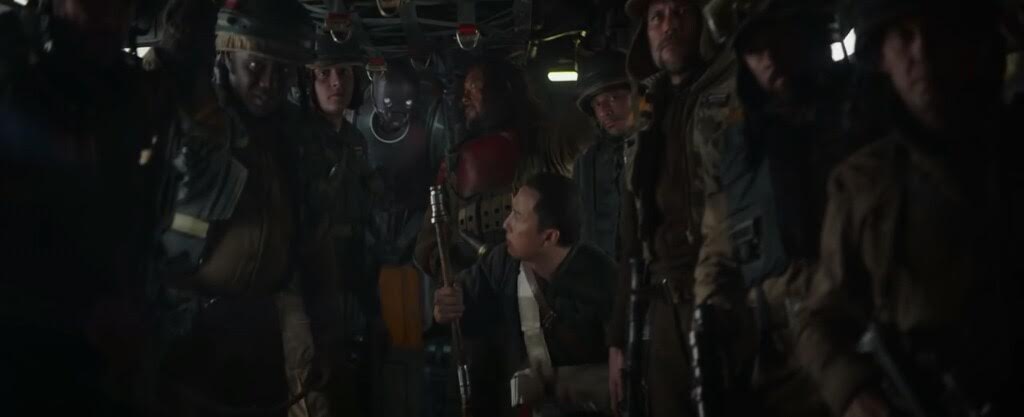 …………………………………………………
Donnie Yen is actually quite funny in this movie as is K-2SO. He is a very solid robot who is actually one of the series' best – very funny and very likable. But unfortunately, only those two provided the humor and just rarely. The film was otherwise too serious. Now the action is overwhelming, but is actually very well executed undoubtedly. And of course the special effects are terrific. This is one of the year's best looking movies and everything looks great from the scenery to the weapons to even the CGI of some of the characters. It was crazy to me that Tarkin was a giant effect and not a real person as the actor had died a long time ago. Really groundbreaking effects right there. The sound effects are too loud, but the score is really good and its theme that was repeated throughout was actually great.
The special effects are excellent, the score is terrific and the acting is very good in Rogue One as is its first half which is so great, sometimes even funny and genuinely entertaining and well made, but the second half is so weak with non-stop action after action that bored me to death. But the reason why 'The Force Awakens' was better lies in the characters as this movie has surprisingly weak character development and here you have a textbook example of where Hollywood usually fails – you have these big emotional scenes and you are supposed to be moved, but I just wasn't as I don't know these people as they aren't developed as genuine human beings but rather as tools in service to the story. So disappointing.
My Rating – 3.5
…………………………………………………