…………………………………………………………………………………….
Ranking 1960s Animated Short Oscar Winners
The sixties proved to a bit of an improvement over the fifties when it comes to the animated short category at the Oscars as the films are more diverse. It is still not the greatest as half of these winners aren't all that great, but half are very good and a couple are truly excellent. Ranking them was pretty easy in my opinion so here we go.
…………………………………………………………………………………….
10. The Hole
The last place goes to this work from the Hubleys whom I just never got personally and I deem them overrated. Their 'Moonbird' got the second last place on my 50s list and this one gets the last as the discussions it gives us between two construction workers are just not all that interesting and again the animation is quite choppy and subpar.
9. A Herb Alpert and the Tijuana Brass Double Feature
This is another short from the same two directors and even though it still doesn't have the best animation and the storyline is non-existent, it is a better film than 'The Hole' as it is admittedly fun and it features an interesting approach with the music being basically the precursor to the modern music video.
8. Ersatz
This Croatian short is wildly overrated in my opinion. Yes, it is very well animated and sometimes quite inspired, but ultimately pointless in its non-existent story and not as memorable. It has an inventive animation for sure, but I wanted more from it in terms of storytelling.
7. The Box
This is a wasted movie as it was immensely promising in its interesting concept and although it still has its moments and is ultimately pretty solidly executed, it should have been much funnier and much better given the great concept. Its couple of scenes with facial expression humor are the standout ones.
6. It's Tough to Be a Bird
This is your regular Disney educational animated short that gives us a very memorable protagonist, a couple of funny moments and it is very good for children, but again its format does not allow for much enjoyment for adults and I found the over-reliance on live-action instead of animated segments troubling.
5. The Critic
This is another example of a great idea not greatly executed. It gives us art film screening where we listen to very relatable complaints from one viewer. The idea is ingenious and the film is very funny at times with some hilarious lines from our amusing hero, but it is overly short and should have been even funnier given the awesome premise.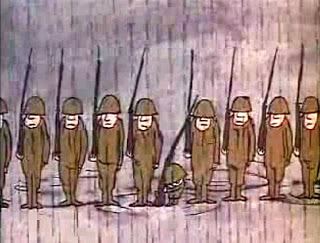 4. Munro
Munro is very important in its message and storyline, though the narration and animation should have been better. But what I loved about it is how it managed to portray a difficult situation in a lighthearted, more humorous manner and it thus led to a much more successful film.
3. The Dot and the Line
Although surprisingly sexist in the portrayal of its female character, The Dot and the Line is still a lot of fun and very well executed and animated. But the standout aspect is of course its imagination as it is wildly inventive in concept and more than capable in execution leading to a well deserved third slot on my list.
2. Winnie the Pooh and the Blustery Day
It does have its issues, but Winnie the Pooh and the Blustery Day is still one of the best ever Winnie the Pooh storylines which gives most of its characters a lot to do and sure enough, Pooh, Piglet and Tigger are all very memorable and funny. Its two songs out of five are also pretty terrific and classics in their own right.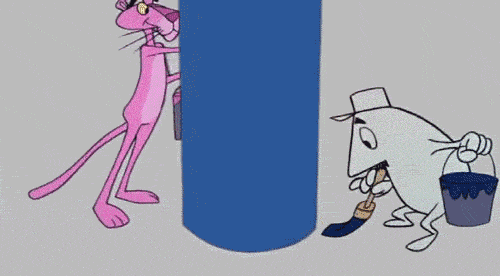 1. The Pink Phink
This had to be the number one pick although it was a pretty close race. But The Pink Phink is a great example of how great Pink Panther is. It has amazing animation which is wonderfully simplistic and polished, very inventive action scenes and excellent humor and of course superb character interactions and that iconic score. The film is wonderfully comedic and superbly executed from beginning to end leading to what is arguably the best Oscar-winning animated short from this decade.
…………………………………………………………………………………….