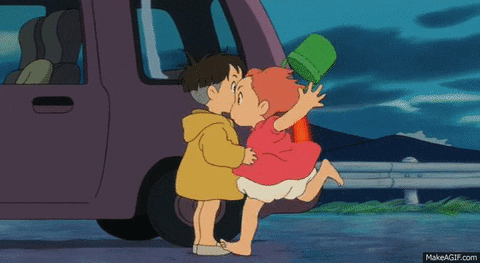 …………………………………………………
Ponyo Movie Review
Ponyo is a 2008 fantasy family film directed by Hayao Miyazaki. It is one of Studio Ghibli's most childlike films and one of their sweetest.
………………………………………………….
"Ponyo loves Sosuke!
I will be a human, too!"
………………………………………………….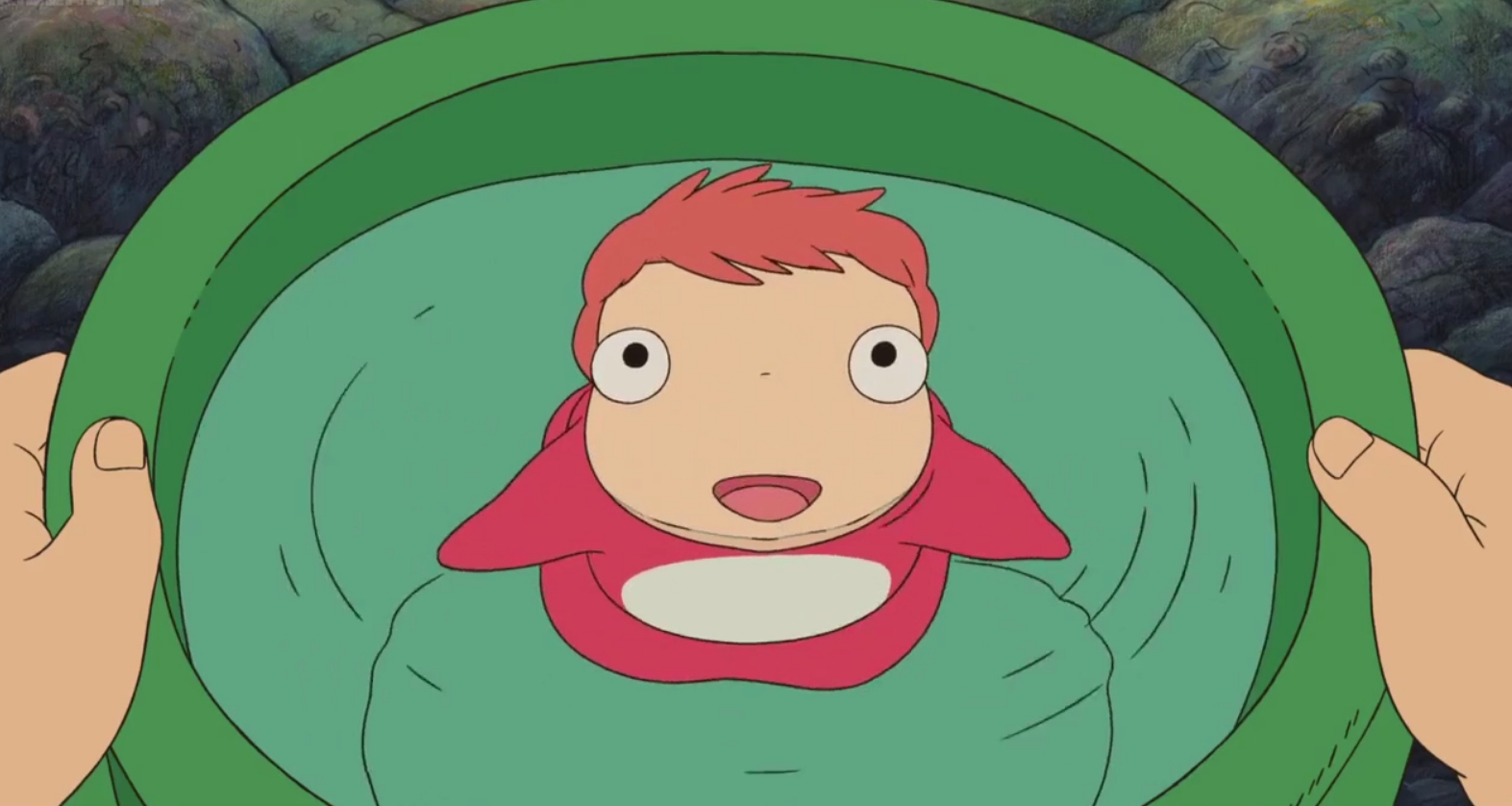 ………………………………………………….
Confession time – I did not care all too much about this film when I first saw it about five years ago. I thought it was a rip-off of a much better film 'The Little Mermaid'. However, even though it is similar to that tale, it does have enough crucial differences that it can be said that it is inspired by it and certainly not a copy of it. Upon my second viewing, I find the film much better and it endeared me so much.
I liked that it's a confined drama as much as it is a fantasy flick. I loved the beginning and the ending, but to me the highlights are the interactions between the two kids in the middle parts which could prove to be boring to some, but to me they stopped the story and they did it beautifully and I loved being in the moment with these kids and on this lovely small island. Some of the later scenes are actually more tedious to me than those in the house.
………………………………………………….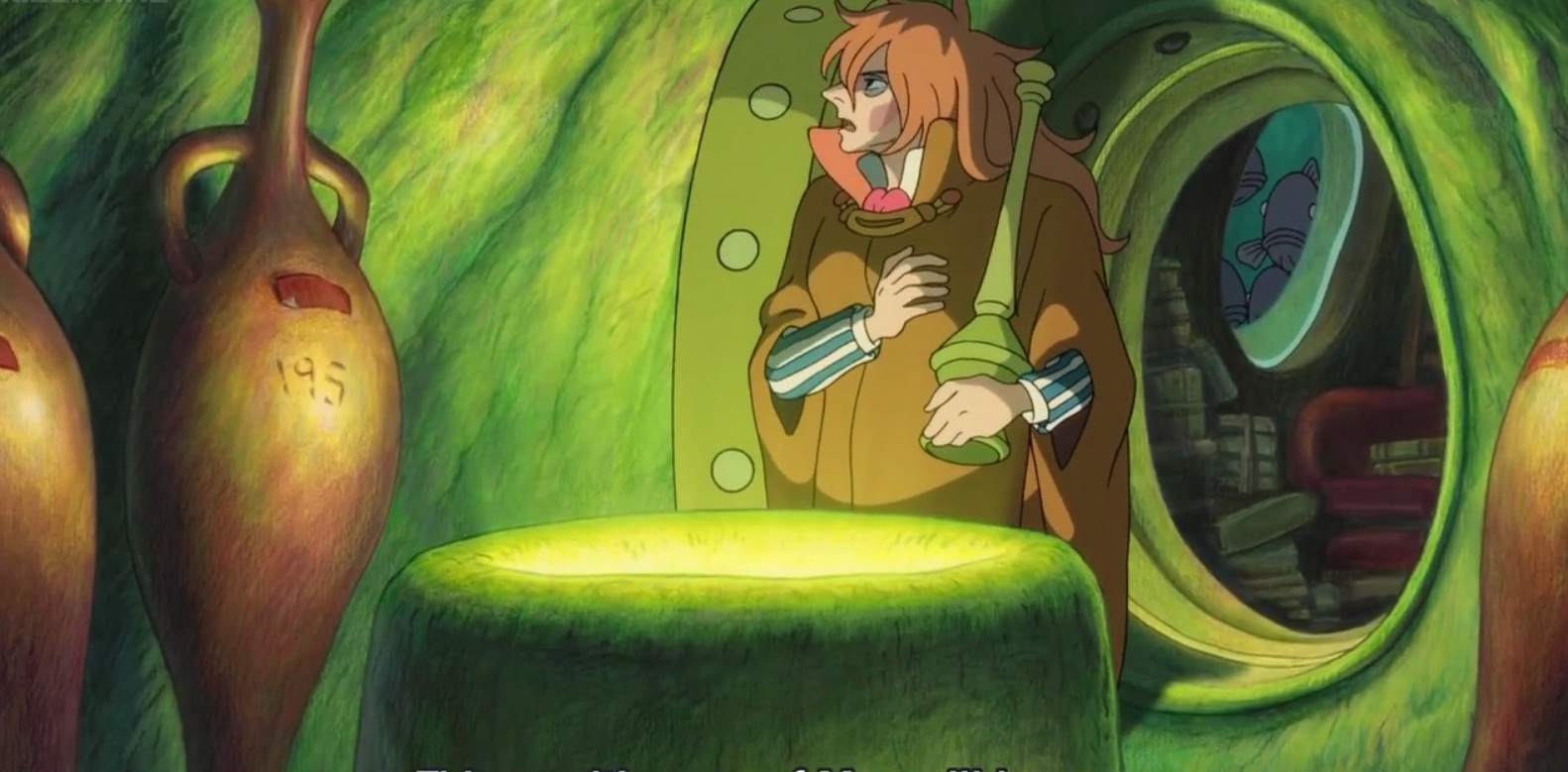 ………………………………………………….
Ponyo is just such a wonderful character – she is innocent, sweet, caring and always interested about the world and people around her. Sosuke is a good-natured, sweet boy who is actually the protagonist here and I found him incredibly endearing. As I said, their relationship is phenomenal and so well realized. I cared for both of them so much and just watching them together made my heart melt.
Lisa is just such a wonderful mother and a great role model for all mothers out there. She is a single parent in a way and she manages to do an amazing job with Sosuke. I loved how the two were friends as much as they were mother and son. Koichi as their father is also quite memorable if used sparingly and I adored the signaling scene which is so heartwarming.
Granmamare as this mythical creature-woman is the most fantastical and intriguing part of the film. Fujimoto as the villain of the story is not all that great. He has his moments and I absolutely loved his lair, but he was too weak a villain which is typical for children's films. And I wouldn't even call him a villain personally. As for the three grannies, I found their characters somewhat unnecessary, but they still brought quite a lot of charm and humor to the film.
………………………………………………….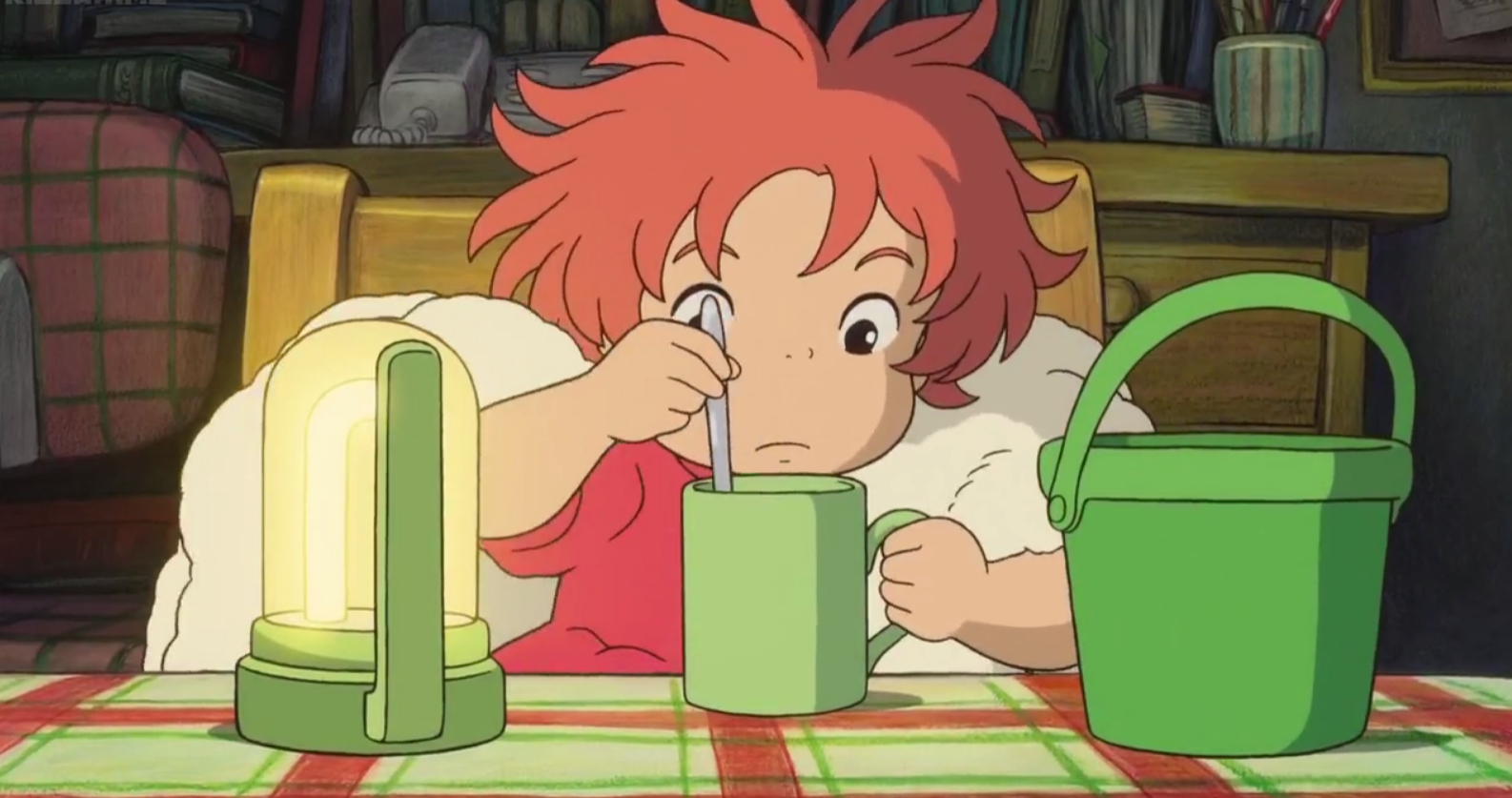 ………………………………………………….
Ponyo is simply stunning in terms of animation. It is a modernized animation, but still a classic hand-drawn animation in style and approach and I loved that. It is a proof that underwater animation can be just as strong and just as beautiful as CGI. It is a very pleasing to look at, extremely colorful film with a great use of the color blue and especially red.
I loved the various memorable imagery here such as the underwater scenes, the overall island which is unforgettable and the house which is cozy and sweet. My only gripe is the character design. It is mostly excellent, but Ponyo looked weird as a fish and particularly odd as half-fish, half-human with those very unappealing chicken legs. I am definitely not a fan of that design.
So Ponyo is unoriginal in its story, but it does have its authentic quirks and turns. I thought that some of the scenes in the second half were not as interesting as the ones in the first half and the ending was kind of abrupt. The film is slow paced which I definitely enjoyed, but sometimes that approach came at the expense of the story.
………………………………………………….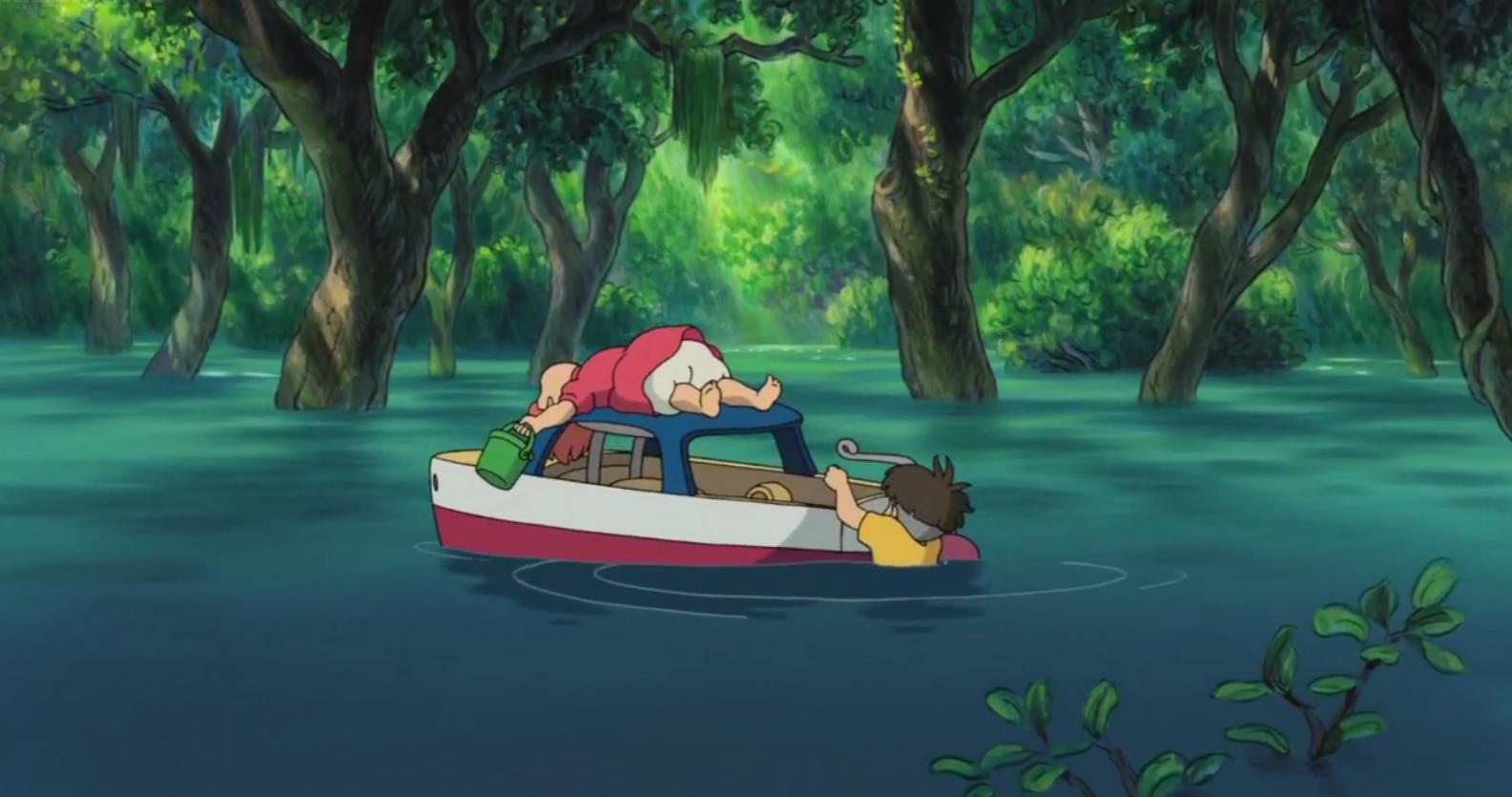 ………………………………………………….
But even though it isn't one of the studio's strongest films, it also isn't one of the weakest. It is so sweet and emotionally resonant that I think not a lot of people could possibly resist it. The voice acting is absolutely terrific on all fronts and the direction from Miyazaki is excellent, though his themes here are his typical themes. I found the pacing great and the dialogue quite good. The score is also very good as is the sound design.
Ponyo is such a charming, cozy and wonderfully endearing family film. It has its problems such as some of the character designs and the unoriginality of the plot, but still Miyazaki added enough quirks and interesting ideas to make it his own story. Ponyo and Sosuke are lovely  characters and their wonderful interactions are the highlights here. I also really enjoyed the slower pace as well as its simply gorgeous, detailed and colorful hand-drawn animation with a lot of memorable, beautiful imagery at display.
My Rating – 4