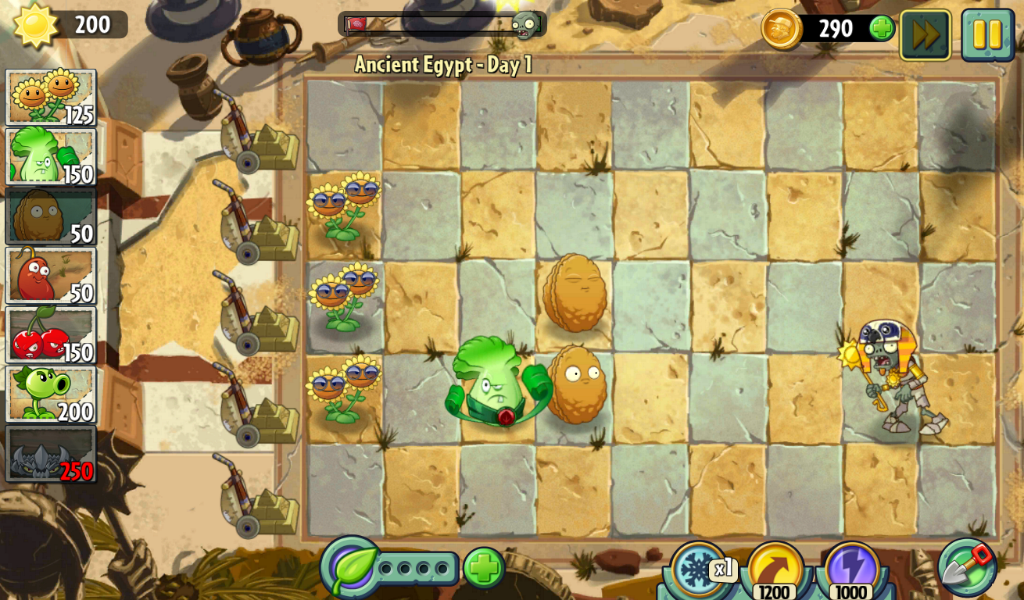 ………………………………………………………….
Plants vs. Zombies 2 Video Game Review
Plants vs. Zombies 2 is a 2013 tower defense video game developed and published by PopCap Games for Android devices. It is an improvement over its predecessor.
Yes, as a sequel to 2009's 'Plants vs. Zombies', I have to say that it is definitely better in almost every regard. It is bigger, more diverse and much more interesting. Let's first talk about the gameplay. The game was being released from 2013 to 2016 as they have been adding a new world from time to time, but it unfortunately ended eventually which is a shame as there was even more potential for new worlds.
………………………………………………………….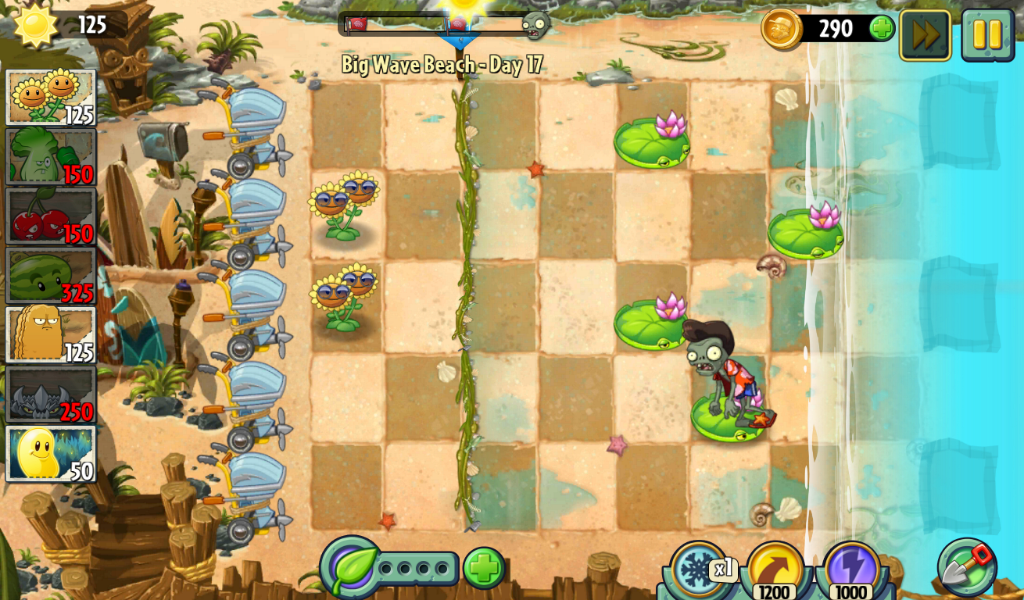 ………………………………………………………….
It has eleven worlds or areas in it which is much more than the five that the original had and that is the major reason why I loved this one more. And not only that, but the number of levels was even bumped from ten to 25 or even 32 in later worlds which makes this game incredibly long. In fact, it took my month to complete it which was awesome and I continue to play it after the campaign has been finished which just goes to show how much diverse content you have here and how much of a repeat/longevity value it truly has.
Ancient Egypt is the first world and it isn't as good as the rest and is weaker in terms of difficulty. Pirate Seas is much more memorable, especially in level design which is terrific. Wild West is even better as it introduces a lot of cool new things in its gameplay such as moving platforms and many more new plants and new, tougher zombies.
Frostbite Caves is a bit annoying as it only has a couple of truly horrible to beat levels, way too difficult, but the rest is just too easy which makes it a bit uneven in the long run. Lost City is unique in design, but much too easy compared to the others. Far Future is also easy, but it features new and compelling additions such as those great tiles.
………………………………………………………….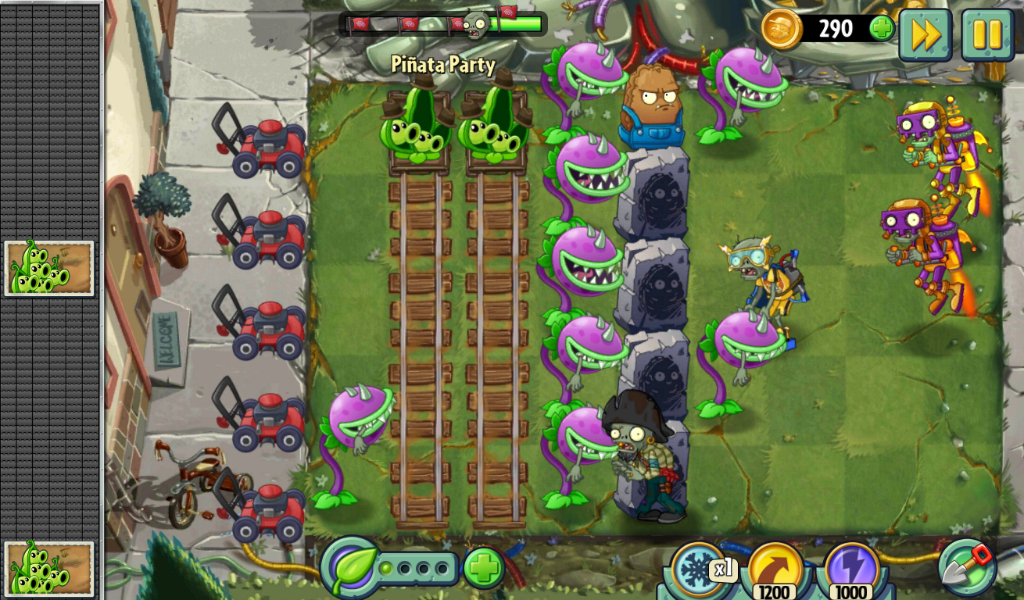 ………………………………………………………….
Dark Ages is the similar to Caves as it has its difficult levels, but is otherwise pretty easy to beat. Neon Mixtape Tour I wasn't such a big fan of as I do not like these fast levels and they don't appeal to me as much as other more tactical and slower levels do. Jurassic Marsh is awesome in its superb use of dinosaurs that can either help you or become a nuisance.
Modern Day is solid and it benefits from a great level boss spread throughout three levels, but Big Wave Beach is easily the most difficult world here. Wow, is it insane! It literally took me days and even weeks to finish a couple of them as they were just so hard even with all of the power-ups. That is done for better and for worse as it was all the more rewarding when I've finished it, but it was frustrating that you had to use all of the powers and helping methods to do it as it is almost impossible to do in your own.
………………………………………………………….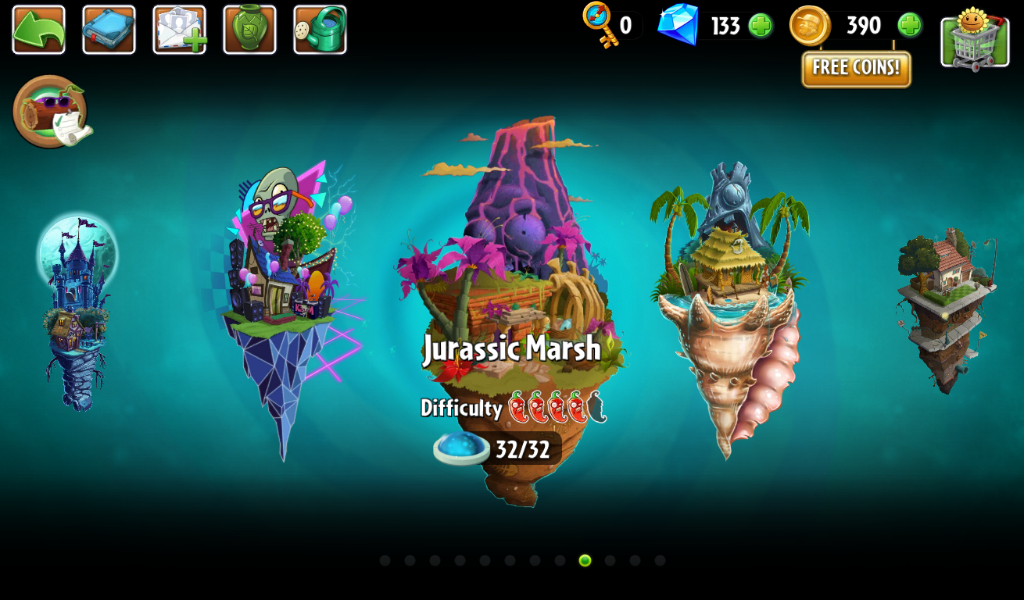 ………………………………………………………….
The animation and graphics in Plants vs. Zombies 2 continue to be strong, but the score takes a backseat this time around as it is just never as iconic as was the score from the original. All of the different worlds had appropriately fitting tunes in tone, but they were either too forgettable or too low in volume.
The controls continue to be great and even the plot is solid and better than in the original. Crazy Dave is again such a character, but he is even more memorable and more present in this sequel and his sidekick robot Penny is awesome and her harsh, deadpan delivery was so funny at times. It is mostly pretty coherent and the difficulty level for the most part was well utilized. The designs of the levels were mostly excellent, all the worlds are memorable and the game is smooth with no bugs and it has great longevity which I mentioned before.
………………………………………………………….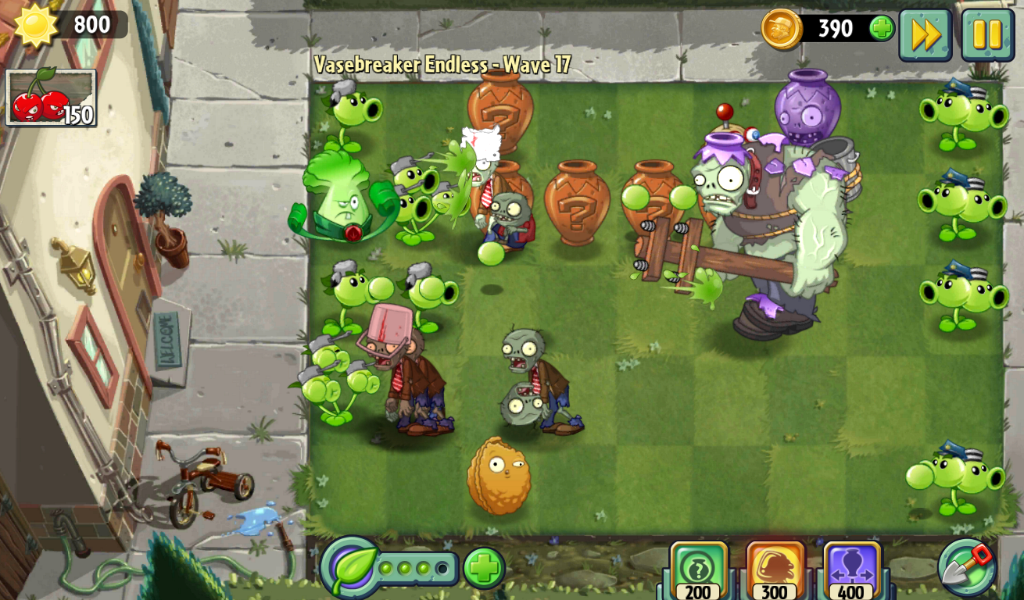 ………………………………………………………….
It is also pretty original in terms of zombies and plants. Here you have much more plants at your disposal and the zombies are so great not only in terms of high difficulty but also of how well they are incorporated within their worlds and with the plants you have to use to defeat them. The only problem in terms of the arsenal is that most of the plants can only be bought with real money and that is something that really hurt this game. And even though Endless is a bit boring, Vasebreaker is just so awesome a mini-game (infectiously entertaining and wonderfully strategic) that it made PvZ2 much more playable after the main campaign is over.
In the end, even though most of the plants have to be bought by real money and the score is weaker, Plants vs. Zombies 2 is still better than its predecessor thanks to a much bigger world with a lot of new areas and with a huge number of levels plus the designs are great, the game is incredibly entertaining and at times even very difficult and it has such a great longevity factor to it that it is a real winner by all means.
My Rating – 4.5
………………………………………………………….