……………………………………………………………………
Oliver and Company Movie Review
Oliver and Company is a 1988 animated musical comedy film directed by George Scribner and with the voice work of Joey Lawrence and Billy Joel. It is a very problematic, albeit perfectly okay movie.
It follows Oliver who is a homeless kitten. He joins a gang of dogs to survive in the streets of New York City. The plot is based on 'Oliver Twist', but just loosely. And the story is definitely my biggest problem here. It is so slight, so typical and always so predictable. It starts off pretty well, but it quickly turns into a predictable tale and all of its subplots lack any sophistication or authenticity in them. Also, the film is overstuffed with too many characters and thus they do not receive enough screen time and the film feels rushed. Also, the whole crime angle is forgettable and not that well realized plus the action in the third act is not that great. The film is most certainly entertaining, but it is still a lazy effort from Disney, probably their laziest up until this point.
……………………………………………………………………
"This city's got a beat, and you gotta hook into it.
And once you get the beat, you can do anything"
……………………………………………………………………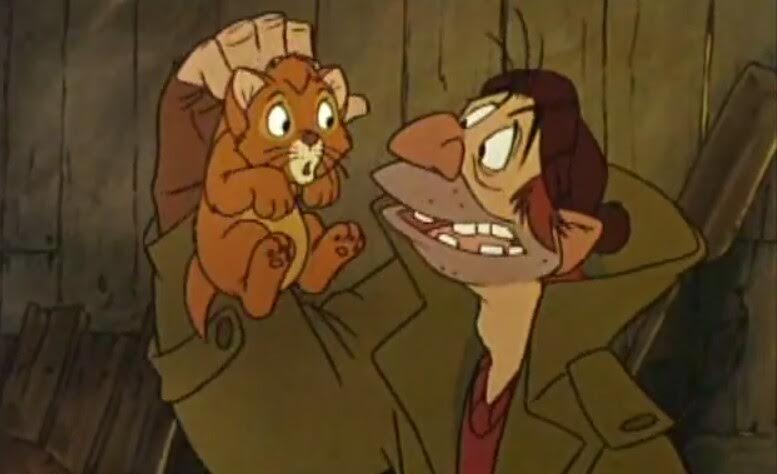 ……………………………………………………………………
The character development is okay. Some characters are memorable, but some are annoying. Let's start with Oliver. He is a typical cute protagonist that is just there to be cute. Yes, he certainly is endearing and you want him to end well, but there is no personality in him whatsoever. He's one of the biggest problems here. Now Dodger, he's the most fun and memorable of the bunch. Yes, we've seen this character before for sure, but he is entertaining and his care for Oliver is one of the strongest aspects here. And I also loved how the whole gang worked together and their character interactions are excellent.
Speaking of the gang, there isn't much to them in terms of personalities. Tito is a stereotype, Einstein is forgettable, Francis is also not that memorable and Rita is fairly underused. Now Fagin himself is pretty good and I really liked some of his more dramatic moments. Roscoe and DeSoto are certainly okay as the villains as is Sykes, but I've always felt during this movie that the villains were just sort of there and never particularly influencing the storyline or posing serious threat. Jenny is typical, but her and Oliver's relationship is cute. Winston I really liked as the butler and Georgette is one of the highlights as her theatrical nature is so well realized.
……………………………………………………………………
……………………………………………………………………
When talking about Oliver and Company, the critics usually pinpoint animation as one of its biggest offenders and I unfortunately have to agree. It isn't a terrible animation for sure as it is nice to look at, but the character designs are all so clichéd and the film's colors and overall style is lacking and it is just so free of any artistry, attention to detail or sophistication. It just might be the worst animated Disney movie up to this point of their history.
Oliver and Company's soundtrack is pretty good. It has some very entertaining and catchy songs and although their modern tone is annoying at times, I still liked that as it made the film different when compared to other Disney flicks. Streets of Gold is a very catchy and fun song whereas Why Should I Worry? is such an entertaining song that is also quite different than usual for Disney. Good Company is typical, but emotional and accompanies a great scene. Perfect Isn't Easy follows Georgette which is interesting, but the song itself is boring and has mediocre lyrics. That is the worst song here. But the best song is most certainly Once Upon a Time in New York City. This song grew on me with time and I just love it. It accompanies a beautiful opening scene, it is refreshingly long and it has absolutely wonderful, heartwarming lyrics. It is so well sung and so beautiful to listen to. It has to be my favorite Disney song of the eighties (not counting 'The Little Mermaid' of course). Overall, the soundtrack is quite solid and the best aspect of the entire movie in my opinion.
……………………………………………………………………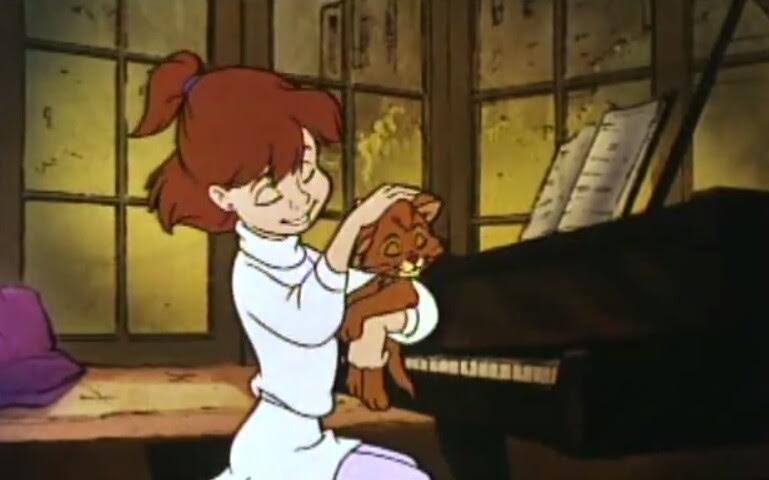 ……………………………………………………………………
The highlights of the film are definitely the song sequences with the opening scene in particular being incredibly moving and much more mature than the entire movie that came after it. I also liked Jenny and Oliver's endearing scene, the scenes with Fagin are all pretty good and the sequences with Georgette I also found entertaining. But the most memorable scene is that opening and all of the other scenes are lacking when compared to it.
Oliver and Company is weakly directed and its scenery is very much so-so which is unfortunate. There aren't that many truly beautiful scenes here owing to a very mediocre animation. And the setting of New York City is quite problematic and so boring and annoying. It just doesn't fit in the Disney world in my opinion as it leads to a modern, annoyingly hip tone and lacks the signature Disney touch. Yes, the film is heartwarming at times, but it is rarely truly emotional and that is one of its flaws. It is weakly directed and not that well paced as some scenes are overlong and some are rushed. The dialogue is okay, nothing too remarkable, but it isn't bad either.
……………………………………………………………………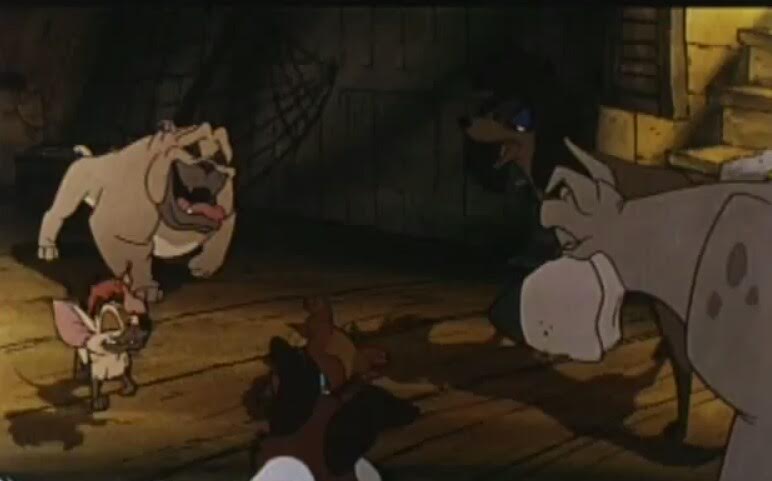 ……………………………………………………………………
It is one of the more predictable and more childish Disney flicks. The action is pretty boring, but the soundtrack is very good and the film is mostly entertaining to watch. But it is overall quite disappointing and very weak when compared to other films of the company. It isn't a bad movie for sure, but it isn't particularly good either. It is just okay and a passable diversion. It is much weaker than 'The Great Mouse Detective' or any other 1980s Disney flick for that matter. In fact, it just might be the weakest Disney film up to this point in their history.
Oliver and Company does have some heartwarming scenes, it is entertaining and it has a very good soundtrack with some catchy songs, but this is for the most part a mediocre affair filled with too many characters of which most are underdeveloped or annoying, the animation is quite weak and the plot is quite typical and predictable. It isn't bad as it is perfectly okay, but it is still one of the weakest Disney flicks for sure.
My Rating – 3
……………………………………………………………………