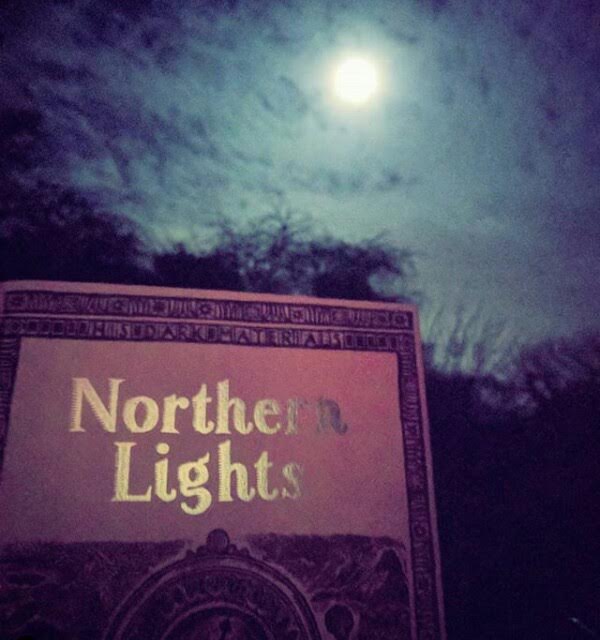 ………………………………………………………………..
Northern Lights Book Review
Northern Lights is a 1995 fantasy novel written by Philip Pullman. It is one of the most acclaimed fantasy books and for good reasons as it is very strong.
………………………………………………………………..
"That's the duty of the old – to be anxious on the behalf of the young.
And the duty of the young is to scorn the anxiety of the old."
………………………………………………………………..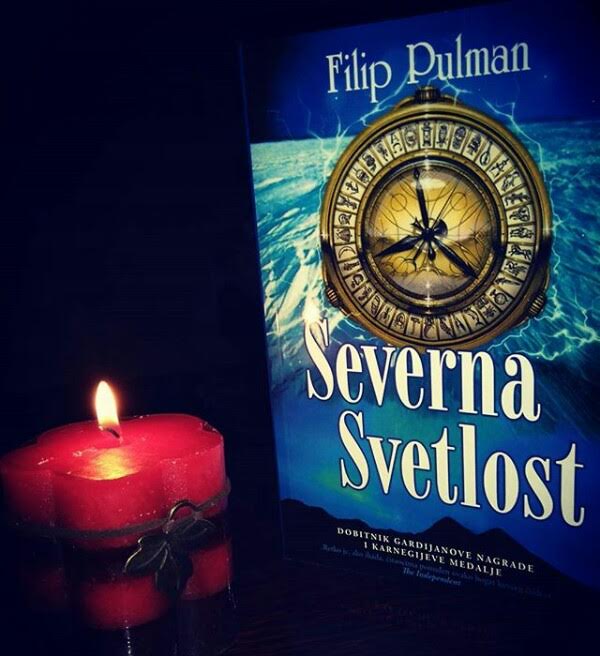 ………………………………………………………………..
It follows a young girl named Lyra and her journey to the Arctic in search of her missing friend and imprisoned uncle who has been conducting experiments with a mysterious substance known as Dust. There is a lot to talk about here when it comes to the plot. But first let's just say that even though I found its obvious religious parallels interesting, I still did not find the book as thematically rich as critics deemed it out to be. But it is obviously an anti-Narnia story which is anti-religious instead of being spiritual.
Now I really admired its story as for once we get a fantasy novel set in contemporary times and with a unique setting to it. The Arctic is so well established here and quite fascinating, but I also really liked the university and that we got to explore it quite a bit too. The first chapter is one of the highlights as it instantly hooked me in the story and naturally the last chapter is very intriguing. The book is an obvious setup for the next two installments, but I liked that as that only proves that His Dark Materials is going to be one epic trilogy and I can't wait to finally experience the other world behind Aurora Borealis.
This world itself is so authentic and fascinating to behold. It is populated with witches, polar bears and nations and groups of people that are reminiscent to our own, yet different in a way. The character development is quite strong. Some characters aren't the most inspired, but most are either likable or very well utilized.
Let's start with out protagonist Lyra. She is a very interesting main character whom I actually admired a lot. I usually dislike main heroes and yes, her story and the fact that she was prophesized to be the chosen one is obviously one giant cliché by now, but the character herself is not as heroic, she makes mistakes, is very realistic in her behavior and I liked her interactions with everyone else. It was also a refreshing change in pace that she started off happy and that she had parents as well.
………………………………………………………………..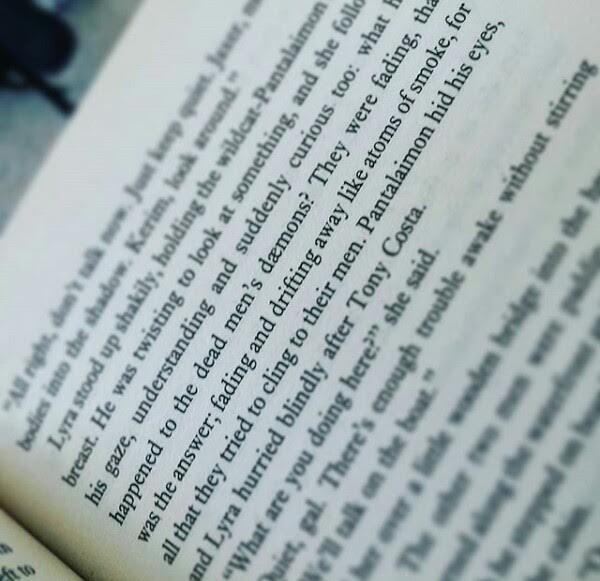 ………………………………………………………………..
Roger is okay, but mostly just a plot device. But the decision to kill him off after having Lyra trek him down for most of the book is admirably dark and tragic. Lord Asriel and Marisa Coulter are interesting, yet very troublesome indeed. I liked their relationship a lot, but to me they felt like obvious, theatrical villains, especially him as Coulter had her menacing moments. But everything surrounding these two, although obviously well realized, was in my opinion overly typical and the only truly childish aspect of the novel.
Serafina is excellent and the witches were fascinating and very interestingly realized here. Lee Scoresby is very sympathetic, Ma Costa is okay but forgettable and John Faa is mostly a plot device. But I loved the polar bears and their roles in the story. Iorek is phenomenal and although the relationship between him and Lyra was a bit rushed in its development, it was still fun and satisfying. I loved the fight between him and Iofur and I just loved the entire mythology surrounding the bears, that was very intriguing to me.
Northern Lights is so well written and the world building here is magnificent without a doubt. Not only well realized and rich, but also original and even fascinating. I especially found dæmons riveting. They are animals that follow people around and are essentially their souls. Lyra's Pan was great and every other dæmon was very memorable too. I loved their mythology and that when they get separated from the children, the children die. Those scenes proved how tragic and immensely dark this work actually is and I would call it more adult than young adult for sure.
………………………………………………………………..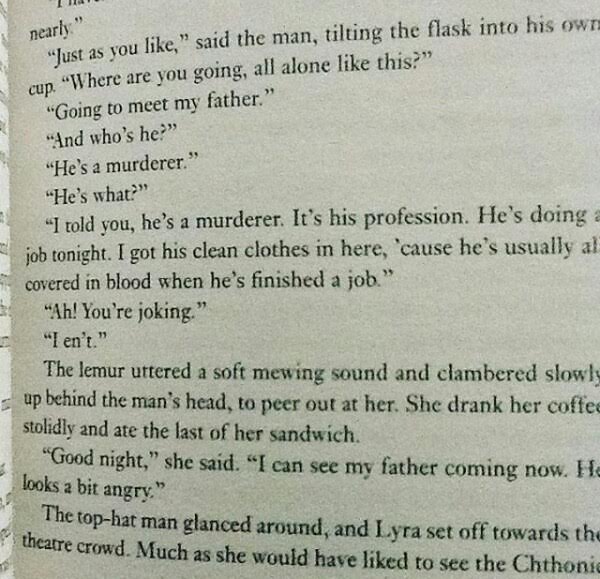 ………………………………………………………………..
Philip Pullman is a good writer, but he isn't as great as J. K. Rowling or C. S . Lewis are because his descriptive passages and his dialogue are never as good as they are with those two writers. He writes really well and he creates worlds and writes characters superbly, but sometimes he lost focus and the action he did not write well at all. The action was boring to me and overwhelming except of course the bear fight which was gross, yet very exhilarating. But some of his imagery is really memorable and the book is very imaginative which is why it ultimately succeeds as such a strong fantasy work and I have a hunch that the sequels are going to be even better.
Northern Lights is sometimes problematically paced and the action is overwhelming, but the imagery is memorable, the setting and world building are amazing, the story is rich and very original, the characters are very well developed and the book is enchanting and fascinating leading to a terrific first entry in His Dark Materials trilogy.
My Rating – 4.3