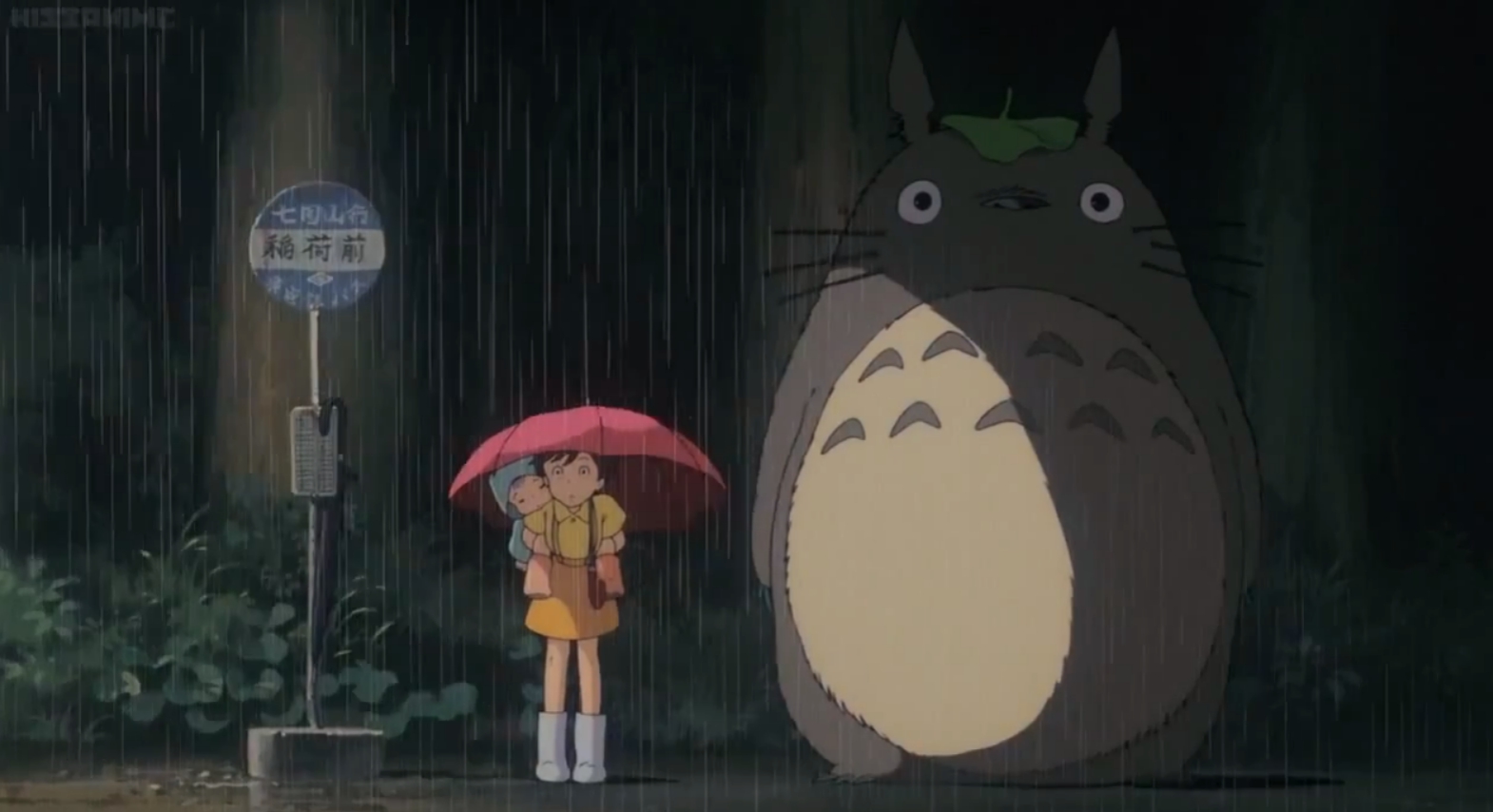 ………………………………………………….
My Neighbor Totoro Movie Review
My Neighbor Totoro is a 1988 family fantasy anime film directed by Hayao Miyazaki. It is one of Studio Ghibli's loveliest offerings.
………………………………………………….
"Well, I'm not sure,
but I could've sworn that I saw
both of the girls up in the treetop, laughing"
………………………………………………….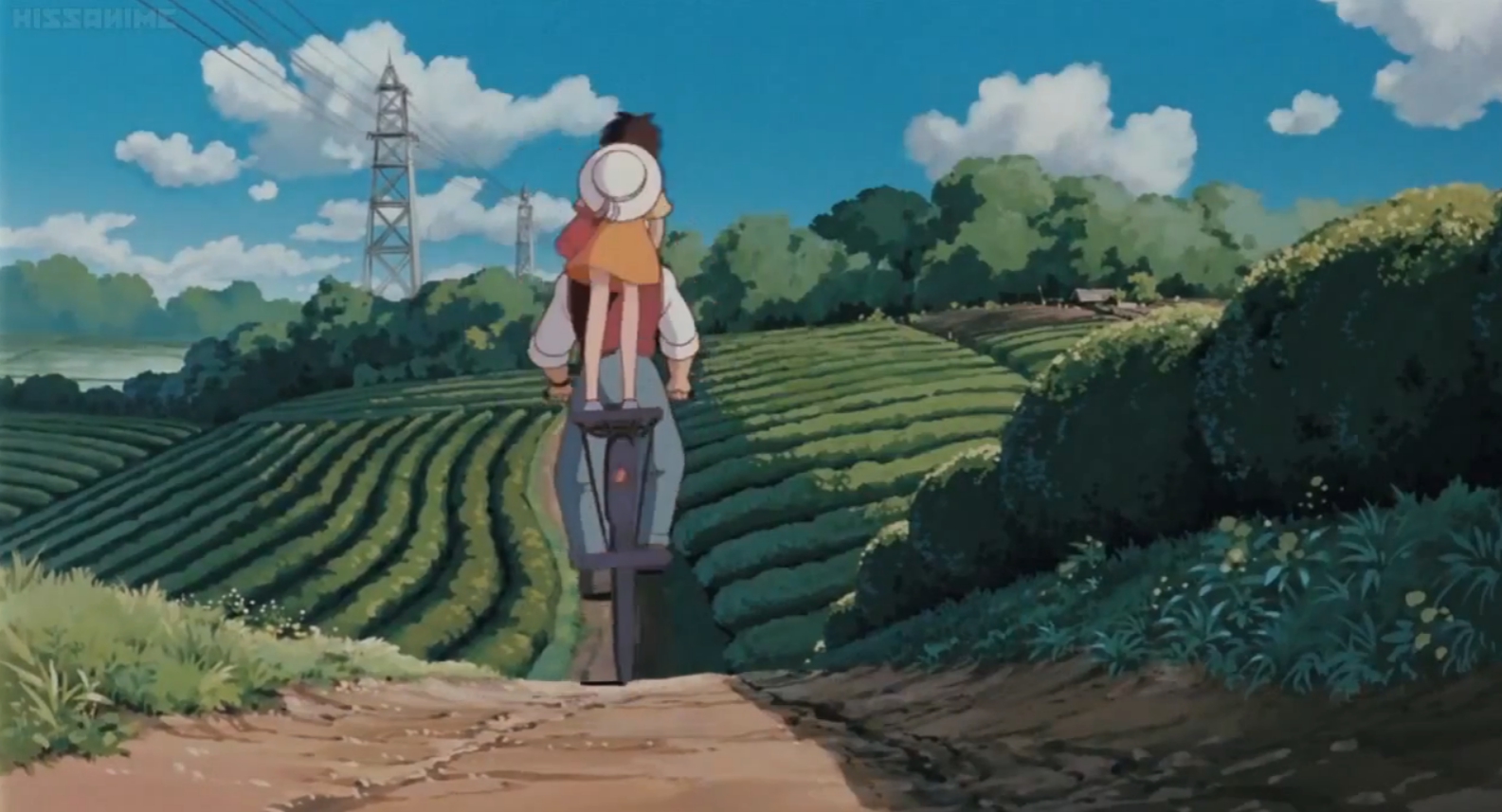 ………………………………………………….
This has to be Ghibli's most childlike film and that is okay as it is wonderful and so pleasing and gentle that you gotta love it no matter the age. So basically we follow two sisters as they explore the country and the forest while interacting with friendly wood spirits. Yes, this film apparently doesn't have a clear storyline, but I have to say that I liked it all the more for it.
In real life, rare are sudden conflicts and there are no villains so this film ended up being rather realistic and an original take on an animated film as I cannot think of any other animated flick that did this. It is a wonderful slice of life story for children and their parents and I myself sympathized with the characters and I loved the country setting. Despite not having a clear plot and goal, the film still explores some themes and the most emphasized are those of sibling love, benefits of living in the country and of course the film is as ecological as you'd come to expect from the director. It reminded me pleasantly of my childhood and seeing the two sisters explore the house and the forest is exactly what I did as a kid so it was relatable to me.
………………………………………………….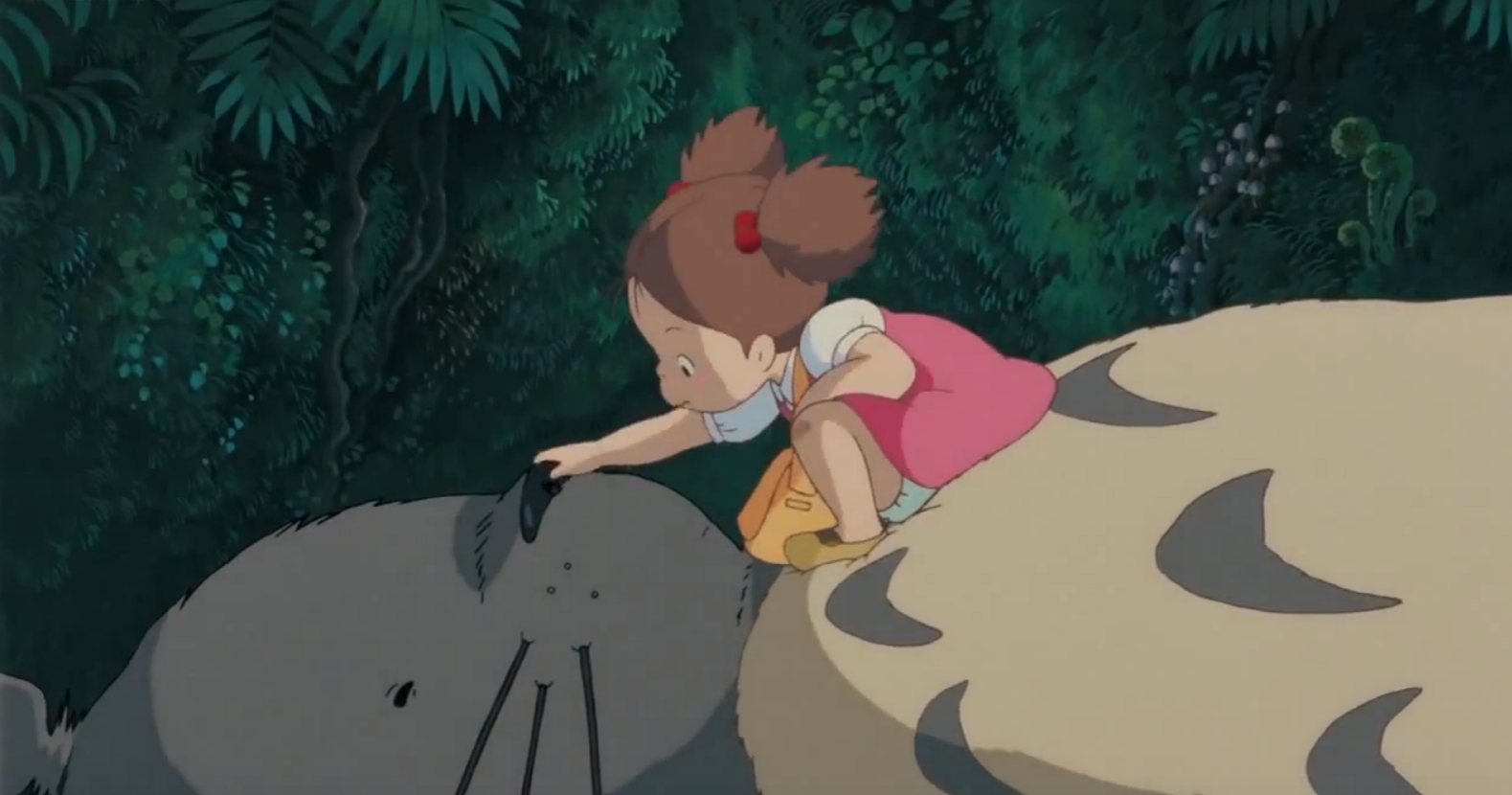 ………………………………………………….
Let's talk about the characters. Satsuki and Mei are such wonderful child characters whom I really liked. As with 'Grave of the Fireflies', the film showcases realistically and nostalgically the powers of childhood and how children really interact. Everything is a wonder to them, their thirst for exploration is never-ending and they even portrayed realistically how boys and girls do not get along at an early age and how boys are much more shy. Very well done.
Satsuki having  to care for Mei also reminded me of the aforementioned film and it again shows us how responsible the role of an older child really is. Mei is cute and sometimes funny, but also at times annoying. A very grounded in reality four-year-old. I loved Kanta and his shy interactions with Satsuki were very amusing and of course the grandmother is lovable.
………………………………………………….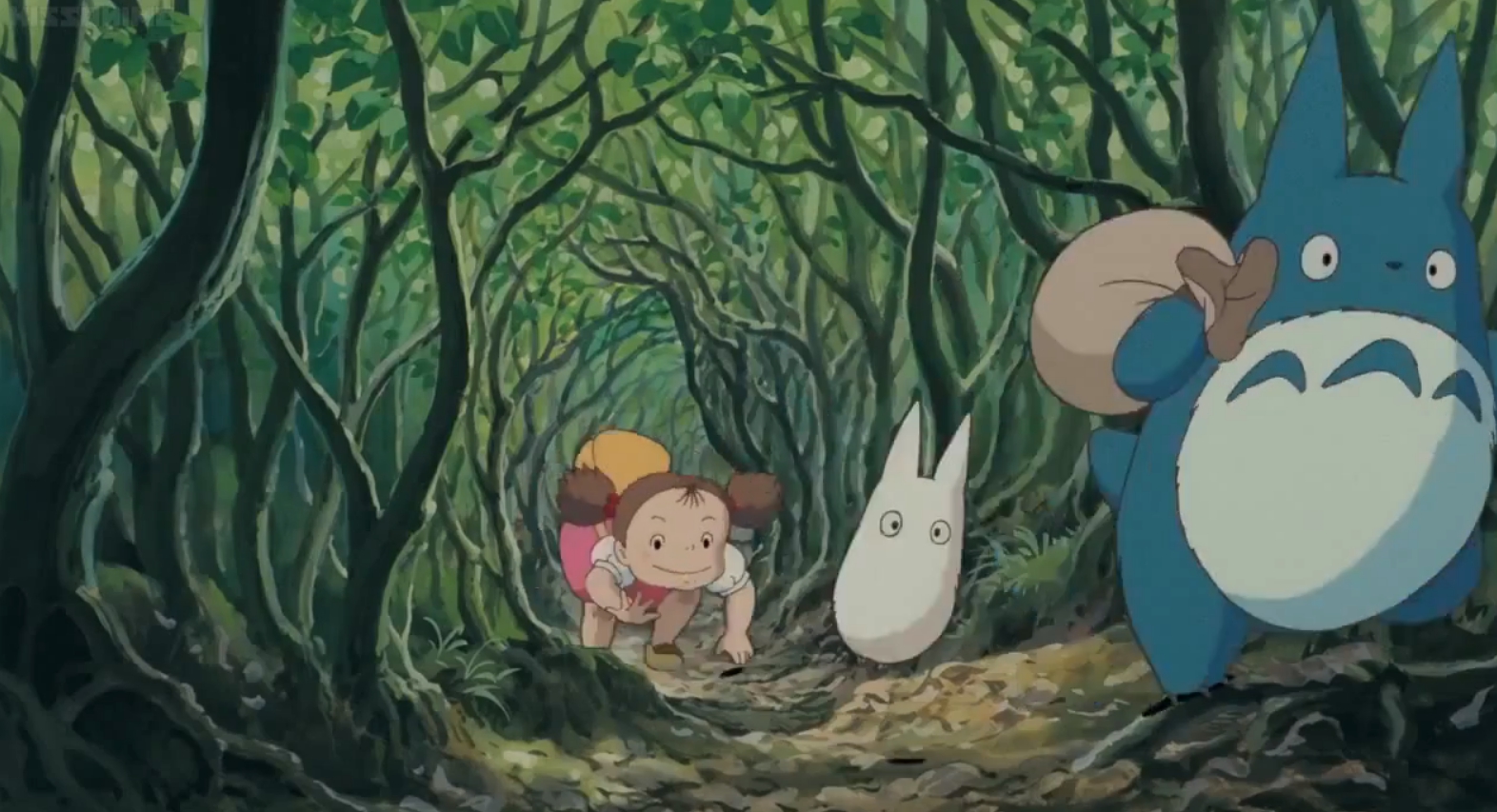 ………………………………………………….
My Neighbor Totoro is a family slice of life film but it is also very much a fantasy flick. Its creatures are so original in design and authentic that they deservedly stood the test of time and are iconic to this day. The dustbunnies are very interesting and the Catbus is such a fantastic creation that is zany in the best way possible. It obviously influenced J. K. Rowling for her Knight Bus. And of course Totoro is such a lovable creature and the mix of cute and large is memorable and he is cute while also being very funny at times.
Hayao Miyazaki directed this film really well and you cannot deny his strong sense of space and time as both the setting and the fifties are very well portrayed here. I just loved everything about this country. The house is quite memorable and of course the forest is beautiful to behold. I loved how we got to see the country jobs and the various amounts of vegetables and fruit shown here can definitely make you hungry.
………………………………………………….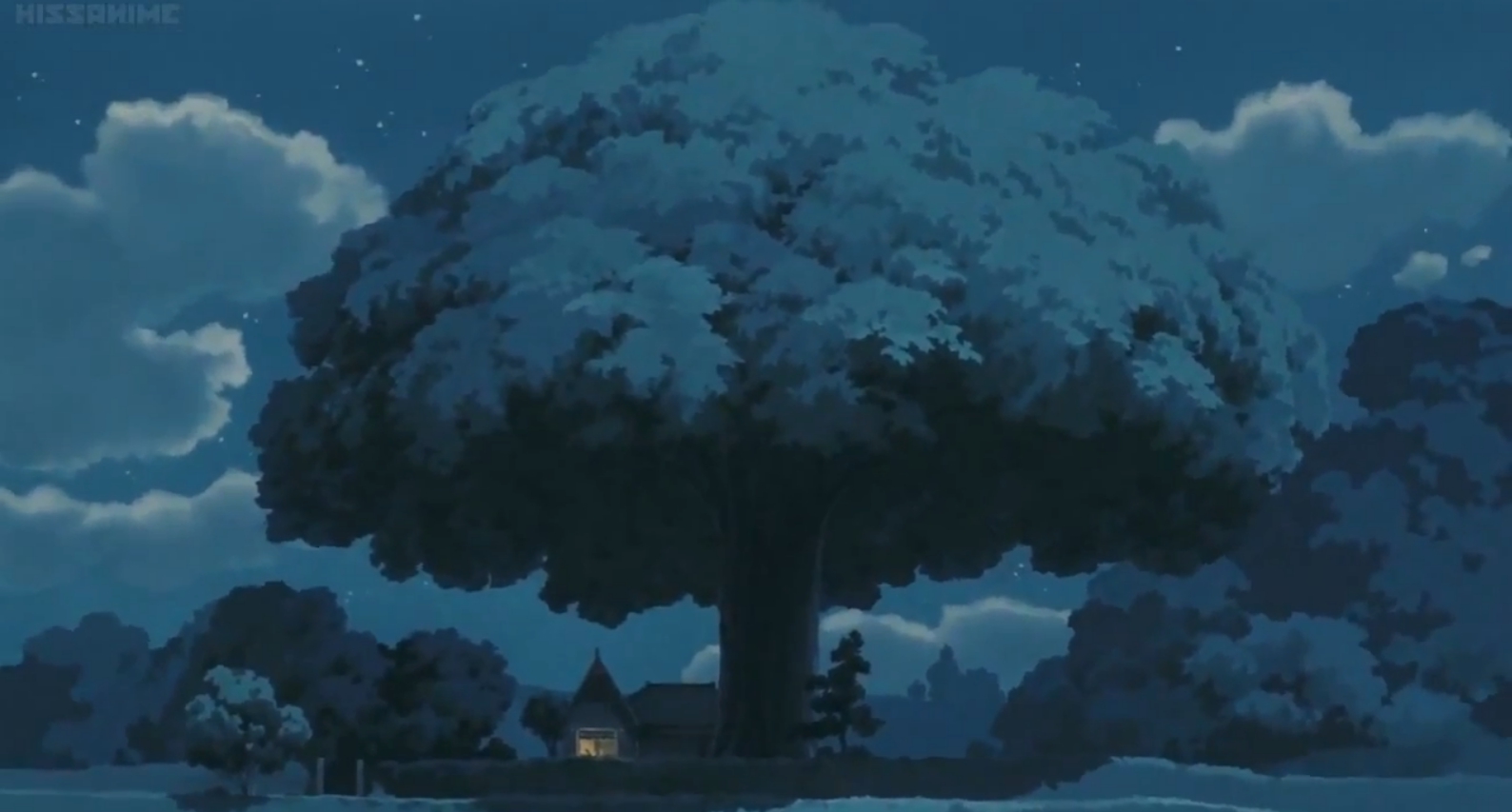 ………………………………………………….
Yes, the animation is simply gorgeous as is expected from this magnificent studio. The character design of the humans is very good, but it is the creature design that really makes an impact as it is simple, yet unforgettable. The film is beautiful to look at and again highly advanced for its time as both the water and the light are so realistically portrayed.
As for some of the flaws, sometimes the kids yelled a bit too much for sure and the film can definitely be too simplistic and childish to some. I don't see how a lot of people can like it. I myself did, but it isn't for everyone. And even though I really liked the inclusion of their mother's illness and the third act was more emotional and dark while still ending on a very positive note, I still wished that it was a bit darker and more emotional. I loved the film's ending for sure, but maybe a more ambiguous ending would have been better.
And I loved the properties of the creatures such as the Catbus flying and Totoro making a tree grow to full size in a matter of minutes, but I still would have liked a bit more explanations and more concise rules for the powers as an adult. Again, that is where being a kid really matters as it leads to a better viewing experience of the film.
………………………………………………….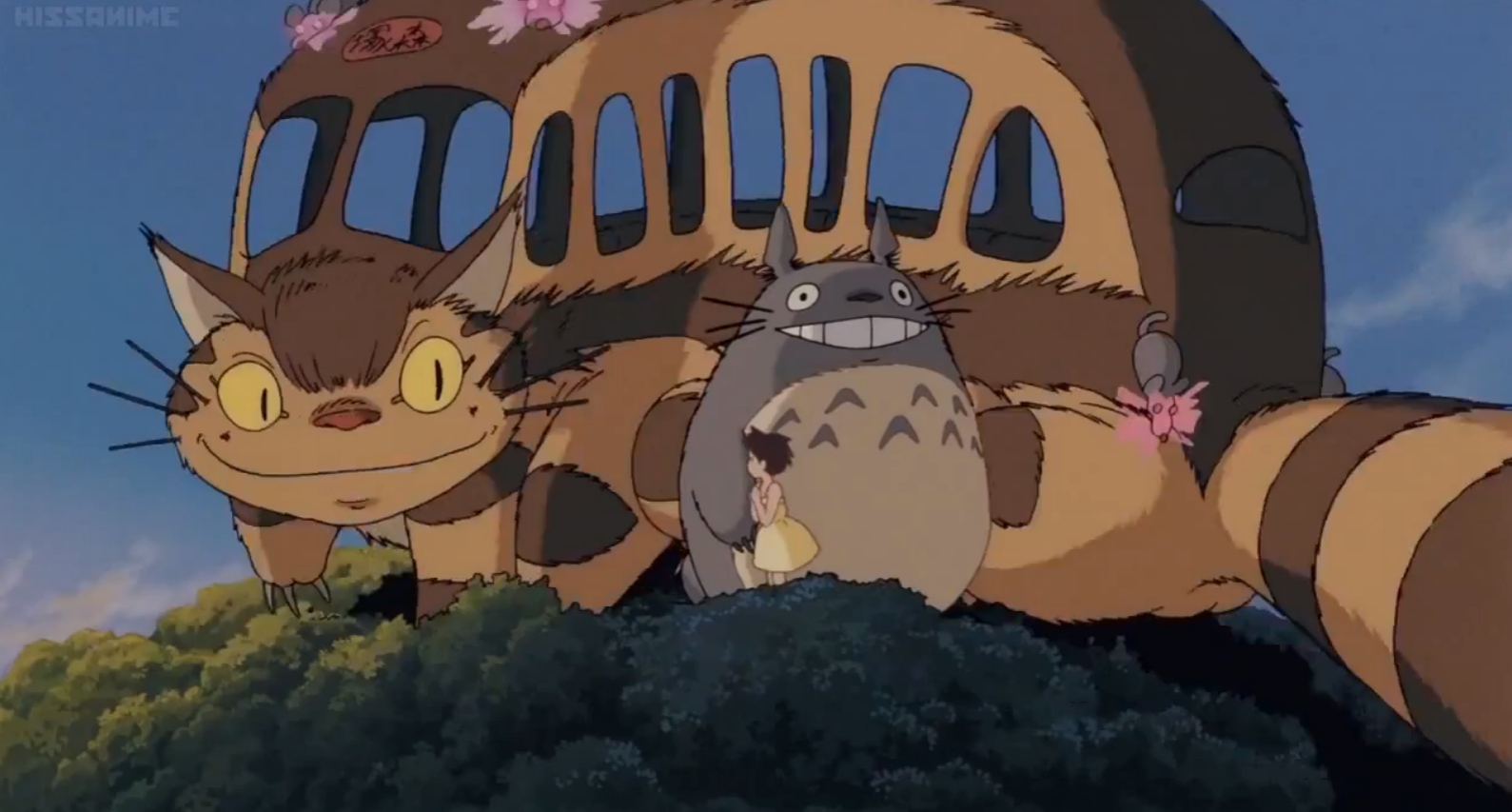 ………………………………………………….
My Neighbor Totoro is very well paced and although it may be too slow for some, I actually loved its languid pace and that meant that you can enjoy the power of the animation much more. The level of detail in this movie is truly staggering. The dialogue is also solid and some lines are quite memorable. And I have to mention its score as it is beautiful per usual but this time containing a song and its theme song is so endearing catchy and ultimately fantastic. The film has a big heart and very much a timeless appeal to it. It is one of the most wonderfully childlike films that I have ever seen and certainly one of Ghibli's best works.
My Neighbor Totoro is a gentle, leisurely, simple slice of life film that offers you a heartwarming look into the eyes of a child without ever succumbing to clichéd conflicts and villains and thus it led to an original, more realistic take on an animated film. The characters are lovable, the creatures even more so and the animation is as brilliant as you would come to expect from the studio with a painstaking level of detail. It is a beautiful movie that is timeless in quality and it's one of Studio Ghibli's best.
My Rating – 4.5
………………………………………………….