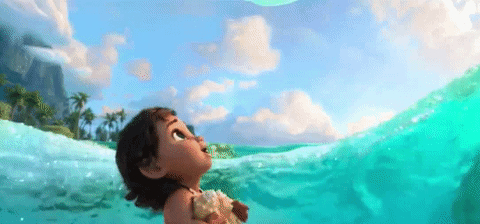 ……………………………………………………..
Moana Movie Review
Moana is a 2016 animated musical fantasy adventure film that is the 56th Disney animated feature. It is such a wonderful, old-fashioned Disney film which I liked a lot.
……………………………………………………..
"If you wear a dress and have an animal sidekick, you're a princess"
……………………………………………………..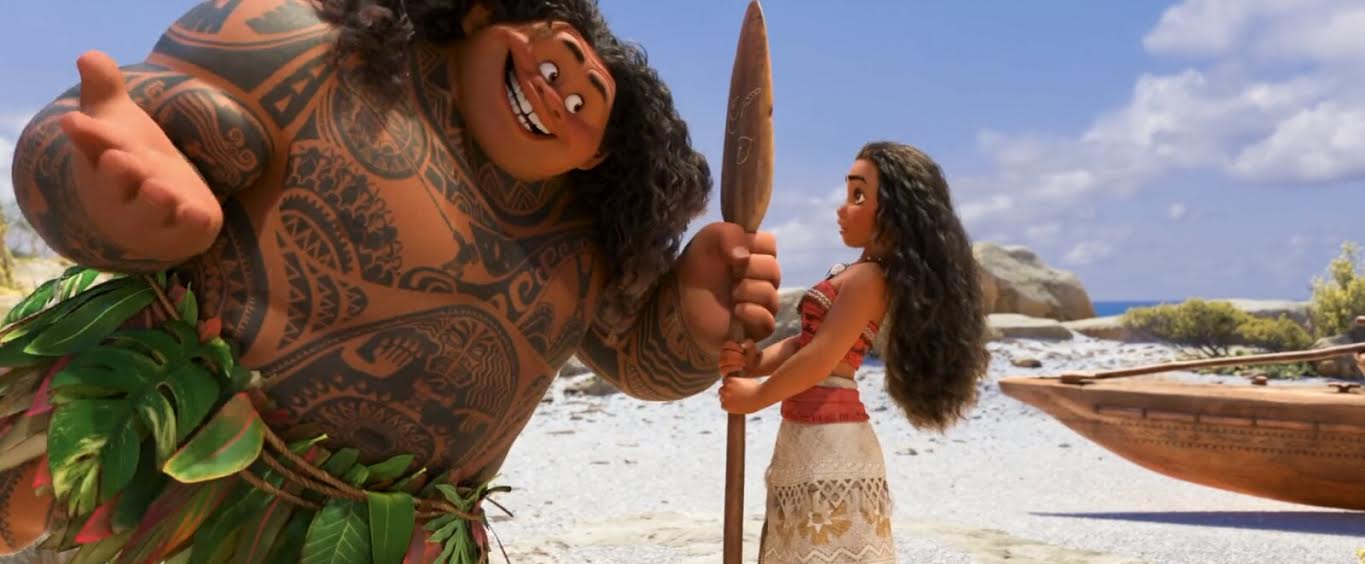 ……………………………………………………..
I found the plot to be very good, if some plot points felt obvious. To me, the film succeeds the most as an adventure owing to its pure, unabashed sense of fun and discovery. I loved that about it as nowadays we rarely see these kinds of films and here we've got a grand sea adventure for the ages.
Of course the Polynesian setting is beautiful and highly authentic and intriguing. I loved that we got to meet this culture and their traditions, it definitely felt original and refreshing in that aspect. Another strong thing about it is its lack of villains. Moana has no villains whatsoever in it and that was great and realistic. The villain is the nature and its forces which was great to witness and so refreshing. I loved that the film focused more on the relationship between its two characters than on action. But the action is great too and actually the entire last battle and especially the final appearance of the goddess was just beautiful to behold and it was the best and most epic scene in the entire film.
Let's talk about the characters. Moana is pretty good as the newest Disney princess. Yes, sometimes she felt too arrogant and annoying to me in a typical feminist fashion. But she was mostly likable and I liked that the movie was about her for the most part and her journey is so well established and her ups and downs are dramatic and emotional.
……………………………………………………..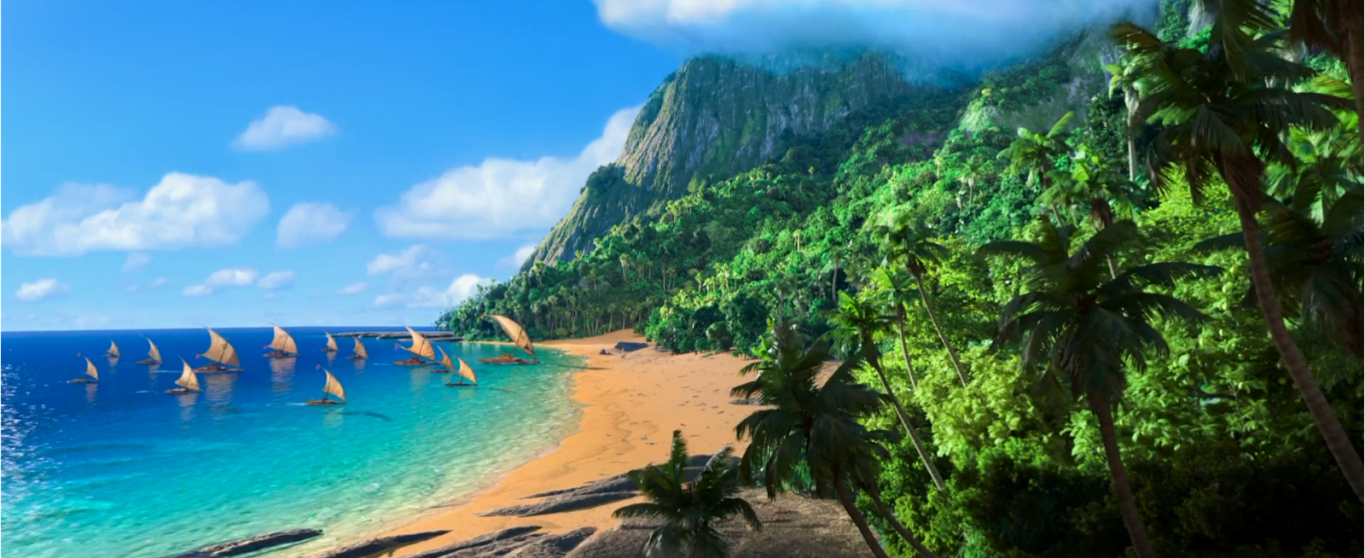 ……………………………………………………..
As for Maui, I don't know about this one. Mainly because I dislike Dwayne Johnson and his voice so much, I did not care about this character much. Auli'i Cravalho did a much better and more natural job in her voice performance. But even though the two are great together and their tumultuous friendship feels like one of those classic Disney friendships from yesteryear, I still did not like him individually. He had some great moments, but was overall too unwilling to help her at first, too selfish and his humor felt forced to me. Really not a fan.
I liked the fact that the movie chose to focus mostly on these two as that led to a better developed relationship between these two, but it still has a couple of memorable supporting characters in it. To me Moana's parents and especially her father was a walking cliché, but the grandmother was such a kind and wonderful person and their relationship was so sweet. Her death scene was really impactful and tragic. Tamatoa as this gold-obsessed coconut crab was the closest that this movie came to having a villain and I really liked him. He was a memorable and sometimes even funny character and he served his purpose and made an impact for a short screen time he received. I would have really liked for them to have focused on Pua instead of Heihei and that was unfortunate as Pua is such an adorable, lovable pig whom I liked a lot. But Heihei is also pretty good as this incredibly stupid rooster and some of his gags were quite funny. He truly is the dumbest Disney characters of all time.
……………………………………………………..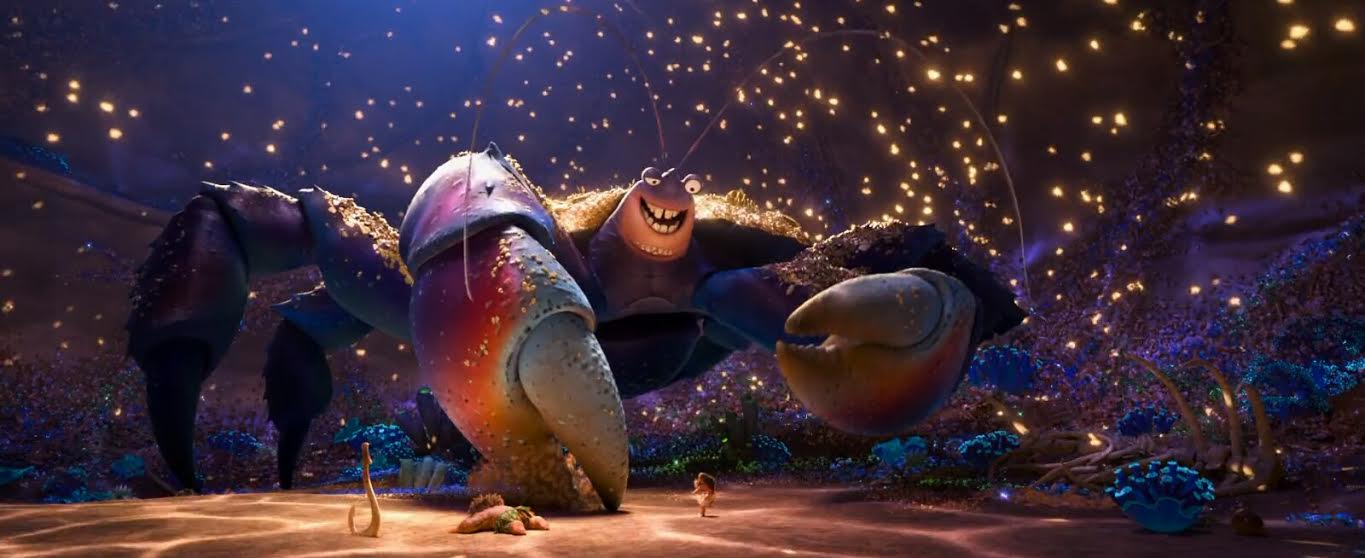 ……………………………………………………..
Moana is a musical and to me it succeeds as such much more so than 'Frozen' did because it has more than one really good song. The overall score was really good too. Tulou Tagaloa is a short, if good opening for the movie, but I loved its Polynesian sound and language. That is the major strength of this movie – finally we see a Disney movie that utilizes the culture it depicts in its soundtrack!
An Innocent Warrior is another strong Polynesian number, it has beautiful vocals and is really moving. But I disliked Where You Are quite a bit as it is so bland, so forgettable and it is probably the weakest song in the entire movie. I also disliked You're Welcome which featured too much rap and Dwayne Johnson singing is not my cup of tea. That sequence is comedic and it explains his character well, but the tune as a whole was annoying.
……………………………………………………..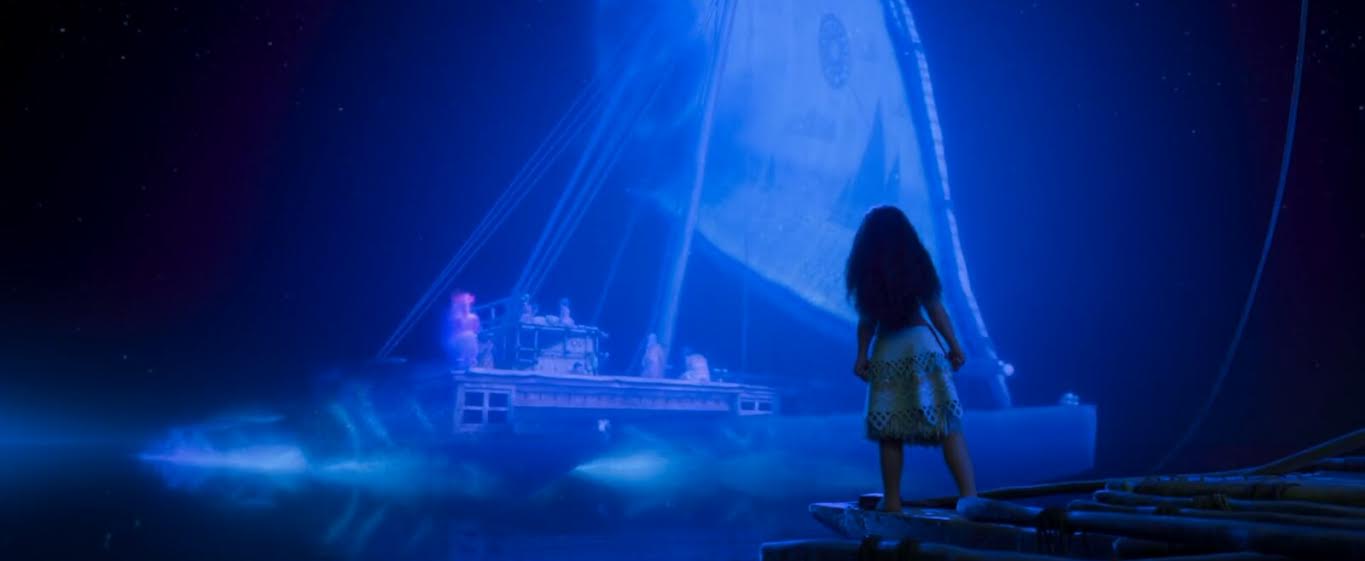 ……………………………………………………..
Shiny is a much better rap song. I still dislike that that genre was featured here as it does not fit, but I found the song's chorus to be very catchy and memorable. But I have to say that I strongly disliked how this song started, but more on that later. I Am Moana (Song of the Ancestors) was to me such a powerful number and not that much in the tune itself, but in terms of storytelling and characterization, it probably succeeds the most out of any song here as it perfectly helps us prepare for the storm and is so emotional and with beautiful vocals.
Logo Te Pate is also such a catchy, fun number that I liked a lot. But the highlights are naturally How Far I'll Go which was Oscar-nominated and We Know the Way. How Far I'll Go is such a classic Disney song in its style and it perfectly helps develop the character of Moana while also having a great scene to accompany it with good imagery and such good lyrics. But it is so immensely catchy too.
……………………………………………………..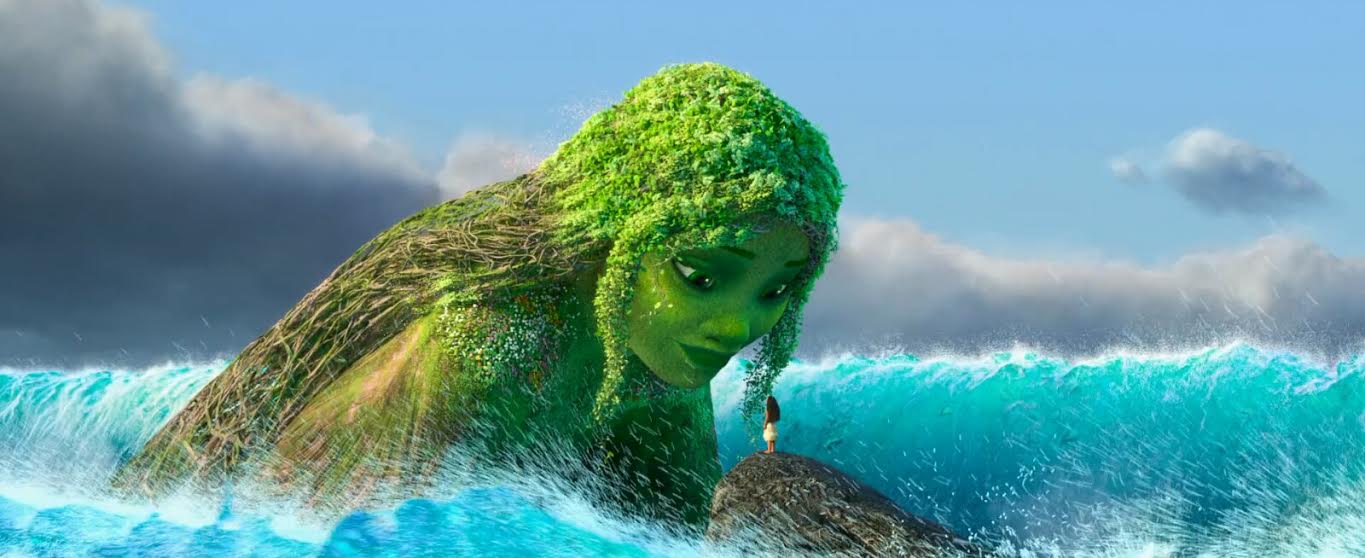 ……………………………………………………..
But to me We Know the Way is easily the highlight. I love this song so much! With superb lyrics and a great usage of Tokelauan language, it features such a great scene as a whole and I just loved that backstory in this movie. But it is such a catchy tune, so catchy and so fun that I actually have listened to it at least fifty times so far. It is a new Disney classic song in my opinion.
So naturally I love these songs so much and I think the soundtrack is mostly superb and stupendous, but I really disliked the musical direction in this film. For example, We Know the Way just sort of started and those transitions were not the most polished. But as I said above, Shiny starts in such an unappealing way with the character basically saying that he is going to sing. I disliked this meta approach to the songs so much as it basically adds another strong reason for musical haters to hate the genre. I would have liked a more respectful approach.
……………………………………………………..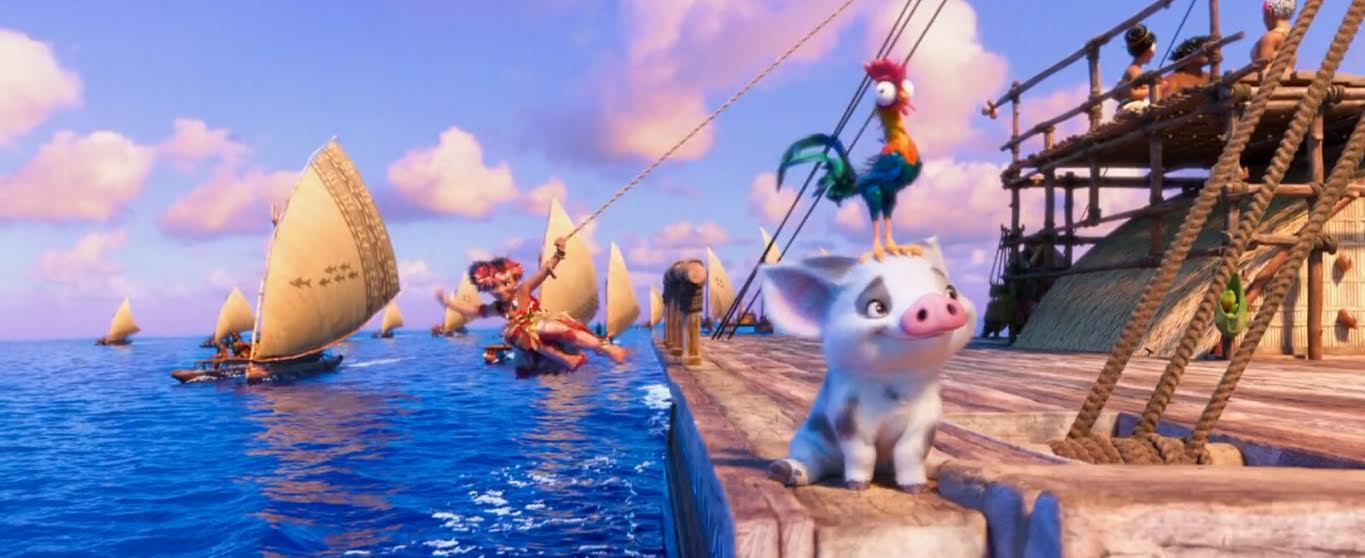 ……………………………………………………..
I liked the humor in Moana quite a bit, but I liked that it was mostly dramatic and that it focused on adventure and drama the most. It is a high-spirited adventure, but it succeeds in emotion as well because a couple of scenes are just so powerful, either poignant or uplifting. And some scenes, such as the last couple of them, are grand and majestic in both scope and emotion. The film is definitely ambitious in some areas.
The animation is gorgeous to behold. I loved its use of hand-drawn animation, but this is the first computer animated film from Ron Clements and John Musker and the results are more than stellar. The character designs are pretty good, but the highlights are some of the highly memorable imagery and the ocean. The water is so well animated and a character in its own right.
……………………………………………………..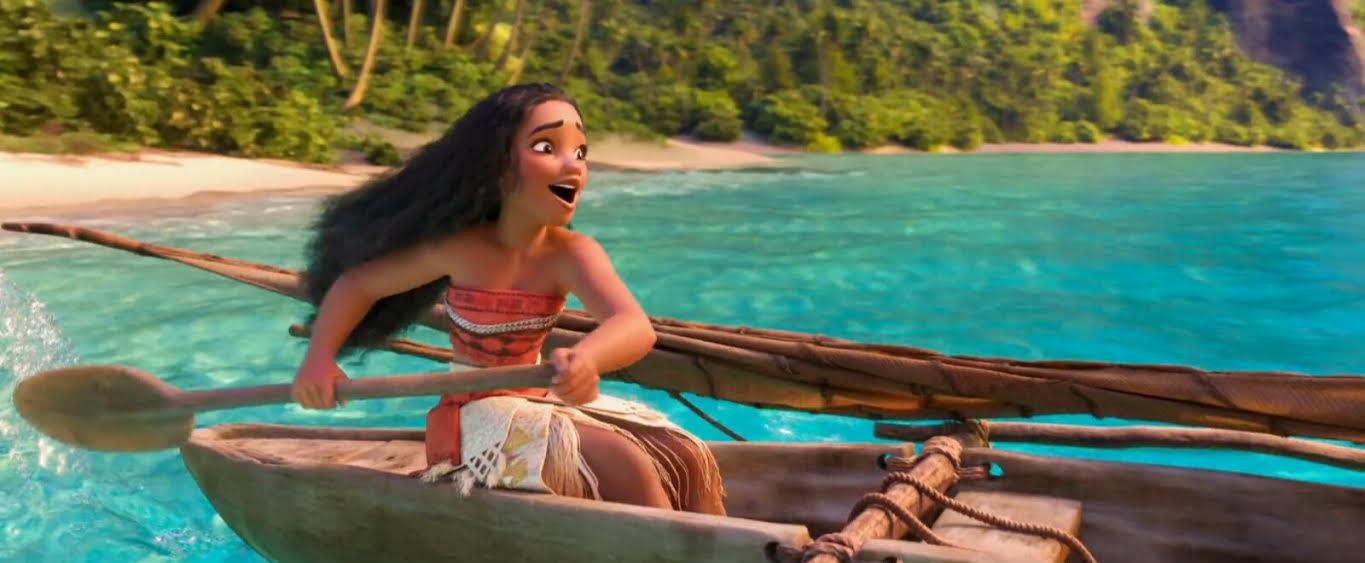 ……………………………………………………..
The film is well edited and well directed, I found the tone to be well handled and diverse and the film is emotionally engaging, but the dialogue needed to be much more sophisticated to sell those abundant conversations and emotional scenes better. And because the film was too simplistic and definitely unoriginal in its storytelling, it never achieved the status of those Renaissance flicks from the nineties, but it came actually pretty close at times which I did not expect. And I loved that it was a return to classical Disney musicals and that is the major reason why I liked it more than 'Zootopia' from the same year. it has its problems, but it is so wonderful and adventurous that it mostly succeeds.
Moana has its problems such as some typical plot points, a lack of stronger dialogue and I really dislike Maui and the film's annoying meta approach at times, but the film succeeds as a high-spirited, grand adventure and it is a return to those classic musical adventure films from Disney which is why I loved it so much. The characters are mostly good, the film is very emotional at times, its lack of villains is admirable, some scenes are just beautiful and majestic to behold and the film's Polynesian setting is so well utilized and intriguing. But the soundtrack is just fantastic with so many great, catchy or emotional numbers with the highlights being How Far I'll Go and especially We Know the Way which are definitely future Disney classics.
My Rating – 4
……………………………………………………..