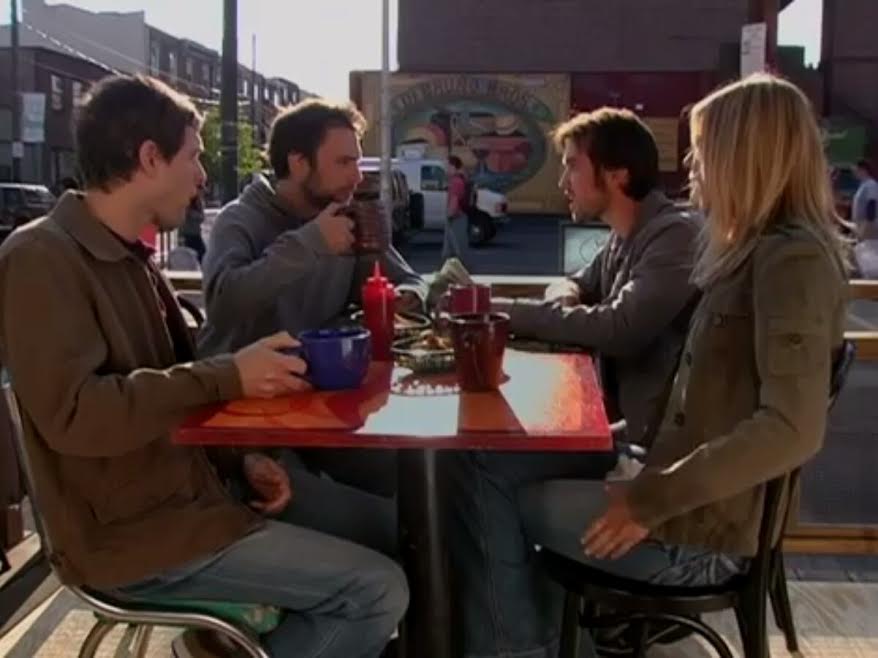 ………………………………………………………………………..
It's Always Sunny in Philadelphia Season 1
The first season of It's Always Sunny in Philadelphia is one of the weakest, but it still has its great episodes.
 ………………………………………………………………………..
"I have a little bit of a problem with old people…
I find them kinda creepy…and scary. And gross, kinda gross.
It's their hands really, you can see right through 'em and all their inside business"
 ………………………………………………………………………..
 ………………………………………………………………………..
I loved The Gang Gets Racist. It is one of the two truly great episodes of the season. Everything in it was great from its jokes about racism which were absolutely hilarious to Dennis and Charlie who are the two highlights here. It is interesting that Charlie's obsession with Waitress begins in the very first episode and those scenes were great, but Dennis's narcissism also produced some humorous results.
Charlie Wants an Abortion is one of the weakest episodes of the season. It is solid and it deals with an interesting subject matter (abortion), but neither of the two subplots never hit any higher notes in my opinion as both Charlie's pursuit of Waitress and Dennis and Mac's pursuit of hot chicks got many better developed parts than the ones we got here.
Underage Drinking: A National Concern for the first time introduces us to the history of the entire team and how unpopular all of them were except Dennis. I loved how Dennis and Dee got screwed up here in a hilarious fashion, but the ending with Charlie was surprisingly sweet and memorable with a great use of one of my favorite songs.
 ………………………………………………………………………..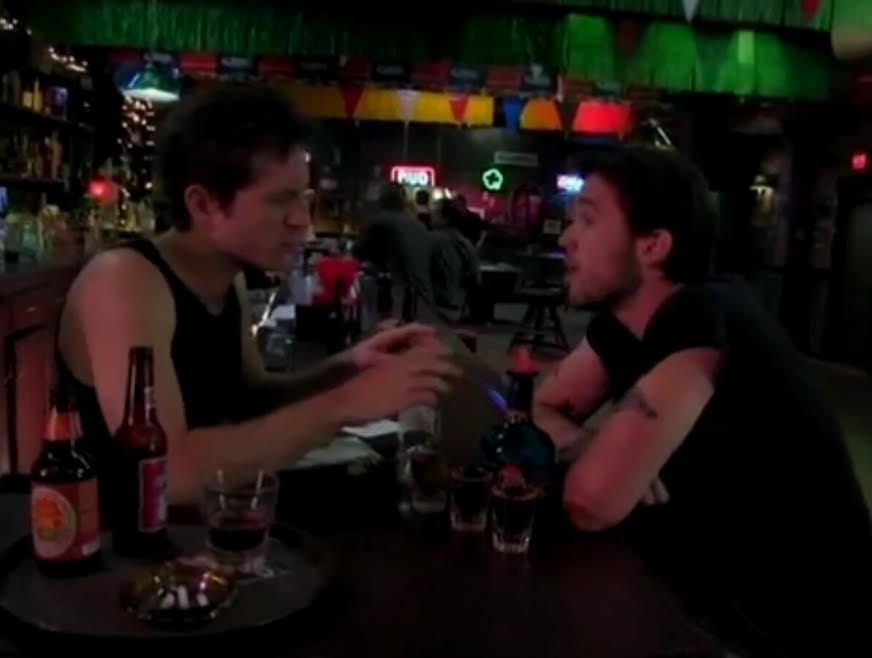 ………………………………………………………………………..
Charlie Has Cancer features another plot in which Charlie goes after the Waitress and even though that scenario got used too many times during this season, this was still a really good episode with a terrific use of all the characters.
Gun Fever isn't the greatest episode. I loved its many twists and turns and Dee's boyfriend is certainly memorable. I also liked the gun fever aspect of it, so amusing. But I found the overall episode to not be as funny as it could have been and the conclusion could have been better.
The Gang Finds a Dead Guy is easily one of the best that this season has to offer. I just loved this episode as it is the most hilarious of the season and certainly the richest in terms of the subplots. Dennis and Mac's rivalry was great and it was funny watching Dennis's scary and over-the-top womanizing tactics, but Dee and Charlie got the more interesting subplot as watching her disgust over old people was just so funny to me and of course the entire Nazi grandfather part was unexpected and genius. And I loved how the episode concluded both subplots really well.
 ………………………………………………………………………..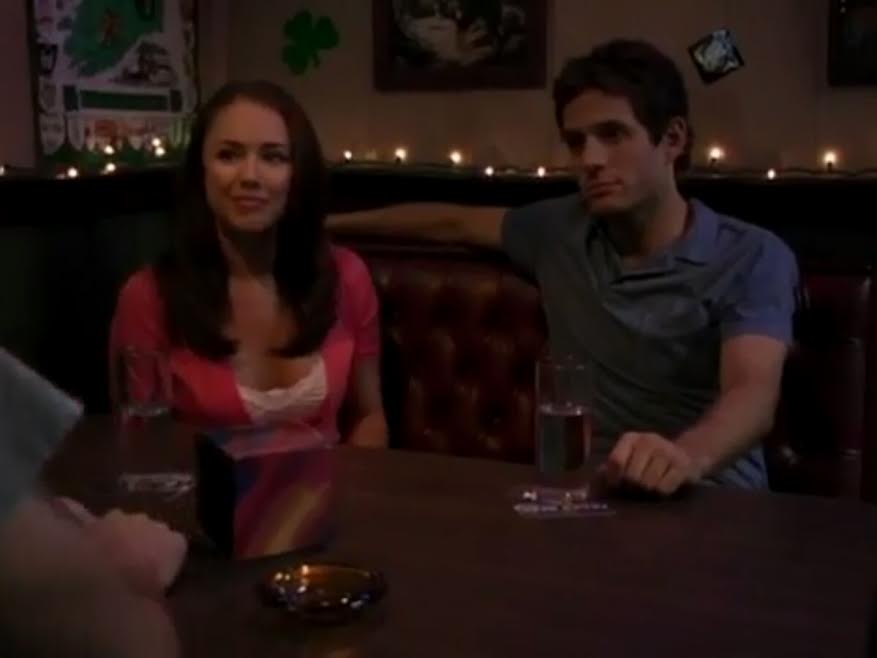 ………………………………………………………………………..
Charlie Got Molested is again rich in plot. I found all three storylines really well incorporated into the whole and Mac's part, even though somewhat tangential, still was the funniest and the craziest one. But the episode was a bit too creepy with those pedophilia jokes in my opinion. Most of it was very funny, but some of it was too much.
Overall, this was an interesting first season for one of my favorite comedy shows. I loved some of its episodes and all of the crew got their moments to shine and we learn who they all are really quickly owing to excellent writing and directing, but to me this season is very problematic because it has just seven episodes, not all are as great (though none is bad) and Dee was too good here which they changed later on plus there is no Frank Reynolds/Danny deVito here which was unfortunate. But he will appear in the second season and in this one all of the foursome was great with the highlights being Charlie Day and Kaitlin Olson.
 ………………………………………………………………………..
Worst Episodes: Charlie Wants an Abortion and Gun Fever.
Best Episodes: The Gang Gets Racist and The Gang Finds a Dead Guy.
 ………………………………………………………………………..