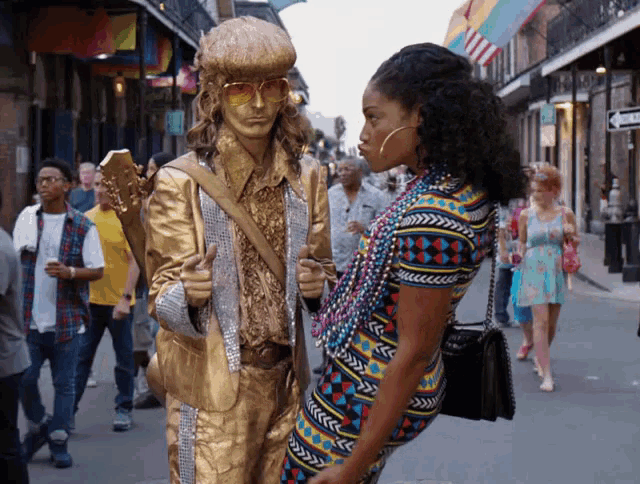 …………………………………………………
Girls Trip Movie Review
Girls Trip is a 2017 comedy film starring Regina Hall, Queen Latifah, Tiffany Haddish and Jada Pinkett Smith. It is a solid film, but not as great as everybody says it is.
………………………………………………….
"That's some white boy shit right there"
………………………………………………….

………………………………………………….
The major problem with this film is the plot. I like my comedies to either have no plot at all or to have a meaningful, good plot and this one has such an archaic, cliched storyline with Regina Hall's character where she stays married to a cheater just because they are a famous couple and eventually backs away from it. A very cliched story that ties all of the movie together but is so dull that it hurt it tremendously.
Girls Trip is funny, quite funny at times. I liked the movie the most when the girls were just having fun and being crazy. Those were the best parts and I wish the whole film was like that. They did not need all of that relationship drama in there. And this crew of women is so strong and they are such wonderful friends mostly because of the cast which has an infectious dynamic between each other and great charisma and likability factor.
Let's talk about all of the four girls. There are some fine supporting players in here such as Kate Walsh who is funny, but this is mostly about just these four women which is great. I had not recognized Jada Pinkett Smith as Lisa is not like her usual sexy character, but still she remains an annoying actress, at least to me. And she is the most boring part of this whole film.
………………………………………………….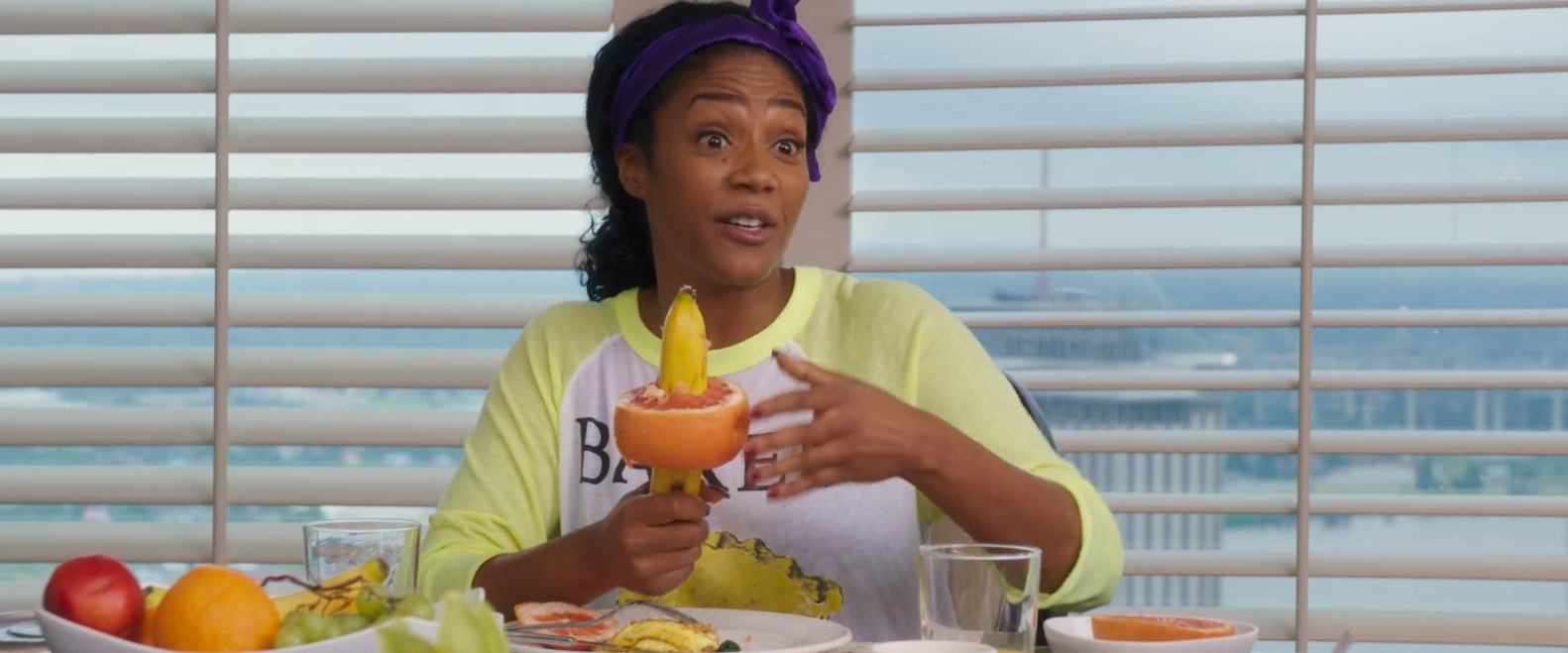 ………………………………………………….
Queen Latifah is excellent in the role as Sasha is quite likable and I loved her relationship with Regina Hall's Ryan. As I said above, I really did not care for Ryan's story whatsoever. But I could not deny that she gave a terrific, very strong performance in a not so great role.
I do agree with most critics and fans that Tiffany Haddish did absolutely steal the show here. She truly is a breakout star of 2017 as the actress who was basically unknown before but is now suddenly in the comedy spotlight. Dina is a typically over-the-top and sexually charged comic relief, but she is so great that she elevated the material. And her many funny lines were the highlights in terms of the humor here.
Girls Trip is a movie that is two hours a long and I just had a big problem with that. Comedies aren't supposed to be longer than an hour and a half and this one is certainly overlong and the entire third act was just so sappy and unfortunately very archaic, it felt too much like a 2000s romantic comedy and it was overly triumphant. It should have ended before and much stronger.
………………………………………………….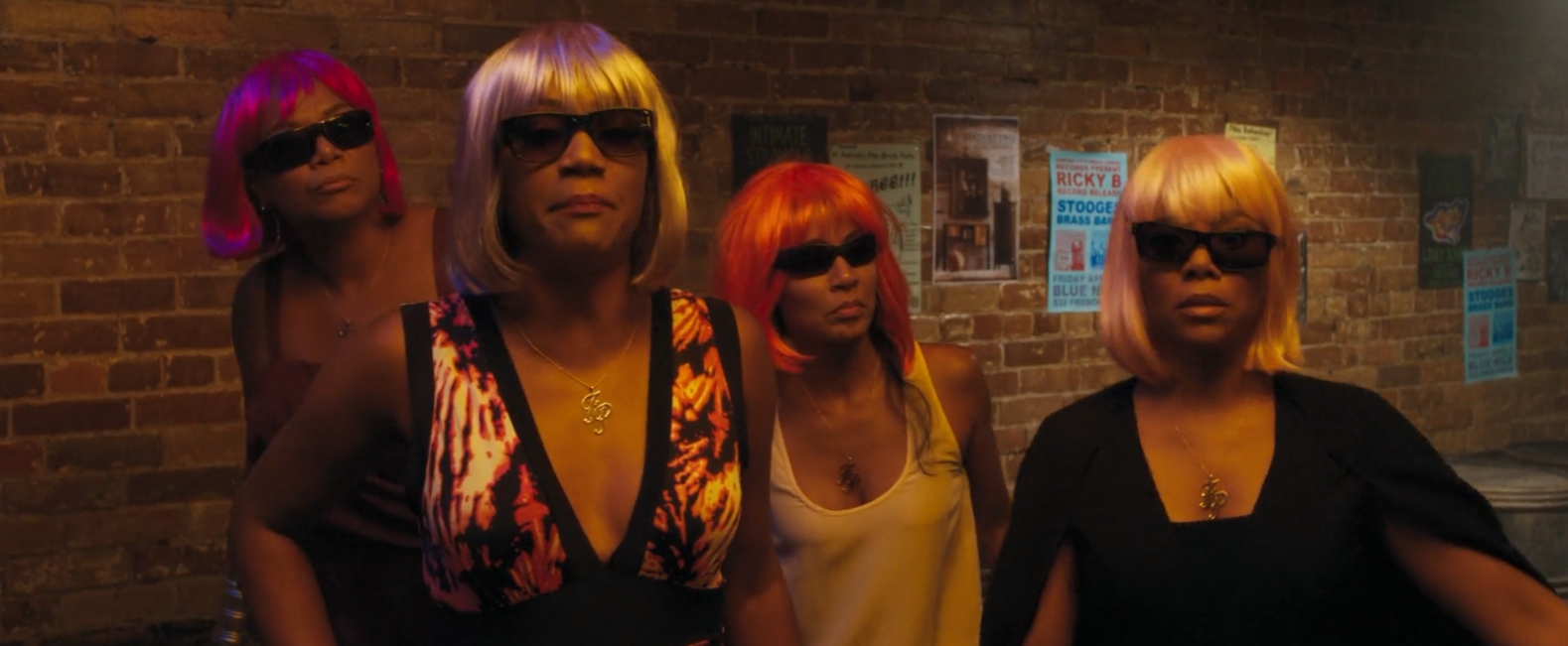 ………………………………………………….
Another problem here is that the humor is not as great as I thought it would be. Its R-rated style sometimes felt unnecessary as those scenes with the most profanity were usually too forced in their execution (the pee scene is absolutely ridiculous). But the grapefruit scene is pretty funny and some facial expressions and lines of dialogue definitely were excellent, mostly coming from Haddish's character. But still this isn't all that better than 'Rough Night' which remains a very underrated comedy flick which I honestly may even prefer over this one.
Girls Trip can be really funny, I loved the dynamic between its talented cast and Tiffany Haddish definitely is the highlight here in a true breakout role for her. Whenever the film relied on the girls' friendship and their various shenanigans, it was very good. However, it also included that very unfortunate celebrity cheating storyline and no matter how strong Regina Hall's performance is, she just couldn't save this story from being so dated and cliched. And the third act is just too sappy. All in all, it is a solid flick, but not all that better than very underrated 'Rough Night'.
My Rating – 3.5