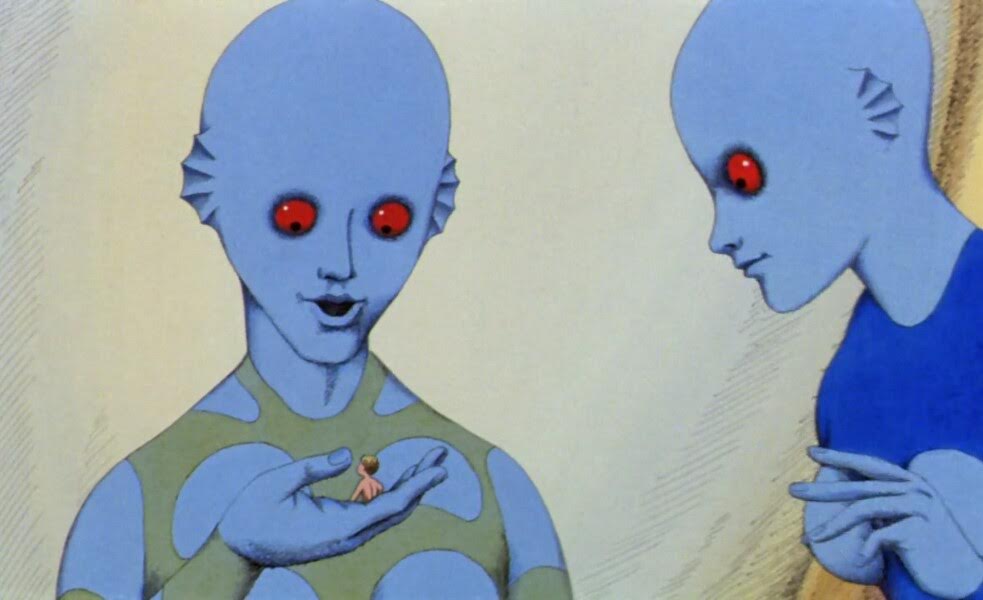 ……………………………………..
Fantastic Planet Movie Review
Fantastic Planet is a 1973 French animated science fiction film directed by René Laloux. It is the best animated sci-fi film ever made.
……………………………………..
"What a shame we can't play with her anymore"
……………………………………..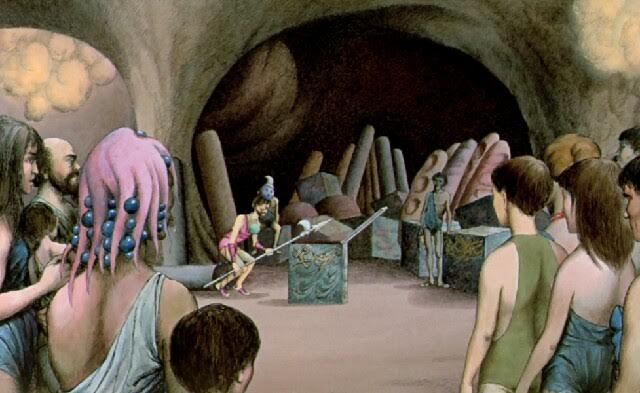 ……………………………………..
The story is fascinating and incredibly original. Blue giant humanoid Draags rule the planet Ygam and they use human Oms as pets until they eventually rebel. Needless to say, the film deals with a lot of interesting themes such as the relationship between different species, ignorance, racism and yes, even genocide.
It isn't only sophisticated in script, but also very engaging and simply riveting to watch. It is one of the most purely imaginative and fantastical sci-fi films that I have ever seen. The level of detail exhibited here is just meticulous. The world building is extraordinary and I in the end felt that I have just set foot on this planet myself. That is how inviting this movie is.
That vastness and variety of space is beautifully conveyed through the use of absolutely fabulous hand-drawn animation with such a wonderful comic-stip sensibility to it that I just adored it. The character design is some of the the best that I have ever seen and of course the film is psychedelic and weird at times, but always beautifully animated and filled with a high level of detail that I believed this planet entirely.
The harshness and brutality of the Ygam planet is so well established as all of its animals are dangerous and all of the plants are carnivorous. The designs of all these creatures is weird, yet incredibly authentic and unforgettable. The color palette is also fantastic and the use of blue is overwhelming and interesting.
……………………………………..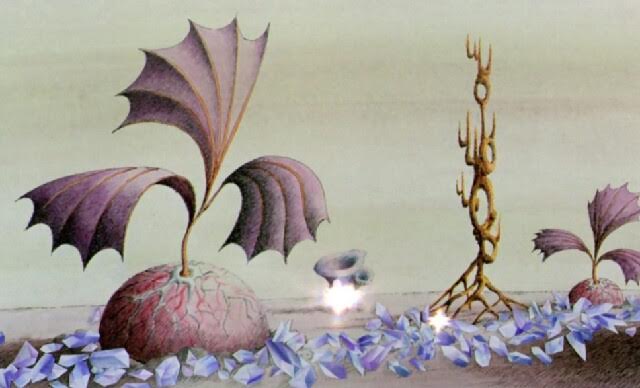 ……………………………………..
I loved everything about Draags. Their way of living is pretty interesting. I loved their method of learning, very advanced. How they used Oms as pets raised many ethic questions about keeping smart species as pets, but I have to say that the relationship between the two species isn't established as properly as it should have been. Some plot holes are irritating. How the Draags did not realize that Oms can speak? How did they not realize sooner how intelligent they were? All of these questions are never answered and they remain pretty obvious plot holes.
But as I said, I loved their technology and I really liked every ritual that was present here with both species. I would have gone with less nudity, but I guess it was required and the sexuality/mating element definitely was important for the story.
The character development is weak in Fantastic Planet as it doesn't bother with creating fully personalized Draags or Oms. However, this is one of those sci-fi stories that do not need individualized characters as it is epic and deals with the whole two species and thus it does not require fully realized individuals in it. The voice acting is very good and believable. But I have to say that the mouth movements weren't well synhronized with the dialogue and that is the only apparent flaw in an otherwise stellar animation.
……………………………………..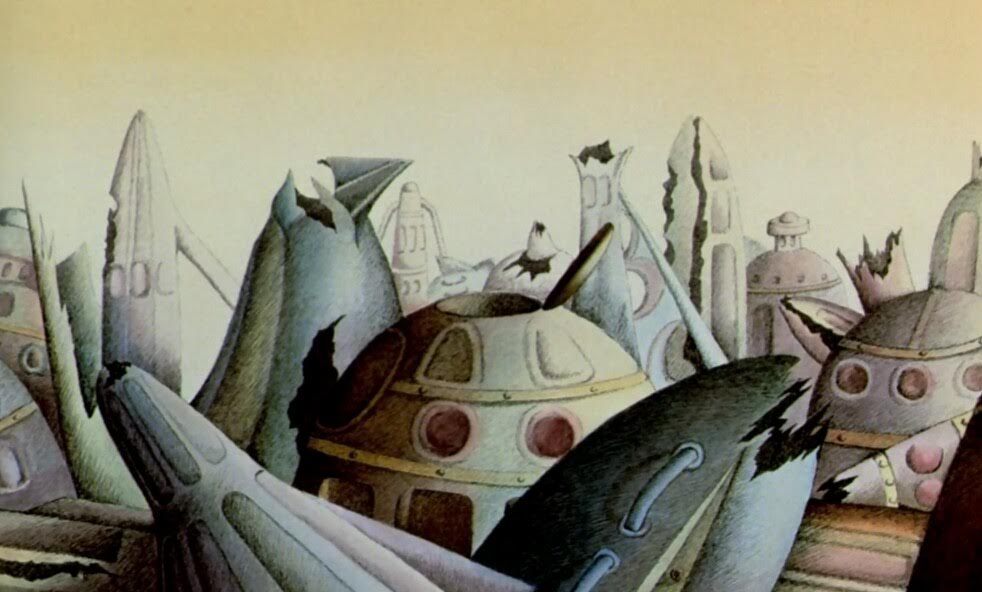 ……………………………………..
Speaking of dialogue, I definitely wanted more of it, but what we got was still great and some discussions are very interesting here. Fantastic Planet is awfully short and its ending is just way too abrupt, but I liked that it ended on a positive note and to me the highlights were the intriguing beginning, those lessons as well as the exploration of the planet. Those adventurous scenes were the standouts. Despite it being short, the editing is actually very deft and of course its score is very evocative of its mood which is dreamlike and strange. René Leloux directed this movie brilliantly and he surely is one of my favorite animation directors. I would definitely call this movie a work of art.
With beautiful, stylistic hand-drawn animation, extraordinary world building, an admirable attention to detail and such an imaginative, yet thematically sophisticated story, Fantastic Planet is also very dreamlike and strange accompanied by such a great score and phenomenal creature designs. Consequently, this artistic French classic is one of the best that both animation and science fiction have to offer.
My Rating – 4.5
……………………………………..