…………………………………………………
Coco Movie Review
Coco is a 2017 animated fantasy musical film directed by Lee Unkrich. It is a strong film from Pixar, but far from their best works.
………………………………………………….
"I thought I was related to a murderer!
You're a total upgrade!"
………………………………………………….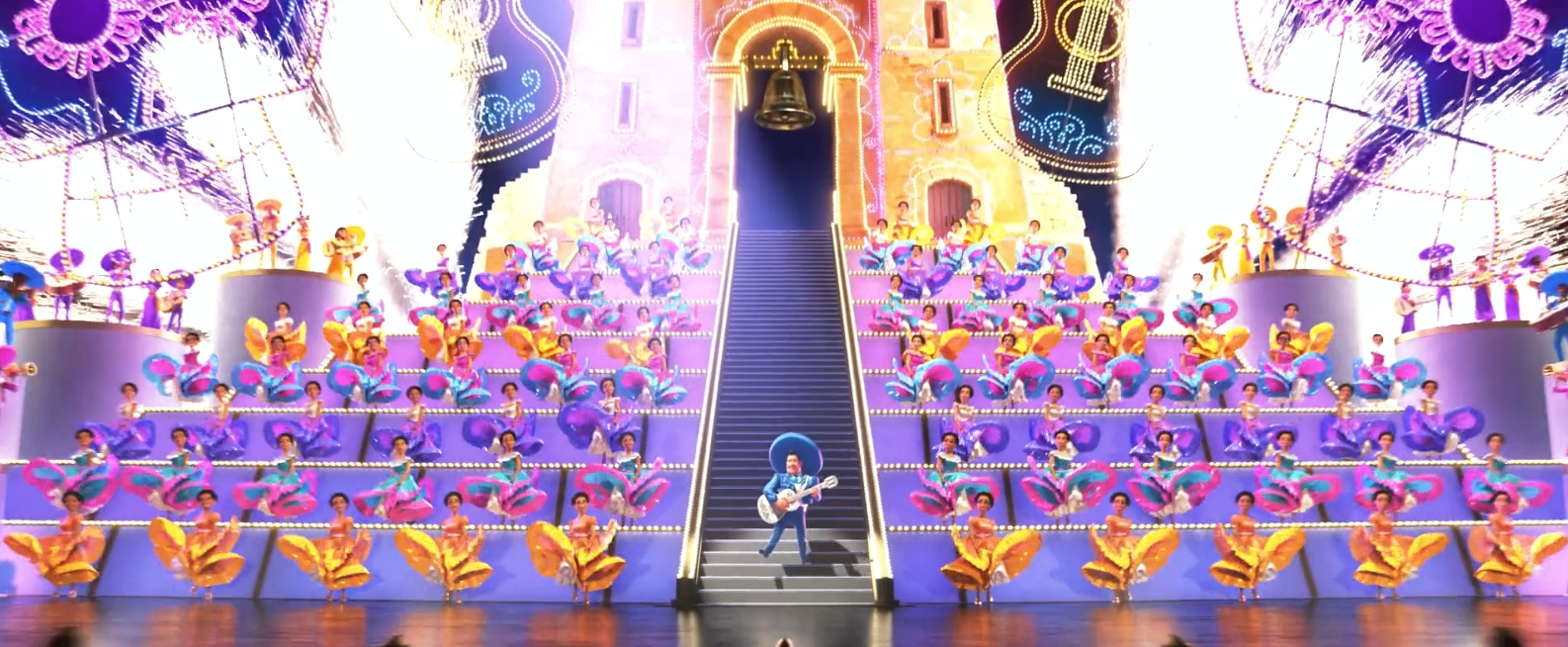 ………………………………………………….
I was tremendously excited for Coco and I have been looking forward to it for a very long time. It was actually one of my three most anticipated films for 2017. But unfortunately it ended up being a disappointment for me. The film is quite good, don't get me wrong. But it is just not great and certainly not amazing. My expectations were too high I guess.
So it follows a 12-year-old boy named Miguel who is transported to the land of the dead where he seeks help from his ancestor to return him back to the living world. The boy wants to be a musician, but his family disapproves. Now basically in that disapproving part I found it to be disappointing as I never really got why they opposed music so much. And I also found the first act somewhat lacking as it was too rushed and lacking in characterization.
The film definitely became much better in the second act and that second act is easily the highlight for me as the third one was overly emotional. I do realize now why so many people are getting frustrated with Pixar's emotional manipulation. Coco isn't manipulative, but certainly its last scene is overly sentimental. But I do think they somewhat earned that emotion, but not fully for sure.
………………………………………………….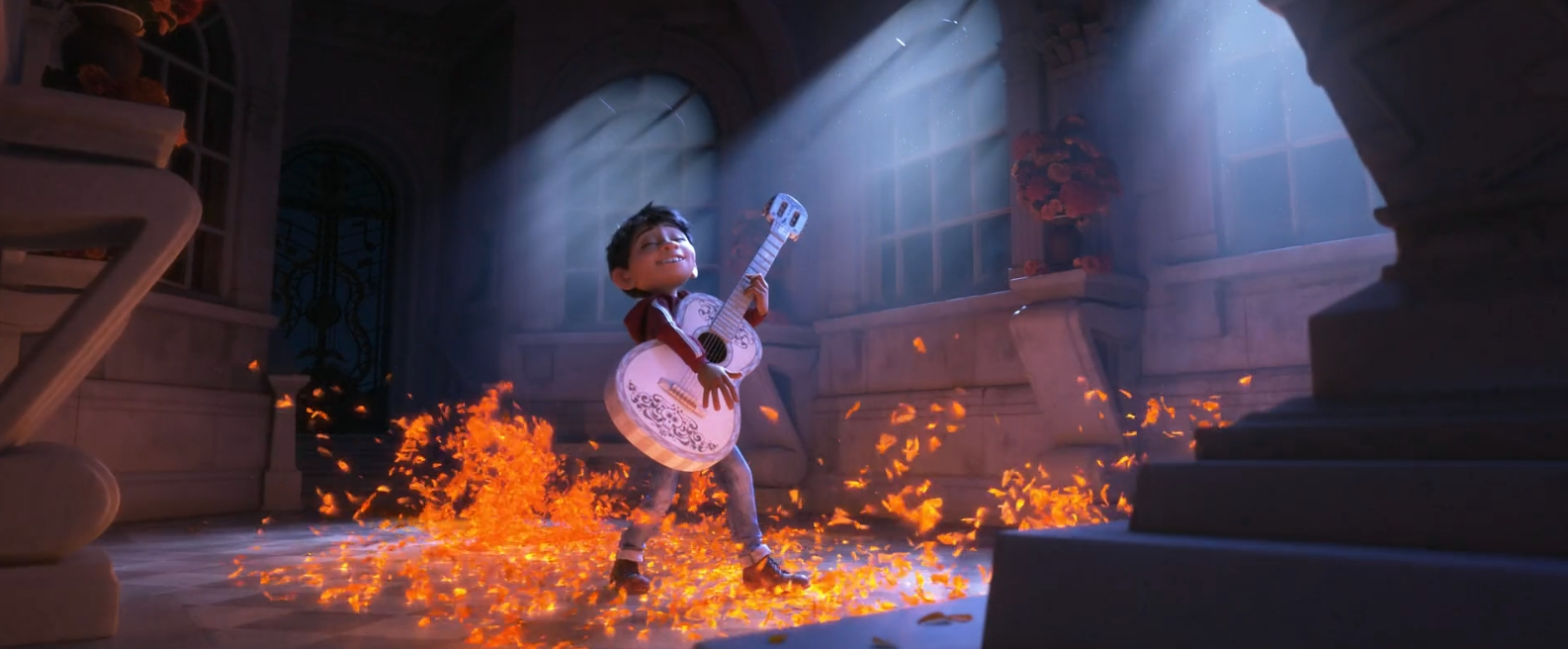 ………………………………………………….
The second act is where the movie shines because it features wonderful fantasy and adventure elements and very memorable plot points. The twist itself I did see coming. I mean I didn't predict it fully, but I did expect the darker turn and that obviousness was problematic for me. However, they still did the best they could with it and although somewhat soapy, it made the film very intriguing nonetheless.
Let's talk about its characters. Miguel is very good and likable. He's a standard, but still a good protagonist. Ernesto de la Cruz is very memorable and effective. Hector is easily the best character in the entire film as he is very well developed, immensely likable and the relationship between him and Miguel is fantastic. The grandmother is too strict, the parents are boring and of course Coco herself is a fantastic plot device. The film needed more characters and better characterization of the supporting players.
Coco is definitely a musical as it relies on music so much, but I have to say that it does that with mixed results. For a film which literally is about music, you would think that we would get a great soundtrack, but what we got was a pretty weak, forgettable soundtrack which is never, ever on par with Disney's classics.
………………………………………………….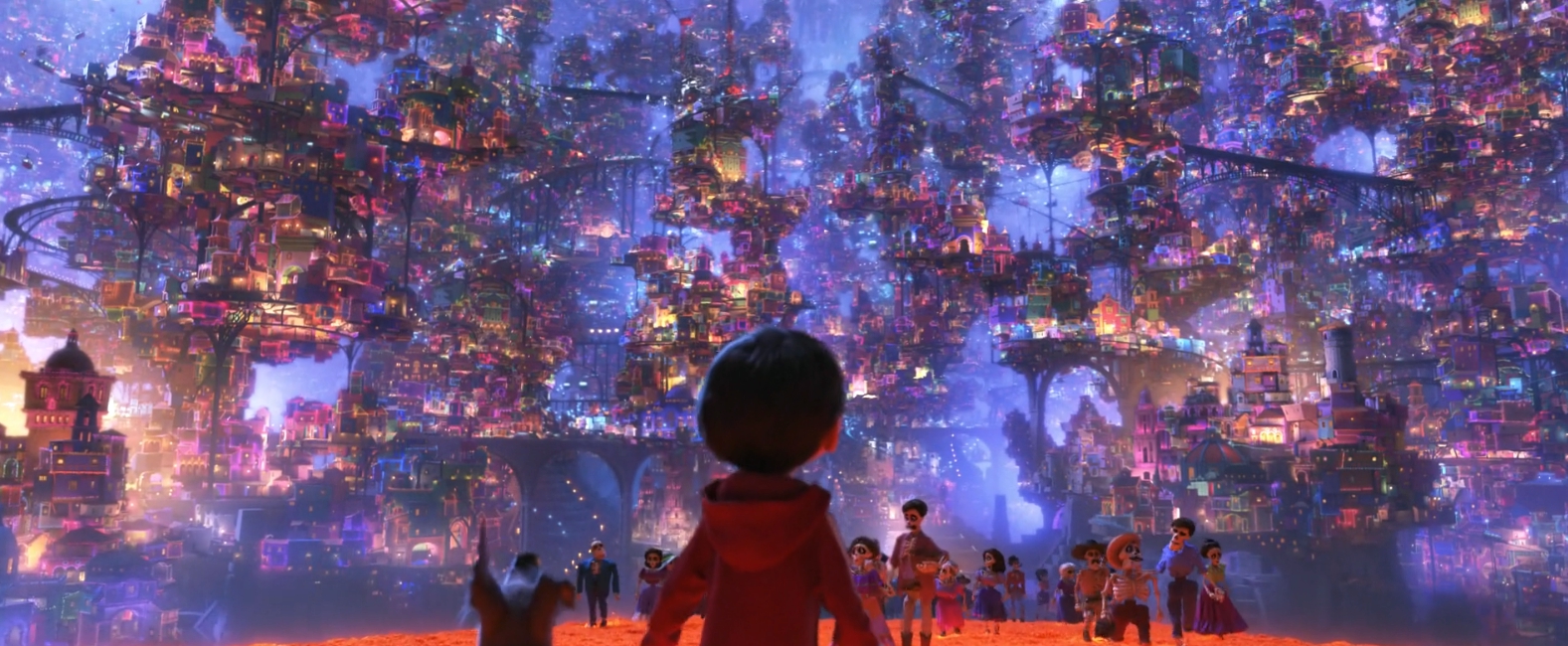 ………………………………………………….
La Llorona is the only song apart from the main one which is even remotely memorable as Everyone Knows Juanita, Un Poco Loco and all of the others are so forgettable that I already have forgotten them. They really needed stronger songwriters for this film.
Of course Remember Me is the standout song. It isn't great, but it is pretty good with moving lyrics and I particularly liked how it was used so well in all those different sequences in different contexts. But I still had a problem with that approach as using mostly this one song meant that we got less of the other songs which was a giant problem the movie never overcame.
The animation is the best reason to see Coco in my opinion. It is phenomenal. It isn't as inventive as 'Inside Out' was but it's still very strong and particularly polished and colorful with a great use of many wonderful colors to accompany its Mexican setting so well. The colors of green, yellow and orange were the highlights. The character design is solid and I loved how the skeletons looked and moved.
………………………………………………….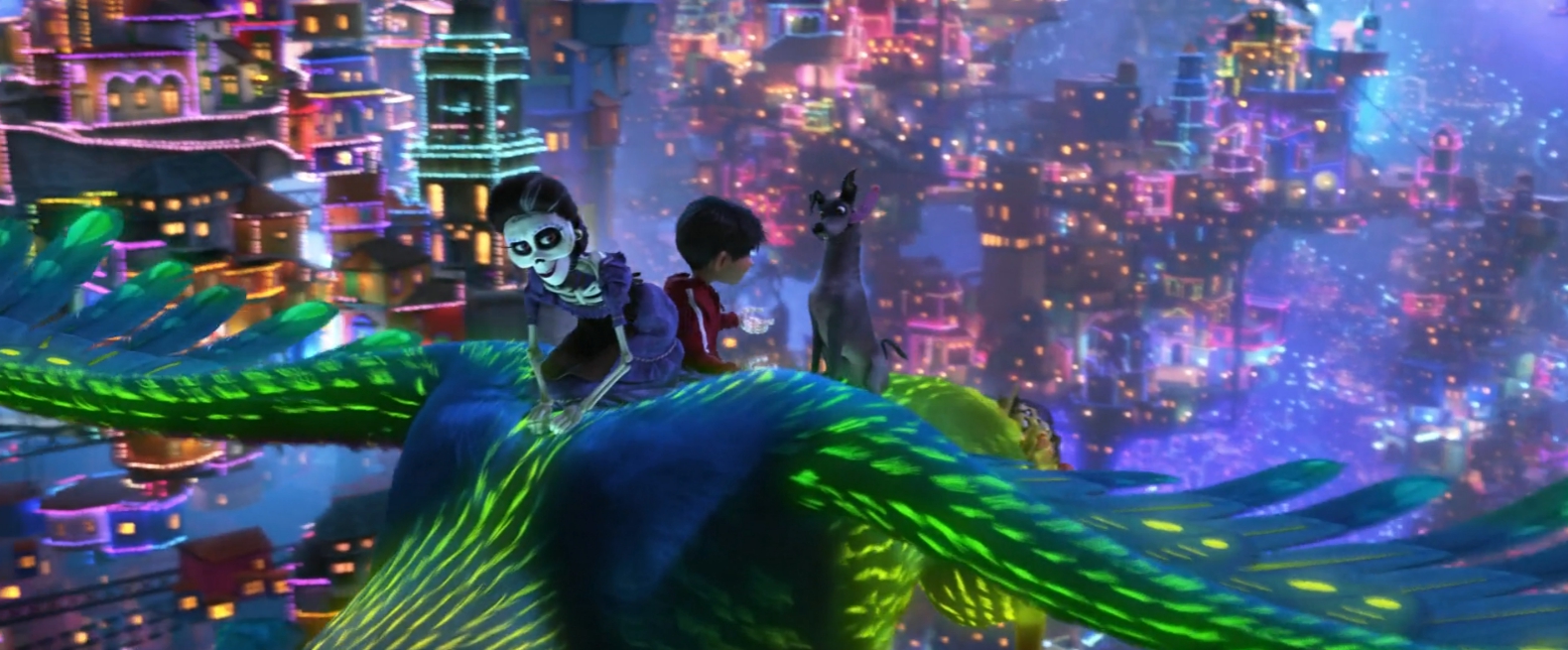 ………………………………………………….
The world building is amazing and they created this whole world populated with the dead beautifully. That is actually the highlight of the film along with its animation – the mythology. I loved the concept of fading or second death after all living people forget you. That was a very powerful and sophisticated approach and I loved it. The film does deal with the theme of death so well and cleverly which is why its final emotional scene is not manipulative.
The voice acting is especially strong and emotionally evocative. The direction from Lee Unkrich is very good as well and the pacing of the film apart from its beginning is pretty good. The score is also very good, but not as great as the trailers promised me. The whole film is just never as fantastic as the trailers were leading to an eventual disappointment for me.
………………………………………………….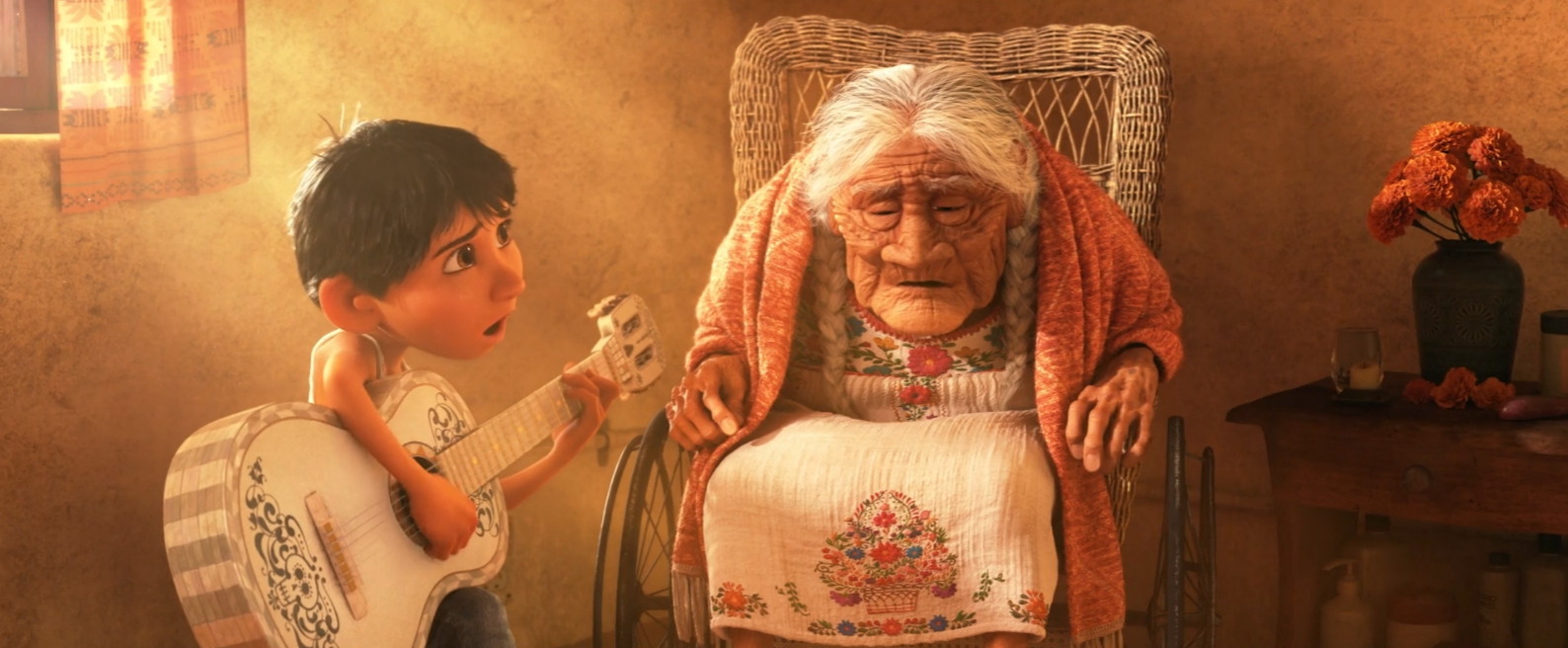 ………………………………………………….
Coco is a very good, but unfortunately disappointing film which is far from Pixar's best works. The standout aspects are its world building which is amazing, its animation which is beautiful and pleasingly colorful and its mythology which has some very interesting concepts very well explored. The film explores death so well, it is sophisticated in that theme and it is particularly effective in the portrayal of Mexican culture and Día de los Muertos. The characterization is good and I particularly loved the second act with the fantasy adventure angle to it. But even though its emotional ending was somewhat earned, it was still too sentimental. The twist is also quite easy to predict. And its major problem is the soundtrack. Remember Me is definitely a good, well utilized song, but the rest of the songs are very weak and never at all comparable to the works of Disney. And when you have a film that is literally about music, you need to have a killer soundtrack which sadly isn't the case with Coco.
My Rating – 4