………………………………………………………….
Cinderella Movie Review
Cinderella is the newest film adaptation of the story released in 2015 and directed by Kenneth Branagh. It is not exactly a remake of their 1950 animated classic version, but I would still call it that way.
………………………………………………………….
"When there is kindness, there is goodness.
When there is goodness, there is magic"
………………………………………………………….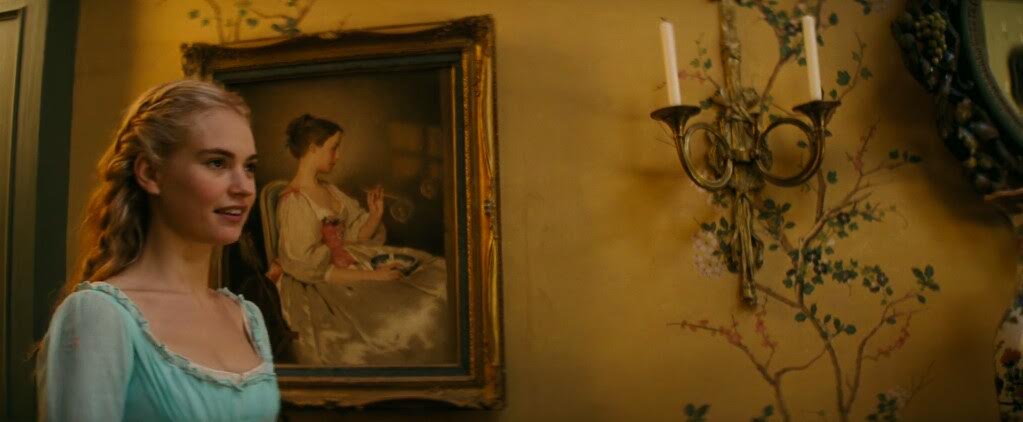 ………………………………………………………….
The story is as we all know it from countless of other film versions and adaptations. And to be fair, it has some genuine surprises and twists, especially the different approach near the end with Lady Tremaine and the Duke as well. That was quite interesting and new to me, and that approach in my opinion worked. Also, Cinderella in the original fairy tale as well as the original film did not meet the Prince until the ball whereas here they meet previously in a forest. I don't know if anyone else had that feeling, but as a huge Disney fan, I noticed that this movie incorporates some story elements from 1959's 'Sleeping Beauty. In that classic, the two meet in the forest and the Prince afterwards constantly talks about her with his father and tells him that he should marry a regular girl, not a princess, if he wants to. This is present here in almost exact scenario and it is interesting to see that the filmmakers realized that aspect could fit in this story as well and introduced it. And it totally does fit, bringing something new to the table, mostly a bit of the necessary characterization for the main characters.
………………………………………………………….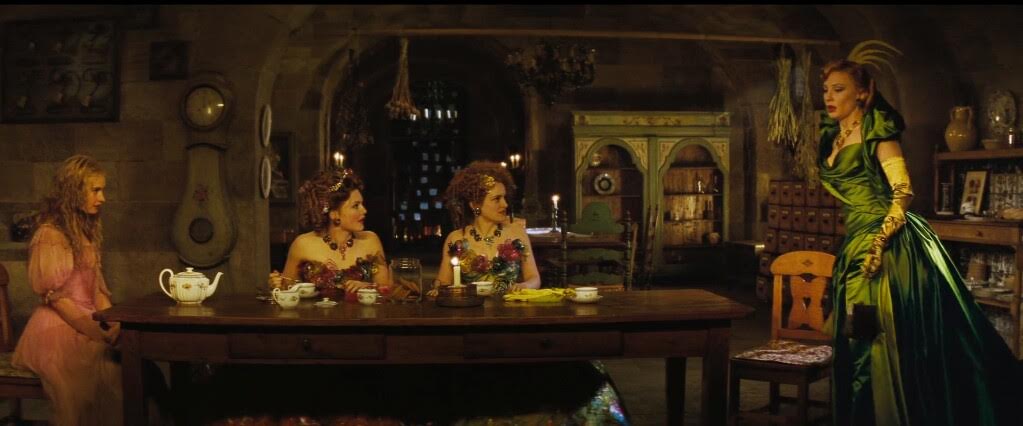 ………………………………………………………….
Speaking of the story, it is of course well known and familiar to this point, but I have to say that I really enjoyed that approach to this adaptation. I hate that Disney is making these so-called modern revisionist live-action fairy tales when all they are are stupid, overly feminist disappointments filled with too many visual effects and awful choices. 'Maleficent' and 'Alice in Wonderland' suffered from that. But thankfully they got rid of that approach here and they sticked to the traditional source material which is great because what is the point of making a Cinderella film if you're going to change it drastically so that you can no longer see the resemblance. This movie is traditional in every way and I am so glad they went with that direction because this story is one of the most old-fashioned tales out there and a different approach would not fit.
The film is an unusual hybrid of their original film mixed with something new. And that is a good and also bad thing. It is good because the new stuff they added is mostly satisfying and most of the aspects they borrow from the original is well realized. But what is not well executed is the introduction of animal characters. The mice were much more charming and likable before and here they can be annoying, they are obviously computer generated and they literally bring nothing new to the table unlike their predecessors who really helped Cindy. But what they've done with Lucifer is even worse. He was really well realized in the original, even menacing in some sequences whereas here he is just there, again bringing nothing new to the table. I would have liked to see more of the plot points from the fairy tale, for example the birds would have been nice, but they again did not go down that road. But the beginning with the branch is reminiscent of the original tale and it was an emotional and satisfying scene.
Speaking of the beginning, it is interesting that they showed the whole thing. None of the previous incarnations did that and although it is refreshing to see it here, it kind of goes for too long obviously stretching to a two-hour movie. Also the ending could have been longer, which was the exact problem the animated movie had. But, although those parts are a bit problematic, the picture is nevertheless very well edited and paced throughout and it never feels boring or tired and that to me is a major accomplishment having in mind that I know the whole story by heart.
………………………………………………………….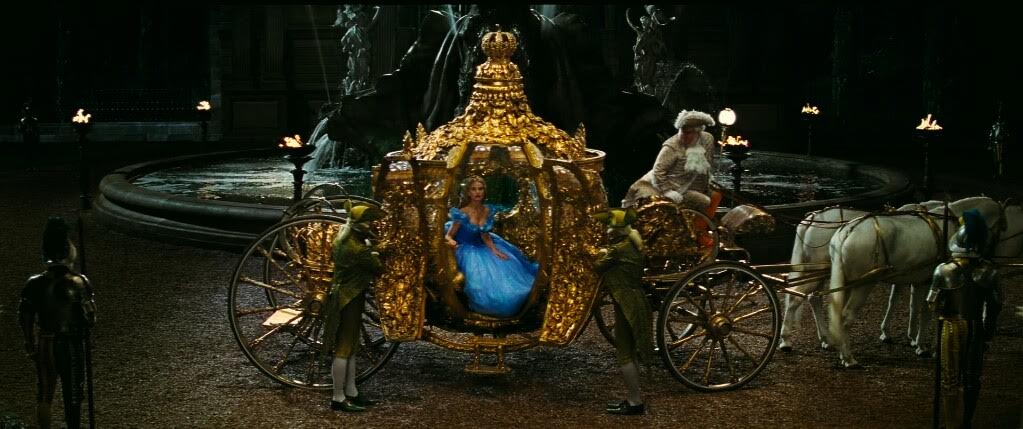 ………………………………………………………….
The characters here are, apart from the aforementioned cat and mice, very well developed, even surprisingly so. Cinderella is an archetype and feminists will attack her today, but she is from a different time period and her every action seems reasonable when put in that perspective. Also, her interaction with Lady Tremaine as well as the Prince is excellent and she is an all around fine character. The Prince is nothing to write home about, but he is at least more developed than the previous animated one due to more screen time. The stepsisters are wonderful, they bring the comedic element to the story and they really are nicely thought out and quite hilarious at times. Lady Tremaine is wonderfully acted, she is given some character development which is a nice touch and she steals the show whenever she is in a scene, but I have to be honest and say that she does not hold a handle to her predecessor. And that is not a bad thing, because Lady Tremaine is one of the top five Disney villains ever in my opinion and they can never top that. So the character here is nonetheless quite good and possibly the best character in the whole film. The Fairy Godmother is a successful experiment to me. She is definitely the most different character from before because they have gone with the younger version and forgetful and somewhat incapable witch. And that is terrific, she was one of the highlights bringing the very charming humor and lovable personality to the table. And as for the animal characters, there are some that actually worked and those are the goose and lizard which got some screen time and humor, it was a nice and welcome addition which should satisfy the little ones.
The acting is one of the strongest aspects. Lily James is stupendous, she really is. She is literally unknown and she managed to play the difficult main role really well and she definitely held her own against other great actors. The Prince and stepsisters of course are all good, Helena Bonham Carter is really charming and she did a great job as an endearing Fairy Godmother, but the standout is of course Cate Blanchett who steals the show whenever she is on screen. She did the best job as the villain and gave another memorable performance in her excellent career.
………………………………………………………….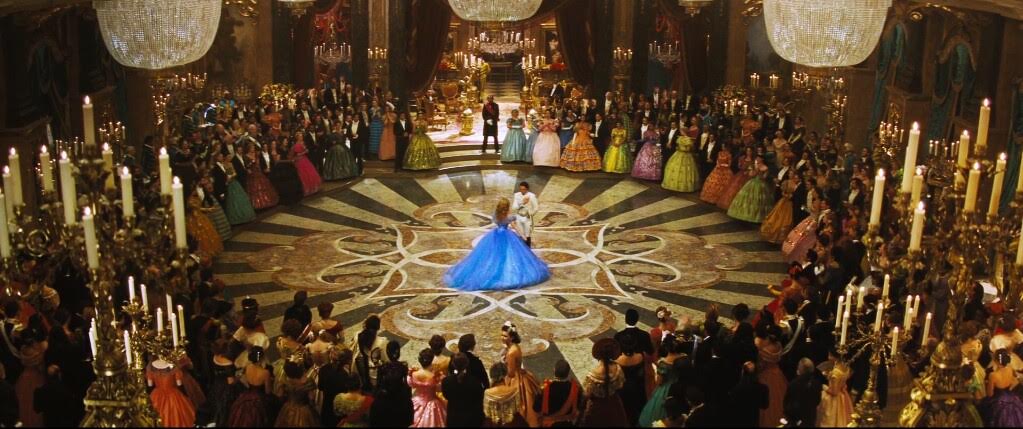 ………………………………………………………….
The humor is excellent, very charming and heartwarming. The stepsisters are hilarious at times and wonderfully goofy, while Carter is extraordinary in her comedic and exceedingly likable role. They really added just a bit of the humor, but whenever it was present, it was a welcome change of pace and it was effervescent for the whole family to enjoy.
The best aspects in this movie are of course the technical ones. The production design is absolutely stunning to behold, the cinematography and camera movements are excellent (which can best be seen during the ball) and the costumes are exquisite. They managed to make costumes that really transport you to the period thanks to the obvious craftsmanship and attention to detail it went to production. The score is also very good, triumphant and quite striking. The scenery is colorful and simply beautiful, again transporting you way back. As for the visual effects, they are mostly good and I simply love that they've gone with less effects than usual and those that are present are excellent and fit in the imagery. It is a visual feast all around and undoubtedly one of the most beautiful visual experiences in a while. The whole technical aspects bring a lot to the table, distinguish it from the others and really make you feel that you entered the fairy tale yourself.
………………………………………………………….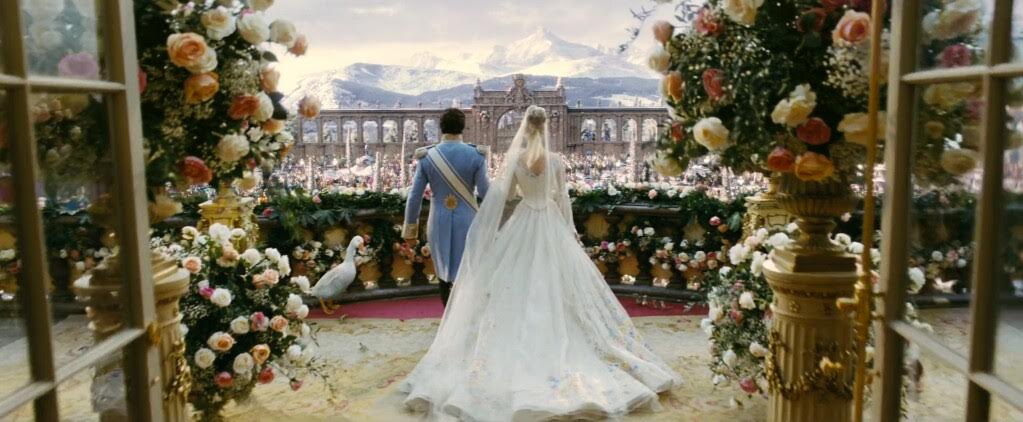 ………………………………………………………….
Now comparing this film with the previous classic, it is obviously the lesser one, but still a worthy and surprisingly good companion. It is visually more stunning and perhaps more comedic. But everything else was better in the 1950 feature – the tone was better, there were much more menacing sequences, the villains were much better and while you root for her here as well, you rooted much more for the previous Cinderella because she had much tougher treatment and more awful, striking scenes. The original is one of the Disney classics and of course they couldn't come close, but at least they managed to come close which is really saying something because they are finally moving in the right direction in this live-action fairy tale movement that is happening right now.
All in all, this Cinderella has a lot going on for it, the acting is great, the visuals are extraordinary, the humor is sweet and it is a welcome old-fashioned approach to a story. It is a testament to Disney's long lasting legacy in the genre and the proof that they can still make them like they used to and I hope that they would continue with this trend because it is definitely a good one. This is a charming and wonderful movie that transports you into the tale and lets you live the dream yourself for a while.
My Rating – 4