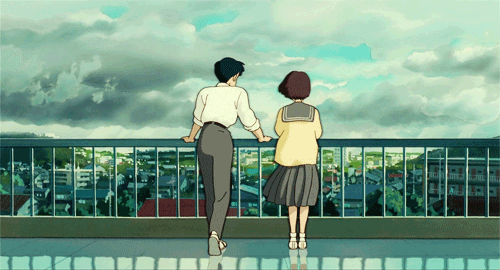 …………………………………………………
Whisper of the Heart Movie Review
Whisper of the Heart is a 1995 romantic drama anime film directed by Yoshifumi Kondo. It is one of the best films that Studio Ghibli has to offer and one of my personal favorites.
………………………………………………….
"It's not easy to live your own way. You can't blame anyone but yourself"
………………………………………………….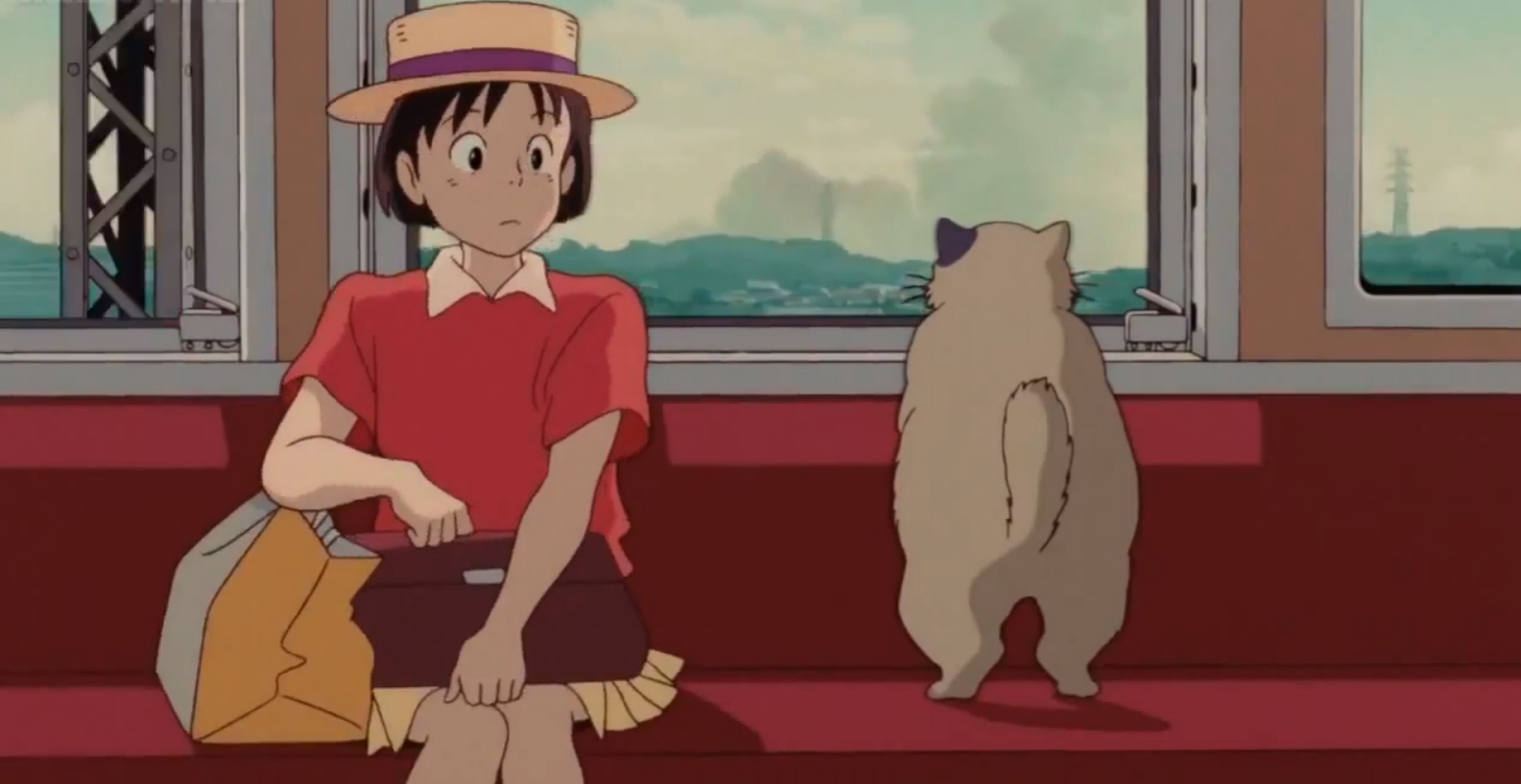 ………………………………………………….
Let's first talk about the story. The movie is interesting for being one of the rare Ghibli films with no fantasy elements whatsoever. The Baron fantasy sequences were actually figments of imagination of the main character. They are fantastical, but not real. Still, those were wonderful and they complimented the storyline really well. They are a textbook example of how animation can sometimes suit the genre of drama much better than its live-action counterpart.
This is a wonderful movie which is exceedingly romantic and sweet. I just adored it and watching it was such a beautiful experience for me. The romance between the two is exceptional and it develops at the perfect pace. The entire story with how they meet and how they were reading the same books was just so romantic and wonderful that I ate it up.
But whereas Whisper of the Heart succeeds incredibly as a teen romance, it succeeds even more as a pure drama. And what drama this is! Honestly, this was the deepest and most thought-provoking film I've seen in quite a while. I saw this movie around five years ago, but I am more mature now, so I respect it much more upon second viewing.
………………………………………………….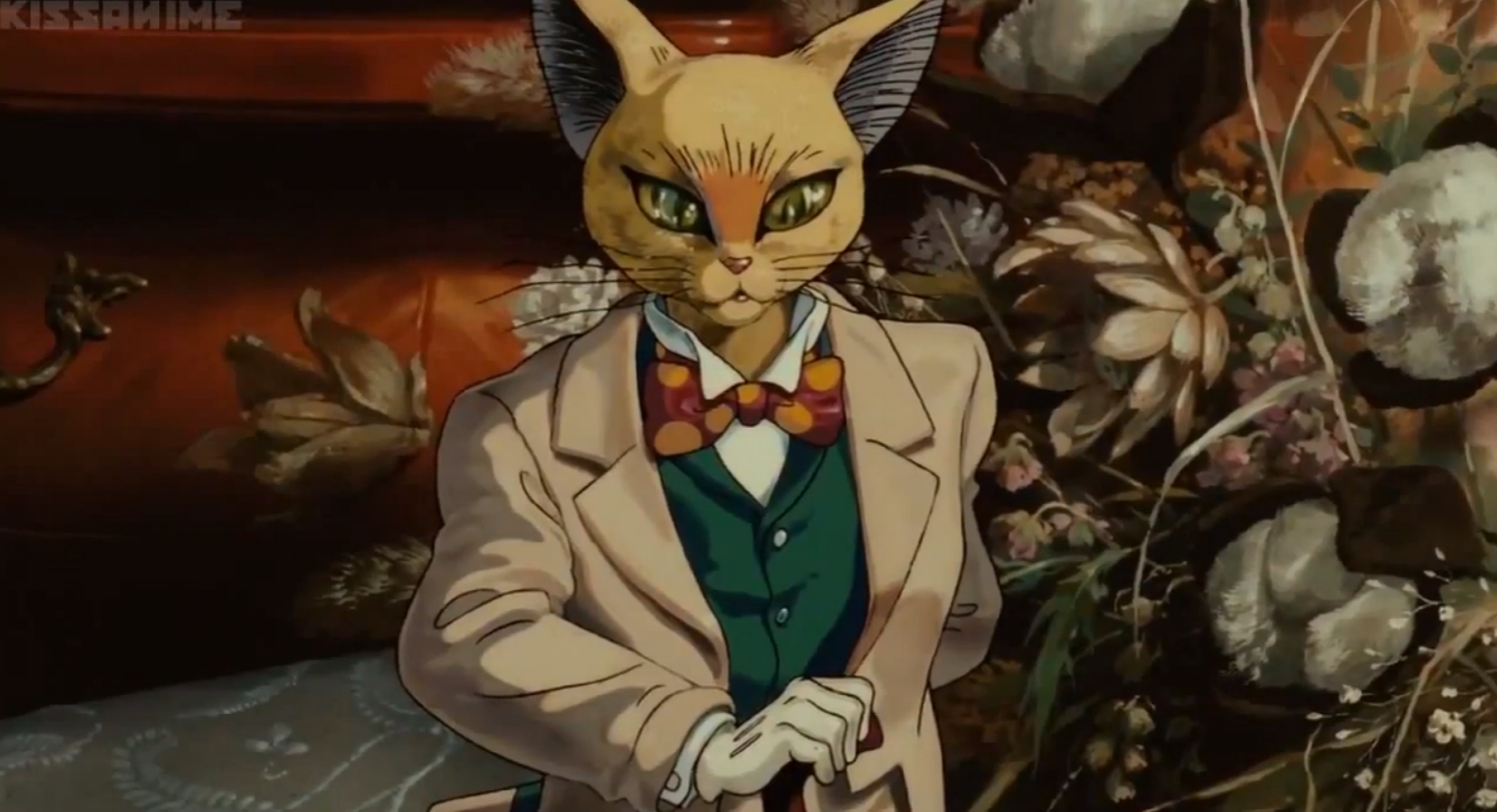 ………………………………………………….
I am currently at the most unpredictable and dangerous moment in my life. I am trying to find a job online, but it is moving at a slow progression and I am very anxious about finishing faculty so this movie was just perfect for me. I watched it at the most perfect time possible and thus I connected with its characters enormously.
It is a very smart, incredibly sophisticated story about two teenagers who chase their dreams but are yet not ready for a job. The line from Shizuko's father about high school was pitch-perfect in its honesty and truthfulness – you can follow a different path than the default one given to you by your country and the entire world, but that path is going to be incredibly difficult and it is in the end not worth it. It is a sad, terrible truth that the movie made clear and with that I am struggling in my life right now.
………………………………………………….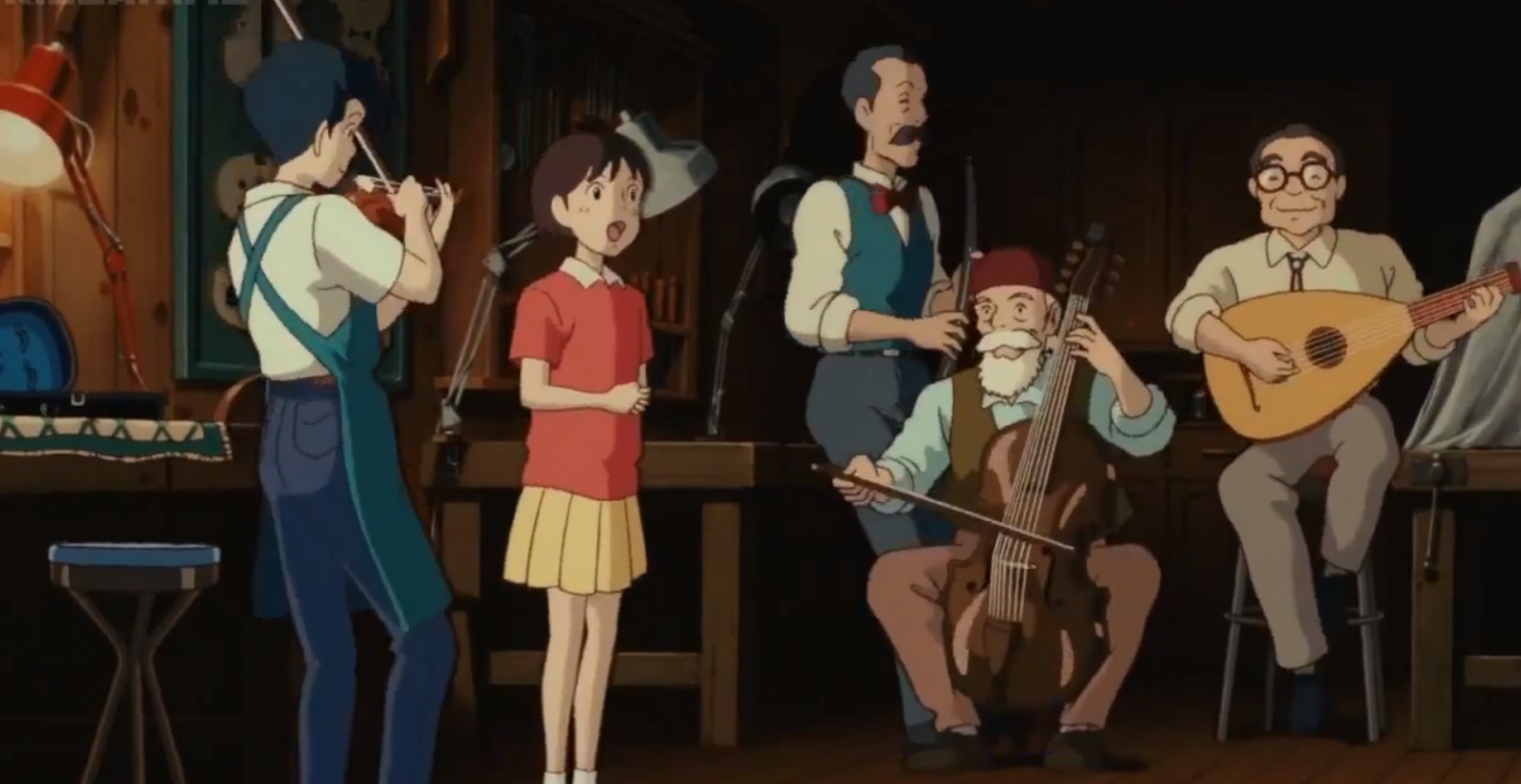 ………………………………………………….
And another great line is how wanting to do something is not the same as preparing constantly and bettering yourself so that you can manage to get that job and secure your future. Life is difficult and getting a job and growing up is so hard and Whisper of the Heart gets that and is probably the most honest teen movie out of all of them as it teaches us those great messages in a very urgent manner.
Let's finally talk about these characters, these great characters. Surely the parents are sweet and respectful and Yuko is a great friend to our main heroine, but honestly this movie is mostly just about Shizuko and Seiji and that was great. It's a phenomenal chamber drama in a way. He is at first a bit too unlikable in a forced way, but he became much more likable and sweet later on and of course their relationship is very strong and heartwarming.
But Shizuko is amazing and I loved her. She is one of Ghibli's finest heroines as she is so well developed and although a good girl, she isn't overly kind and she seemed very realistic to me. Her troubles are so well established and her interactions with everyone were top-notch, but it is her love for books that was awesome to witness, her wild imagination was beautiful and her constant struggle with herself and her own dreams led to such a terrific character development and complex dilemmas.
………………………………………………….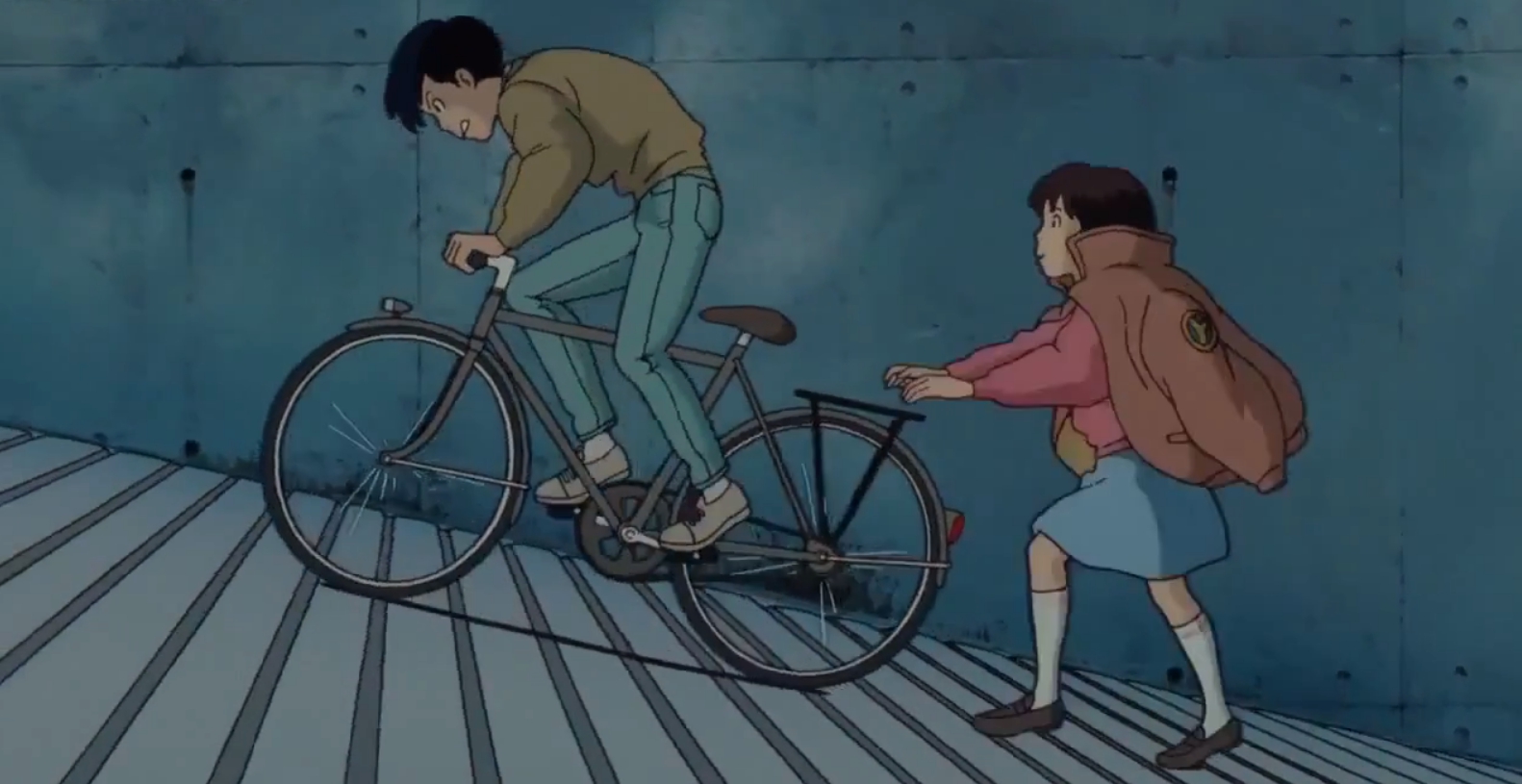 ………………………………………………….
Whisper of the Heart is gorgeously animated! The character animation and designs are nothing spectacular, but the landscapes are excellent and for once we got a Ghibli movie set in a city. That was refreshing to see and Tokyo is perfectly animated. I loved that final scene which was gorgeous and of course the antique toy shop is the visual highlight as it is superbly detailed and immensely charming. The movie is not fantastical, but it compensates that with an astonishing attention to detail to everyday objects and the city itself.
The movie is superbly voice cast and the acting was excellent. Yoko Honna was just marvelous in a great role. As I said before, the dialogue is phenomenal and the script itself is absolutely spectacular. It favors drama and emotion over spectacle and fun and that was very refreshing. It is in line with 'Only Yesterday' as these two are two realistic, contemporary dramas rarely seen in animation and both are some of my favorites from the studio, both honestly quite underrated.
I do realize that the final scene was a bit too sentimental and it surely was overly emotional, but I still liked it, especially for its gorgeous setting and animation. The score is fantastic and Take Me Home, Country Roads is one my favorite songs of all time and seeing how it was a perfect theme for the movie only further strengthened my love for it.
………………………………………………….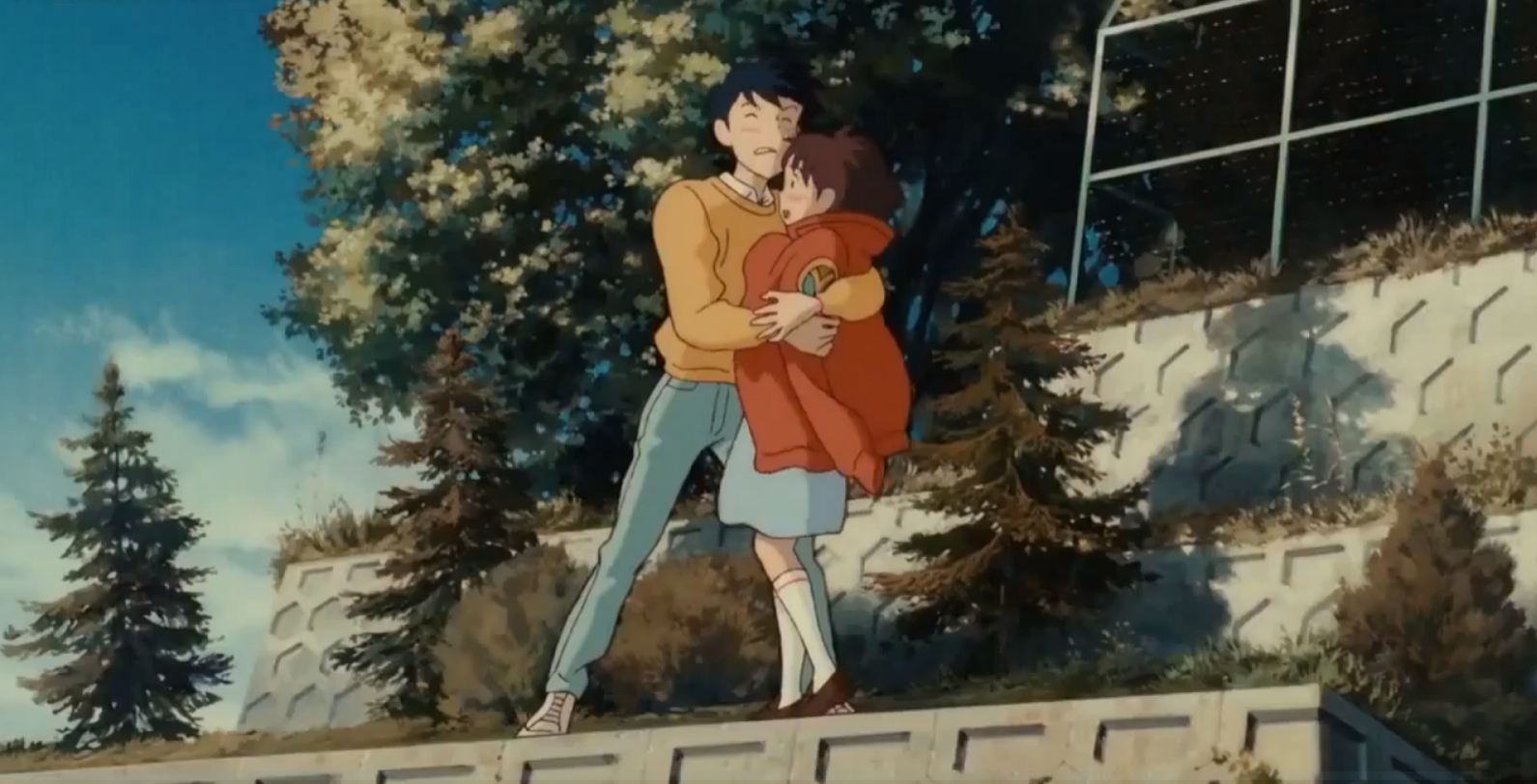 ………………………………………………….
The fantastical sequences should have been shorter and sometimes the movie struggled with its pacing, but it was mostly top-notch in terms of both technical aspects and story/characters/emotion. I loved the shop and the cat, the grandpa was wonderful and my favorite scenes were the ones in the antique shop and the library. A very charming, atmospheric movie this is.
With superb character development and one of the studio's finest heroines, wonderful animation fueled by a meticulous attention to detail, a perfect use of one of my favorite songs and a top-notch script, Whisper of the Heart truly is one of the best Ghibli movies and one of my personal favorites as I connected with it on so many levels. Thematically rich and incredibly smart and truthful in dialogue and its statements, the movie speaks to me on a personal level. Gorgeous in its romance and deep in its drama, you just can't get a better animated teen drama than this one.
My Rating – 4.5