…………………………………………………
Dumbo Movie Review
Dumbo is a 1941 animated fantasy film which is Disney's fourth animated feature. It is one of the better and most charming Disney outings.
………………………………………………….
"What's the matter with his ears?
I don't see nothin' wrong with 'em. I think they're cute"
………………………………………………….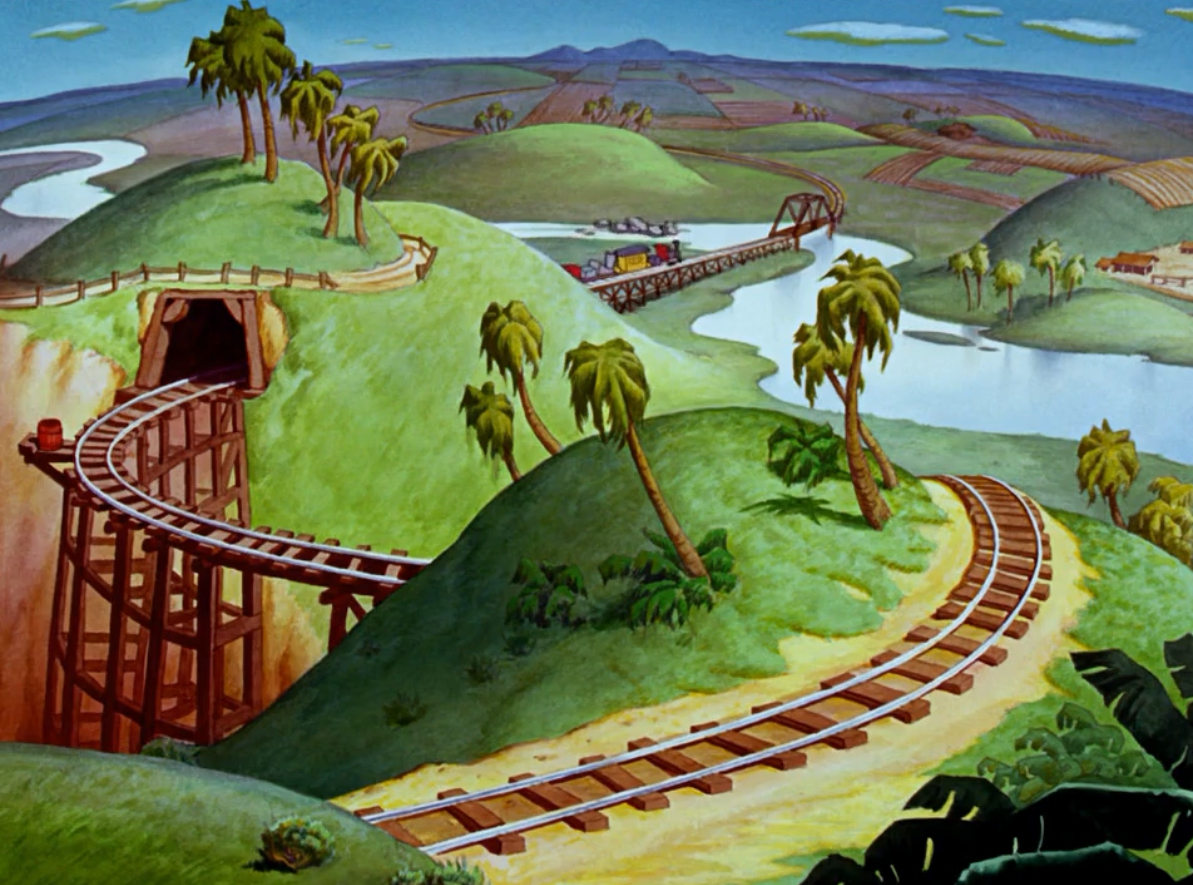 ………………………………………………….
The story is obviously a tale of discrimination against those who are different. It examines that theme really well and is obviously highly emotional in some scenes. I liked the film in terms of storytelling as it is very short and thus very effective and getting to point and never dragging.
I do realize that nowadays the circus setting is not as pleasant, but it was timely for the forties and I thought it was very well explored. The film showcases how the animal circuses worked and I really liked that. It has its fantasy elements and it also is a musical as it has quite a lot of musical numbers for its short runtime, but it is above all else a nice family drama that is very emotionally resonant and consistently sweet and endearing without ever being cloying.
………………………………………………….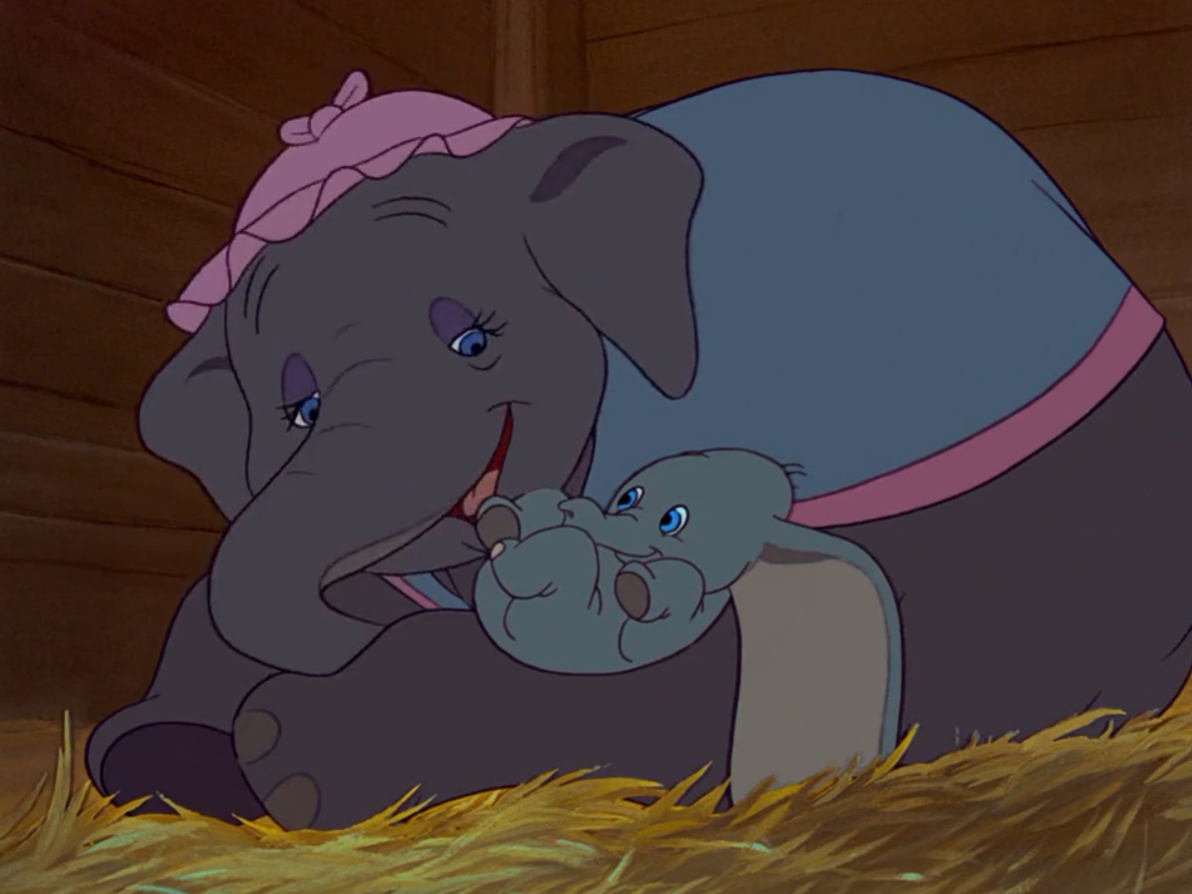 ………………………………………………….
Let's talk about the characters. The character development here is very strong as is expected from Disney's Golden Age. Each character is well emphasized and properly developed and in that way the film is basically a rich character drama. The voice acting is also top-notch across the board.
Dumbo continues the tradition of Disney's silent protagonists and of course I adored the little fellow. The choice to not have him speak paid off significantly as he is all the more endearing that way. It is impossible not to fall in love with this little elephant.
His mother is so sweet and all the scenes between the two are instantly heartwarming and pulling on the heartstrings. The human characters appear scarcely and rarely are fully seen on screen, but that worked as they are still well utilized but never taking the focus off of our animal stars.
………………………………………………….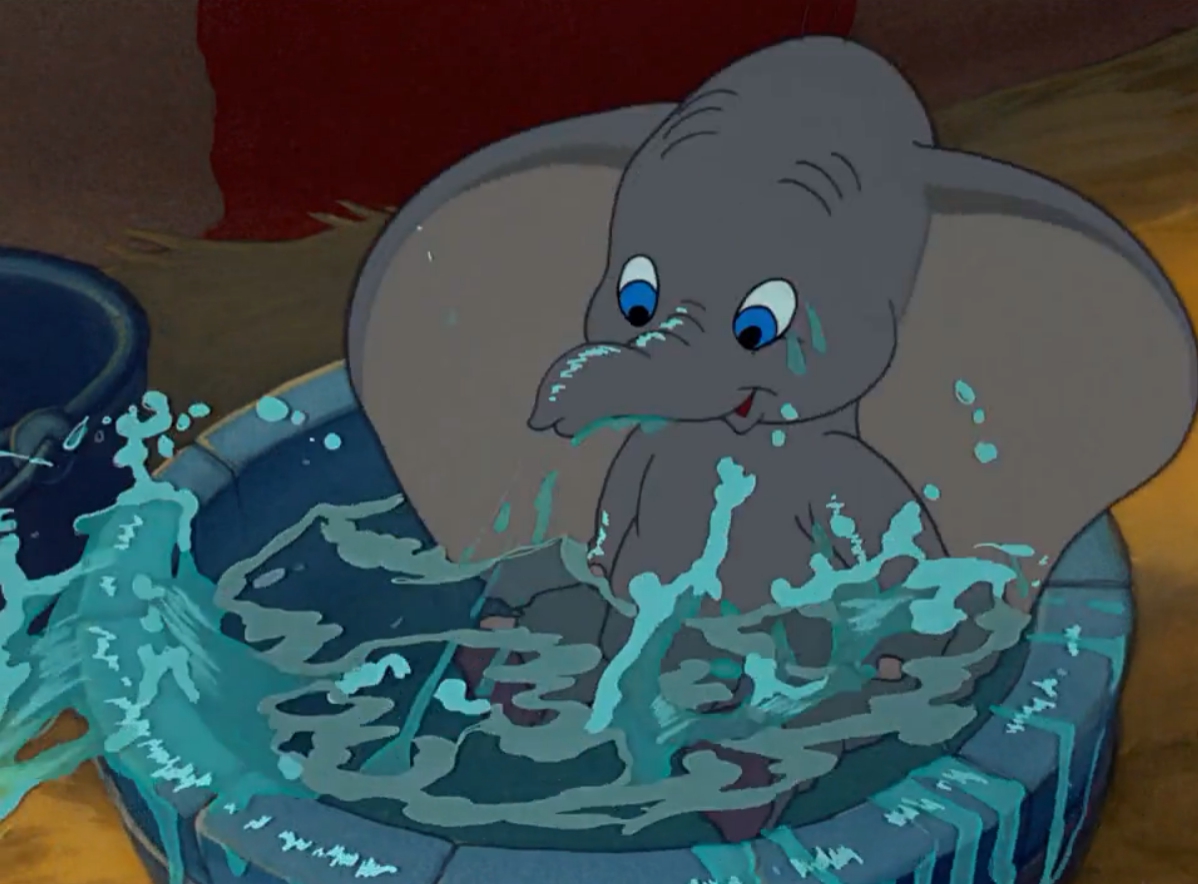 ………………………………………………….
Mr. Stork is quite likable and I liked the anthropomorphized Casey Junior quite a bit. Those elephant "ladies" are a bit too on-the-nose, but they are still excellent and serve finely as the film's only antagonists as the movie has no villains which was also a terrific choice. Some may consider the crows to be the villains, but I find them to be animal sidekicks and great ones at that.
I do realize that they may seem racist for today's audiences as they obviously have those black accents, but I think people exaggerate too much. They are actually not stereotypical in my opinion but fully developed characters who helped our main duo significantly and not to mention that they are incredibly funny and unforgettable in behavior and many great lines.
Timothy Q. Mouse is definitely somewhat similar to Jiminy Cricket from 'Pinocchio', but still he is an excellent character. I loved how he cared for Dumbo and how he constantly tried to cheer him up and helped him. Their scenes are so lovely and he is such a nice, wonderful soul. The parody here is that he is a mouse and Dumbo is not afraid of him and I loved that they made fun of that stupid myth.
………………………………………………….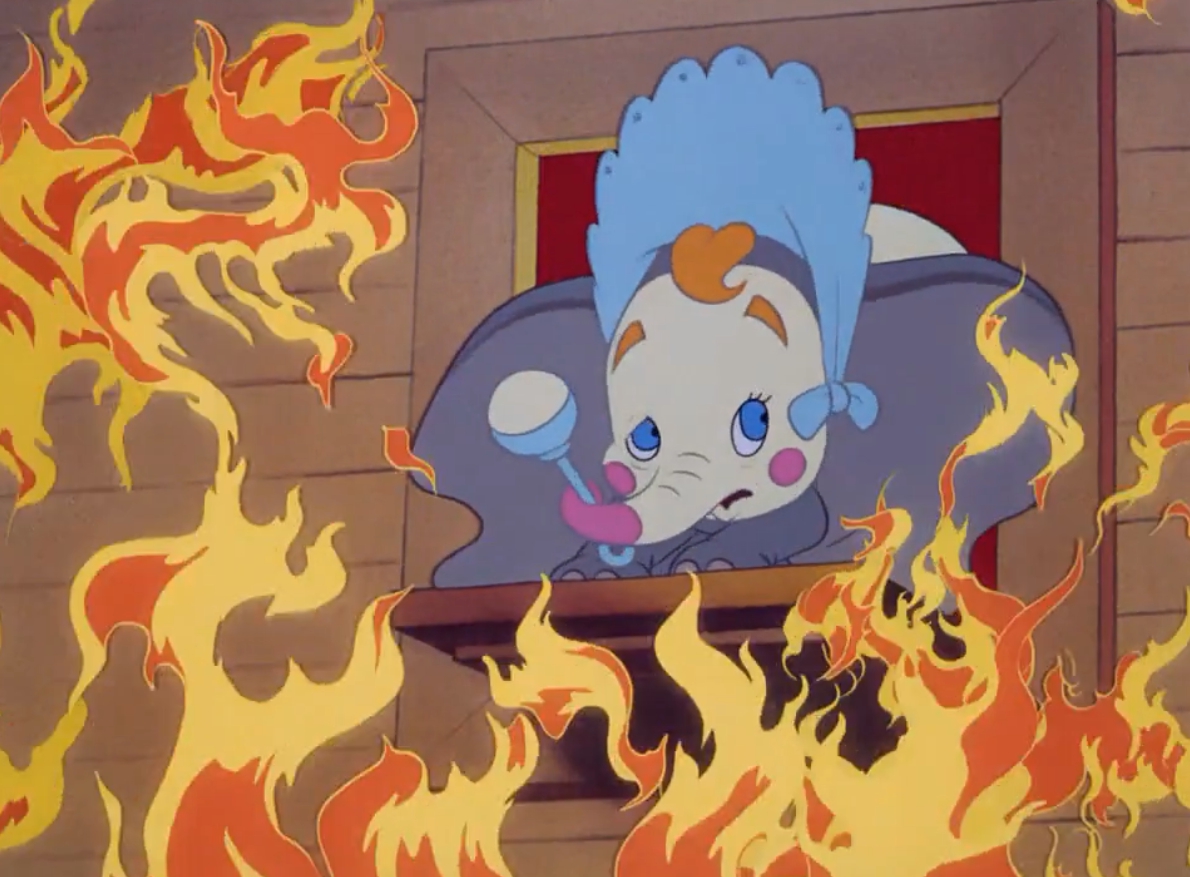 ………………………………………………….
Now in terms of animation, Dumbo is not great. That aspect is actually the film's weakest one. I do not think it is bad and it is actually pretty good, but it is just not up to par with the studio's three previous artistic achievements and some later movies as well. The reason why it isn't as artistic is obvious – Disney opted to make a somewhat cheaper flick to capitalize in the troublesome war years and to recuperate from the losses of their two previous efforts.
That is why the film looks much less artistic and much more cartoony than Walt's usual films in this period. The backgrounds are charming, but overly simplistic and less detailed. However, that is not to say that the film doesn't have its terrific elements. The character design is one of them as all elephants, the mouse and crows look great. And of course the drunk sequence is amazing and so incredibly imaginative, crazy and just downright unbelievable and simply unforgettable. That is the only truly artistic, inspired animated scene in the film and it's an all-time classic one at that.
Dumbo is definitely a musical which is all too often forgotten, but shouldn't be as the film has a pretty terrific, very underrated soundtrack in its own right. The score itself is excellent and fitting in its setting and period, but the songs are mostly fantastic with three of them being classics by this point.
………………………………………………….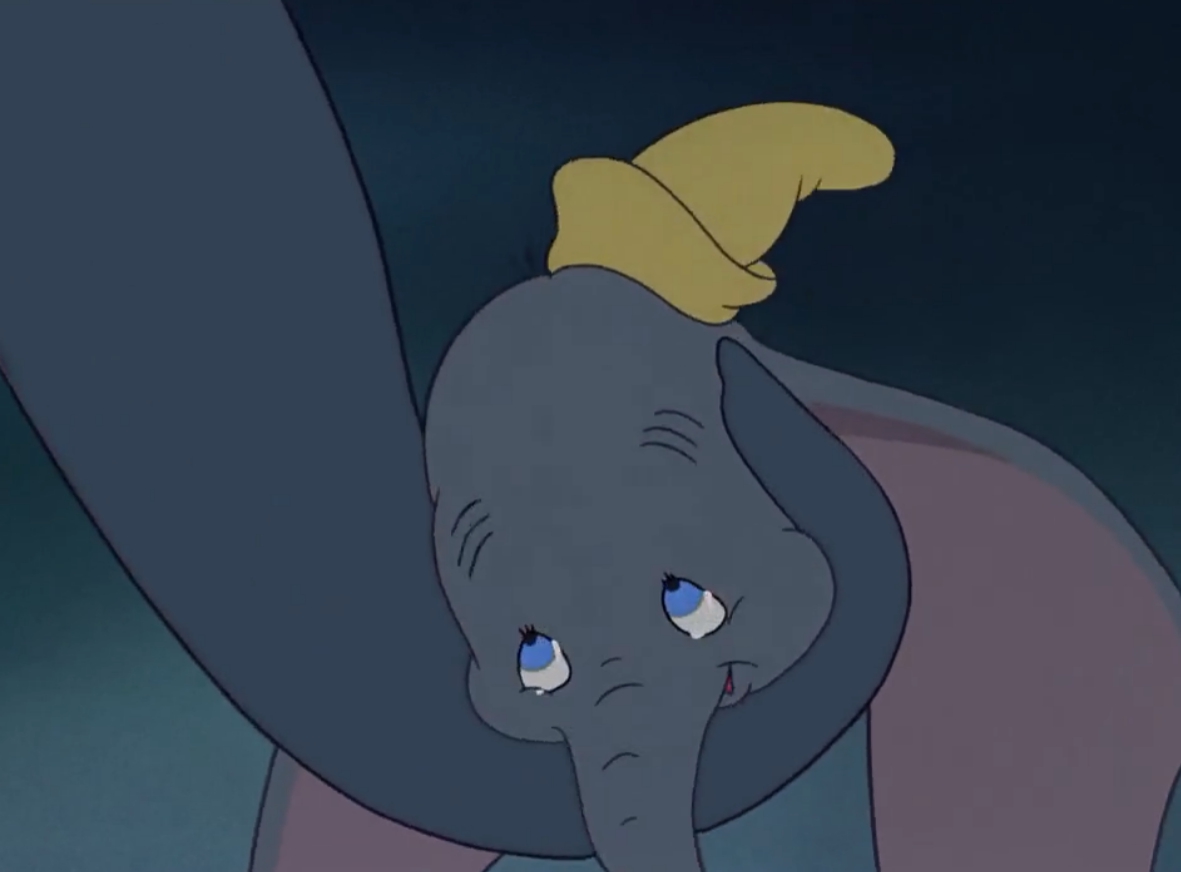 ………………………………………………….
I will first talk about the weaker numbers. Song of the Roustabouts serves its purpose in terms of imagery and plot point, but is entirely forgettable and somewhat annoying. Clown Song is actually pretty amusing, but way too short of course. Casey Junior also serves its purpose, but is again forgettable. Look Out for Mr. Stork is accompanied by a great sequence, truly wonderful. However, the song itself is somewhat dated and dull.
But let's talk about the classics now. Pink Elephants on Parade is my least favorite of the three great songs here because it does not have enough singing in it, but the score itself is awesome, highly catchy and very atmospheric thus accompanying its wild, crazily nightmarish, imaginative sequence oh so well. This is the weirdest scene in the movie and it works because the animation is absolutely stellar and because the song is very strong.
Baby Mine is of course highly touching. This is one of the saddest Disney scenes of all time as watching Dumbo touch trunks with his mother who is confined is just heartbreaking. The scene works as it stops the entire story in its tracks and you are left with pure heartfelt emotion and such a terrific, gorgeously sung and simply beautiful musical number.
………………………………………………….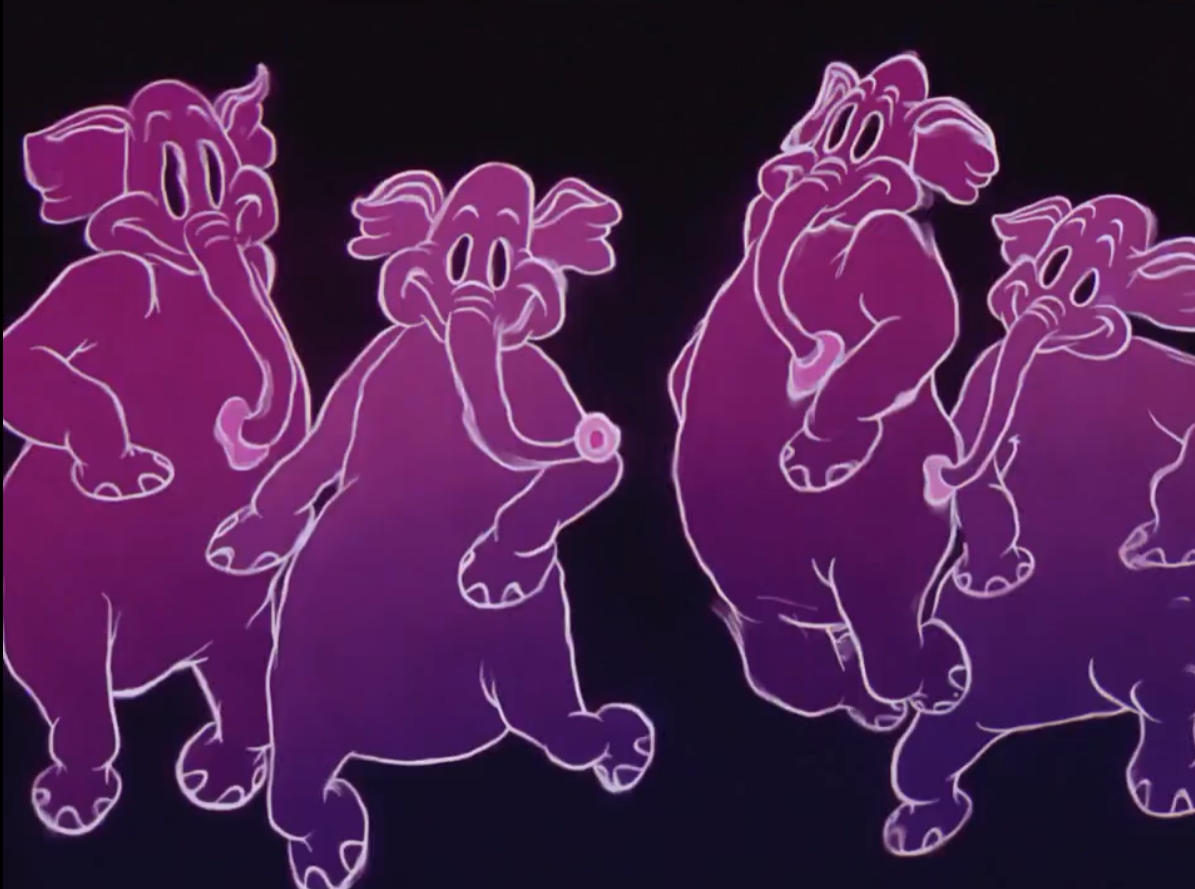 ………………………………………………….
And the standout one is of course When I See an Elephant Fly which is simply amazing when you think about it and oh so underrated when it comes to Disney's classic songs. It is a jazz song which is in style and execution different than your usual Disney song and is thus highly original, but also phenomenally sung, infectiously catchy and with simply hilarious lyrics. I love it and I was happy that it got repeated in the end sequence.
Speaking of the ending, I have to talk about one film's flaw which is minor but still relevant. It runs for just about 64 minutes which is basically an hour which is just too short. It is short, but sweet and it wouldn't have worked if we got another thirty minutes as the story is too simple. However, the entire third act with the flying felt way too rushed. The rest of it was greatly paced, but that part was definitely abrupt. The circus action scenes were somewhat prolonged and not my favorites, but the highlights are the beginning, the ending, the crows scene, the mother-son reunion and the pink elephants scene.
………………………………………………….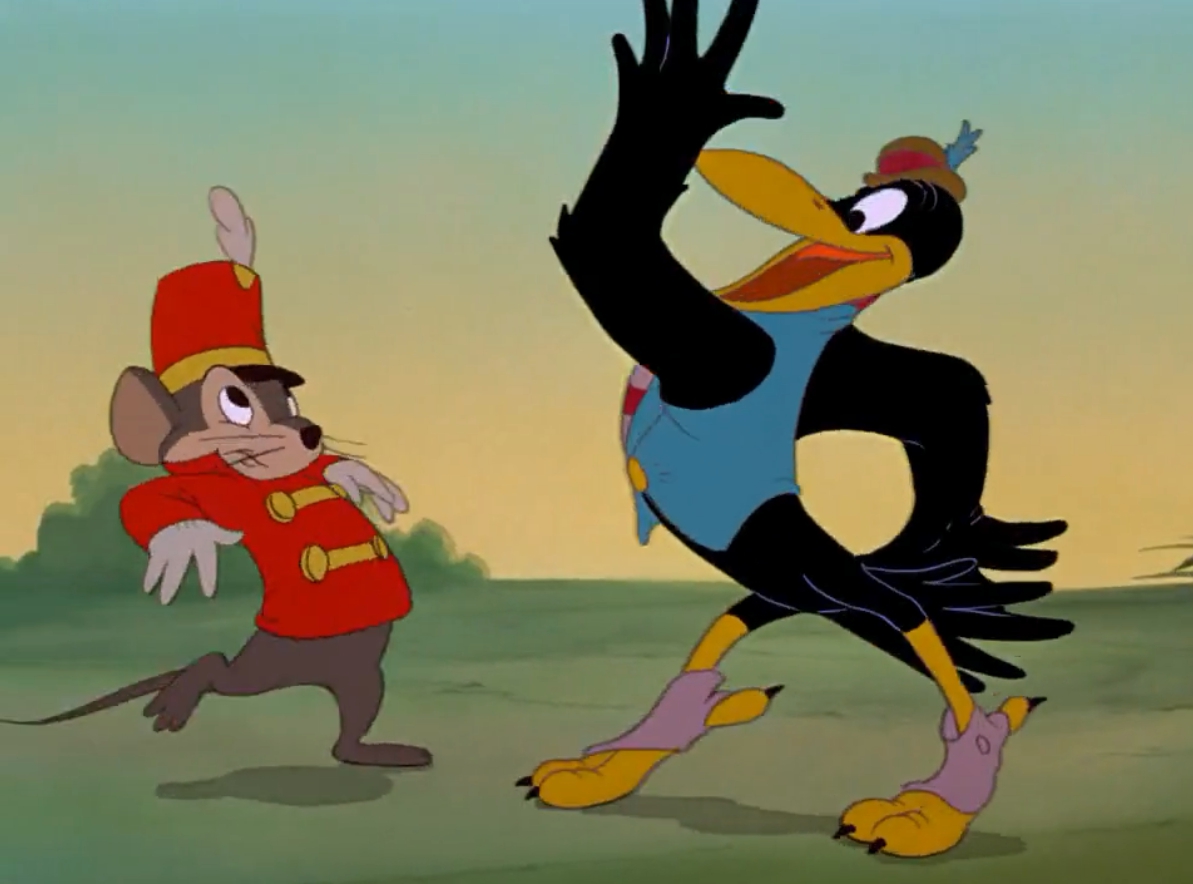 ………………………………………………….
I loved the direction, the dialogue and the storyline – all are great. The film is simple but never simplistic. It works because its emotion is genuinely felt and because it has its charm in setting, music and characters. It is thus in the line of 'Cinderella' which is lower 4.5 rating, but still in the top twenty for the studio overall.
Dumbo is a great charmer. It is rushed in its third act and definitely short, but sweet. The animation isn't as artistic as other films of its period, but it is still quite charming and highly imaginative and weird in the pink elephants sequence. The film is simple, but never simplistic and its emotional impact is undeniable as some scenes are truly touching. The characters are highly endearing as well with the crows, the protagonist and Timothy Q. Mouse being the highlights. The soundtrack is also pretty great and underrated as Pink Elephants on Parade, Baby Mine and When I See an Elephant Fly are all classics. In the end, Dumbo is one of Disney's less ambitious, but sweetest and most endearing flicks.
My Rating – 4.5