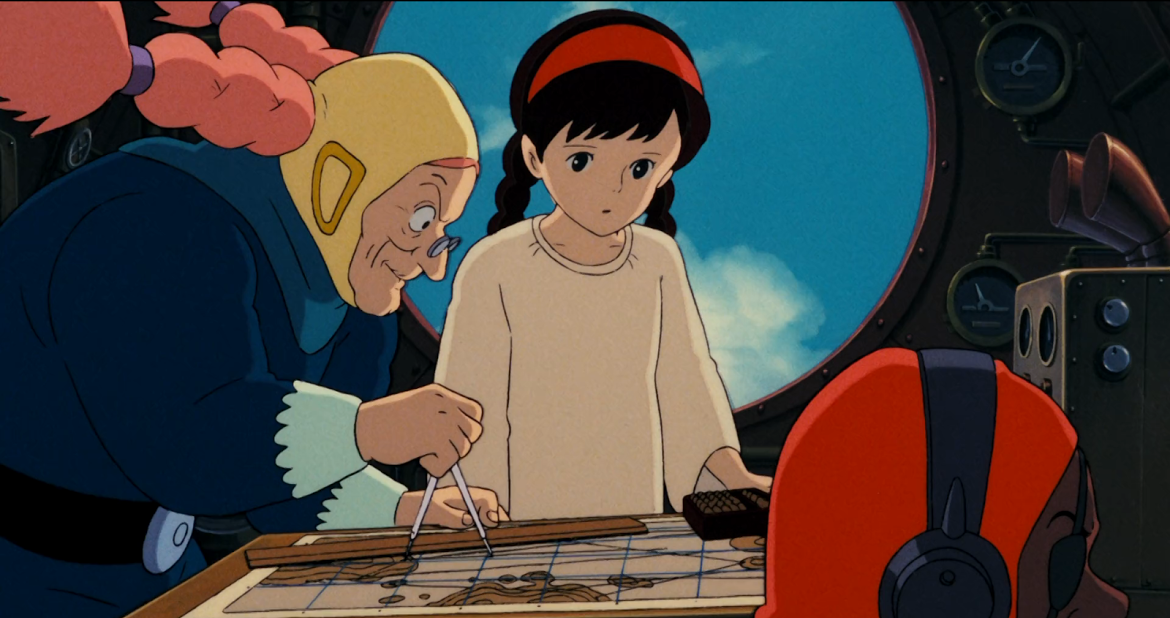 ……………………………………………
Castle in the Sky Movie Review
Castle in the Sky is a 1986 animated adventure film directed by Hayao Miyazaki. It is the first Studio Ghibli feature and one of their best in my opinion.
……………………………………………
"There's nothing worse than having your pigtails shot off!"
……………………………………………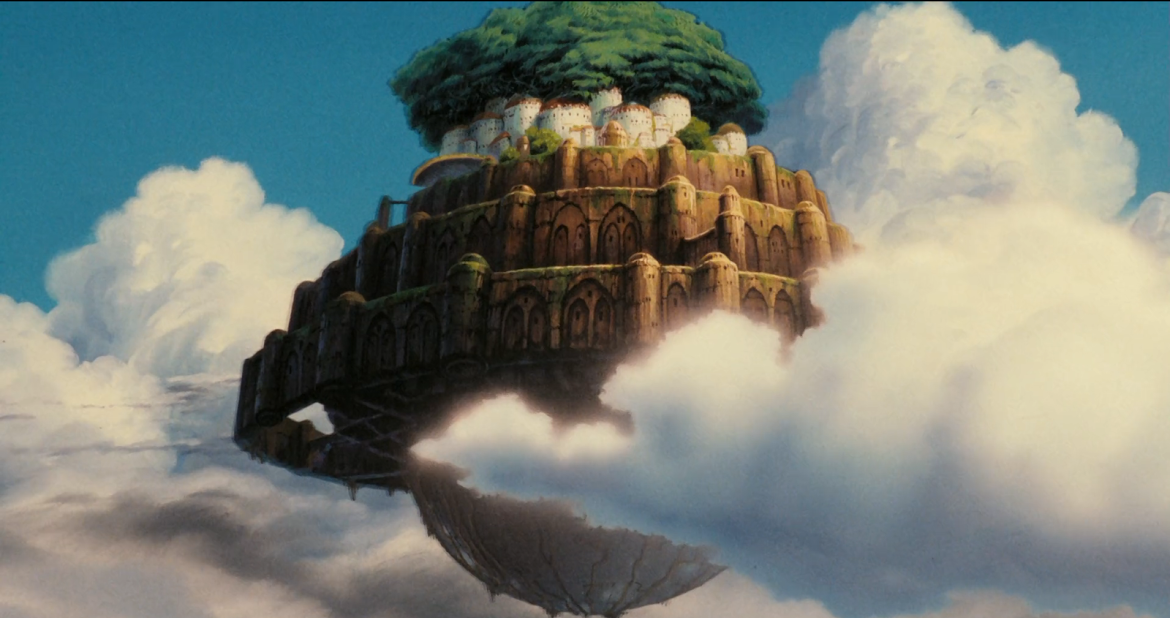 ……………………………………………
The plot is so good here. The film is a fantasy, but above all one grand adventure film and rarely have I seen this spectacular an adventure before. Such an amazing experience this movie provides. As is the case with most Miyazaki films, this one features a strong ecological theme and message to it which was great. The film is admirable for being very long, clocking in at two hours which is quite a lot for an animated film, but here it was worth it as the story is so majestic and big that it needed this much time to be told.
The beginning is intriguing and I liked how it started briskly and with an action sequence. Then the rest of the first act was a bit slow, but that was essential for providing character development, atmosphere and build-up. The second act is very good and that is where we get some of the best moments from the pirates. And of course the third act is the highlight as we finally see Laputa. It was fascinating to see the entire island and city on the sky. The details are remarkable, but more on that later. I loved the ending with the spell of destruction being used. It was dark, tragic and yet necessary.
……………………………………………
……………………………………………
The character development in Castle in the Sky is solid, but not the greatest. To me Sheeta is a typical protagonist, but an interesting case of a strong female character and sort of a Studio Ghibli princess. Pazu is a bit boring and too good, but he serves his purpose. The two are too heroic and sometimes bland, but the relationship between the two is sweet and they got some charming moments together.
As for Colonel Muska, he is a typical over-the-top and power-hungry villain. However, the fact why I liked him quite a bit lies in the twist in his background which was well executed and in his actions which were capable and he actually was a very competent, strong villain who posed some serious danger for the protagonists.
……………………………………………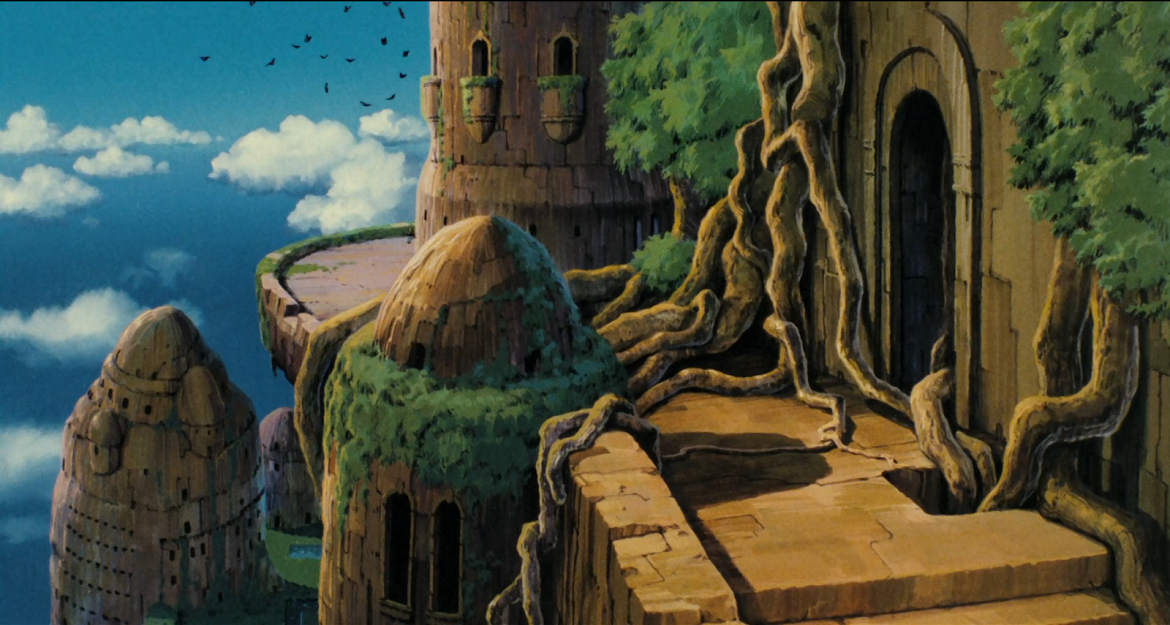 ……………………………………………
But Captain Dola is easily the highlight. Her entire pirate team is a lot of fun and I love her dynamic with her sons and husband. But she is so interesting and unforgettable not only in her looks – pink pigtails is a refreshing look for an old woman – but also in her character as she is good, but still treasure-hungry and she ended up taking a lot of treasure from Laputa in the end. She is simply hilarious and all of the film's humor comes from her and her many funny lines. She is certainly one of Ghibli's best and most endearing creations.
The animation in Castle in the Sky is something extraordinary. As I said before, the world building here is simply amazing and the attention to detail is unprecedented. But the animation is so great that it managed to give us all of this world in the best way possible – through old-fashioned hand-drawn style. The character designs are good, the use of color is great and Laputa is breathtaking to witness. I loved its original look, those robots also have an authentic look to them, the nature is beautiful here and the city and its magical properties are so well explored. Everything looks gorgeous in the titular castle, but Pazu's village is also beautiful to witness and very cozy. This film honestly has one of the best animations ever, that's how powerful it is. Not only wonderful and detailed, but also stylistic and even artistic. It's certainly miles above anything Disney produced during this time.
……………………………………………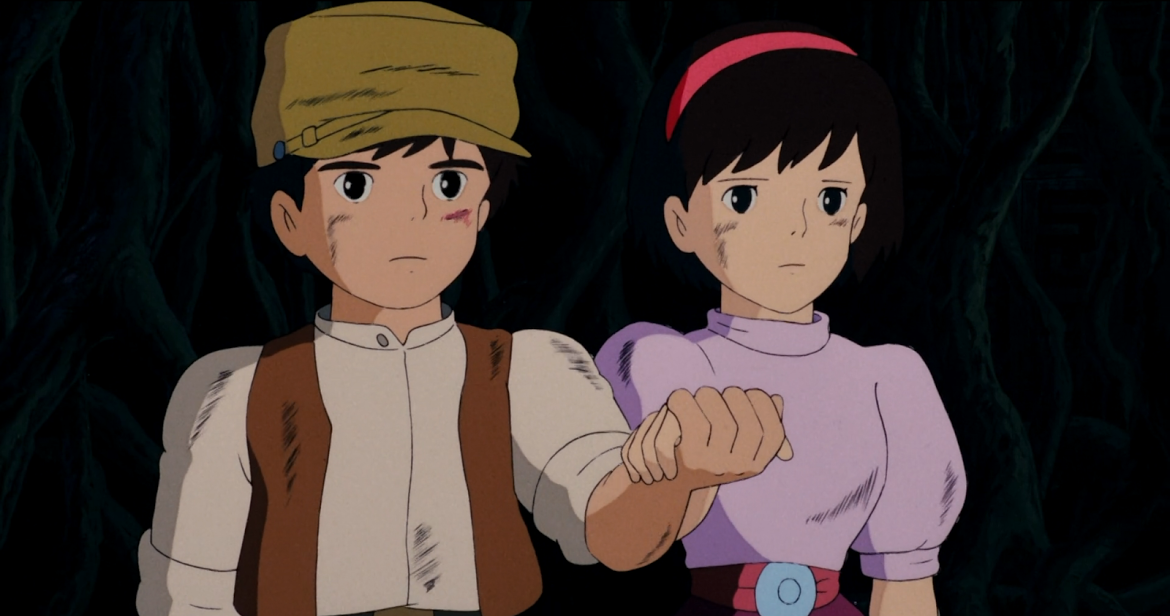 ……………………………………………
Castle in the Sky sometimes has overwhelming action for sure, but still that action is surprisingly well executed and it is in fact one of the best action oriented animated films. A lot of the set pieces such as the train scene and the final confrontation on Laputa are instantly recognizable and so well done. The movements are polished and the action is as exciting as the story is engaging.
And the score, oh how wonderful the score in this movie is. It is honestly breathtaking and timeless in quality as it lifts the material and animation to even greater heights and having in mind that both were excellent to begin with, the end result is nothing sort of astonishing. A perfect, well rounded package this film is. The entire score is great and I loved the song in the end, but naturally its theme is the standout here – simply gorgeous and unforgettable. Whenever it appeared in the movie, I was mesmerized.
……………………………………………
……………………………………………
So it has its problems such as the protagonists and the dialogue should have been stronger as the script demanded it, but the message is great and this is an ecological movie done right. To me this is one of Hayao Miyazaki's finest movies and a proof of how strong his direction could be. It is also one of Studio Ghibli's best and such a phenomenal first feature for this amazing studio.
Castle in the Sky has weaker main characters, but the villain is solid and Captain Dola is one of Ghibli's funniest and most endearing characters. The story here is excellent, so well told and with a great ecological message. The score is simply beautiful, the world building is extraordinary and the animation is artistic, meticulous in detail and simply mesmerizing leading to one of the best animated films ever in my opinion. It is such an epic, grand adventure that is one of Miyazaki's best and such a terrific first feature for wonderful Studio Ghibli.
My Rating – 4.5
……………………………………………