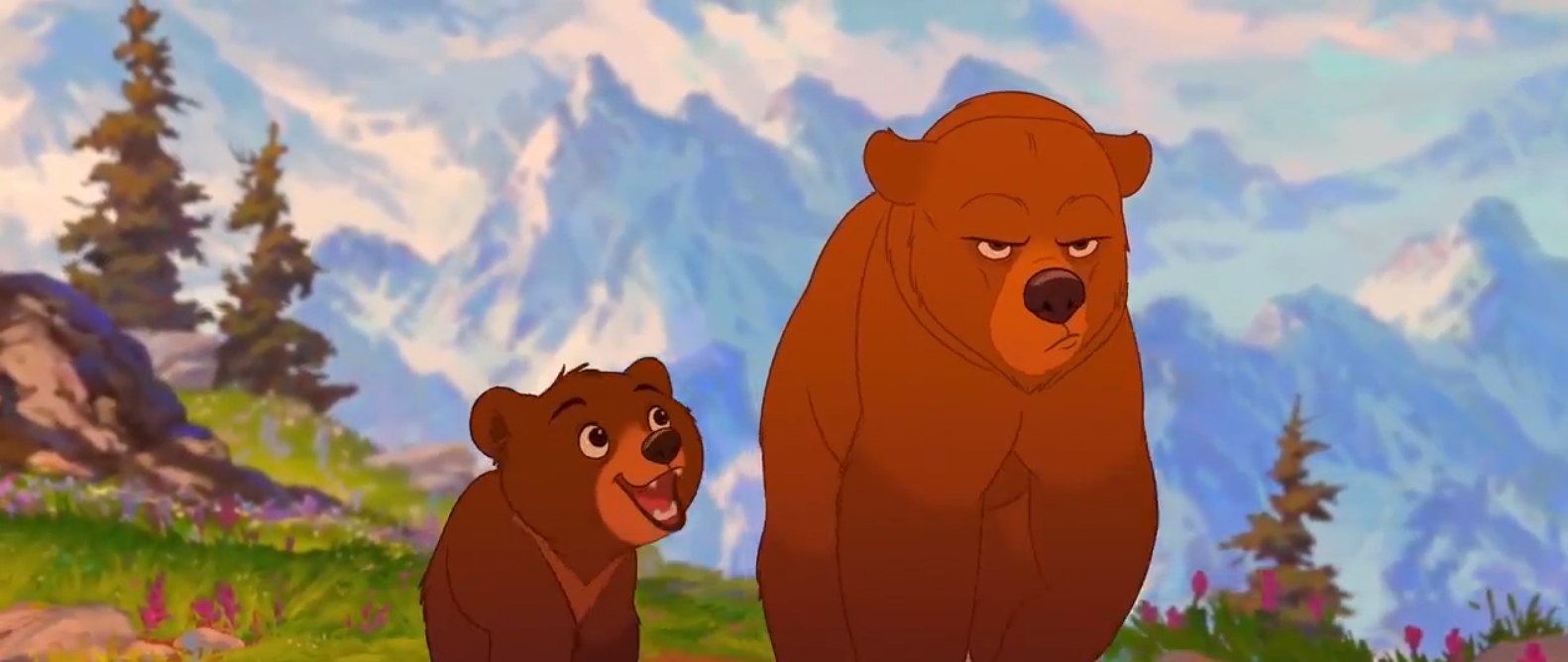 ……………………………………………………….
Brother Bear Movie Review
Brother Bear is a 2003 animated adventure film which is Disney's 44th animated feature. It is such a shamefully underappreciated film that is the studio's most underrated for sure.
……………………………………………………….
"This year, I lost my dear husband, Edgar.
Stop tellin' everyone I'm dead!"
……………………………………………………….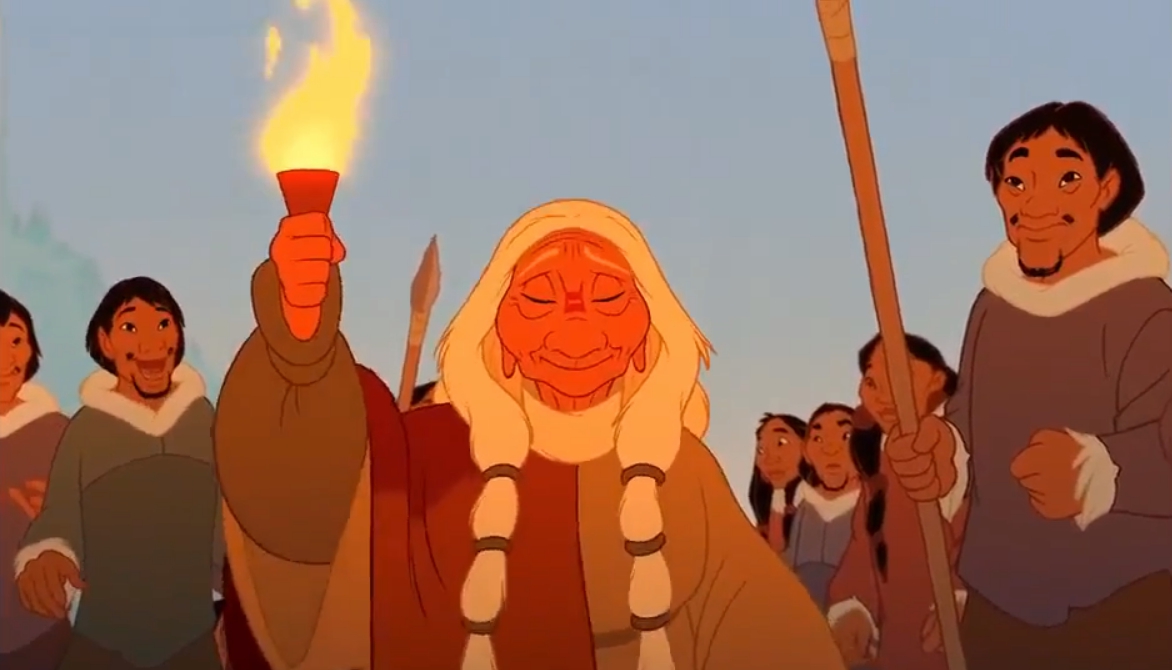 ……………………………………………………….
It follows a young Inuit boy Kenai who out of revenge kills a mother bear and eventually turns into a bear himself and develops a bond with her cub Koda. The story is deep and meaningful and perfect for children, but just fun and funny enough for adults to enjoy as well, not to mention very sweet and moving.
I will later talk about the cruel response the film received, but now let me state my favorite scenes here. The ending, though too happy, is immensely beautiful and highly emotional. I also loved their journey sequence which was accompanied by such a good song and every scene between the two brothers was simply wonderful.
……………………………………………………….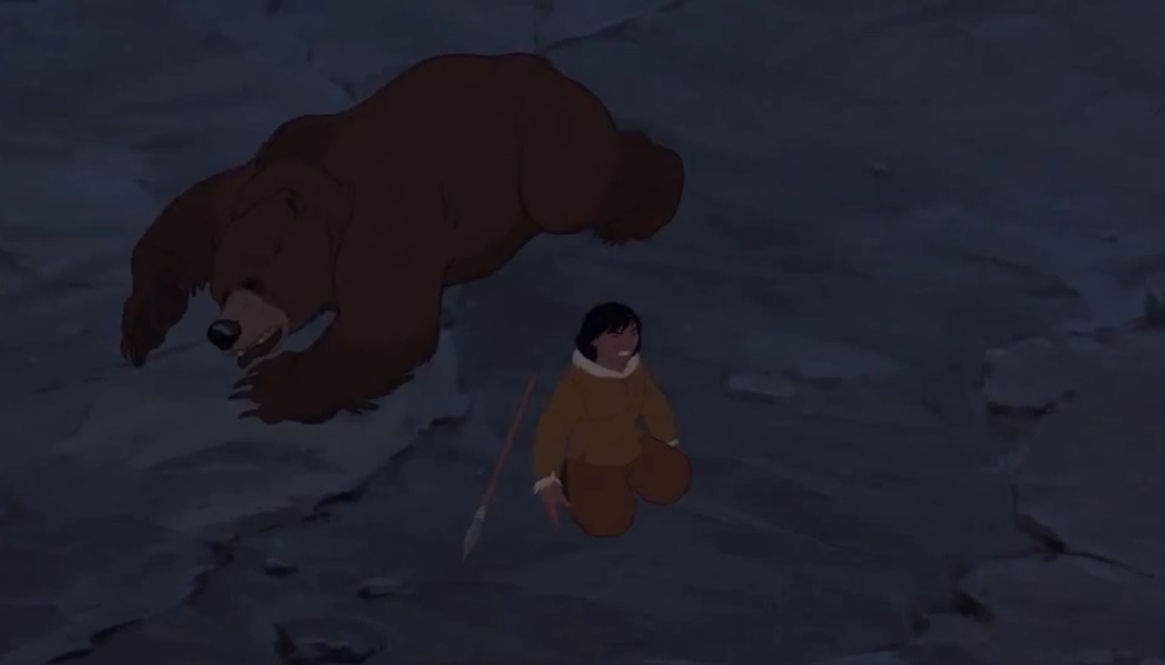 ……………………………………………………….
Kenai is such a well developed Disney protagonist who goes through a lengthy change of heart and becomes a better person at the end. Even though that is typical Disney stuff, it is so well executed here that it worked entirely as his shift was smooth and well realized. Koda is one of the standouts as this realistic, bratty and sweetly annoying kid who talks too much. He is a fun and funny character and, as I said above, the relationship between the two is one of the best ever for Disney, heartfelt for sure.
Rutt and Tuke are a mixed bag. I am in the minority when I say that they are the worst part of the film and certainly not the best. They have some funny lines and it is interesting that they are Canadian, but they interrupted the flow way too often, they felt like regular Disney sidekicks that were thrown onto the movie for no apparent reason and mostly they were more annoying than funny.
……………………………………………………….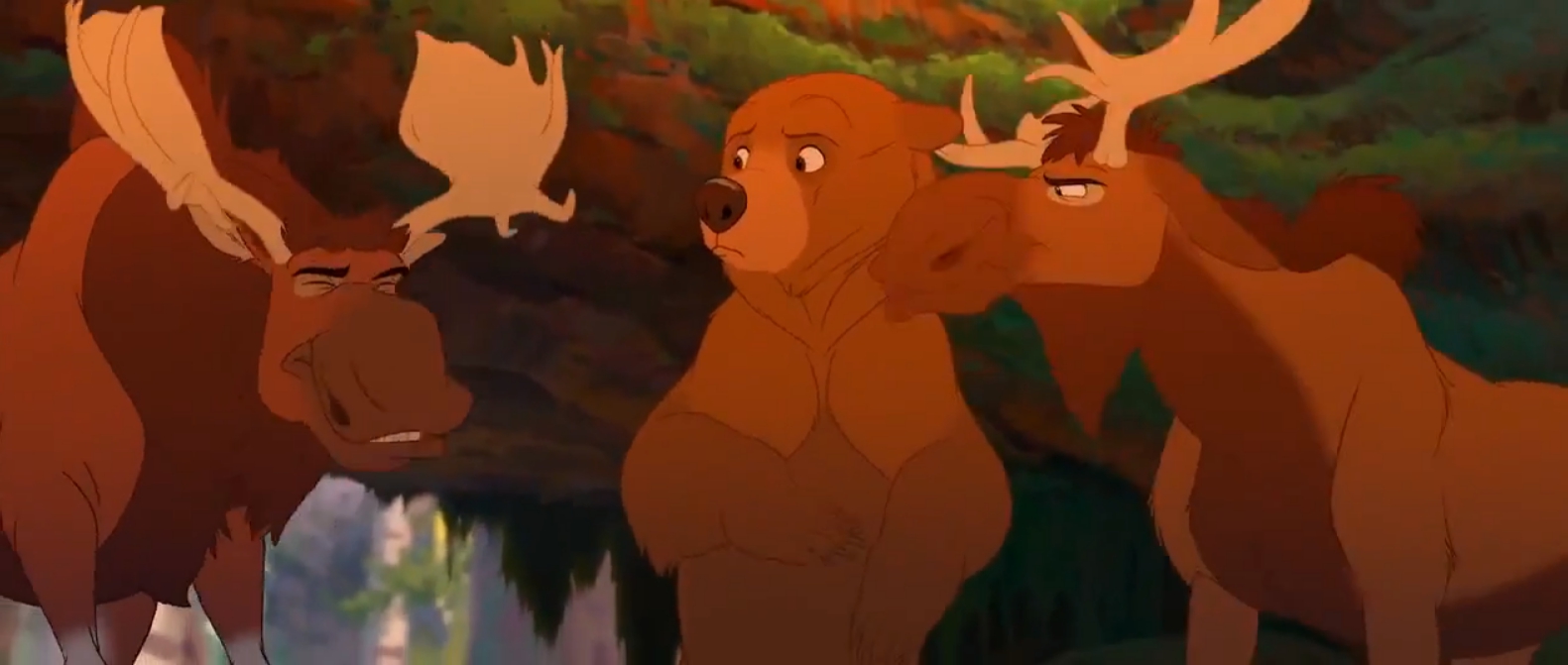 ……………………………………………………….
Denahi and Sitka were solid for the little screen time that they got and Tanana is also a memorable presence who reminded me of Mother Willow from 'Pocahontas'. But apart from her, I do not get why some say that Brother Bear is a rip-off of 'Pocahontas' and 'The Lion King' as I just don't see those connections. And as for those bears in the third act, they were so incredibly funny that they made me laugh quite a lot.
Brother Bear is criticized for having very weak animation but once again I strongly disagree. Its animation is certainly far from great and nowhere near as artistic as you would want from Disney, but it is still in the line of other Disney flicks from the 2000s and certainly not weaker than many of those so I do not see why they chose to trash just this one movie and not the rest. I admired the change in its frame and animation from realistic to cartoony when he turns into a bear, that was very inventive. Although sometimes a bit too colorful, I mostly really liked the look of the film and some of the scenery was lovely. The characters also look good and Koda is very cute. The spirits scenes were the best animated and most visually dazzling parts for sure.
……………………………………………………….
……………………………………………………….
Brother Bear has quite a solid soundtrack which was again needlessly trashed by the critics (see the pattern here). Great Spirits sounds a bit too contemporary, but is a good, catchy opening for the movie. Welcome is somewhat forgettable and No Way Out is a fine song, but it describes the emotions that we see for ourselves on the screen rendering it totally useless.
Look Through My Eyes is wonderful, catchy and filled with fine lyrics and such a great chorus. And of course the standout here has to be On My Way which is definitely one of the finest songs from Disney's Second Dark Age. It is a lot of fun, immensely catchy and certainly accompanied by a wonderful, important and charming scene. I personally really like Phil Collins and although his work here is of course very inferior to his work on 'Tarzan', it was still solid and I wouldn't mind if we got more of his involvement in Disney productions.
……………………………………………………….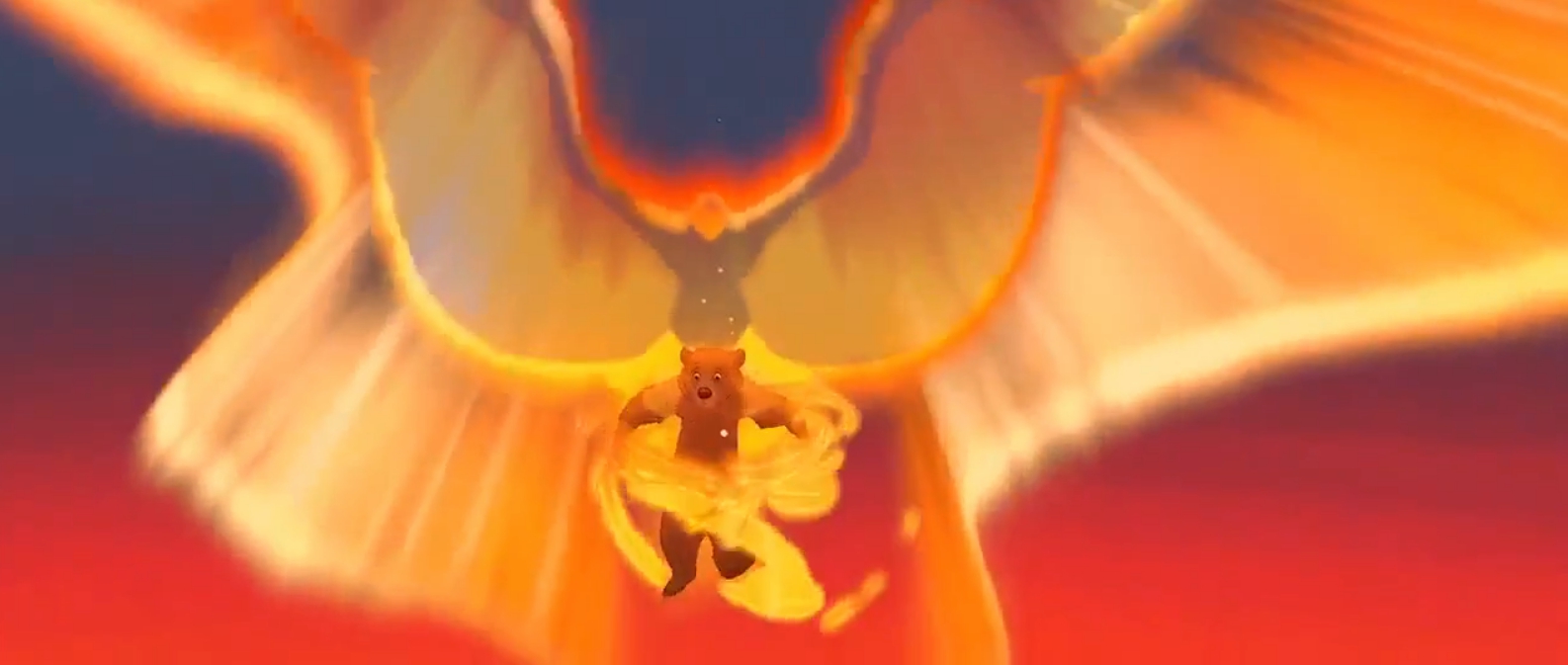 ……………………………………………………….
Brother Bear has very good voice acting and it is mostly very well made. Its problems are twofold. One is the ending which was sweet, but a bit too happy and I wish that it was more tragic as somehow the film would have felt better that way. The second problem is the pacing which is all over the place as the first act is a bit extended, though definitely important in terms of storytelling, and the third act is certainly quite rushed. The running time here needed to have been longer.
I thought the action scenes were very well executed and pleasantly reminded me of those dark scenes from 'The Fox and the Hound'. The film is very dark actually as it features two deaths in its first act and I liked that diverse tone here. The humor is fantastic. That old lady bear talking about his "dead" husband and him telling her to stop was absolutely hilarious and one of the funniest scenes ever in a Disney film. And that other bear suddenly talking in Serbian language was just such an unexpectedly hilarious moment which I just loved. The film was sometimes too simplistic in dialogue, but so incredibly emotional in many of its scenes that it honestly touched me quite a bit.
……………………………………………………….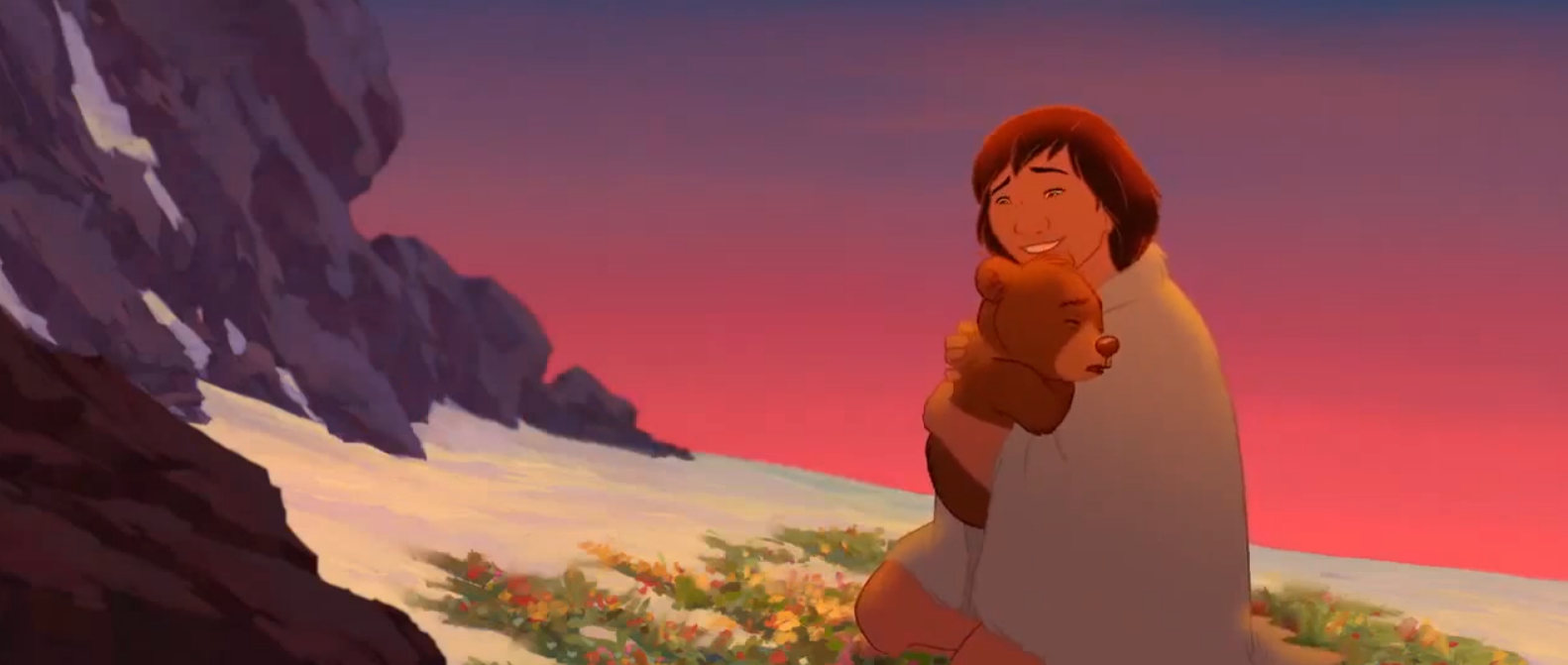 ……………………………………………………….
So, why is it hated so much? I honestly have no idea. I usually do, but this time around, the critics seem to be hating it for no apparent reason whatsoever. Koda's character obviously influenced Russell from 'Up' and the entire bear setup here obviously influenced 'Brave' to the point that you can call it a rip-off. So Pixar stole two of its ideas and nobody ever talks about that which is so frustrating. But the film has 38% on Rotten Tomatoes which is just horrible leading to what is in my opinion the most underrated Disney film ever that is along with 'Lilo and Stitch' and 'The Emperor's New Groove' the only legitimately good film from their Second Dark Age.
Brother Bear is weakly paced and the ending is a bit too happy, but the entire story is sweet and wonderful and it is filled with very likable characters with the relationship between Kenai and Koda being heartwarming. The film is frequently very touching, but it is also very funny with at times hilarious lines and also often quite dark. The animation and soundtrack are also quite solid. So the film is one of the best and rare legitimately good films from Disney's Second Dark Age and in my opinion it is, out of all Disney movies, their most unjustifiably trashed upon and shamefully underrated.
My Rating – 4
……………………………………………………….