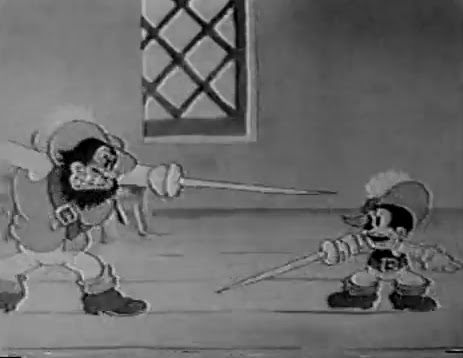 Bosko the Musketeer Review
Bosko the Musketeer is a 1933 animated short film from the Looney Tunes series. It is a regular imaginary short.
Bosko starts to imagine that he is a musketeer in order to impress Honey who had been imitating Mae West before that in such a funny fashion. I really liked that first part with Honey and I wished that the film never went into musketeer territory as it definitely made the whole affair feel conventional. We've seen these types of Looney Tunes before and nothing this time around is original.
However, it still has its moments. The gag with the lady's dress was absolutely hilarious and so unexpected and I wish that the series employed more of such gags as they are great. It really made the entire film memorable. The score and the sound effects are also solid, but in terms of plot and action, most of this historical piece is standard and not great.
Bosko the Musketeer has its great gags, but the historical piece is beyond typical and not inventive at all.
My Rating – 3.5