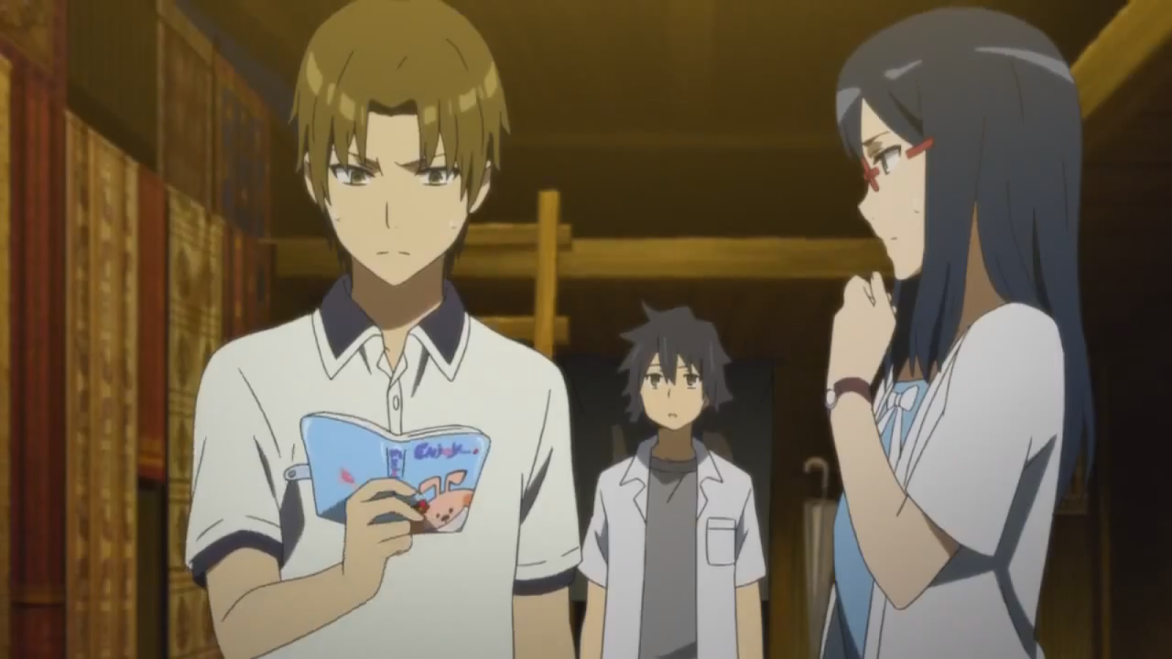 ………………………………………………………
Anohana Review
Anohana is a 2011 drama anime series directed by Tatsuyuki Nagai. It is one of the best anime shows I've seen, so admirable and incredibly emotional.
………………………………………………………
"Thanks for everything today.
Tomorrow I'll go to heaven.
Please be my friends until the end"
………………………………………………………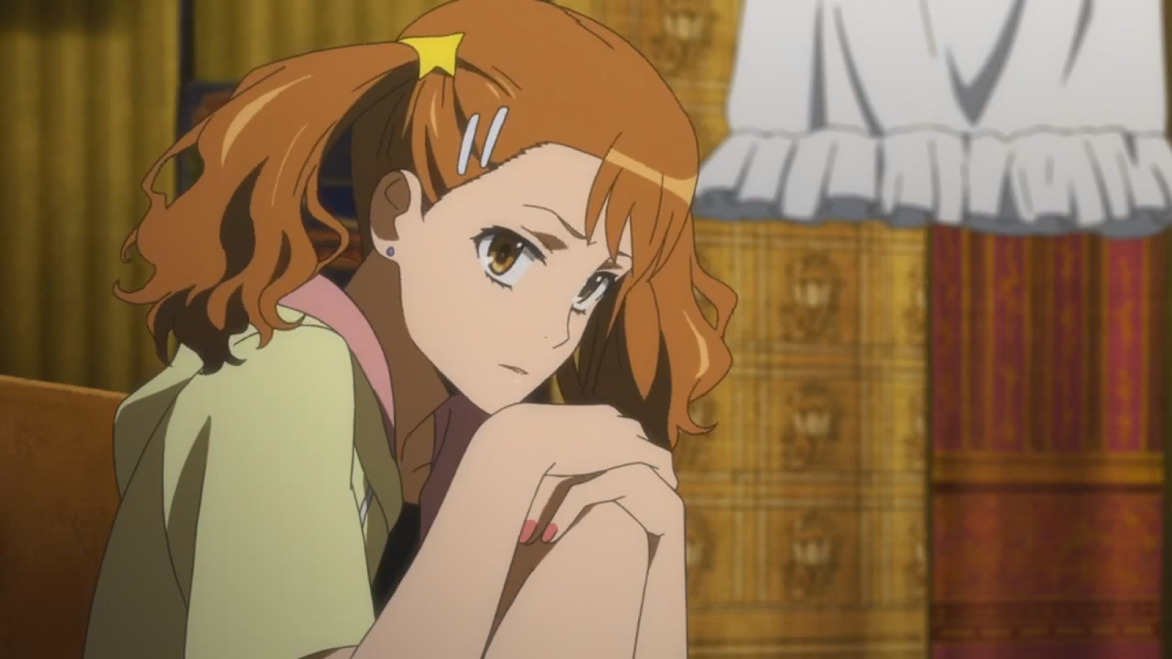 ………………………………………………………
It follows a group of six teenagers who were once friends, but drifted apart after the death of one of the girls Menma. But when Menma comes back in form of the spirit, the group has to reunite and solve their emotional issues in order for Menma to be able to move on and rest in peace. The premise here is not only highly original, but quite frankly brilliant. And the execution is almost perfect leading to a fantastic series.
I absolutely loved that Anohana (or Anohana: The Flower We Saw That Day in its full name) is a pure drama, emotional and definitely a tragedy. But it also has strong romantic elements and its sole supernatural element present in Menma's spirit is so well incorporated into the whole story that it's almost seamless.
………………………………………………………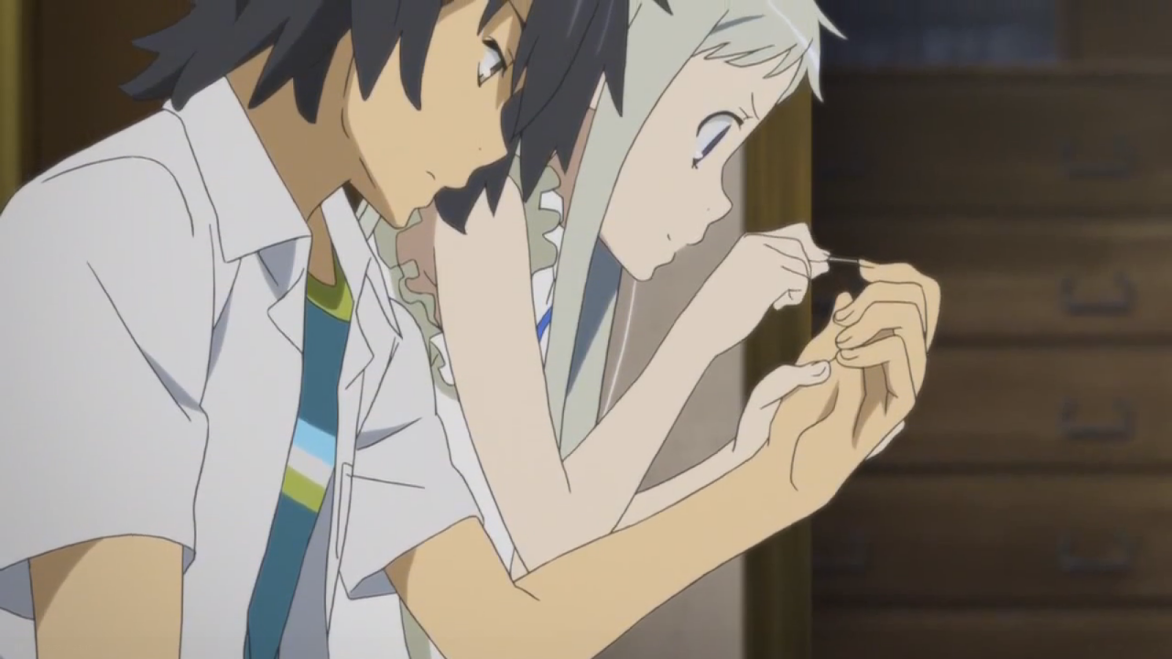 ………………………………………………………
It is the only series that has made me cry! It is the only time that I've cried in quite a long time, almost two years. That is how powerful and heartbreaking it truly is. I cried once during an earlier episode and of course I shed tears during that finale. The final episode is one of the best episodes I've ever seen, of any show. I was blown away by its quality and how everything came together into a satisfying conclusion. The whole 10 episodes of emotional issues culminated in one emotionally devastating finale, I was left speechless and seriously touched.
I will later talk about Anohana's each theme, but now let's talk about its characters. The character development drives this anime and that's so great given how a drama, especially a drama like this one, needs to have strong, fully realized characters in order to work. And yes, everybody here seems like a real person and serves the purpose, even those supporting, minor characters.
Menma's parents are tragic figures, but her brother is even more tragic as he's basically neglected by his parents. I really liked Jintan's father even though I found him to be too loose in his parenting style. And those are the only supporting characters I can think of as the show basically only relies on these six and I liked that a lot as it led to their better development.
………………………………………………………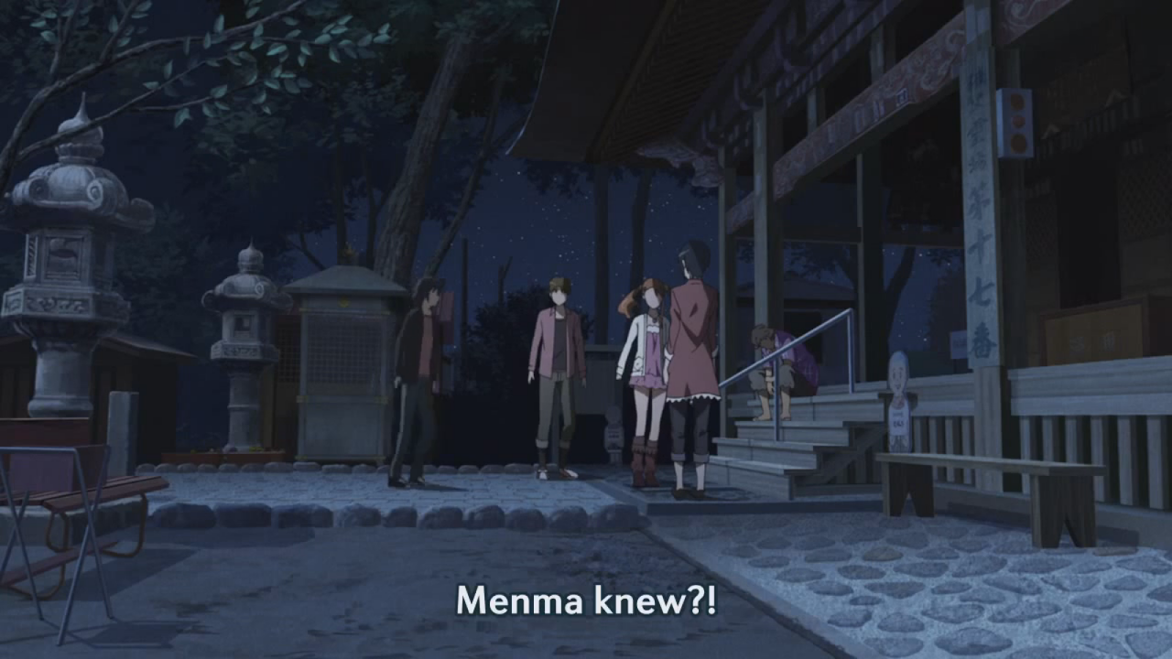 ………………………………………………………
Jintan is such a strong main character. His arc is probably the most satisfying one as he has to change the most. He at first doesn't do anything, skips school and plays video games all the time. Much of that is due to the tragedy with Menma. But once she arrives, he starts to change for the better and ends up with a job. I liked that he wasn't perfect despite being a leader of the group. He is quite selfish at times and his struggle with that is so well explored.
Menma is wonderful. She did feel too one-note at first, but I came to really sympathize with her childlike behavior and that was fitting given how she had never had the chance to grow up. Her story is as tragic as they can be, but her positive attitude and evident innocence perfectly contrasted with the rest of the group as the rest aren't children anymore. Her relationship with Jintan is heartwarming and her wanting to help everyone is so sweet and moving.
………………………………………………………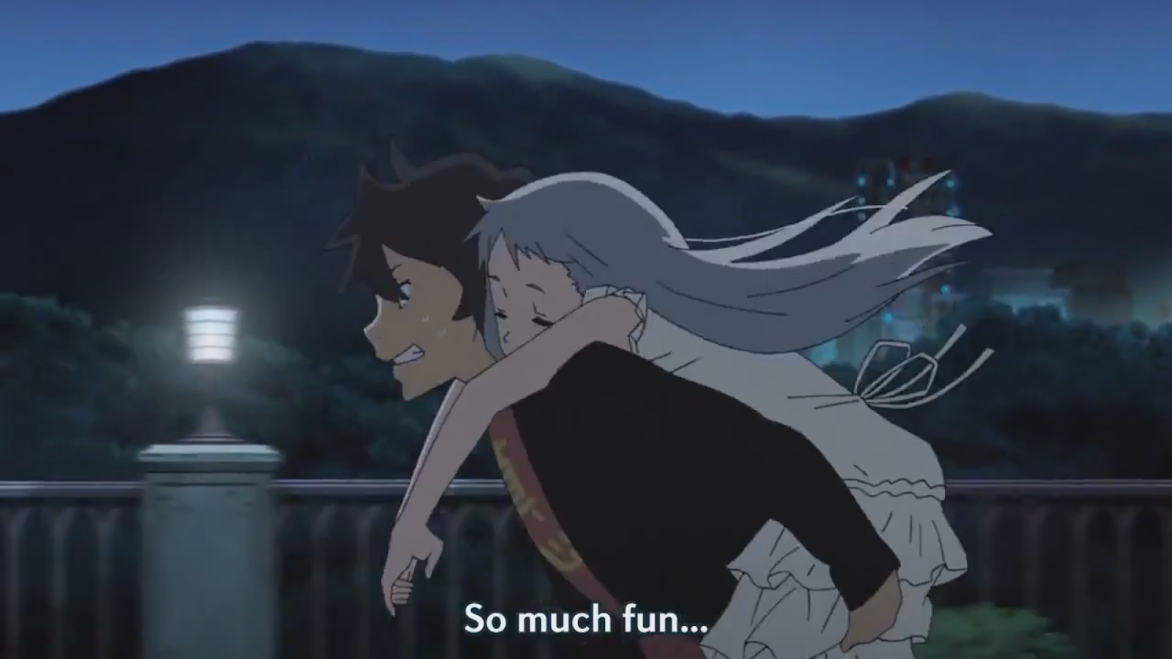 ………………………………………………………
Anaru is one of my favorites. I just found her to be really relatable and very realistic too. She has always been in love with Jintan, but was always in the shadow of Menma and her hating Menma and her struggle with that feeling led to many powerful emotional moments. Her interactions with each and every one of them is so great and she just might be the finest character of the bunch.
Yukiatsu is very interesting. I have to be honest and say that he really got on my nerves as he was quite a bully at times, but people like him exist and his cold behavior is obviously a mask for hiding his deeper feelings. Him being in love with Menma provided some of the most shocking moments of the series, but I'll talk more about that later.
Tsuruko is also quite strong, if not as well utilized as the rest. Her relationship with Yukiatsu is moving and troublesome and again I liked her bitter attitude toward both Menma and Anaru. It did seem unfortunate that the girls didn't get along well, but neither did the guys and that is pretty much as it happens in real life.
………………………………………………………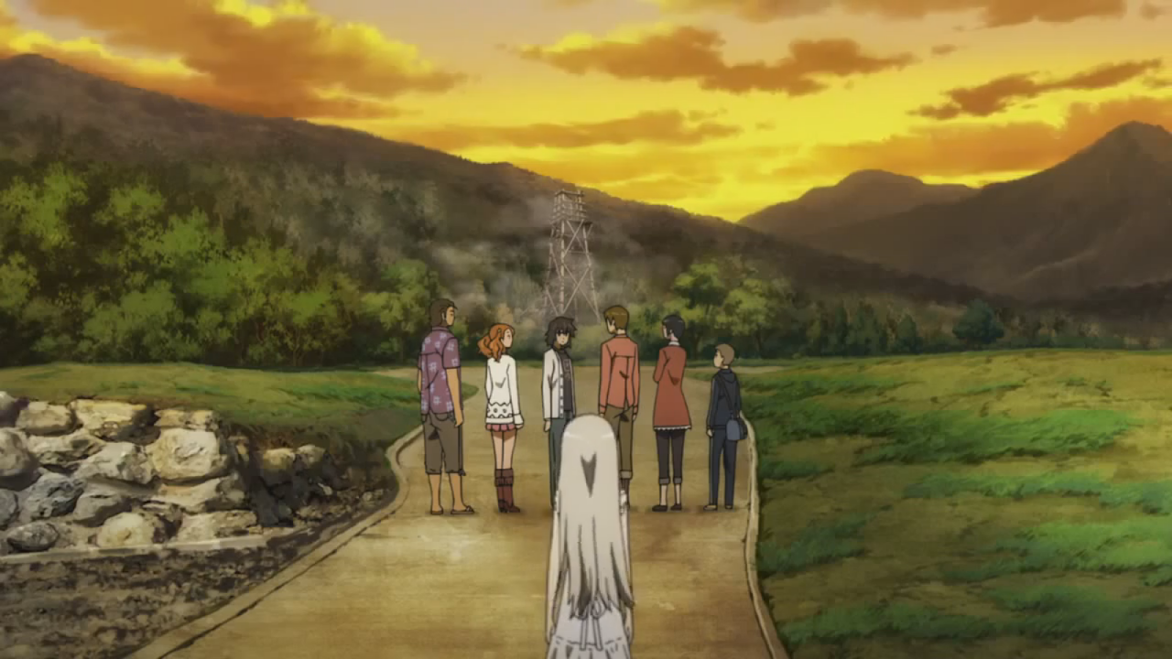 ………………………………………………………
Poppo is definitely sort of a sidekick character as he is the only one here who isn't deeply troubled (at least at first) and he is the only who retained his childlike nature and humor. I really admired his good-hearted and somewhat weird nature and the revelation that he saw Menma's death was upsetting and tragic.
Anohana is such a thematically rich anime that I just admired the hell out of it. This is the best example of anime's willingness to go into very dark, sophisticated and mature territory, something that American movies in general, not just animated, tend to usually ignore. Yes, it did bother me a bit that all of them were intertwined and infatuated with one another. Yukiatsu is in love with Menma as is Jintan, but Anaru is in love with Jintan and Tsuruko is in love with Yukiatsu. That was too much in my opinion, but it is a testament to this show's strength that even those more soapy elements were mostly excellent as they were so well executed.
………………………………………………………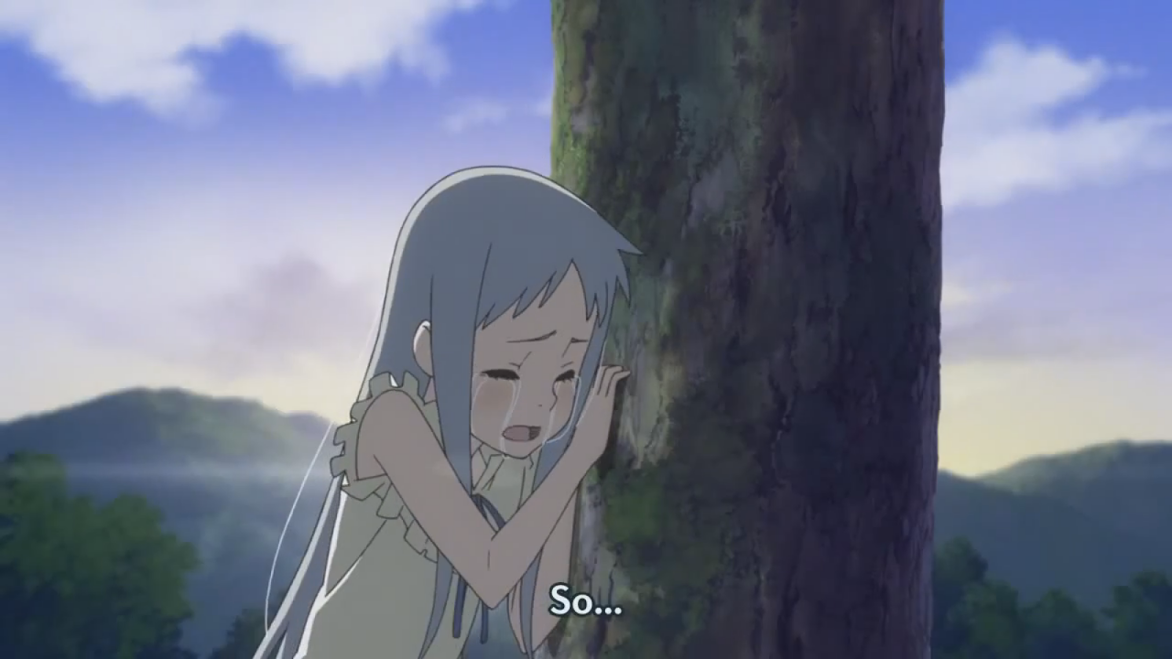 ………………………………………………………
Yukiatsu's obsession with Menma is probably the darkest one here. He is a cross-dresser and that was just so brave on the part of the filmmakers and I liked how it was properly handled. He dresses in female clothes, a white dress, owing to his obsession with Menma. Having him being this troubled was a dark and ultimately satisfying choice as it was really well utilized.
But of course you also have Jintan and his choice to not go to school and lead a lazy, uneventful life. That was also relatable and powerful, especially to me as I share that problem too. Watching Menma's parents was just devastating. Her death left them in constant despair and they never could have normal lives afterwards. Death of a loved one, especially your own child, is of course the worst, but I admired how the show tackled the other child syndrome. The parents sidelined him and although that is somewhat understandable, it is still terrible for that child and all of his sequences here emphasized that. Such a tragic character. I also loved the theme of jealousy and its dangers, mostly expressed in the female characters. Truly all of these themes were fascinating, brave and so well explored.
Anohana's animation is exceptional. The clothing was excellent, the character design is satisfying and all of the characters are really well animated. The backgrounds are also nice and the film's more surreal and supernatural sequences are perfectly animated. The score is just awesome! I loved its opening number and that it was repeated a lot during some episodes and especially in its ending, leading to an even more emotional episode. The voice acting is just amazing. The series is so well edited and directed, it is emotional but never pathetic. It is realistic and the dialogue is exceptionally strong. I loved it and I was deeply impacted by it.
Anohana is a brilliant anime. It is perfectly made and oh so emotional and just devastating at times. It is thematically rich and brave in its perfectly explored themes and issues, the characters are phenomenal and so well developed, the drama is poignant and the series is just so tragic that it made me cry and it left me in a really heartbroken state. It is undoubtedly one of the best anime series I've ever seen.
 ………………………………………………………
Worst Episodes: Menma the Hero and The Real Wish.
Best Episodes: I Wonder and The Flower Blooming on That Summer.
My Rating – 4.7
………………………………………………………