………………………………………………
All Dogs Go to Heaven Movie Review
All Dogs Go to Heaven is a 1989 animated musical comedy film directed by Don Bluth. It is one of the director's better efforts and one of the most underrated animated flicks for sure.
………………………………………………….
"All dogs go to heaven because,
unlike people,
dogs are naturally good and loyal and kind"
………………………………………………….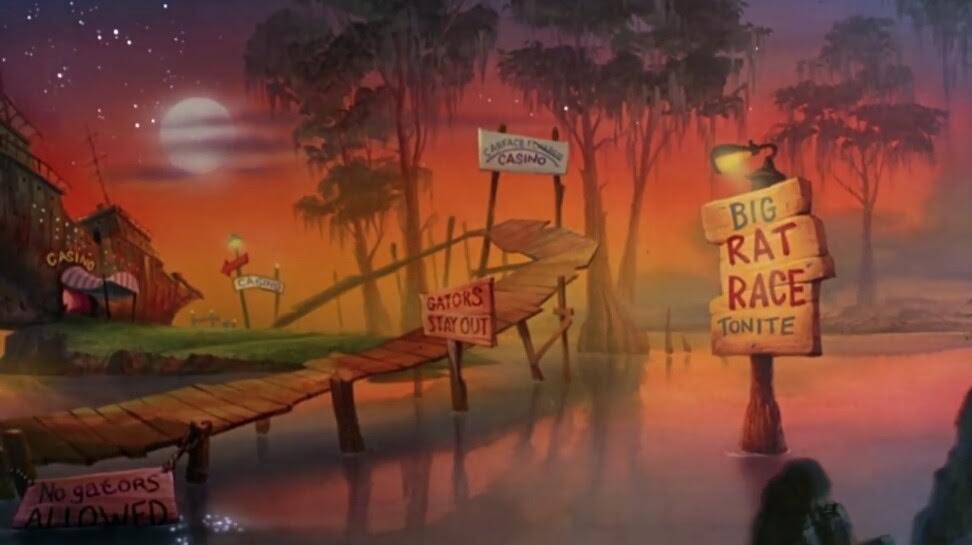 ………………………………………………….
It is about a German Shepherd who is murdered, but forsakes his place in heaven and returns to Earth where he teams up with a young orphan girl who teaches him some valuable lessons. The plot itself is far from original, but it is still such a charming, endearing experience that I really liked it nonetheless. This is the kind of film that is one of the best examples of why people mistake Don Bluth's films with Disney ones as it truly feels like a Disney flick – endearing, heartfelt and with a similar type of animation.
Yes, it does have a couple of edgy aspects to it such as mild violence and that whole gangster angle, but I myself found those elements to be underutilized and the film to be mostly a children's film. And that isn't a bad thing because I liked it all the more for it. It is never childish, but rather pleasantly childlike which I loved. The story is engaging and charming to follow, but the plot structure is fairly uneven and the whole heaven aspect to the plot should have been much more utilized as it felt rushed in the end product.
………………………………………………….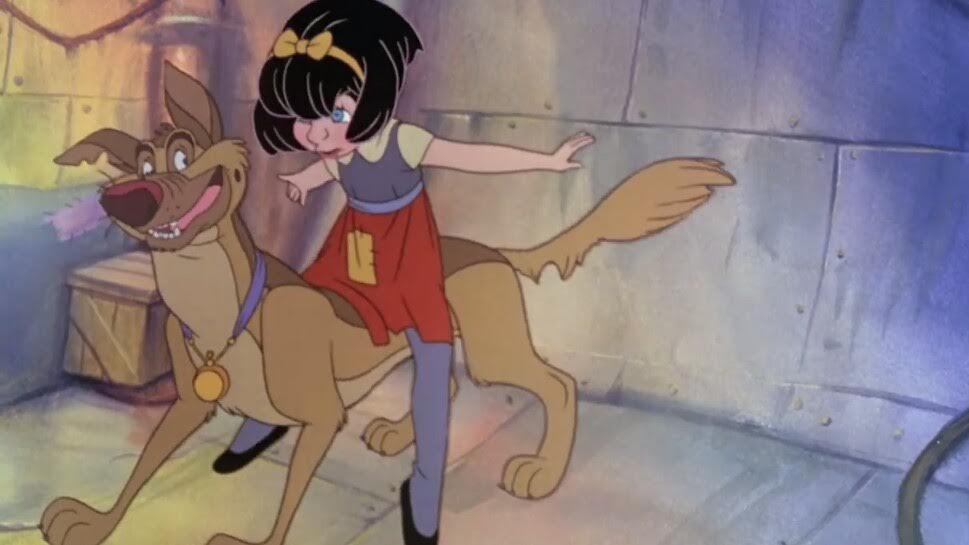 ………………………………………………….
Charlie is a typical bad gone good protagonist and while that is familiar, he is still a solidly developed character and his dilemmas are well explored and his relationship with the kid is so wonderful. Anne-Marie is such an endearing girl and I found her to be wonderful and not just a plot device, but also a solid, likable character in her own right. Itchy is okay, but nothing remarkable as the film needed a stronger sidekick. Carface is also forgettable and the rest of the characters are not worth mentioning.
Let's talk about the animation. All Dogs Go to Heaven is criticized for its animation and I do not understand that criticism as I found it to be really well animated. Yes, once again it is too old-fashioned and too much like Disney's earlier works, but that is still a good thing as that animation has always been pleasant and strong. I really liked the colors here as well as the overall soothing look to it. The character designs are typical, but the attention to detail is solid and the overall animation looks pretty good to me and is definitely on the level of 'The Land Before Time'.
………………………………………………….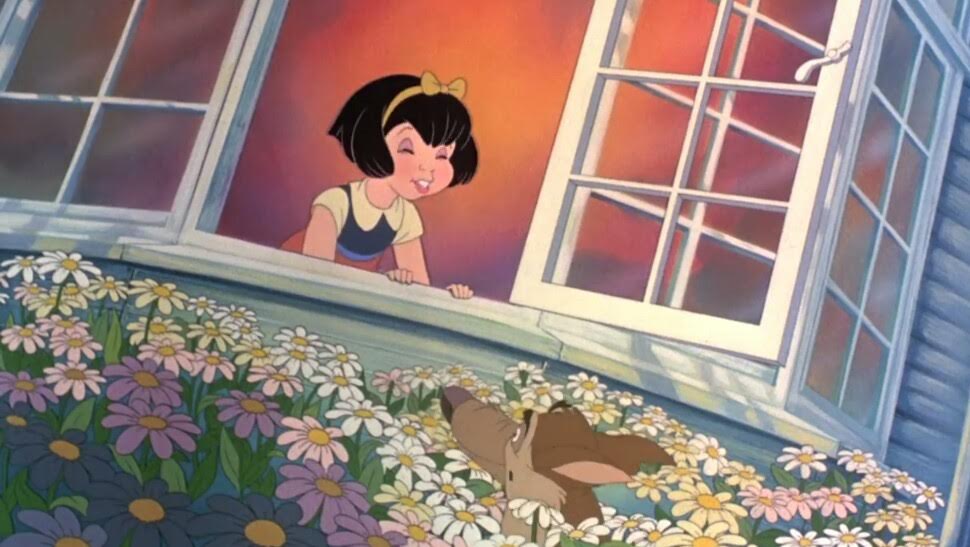 ………………………………………………….
The film doesn't succeed as a musical because the songs are so subpar. Most of the songs here are pretty forgettable, too long and quite mediocre to be honest, but two of them are worth mentioning and those are You Can't Keep a Good Dog Down and Love Survives. The first is a solid, catchy tune and the second one is a powerful and in this case a lyrically fitting, meaningful ballad that serves as a beautiful tribute to Judith Barsi who tragically died before the film's release.
All Dogs Go to Heaven is a solidly directed, well paced movie that is mostly very engaging and entertaining. The first act is somewhat boring and uneven, but the rest of the picture is pretty good and memorable. I really liked its tone, the humor was solid and the highlights for me were the end scene which is so emotionally powerful and bold and the nighttime sequence after the two first met which is so endearing and just wonderful.
………………………………………………….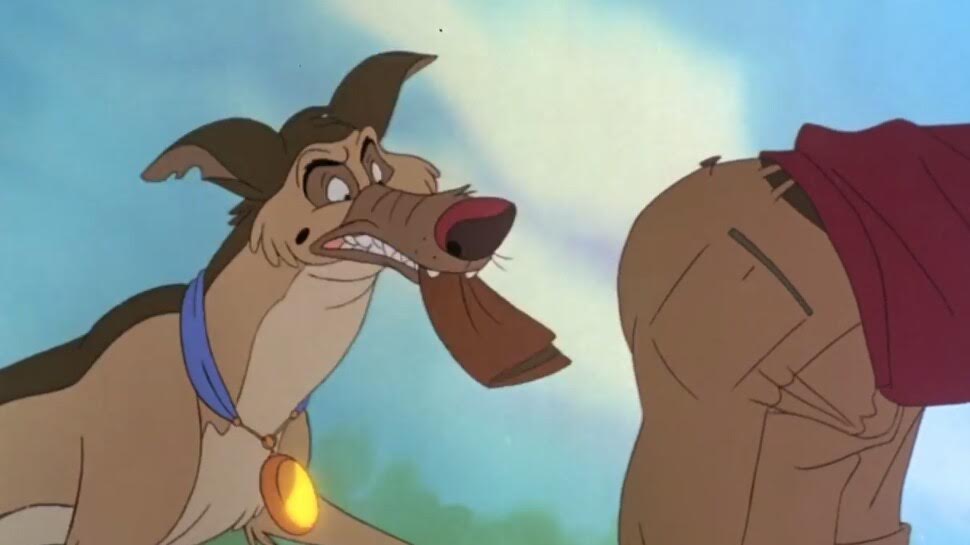 ………………………………………………….
Yes, the film is emotional and that is one of its strongest points. The songs should have been better as well as the humor, but it does succeed as a children's drama more than anything else. The dialogue is also solid and the film benefits to transcend its somewhat familiar plot and characters with some strong emotional beats and a great charming tone to it. Overall, it is much better than 'An American Tail' as far as Don Bluth's 80s efforts go and it is such an incredibly underrated animated movie.
All Dogs Go to Heaven doesn't have great songs, it is familiar in its plot and characters and it is pretty uneven in some areas, but it is mostly a solid film that benefits from some very emotional and heartfelt sequences, a strong relationship at the center of the film, some very bold choices here and there, a solid animation and a very pleasant, charming tone to it. It isn't great, but it is perfectly solid and it is undoubtedly one of the most underrated animated films of all time.
My Rating – 3.5
………………………………………………….